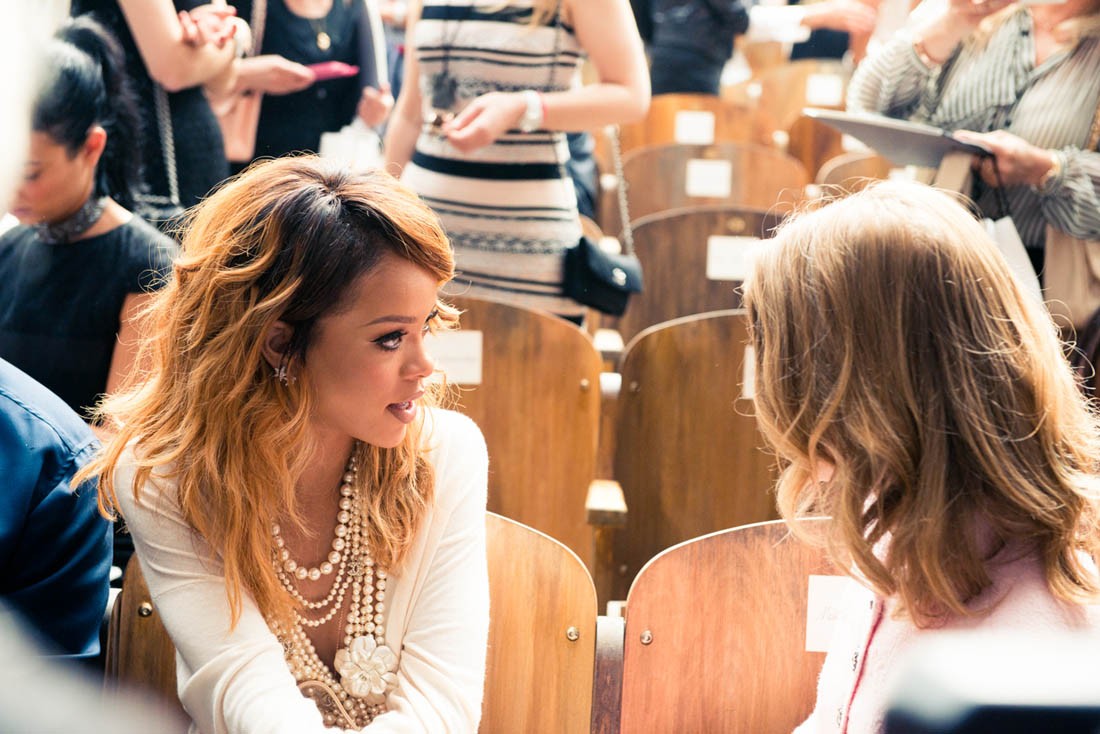 The Fashion Girl's Italian Dictionary: A How-To
Because those sayings in your travel guide ain't gonna cut it at Milan Fashion Week.
Ciao da settimana della moda!
Okay, we can feel you rolling your eyes through the screen. If you're thinking we got Google Translate-happy with our broken Italian in preparation for Milan Fashion Week, you are absolutely right.
But we couldn't send you off into a fashion week full of enough heavy-hitters to fill a Kreayshawn verse without at least a few fashion-centric sayings under your belt (and no, we didn't translate them ourselves).
Now let's open up our Italian phrasebooks to the MFW chapter, shall we? Think of this as fashion's version of Rosetta Stone. You're welcome.
—Chelsey Burnside
1.
"It's actually a skort."
"In verità è una gonna."
For all those eying your barely there pleated number as you venture up a particularly treacherous flight of stairs. Party in the front, business in the back.
2.
"Is this tagliatelle gluten-free?"
"Queste tagliatelle sono senza glutine?"
Who are you kidding. You know you're not gonna coast through fashion week on green juice alone. You're in Milan—the carbs are inevitable.
3.
"Let me tag you in this—what's your handle?"
"Ti taggo in questa foto - qual è il tuo Instagram?"
A very important phrase for all occasions, but particularly MFW. Use in a nonchalant tone when you happen to be snapped alongside Kendall Jenner post-Versace (as if you don't know her Insta-info off by heart. But she doesn't need to know that, right?). Follow up with an innocent, "Is that Kendall with one L or two?"
4.
"Does this tulle sash make me look gift-wrapped?"
"Questa fascia di tulle mi fa sembrare un regalo impacchettato?"
If we've learned anything from the SS15 fare thus far, it's that tulle rules—especially when knotted around your waist à la Suki Waterhouse at Burberry. Just make sure this whole runway-real way thing isn't making you look like you're someone's birthday surprise.
5.
"Does anyone have Band-Aids? It's an emergency."
"Qualcuno di voi ha dei cerotti? è un'emergenza."
For when you're hobbling to your fifth show in a pair of sadistic flatforms and contemplating how to justify the barefoot look to the street style photogs.
6.
"Can you see my nipples through this?"
"Puoi vedere i miei capezzoli attraverso?"
With fashion month just past its halfway point, we've come to terms with the fact that all-sheer everything is here to stay (and also that opting for a Moschino McDonald's carton bag over a gym membership this year was maybe not the best call). Channel Tom Ford and keep the goods covered up with a couple of demure sequined nipple pasties. Kidding. But double-sided tape is your friend.
7.
"She totally hashtagged an ampersand again. Has she learned nothing?!"
"Lei ha usato "&" come hashtag di nuovo.....Non ha imparato niente?!"
Because we all know that as soon as the D&G show kicks off, the awkward punctuation-filled half-hashtags will surely follow. And while we're at it, in order to prevent any Anne-Hathaway-in-Devil-Wears-Prada moments, let's all just take a moment here: Gabbana. Two B's. One N.
8.
"Excuse me, you're in my front row seat."
"Scusa, lei sta occupando il mio posto in prima fila."
Because in this situation, it's important to be clear… In as many languages as possible.