Fashion Week
Guys, we are this close to putting Miss Cleo out of business.
Guys, we are this close to putting Miss Cleo out of business.
No, seriously. The proof is in the Prada-clad pudding: not only did we call fashion week's whole no makeup-makeup and post-Flywheel hair and call it early on; but, well, another day, another windblow, faux-sweat-soaked updo. You can't say we didn't tell you so: we suggest you start buying stock in dry shampoo now.
---
Case in point? The Clover Canyon presentation, where models, save for a perfectly orange-y, red-y matte lip, were almost entirely barefaced. Oh, and the hair. The hair. Imagine: messy updos (you're seeing the trend here, right?) with slicked back bangs (literally, gel was painted on to resemble sweat) and wispy accent pieces framing the face just so.
Except you don't have to imagine, because true to form, we sent our girl HVN to all but interrogate the designers and hair team before the show to break the look down. And guys, if we didn't know better, we'd almost swear that before the month is out, you'll be stocking up on stretchy headbands and scrunchies to boot. Watch this space.
The Glossy Bang & Messy Bun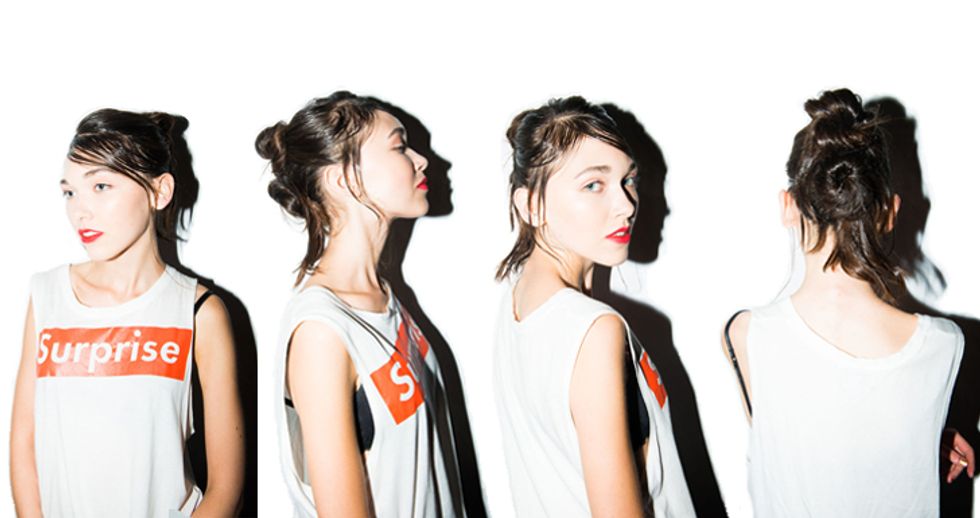 You will need...
TRESemmé Thermal Creations Volumizing Mousse
A hairdryer
A comb
An elastic
Bobby pins
TRESemmé Mega Firm Gel
Step 1
Prep hair with TRESemmé Thermal Creations Volumizing Mousse and rough dry the lengths for texture.
Step 2
Once dry, create an imperfect deep side part with a comb, leaving loose pieces framing the face.
Step 3
Create another part from mid-ear to the crown to form two sections.
Step 4
Gather the top section into a ponytail just below crown and fasten with elastic.
Step 5
Take the remaining hair and create another ponytail at the back of the head, directly below the first.
Step 6
Loosely wrap top ponytail into a bun, leaving ends out, and fasten with pins.
Step 7
Twist bottom ponytail in the opposite direction, and secure with pins as well.
Step 8
Paint TRESemmé Mega Firm Gel through front strands using a hair color brush, then use fingers to apply gel to the ends of each bun to complete the wet look.