Welcome to Social Media Week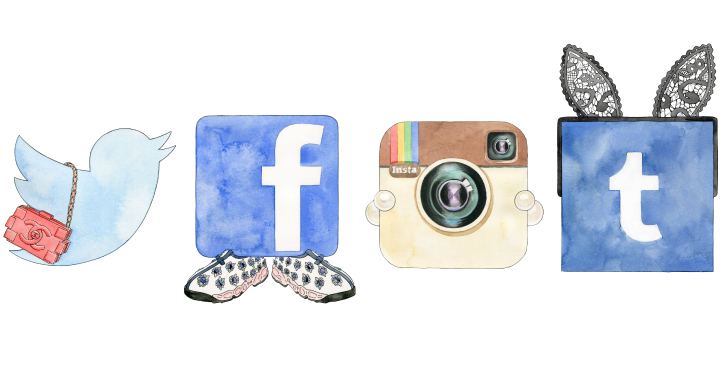 The Coveteur's Guide to Fashion Week Social Media Etiquette
When to selfie, when to play paparazzi and when to just put your phone away (hint: it's most of the time)
Call us millennials, but there are a few social media rules of thumb that have been ingrained in us practically since birth (okay, fine—since ninth grade maybe). For instance:
Beware of the double-post.

Don't retweet gossip until it's been confirmed by a legitimate news source (or at least Perez).

Once it's out there, you can't take it back.

Grammar, grammar, grammar.
Oh, and the new Murphy's Law: If you white-lie about your whereabouts, you will—we repeat, WILL—inevitably be geotagged.
But when it comes to fashion week, bringing your social media A-game requires an etiquette refresher. These are high stakes, people!
Now straighten that posture, place your e-books on your head and repeat after us.
You're killing time at an experimental show-that-must-not-be-named. The good? You scored a front row seat! The bad? Pretty much everything else. Let's just say '80s death rock wasn't your era. You reach for your phone to tweet the pain away…
Hold up. Do you want to be that person who Twit-shamed the next big thing a few years down the road? What may seem like a harmless one-off now could come back to haunt you. This one's best kept to Snapchat—watch the evidence slip away in 3…2…1.
Should you find yourself backstage at Altuzarra, catch your breath when you wind up squeezing for space beside a few Parisians you recognize as street-style regulars. They're speaking in angry, rapid French, and with your grade school-level translation skills, you're able to catch a couple of hilariously condescending quips. Visions of the next @CondeElevator dance in your head as you start plotting your anonymous account…
Be still, your beating heart. Before you go pulling back the curtain, remember backstage is a no-man's land of tears and chaos and rumors. Citizen journalism 101, folks—check those sources and beware the anonymous quote. Nobody wants to get blacklisted.
You're posted up outside Jeremy Scott people-watching and wondering whether you went a little too Dello Russo with your choice of footwear, when you're passed by dream team Kelly Oxford and Nicole Richie bantering FW commentary back-and-forth. It's like they're reading your mind. Any one of their one-liners would make a perfect subtly hilarious, yet astute Instagram caption. What, only your followers will see, right?
Wrong. Remember what your high school teacher drilled into you? Plagiarism is plagiarism, and even Twitter doesn't change that. Now get back to being a basic caption bitch already. #fashionweek #blessed.
So you spot @BadGalRiRi in a rare paparazzo-free circle. You've whipped your phone out faster than you can say, "Where have you been?! Cause I never see you out…"—now, before you get snap-happy, take our advice and resist the urge to Instagram.
We'll use one of our own social media blunders to illustrate this one—as excitable youngsters, we may or may not have bumped (literally—there were a few G&Ts consumed prior-to) into a certain heavyweight at Soho House and exuberantly (read: all caps) tweeted his coordinates. This, friends, is a surefire way to go from It-list to sh*t-list. True story.
You're crammed into the back of a cab racing (read: crawling) across town to make it in time for the Alexander Wang show, and an editor-of-note happens to have hitched a ride. She's on a call, and in a severely decaffeinated moment lets slip a certain hush-hush cover story. She frantically glances your way to see if you've heard. Let's be real: your first instinct is to break the news to your closest circle of loved ones.
Who are you kidding. You want to tell every Facebook friend. With multiple hashtags.
Just remember, what happens at NYFW definitely does not stay there. Keep your rep in check and the juicy gossip to yourself.
(Okay, and a couple of friends. You're only human).
So fashion week had you brushing shoulders with, well, your entire Bloglovin' feed. You've been on your best behavior (swearsies!), but after the party is the after-party and your inner fangirl is feeling dangerously invincible. Before you know it, you've penned a little-more-than-140-character DM (okay, it's 647 words) pitching a totally genius (debatable) Man Repeller collab to Leandra Medine. Now, before you let that liquid courage coerce you to into hitting send, hear us out. In spite of your mutual loves of shorteralls and parachute pants, this is a terrible, terrible idea. Don't do it. You can thank us later.
—Chelsey Burnside