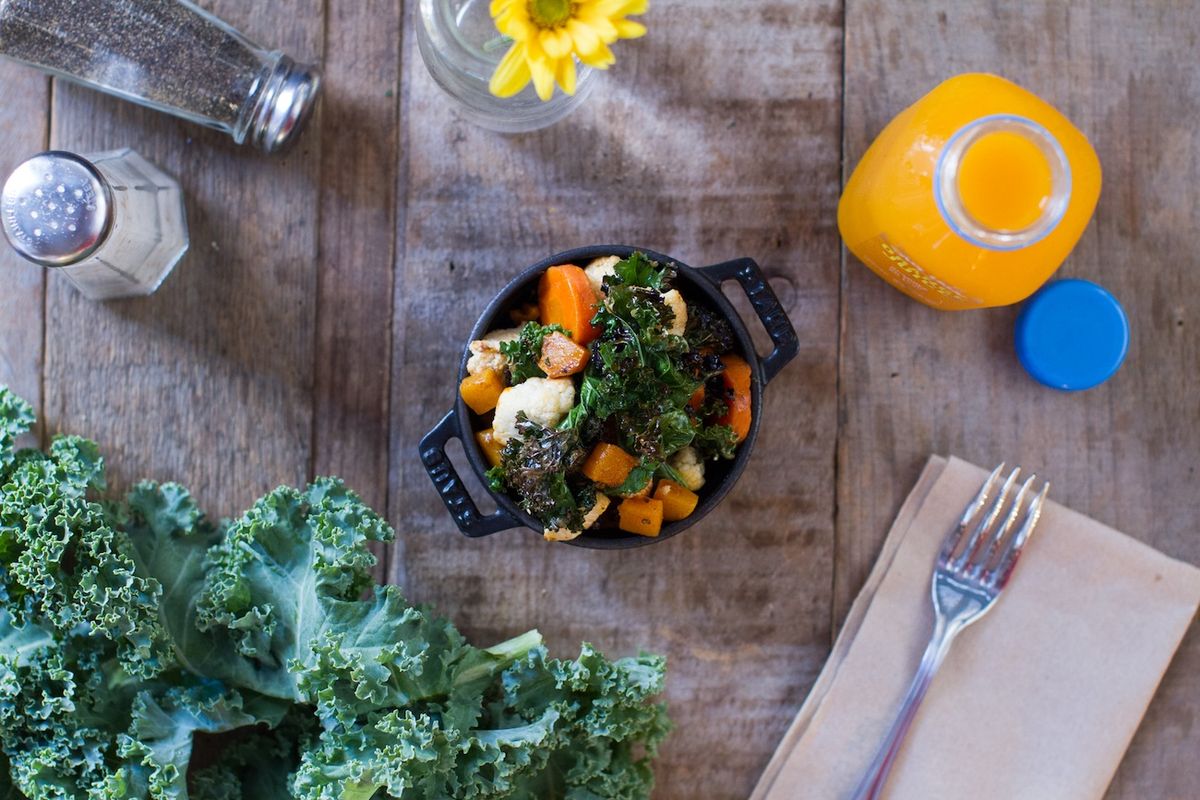 Food
The meals on offer backstage at NYFW this week (we have the recipes!)
---

When we heard the CFDA Health Initiative was teaming up with NYC food stop Dig Inn to provide healthy backstage meal packages for NYFW models, we knew we had to get in on that. Think: farm-to-table (or rather, farm to runway), locally sourced, organic meals like Sicilian Caulifower with Chickpeas and a Butternut Squash Kale Medley. So we did a little dirty work and hunted down the recipes for the exact meals Cara Delevigne and Kendall Jenner will be noshing this coming week. Because eat like a model, look like a model, right? (Let's just ignore the whole genetics thing for now...)
Ingredients
2 bunches kale, rinsed and dried, stems removed, cut into 1 inch pieces 
2 garlic cloves, sliced
4 Tablespoon vegetable oil
1-½ pound butternut squash, prepped (peeled, cut in half, seeds discarded, and carefully cut into ½ -inch cubes)
3 medium sized carrots, peeled and cut into ½-inch cubes 
½ small head cauliflower, cut into bite-size rosettes
3 Tablespoons canola oil, separated
2 teaspoons fresh thyme leaves, separated
sea salt
freshly ground black pepper
1 lemon, juiced

Preparation
1. Pre-heat oven at 450 F.
2. Heat 1 Tablespoon oil in a gallon-sized pot on high heat setting. Add sliced garlic and cook for 30 seconds.
3. Add kale and cook for 10 minutes, stirring every 2 minutes to prevent scorching. Kale should be browned on the edges. Season with salt and pepper.
4. Transfer kale to a plate and set aside.
5. In a bowl, toss prepared carrots and butternut squash with 2 Tablespoons oil, ½ teaspoon salt, 5 grinds of fresh black pepper and 1 teaspoon thyme. Spread mixture over a baking sheet and bake for 25 minutes in the hot oven.
6. Toss cauliflower with remaining 1 Tablespoon oil, ½ teaspoon salt, 5-grinds black pepper and remaining teaspoon thyme. Spread over the squash/carrot mixture and cook for 10 more minutes. All veggies should be soft at this point, if not cook for 5 more minutes.
7. Toss hot squash/carrot/cauliflower mixture with the cooked kale. Add fresh lemon juice and additional salt and pepper to taste.
Chef's Tip
Take advantage of the bounty of fall squashes and switch the butternut squash for spaghetti squash, kambocha, Hubbard, acorn, or buttercup squash (whatever you can find at the market.) These hard squashes are difficult to cut, so use a strong knife.
Ingredients
8 oz dry chickpeas
1 teaspoon fresh thyme leaves
3 cups water
1-2 heads cauliflower, cut into bite-sized florets.
5 Tablespoons canola oil
½ cup panko-style breadcrubs
¼ teaspoon sea salt
black pepper

Dressing
2 Tablespoons apple cider vinegar
2 Tablespoons extra-virgin olive oil
1 teaspoon maple syrup
1 teaspoons grainy Dijon mustard
1 Tablespoon capers
2 Tablespoons black olives, chopped and pitted
1 cup sliced parsley leaves
Preparation
1. Prepare chickpeas: combine dry chickpeas, 3 cups water, and 1 teaspoon thyme leaves, and ½ teaspoon sea salt into a quart sized pot. Bring to a boil on high heat. Lower heat and cover. Continue to cook chickpeas for 1 hour and 30 minutes, or until soft. Strain chickpeas in colander and keep warm.
2. While chickpeas are cooking, prepare bread crumbs: heat skillet on medium heat and add 3 Tablespoons oil. Add breadcrumbs. With a wooden spoon, brown breadcrumbs to a light brown. Transfer to a paper towel-lined plate to drain.
3. Prepare dressing: In a bowl, whisk together vinegar, oil, maple syrup, and mustard. Add capers, sliced olives, and chopped parsley.
4. Prepare cauliflower: Heat a gallon size pot on high heat setting. Add cauliflower and then 2 Tablespoons oil.
5. Cook cauliflower for about 5 minutes, stirring with a wooden spoon to prevent scorching. Cauliflower should be roasty and soft.
6. Transfer cauliflower to a bowl. Add warm chickpeas and dressing and mix gently. Add breadcrumbs and toss again.