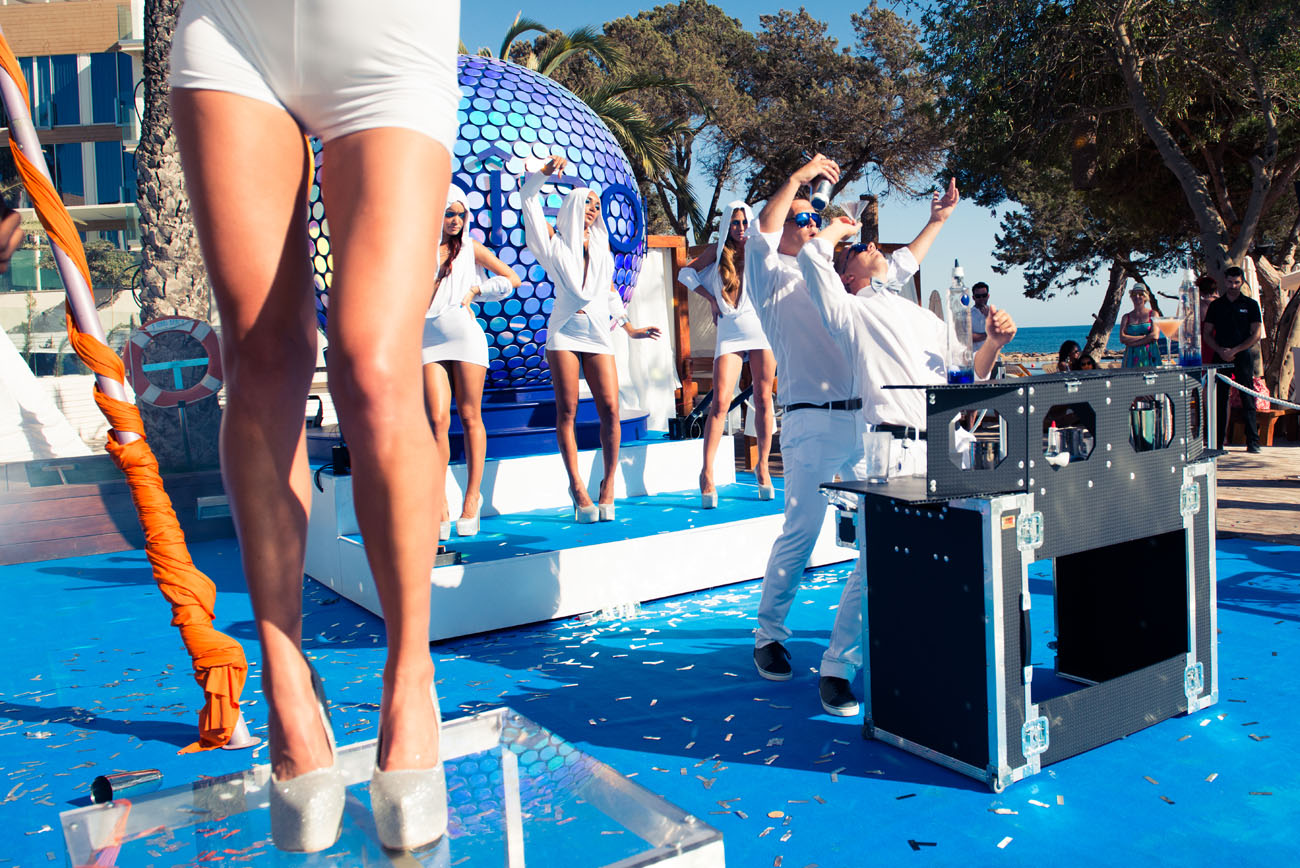 Why Does the Fashion Crowd Love Ibiza? Let Us Count The Ways.
Been there, done that, got the vodka-soaked postcard.
Let's be honest, a week in Ibiza doesn't allow for the sort of restorative island getaway you turn to when you're in search for rest, relaxation and a really good tan. Okay, fine, the really good tan part may still have (well-toned, Aquazzura sandal-wearing) legs, but it's more likely to be the result of a hungover poolside nap than yoga at sunrise.
After spending a week there with Cîroc Vodka, we can confirm that the Spanish island is everything you've heard about and, well, more. We mean, if it's the kind of place that has Kate Moss looking like this while clad in nothing but a fishnet mini-dress and neon bikini, it suddenly makes sense that no fashion person's Instagram was quite complete this summer without a requisite snap geotagged at Nikki Beach.
And while our week on the White Island can largely be summed up with a simple, "what happens in Ibiza, stays in Ibiza," we thought it was only fair to share at least a handful of the best places to see and be seen (because lets be real—both are equally crucial here). And while we know the adult Disneyland, with its thumping electronic music at all hours reputation can encourage an eyebrow raise, you just have to embrace it. Kind of like Vegas, only approximately one thousand times more glamorous and, uh, European. And if copious servings of the aforementioned Cîroc are what helps you get to that place of acceptance, we don't judge. Need we remind you of Riccardo Tisci's birthday bash? Replete with a guest list that most closely resembled the front row of a fashion show, including the entire Kardashi-klan (yes, Kris too), and, inexplicably, Justin Bieber? Or maybe Cara Delevingne and Suki Waterhouse on a yacht celebrating Delevingne's big 2-2 will better get your memory going? We thought so.
Nikki Beach
Right off the bat, let's establish something: chances are, if you're talking about a beach in Ibiza, it's likely a beach in name only. By which, of course, we mean that said beach experience will be accompanied by all-white cabanas, a roped-off VIP area, bottle service and fish tacos at your beck and call rather than your usual Tupperware and beach towel accessorized day in the sun. Nikki Beach Ibiza is kind of a prime example of said breed of beach, and having only opened a few weeks prior to our arrival, lets just say we made a point of ensuring the, ahem, amenities were up to snuff.
"Kind of like Vegas, only one thousand times more glamorous and , uh, European"
KM5
Our first dinner in Ibiza was at KM5, which couldn't have been a more fitting welcome. Housed in a 400-year old (yes, you're reading that correctly) mansion, we were treated to round after round of sushi, sashimi and nigiri; with ample Ciroc (bien sûr) cocktails in between. And as if you even really had to ask, the restaurant plays home to many a DJ set. We told you it was fitting.
Ocean Beach
Remember what we were saying about beaches in Ibiza deviating slightly from your typical no-lifeguard-on-duty expanses of sand and surf? Yeah, that's pretty much the case here, too. Complete with a white day bed-filled garden, a pool, boutique, restaurant and massage services, Ocean Beach more closely resembles a nightclub (as does virtually everywhere you go on Ibiza—we told you it's reputation was no exaggeration) that had a baby with a spa than it does your typical day at the beach. Now where's that round of shots?
"Let's be clear: a week in Ibiza doesn't allow for the sort of restorative island getaway you turn to when you're in search for rest, relaxation and a really good tan."
Ushuaia Club Hotel
What's that? A hotel that doubles as a day-to-night poolside club? In Ibiza? You don't say. When it comes time to chow down (you know what they say about empty stomachs...), Ushuaia has an entire host of dining options ranging from Japanese at Minami, aged-to-perfection steaks just next door at Montauk and bivalves and caviar over at The Oyster Bar, which, wouldn't you know it, just happen to complement vodka perfectly. Funny how that works out, huh?
Pacha
Can we address this one with a simple "Oh, boy" and leave it at that? Kicking around since the late '60s, Pacha is, to put it lightly, the kind of place that Ibiza's reputation was built on. As home to a revolving door of blockbuster DJs (case in point: the Steve Aoki set we witnessed during our very late night there), it's everything we would gleefully roll our eyes at were we at home. Yet in Ibiza, it becomes part and parcel of the no-holds-barred experience.
Boom
Being bathed in neon lights the second you enter? Check. Owned and operated by an offspring of the Cipriani legacy? Double check. EDM booming from the speakers to ensure that your drink order is a scream rather than a whisper? Quelle surprise—check.
Blue Marlin
Most of what you need to know about Blue Marlin can be most accurately summed up by the locations of its two outposts:Ibiza and the UAE. It was here that we bid adieu to the island on our last night and we couldn't have had a more true-to-formIbiza send-off. We know it comes as a shock, but Blue Marlin is another 18-hours-a-day (give or take) party palace, with near round-the-clock poolside grown-up beverages and a welcoming adjacent pier for those cruising the sea on their yachts to dock. Don't say we didn't tell you so.
Cavalli Club Ibiza
Given his A++ standing in the fashion world, it's no surprise Roberto Cavalli's newest entertainment complex (complete with a restaurant, lounge and club) is a hit with vacationing celebs. We're talking Paris Hilton, Harry Brant, Zac Efron and Michelle Rodriguez (you know, when that was still a thing).
Cipriani
Okay, so we know you're no stranger to all things Giuseppe Cipriani. We mean, world class bellinis anyone? Say no more. But said bellinis might taste just a little bit better knowing you could be sipping out of the very glasses Orlando Bloom and Justin Bieber did seconds before they got into fisticuffs (cue Biebs saying, "What's up, bitch?") as Diddy (who has been known to call himself Cîroc Obama) watched on.