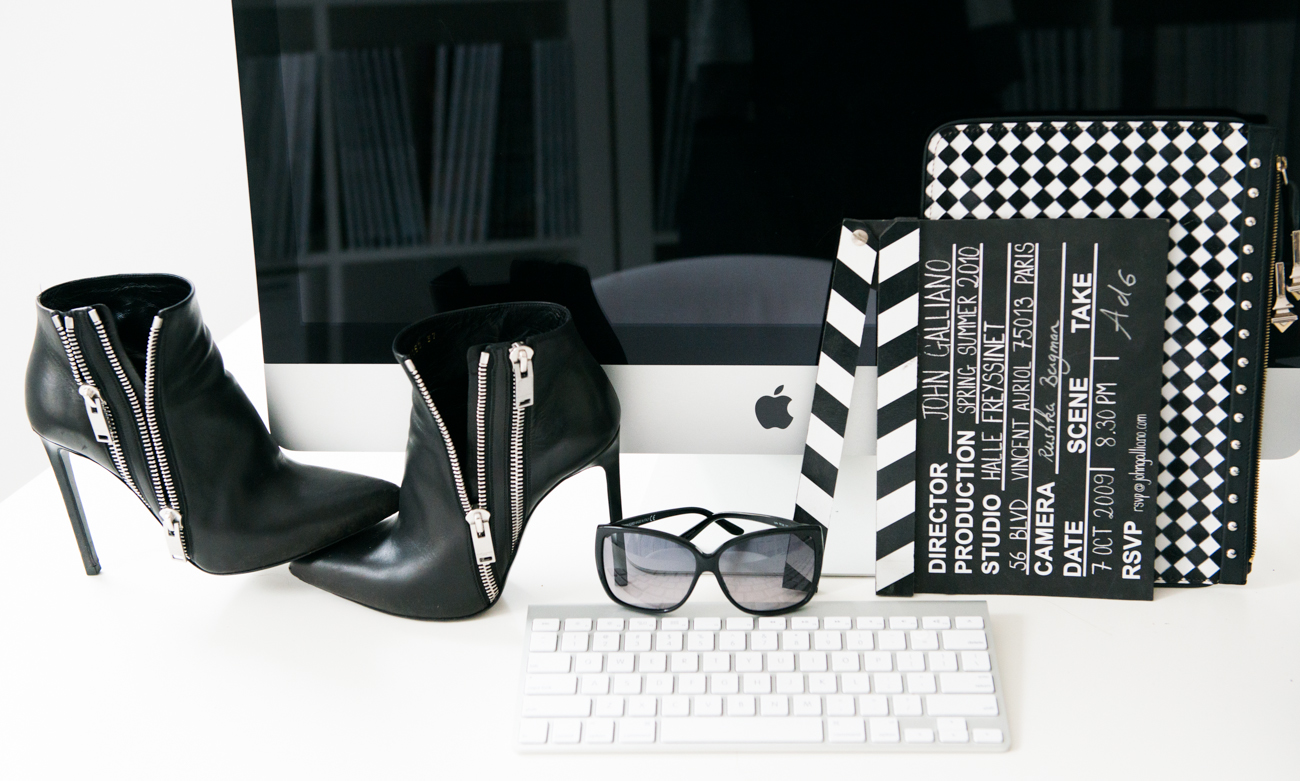 The Coveteur's Guide to eBay (& Then Some)
How to score throwback Balenciaga for a fraction of the price? 7 experts (including A$AP Rocky) fill us in.
We live and work on the Internet. We have a voracious, seemingly-endless appetite for shopping. There's nothing we love more than procuring archival pieces from our favorite-ever designers and proceeding to humblebrag about said purchase. Can someone explain to us, then, our collective aversion to eBay? Nevermind the fact that the digital marketplace has existed since 1997 (!) and is a place where even senior citizens can get their kicks (you think we're bad with impulse purchases? We have nothing on those born before 1950).
And despite the fact that Cov-alums from Susie Lau to Kelly Oxford to A$AP Rocky (who used to go so far as to scour Craigslist (!) for rare Raf Simons kicks back in the day) have backed the auctioneering site, the eBay tick is one that continues to elude us. No matter the volume of throwback Balenciaga or one-off Isabel Marant we hear is kicking around, there's this little voice in the back of our heads that we can't seem to shake. Where do we even begin? What if the Céline box bag we bid on arrives at our door scratched, or worse yet, faux? How do we compete with experienced buyers when it gets down to the wire on those limited edition Nicholas Kirkwood sandals?
Given that we'd never allow anything to get between us and circa-2010 Prada surfer prints, we enlisted the help of said Cov-alums with considerable eBay expertise and experience to spill their best scores and words of advice when it comes to potential purchases. What can we say? It helps to have friends in fanatical places.
...On her best all-time find (& splurge!):
"I bought three full seasons of Jovovich-Hawk stuff on eBay in 2006 for $1200."
…On scavenging for Raf Simons on Craigslist (not eBay, but close, right?):
"You've got to realize I come from the mentality of a scavenger shopper, meaning that I used to go to retail places and consignment places and get high-end clothes for cheap, and I still do. What I do, and what the smartest thing to do, is take something from a collection and wear it now and then seven months from now, you put it away in the archives and then bring it out three years later. I remember one time I went to Craigslist to find something; that's how bad I wanted it. It was a pair of Raf Simons—this was like 2010. But he said he was going to make them for me."
...on tips & tricks for eBay virgins:
"It helps to have specific search parameters. Say if you're looking for a particular brand or item––the more specific you are, the easier it is to navigate. Also, use the subcategories and sort options so you're not wasting time passing through shoes when you're looking for a bag, or $5,000 items when your budget is $500! And if you're on the hunt for the one that got away (or just lazy like me), you can always set saved searches and get email alerts when they pop up."
...on nabbing specific pieces from collections of yore:
"For archival pieces, it's great to know the seasons they're from or [the] names of pieces. But if you can't find what you're looking for that way, chances are the buyer might not even realize it's a special piece, so always double check the Vintage category, just in case."
...on the whole authenticity, ahem, issue:
"I usually check for how many transactions they've had. 0? Pass! Also, their feedback score: the higher the better. The listing should also state the authenticity clearly. Sometimes it's kind of ambiguous, which I would pass on as well. And just because I'm neurotic, even if everything is in order I'll take the extra step to message the seller and confirm one more time so I have their word in writing."
…on what to ask your seller before clicking 'buy':
"Questions all depend on the situation. Sometimes I don't ask any questions. Maybe the listing is so straightforward there is no need or maybe it's not that heavy a purchase. I usually ask questions when there are shipping concerns––Will I get it in time before I leave for vacation? Is there a cheaper shipping method? Or questions about fit––What is the insole measurement? What is the waist measurement?"
…on Min's ultimate 'find' (we all have them, you guys):
"I usually scour eBay for past season items I missed out on. So any time I check one of those off the list, it's an ultimate find. I'll usually set saved searches for those and get email alerts so I don't have to constantly be on the prowl."
...on why the best is yet to come:
"I've had some insane scores, which are combinations of rare items at great prices. Lots of Céline, rare Balenciaga boots and sandals, Givenchy necklaces. I've moved on to furniture though. When I get a crazy Memphis piece it'll be crowned the new best ever."
...on scoring archival CHANEL & throwback Christopher Kane (yes, really):
"We save all of our favorite searches, so eBay notifies us if they become available. If we save our favorite search as 'Prada faux fur', it notifies us if anyone uploads anything like that and we can jump on the Prada train!"
...on interrogating potential sellers (JK. Not really).:
"We usually ask how much shipping is if it's not listed; and sometimes we ask for more photos, just to ensure it's exactly what we think it is. We also check if there are any negative comments regarding their items."
...on the pieces they're constantly on the hunt for:
"We're always on the hunt for Mickey Mouse stuff! We found three vintage hats: 80's Mickey, Minnie and Daisy furry snapbacks! They're hard to find and we looked for six months straight to get them. We wore them to Disneyland on our birthday!"
...on their best-ever eBay score:
"We think it would have to be our CabbagePatch bags! They are everything! And also our hard-to-find suede Isabel Marant dress! Obsessed!"
...and yes, there's an app for that:
"Definitely download the app on your phone. The alerts go right to your cell phone! That way, you don't miss out."
…on the importance of starting small:
"Start with smaller purchases first. You don't want your first eBay purchase to be a sofa or car. Costume jewelry is a great thing to collect on eBay. If you are making a purchase for the first time, definitely go with a seller that has plenty of positive feedback."
...on their ultimate find:
"I've found so many great things on eBay, but probably my favorites are my Sergio Bustamante sculptures!" – Judy
...on the sneaky trick they uses for last-minute wins:
"We find that the best pieces go off on Sundays. You will definitely need to sign up for Auction Sniper or one of the other bidding services. You absolutely cannot win without those!"
…on avoiding less, than, uh, authentic items:
"eBay is good at weeding out the fake sellers in our experience. But most importantly, look at their feedback!"
...on their biggest steal yet:
"I'm not sure—but we have scored some YSL for under $200 that we wear to death—we think that qualifies!"
...on crucial baby steps for first time eBay-ers:
"My first piece of advice is to personalize your eBay Feed as soon as possible–this way, upon sign-in, your homepage automatically turns into a feed of personalized products. The feed helps you sift through oceans of products, revealing your most important and relevant searches. If you fall in love with a particular curator, you can also 'follow' them to populate your feed with more of their ideas. eBay Today is also a good place to follow experts that share your tastes (e.g.. CHANEL collectors, rare book collectors, etc). I find that some curators really have a knack for specializing in a specific field. You should know that every eBay listing allows you to add the item to your "watch list" so that you receive alerts before that sale ends."
...on finding even the most specific (circa-2008 Yohji Yamamoto x Hermès? Check!) pieces:
"If you engage in the site properly, you can find any obscure archive, luxury staple, emerging designer, or top designer piece. Start by personalizing your feed to focus on items that reflect your interests—like Isabel Marant, capes, Hermès ashtrays, Miu Miu heels, Cartier rings, you get the idea). The more specific, the better you will yield. Save sellers who specialize in designer merchandise—always look at their seller ratings. Always look at the 'related' listings, found underneath the search bar. Related listings can prove a powerful tool showcasing similar items you never knew existed. You may discover some new designers or items by chance!"
…on eBay's efforts to ward off counterfeits (so you can buy that Céline with confidence):
"Pay special attention to sellers with both a lengthy track record and a stellar rating. Thankfully, eBay's community is very honest, frank, and outspoken about their good experiences and not-so-good experiences. Counterfeits are a critical issue to eBay. You should also know that if an item isn't exactly what you ordered, eBay will make it right by covering your purchase price plus original shipping on virtually all items."
...On bonding before you buy (it's totally a thing, guys):
"It's imperative to learn everything about your item before paying for it. My favorite questions are to disclose any faults with the item—rips, stains, et cetera. Usually, a good seller should describe any shortcomings or defects in detail in their listing anyways. Another potential question could be how to coordinate shipping or personal picks-ups that best suit you. For one of my purchases, I once asked the seller to explain how they inherited this rare item and in return received a very lovely personal story of the the history of this item. Sellers are always eager to keep their ratings high, and I find this helps raise the level of customer service within this community."
...On the importance of doing your (very thorough) research:
"Take the time to review a sellers feedback score and comments to gauge whether or not they are a reputable, communicative seller. Even the sweetest bargain can be soured by an irresponsible seller."
…On the eBay hacks that lead to seriously sweet Céline pieces:
"Set your search for international sellers and seek out consignment shops that have an eBay store. Archival pieces pop up most often when people are clearing their closets, so consignors are key."
...On the key questions to ask potential sellers:
"Where did they purchase the item from? Are there any notable flaws that don't appear in the auction photos? Is the item true to size and if not, can they provide additional measurements?"
...On her ultimate finds (they're seriously good ones, guys):
"One of my most treasured finds is a pair of Balenciaga jodphurs from the Fall 2007 collection. I scored a very special cropped Dries Van Noten jacket, all embroidered silk, for next to nothing. I think the extreme cropped length made it a tough sell so the seller lowered the price a number of times before I snapped it up. Good things come to those who wait!"