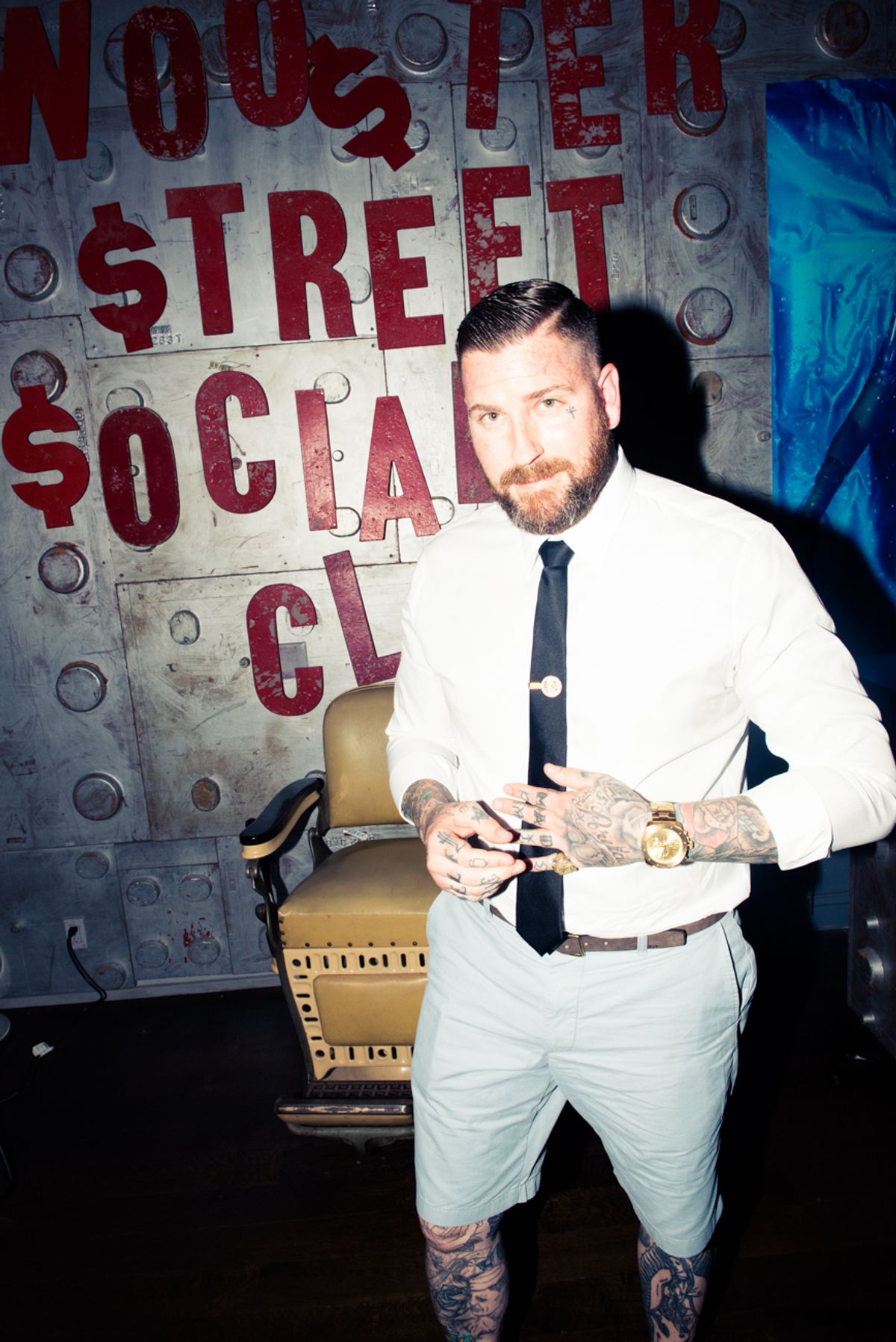 Closet
Tattoo Artist. New York
If there's anything we love, it's a contradiction in terms. 
Karl Lagerfeld
sending CHANEL 2.55 bags wrapped in plastic down a grocery store aisle-runway. A former Spice Girl and Footballer's Wife going and becoming a legitimate designer with a shiny Vogue stamp of approval. The decade-spanning union that is David Bowie and Iman. You know, when we expect the unexpected. It's fitting, then, that we hit it off so well with tattoo artist (and resident total babe) Luke Wessman. Meeting the tattoo artist outside of his Soho shop, Wooster Street Social Club, we were immediately struck by the fact that while Wessman was covered head-to-toe (literally guys, he confessed that he's quickly running out of epidermal canvas) in tattoos, he doesn't quite live up to your mom's idea of a tatted-out twenty-something. And, okay, excuse us, while we're neophytes in this area, but walking us through his cavernous shop, all freshly pressed shirt and tie,
khaki shorts
and omnipresent
Converse
(he buys fresh kicks monthly), he was downright gentlemanly. Which totally makes sense if you know Wessman. 'Cause while he may be one of the biggest tattoo artists in the game (he only travels all over the world and has fans lining up to get tatted), he is also the brains behind the oddly addictive Instagram account, @lostartofthegentleman, which he uses to impart his old school and romantic thoughts on love. Talk about a lamb in lions clothing. And while we could have listened all day to his thoughts on how to woo the ladies, it was when we got into Wessman's thoughts on tattooing that we really fell under his spell (more on that later). Despite the fact that the man seemingly has tattoos of all types all over his body, he won't go anywhere near anything photo realistic or tribal. Like his ideas about romance, Wessman loves the old school tattoo—and he's damn good at giving them too—and each one of his own has a special meaning. Ask about one and you'll get a whole story—we know, we did it several times—from the tiny beer stain on his calf (a souvenir from a recent trip to Ireland) to SELF MADE across his knuckles. And he won't just do whatever anyone requests, either. No faces, no hands or necks, unless the person in question is a collector. "It is up to us to save people from themselves," he smiled. We all left completely obsessed with the idea of getting inked—not going to lie, we ended up heading back to Wooster Street a few days later to get a tattoo for one of the Cov crew. But we won't kiss and tell—it's totally personal, you guys.