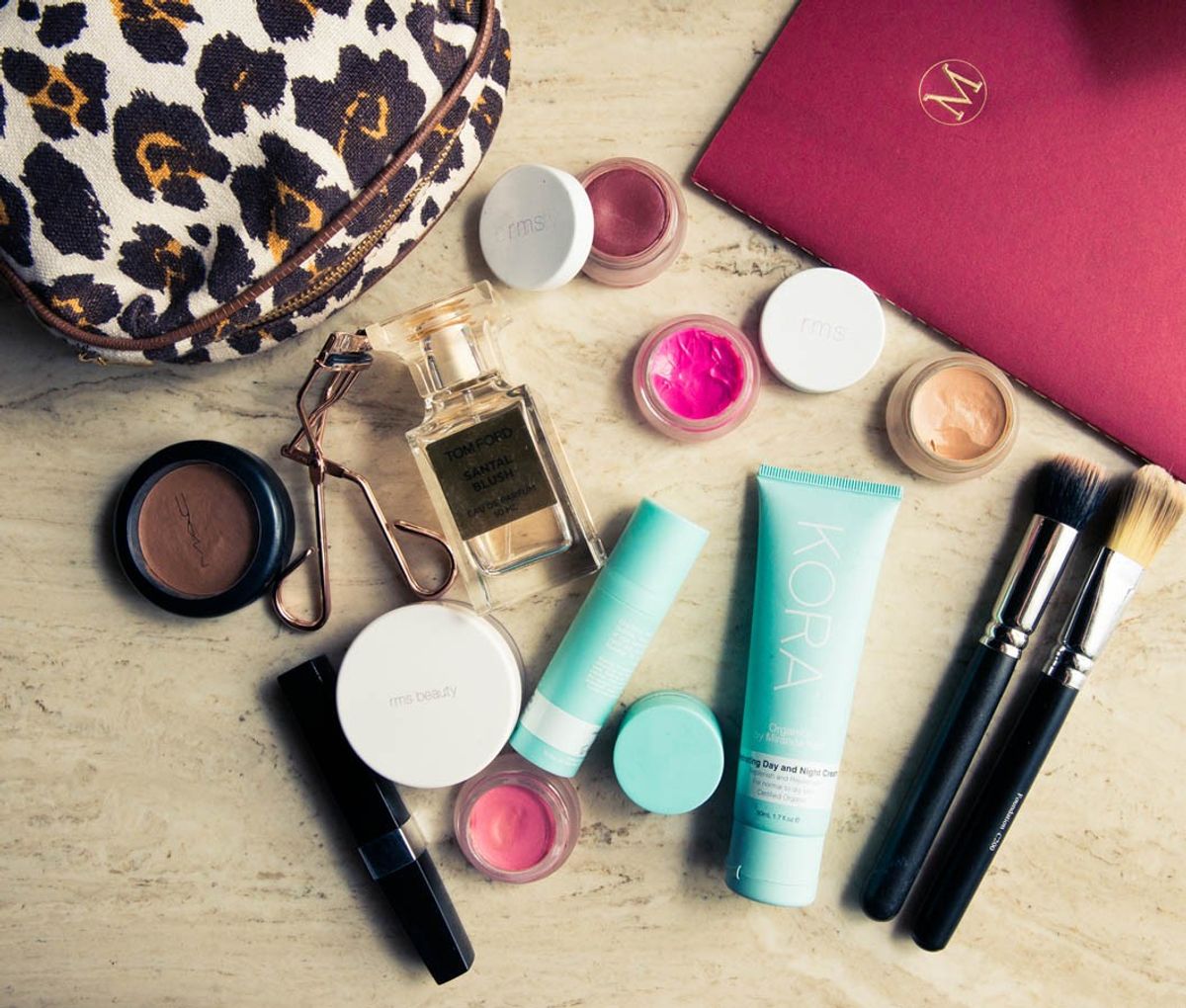 Makeup
8 Cult Australian Beauty Products
No, we're not referring to Elle McPherson.
Miranda Kerr. Christine Centenera. Jessica Hart. Mandy Shadforth. Freakin' Elle McPherson! How do you say je ne sais quoi in Australian, again?
---
All kidding aside, we've increasingly noticed that there's just something about girls (okay, and guys too) from the Land Down Under. Maybe it's the permanently glow-y, tawny and subtly toned limbs. Or the permanently tousled surfer hair. Or their model-off-duty meets decidedly directional style inclinations: a pair of artfully slashed cut-offs, say, paired with low-top sneakers, a well-worn leather jacket and a neoprene, marble-print Josh Goot tank. And while we're pretty positive their singular style is oft-imitated, never duplicated, we can attempt to Single White Female their beauty routines in an effort to achieve those seemingly naturally-highlighted cheekbones (seriously, who looks like that?!) and that flawless complexion for ourselves. Enter Leigh Campbell, Beauty Director over at Cosmopolitan Australia, who recently opened up her little black book of go-to products for an education in cult-followed Aussie beauty—let's just say Miranda better watch her back.

Newly launched and already much loved, skincare brand Go-To is the brainchild of Zoe Foster Blake (an ex-beauty editor herself, so you know it's good). Any beauty buff worth her weight in micellar cleansing water knows that oils are having a major moment right now. Enter, Exception Oil. It's one of those all-purpose products that once you use it, you wonder how you ever lived without it. Free from petrochemicals, mineral oils, parabens, and silicones, but full of certified Monoi de Tahiti (macerated gardenia blossoms in refined coconut oil), put it on your body, your face, your boyfriend, anyone within a 10 meter radius, and bask in the imminent praise.
Jurlique Herbal Recovery Advanced Serum
Jurlique is Australia's skincare darling, hailing from hilly Adelaide, South Australia. Boasting biodynamic farming in the growth of most of their ingredients, they're acknowledged as our natural skincare pioneers, giving back long before green-living was made mainstream. A true hero in the extensive range, the Herbal Recovery Advanced Serum fights fine lines and restores radiance. You can see the difference after just one pump, I promise. Layer it on under your face cream and fall in love.
Citizens of the World Dweller Candle
Created in beautiful Bondi Beach in 2012, Citizens of the World is much more than a candle brand. A collaboration between writer Meghan McTavish and photographer Dominic Longeragan, COTW also boasts a lust-worthy travel and interior blog. But back to the candles. Dweller is the flagship scent, blending sandalwood, cedar and frankincense; the wax omits a heady fragrance that's sensually unisex. It creates an atmosphere of comforting familiarity, no matter where in the world you are (but especially if you're soaking in the tub).
Former model agent Shelly Barrett created cosmetics powerhouse
ModelCo
from her base in sunny Sydney. Regarded and respected for its innovations, ModelCo boasted the world's
first heated eyelash curler
. Barrett then followed up with Lip Lights; glosses and lippies with an LED light built into the lid, for application anywhere (read: dark bars and romantic restaurants). What could be more Australian, though, than a bright lick of candy pink or electric orange on digits to set off a glowing tan? Nothing, really (just add a
Lisa Marie Fernandez swimsuit
).
Lanolips Lip Ointments with Colour SPF
Lanolin (a wax derivative from sheep's wool) boasts incredible natural waterproofing properties, making it ideal for locking in moisture. Lanolips founder Kirsten Carriol layered on lanolin as a little girl, as directed by her father (a biology professor) when visiting her grandparents quintessential Australian sheep farm, and from there a lifelong love affair began. Fast forward to 2008, when Carriol launched her award winning brand, headlined by the cult Lanolips 101 Ointment. More fun but still as functional are the Lip Ointments with Colour, which offer a sheer wash of pigment over pouts, as well as sun protection.
Sodashi Rejuvenating Face and Neck Moisturiser
When your brand is found in the spas of the Four Seasons Hotel George V Paris, and the Four Seasons Hotel New York City (among others), you can sit back and be smugly proud of yourself. But that's not what founder Megan Larsen does. Instead, she continues to formulate luxurious high performance products that resonate with the natural sophisticate. The Rejuvenating Face and Neck moisturiser does just as the name promises, revitalizing the complexion with macadamia and apricot kernel oil, morning and night.
Becca Mineral Bronzing Powder in Duende
Born from the frustration of never being able to find the perfect foundation, Perth based makeup artist Rebecca Morrice Williams created Becca. She specialises (and indeed excels) in base-perfecting products; namely primers, illuminators and bronzers. The
Mineral Bronzing Powder in Duende
is the perfect dirty shade, meaning you actually look sun-kissed, not dusted in orange powder. The mineral mica formula is kinds to sensitive skin, bounces light like a dream, and never grabs on foundation.
O&M Atonic Thickening Spritz
O&M
(the acronym for Original Mineral) holds so much weight in those few letters. Founder Jose Bryce Smith forged a way for effective ammonia free hair colour, when husband and stylist Alan came close to quitting this career due to nasty chemical reactions. Her mineral formulation revolutionised in-salon colour in Australia, and spawned a styling range that would quickly become the 'it' brand amongst models, editors, aristocrats and A-listers.
Atonic
pimps your blowout, giving you serious volume that really does stay all day. It helps that it smells heavenly, too.