Makeup
Test-Driving Cult & Classic Beauty Products, Part II
The fun continues; and our bathrooms officially look like the inside of a Sephora.
Just in case you missed our latest adventure in turning our entire office into guinea pigs and road-testing various beauty products that the Internet has long been collectively losing its sh*t for, allow us to catch you up. 
After all, if seismic shifts in the beauty industry have been dictated by one thing as of late, it's irrevocably the Internet—or to be more specific, the whole social media thing. In fact, we're willing to wager the tanking (and conversely, the rampant success) of a whole lot of beauty products is centered on whether the most major of YouTubebeauty bloggers—excuse us, vloggers—have thrown it a virtual bone in the form of a namedrop. And so, in the spirit of taking the picks celebrated by both the beauty editors of yore (kidding, you guys) as well as those making their names through inexplicable sunset-gradient eyeshadow tutorials, we thought it was high-time we tested out a handful of cult beauty classics for ourselves. And yes, our bathrooms do now resemble the inside of a Sephora, thank you for asking.
Read part one of our adventures in cult beauty products here. 

---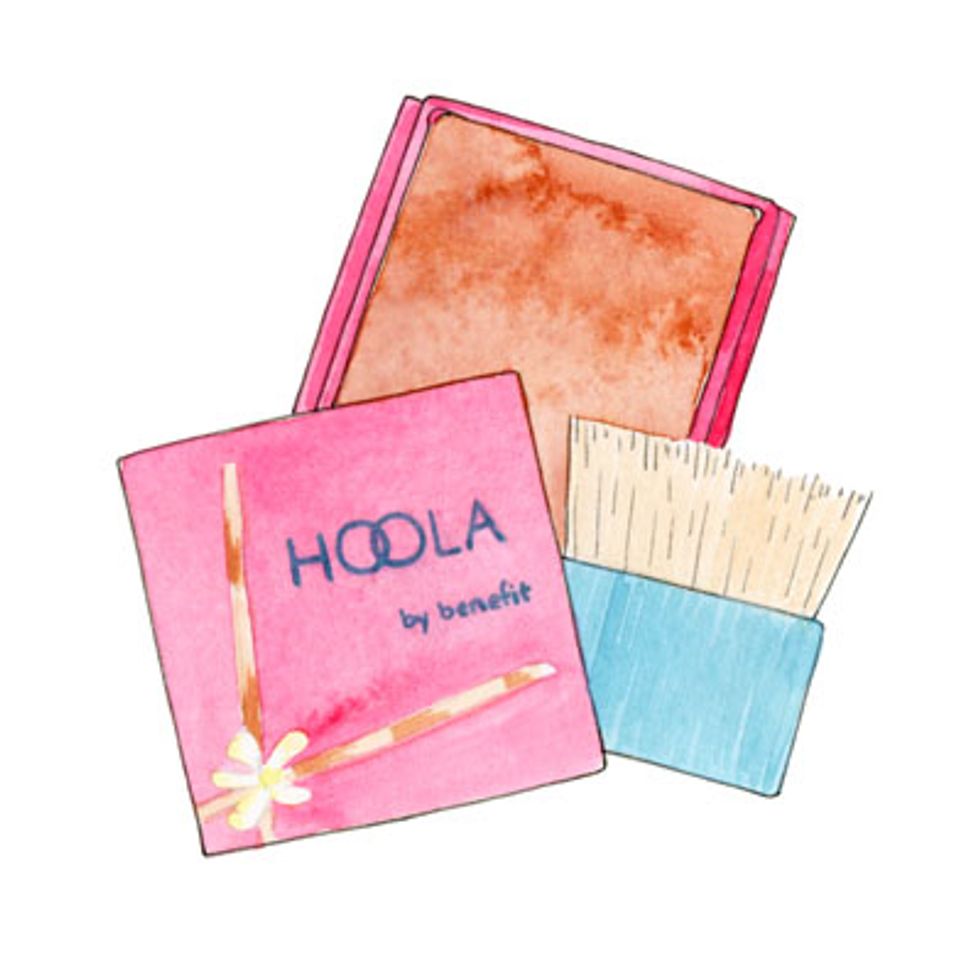 Nikki
Days Tested/Used: Forever-ever, forever-ever-ever.
Daily Beauty Regime: A little foundation and a touch of bronzer most days (i.e. when I don't wake up 10 minutes before work, which, lets be honest, is almost everyday...)
Experience: Hoola is my go-to bronzer; I love how matte it is. I've always been afraid of sparkly products—not only do they make my pores more visible, but they make me feel a little too Saturday Night Fever, if you will. Not Hoola! It goes on smoothly—not blotchy at all—and you can totally build it if you feel especially Snooki that day. The only con is the brush it comes with, so I'd trade it in for a bronzer brush ASAP.
Rating: All of the lipstick emojis.
Meagan
Days tested/used: 5
Daily beauty regime: I alternate between Nars' Laguna and Sephora Collection's Bora Bora, which are both matte bronzers that are light enough for a little low-pro (read: not Kardashian-level) contouring against my SPF-addled complexion.
Would you use again? It gets the job done, so yes.
Rating: 4
Katie
Days tested/used: 4
Daily Beauty Regime: I wear bronzer most days, but only a bit dusted across my cheeks and nose.
Experience: I really liked how this was matte, and kept my look natural. I've got quite a bit of sun so far this summer, so it was the perfect shade for me. I didn't use the tiny, dense brush that it came with but I kind of loved how compact and playful the packaging was.
Would you use again: definitely
Rating: 5 big wet kiss emojis

Erin F.
Days tested/used: Tuesday - Friday
Daily beauty regime: Right now I just use CHANEL's CC cream, Nars Cover Up stick and Makeup Forever's Face Powder for my skin. I've been looking for something for the HUGE bags under my eyes.
Experience: I can see why one sells every 10 seconds (or something). I love it for the dark circles under my eyes. As a working girl, I need something that makes it look like I don't actually work 24/7. Cue in the Touche Eclat and I'm pretty sure I'm set for life.
Would you use again? It was love at first brush stroke—so yes!
Rating: 4.5/5
Katie
Days tested/used: 4
Daily Beauty Regime: I wear Benefit concealer just underneath my eyes most days. Generally to do a bit of double duty: cover up my dark circles and act as a primer for eyeshadow.
Experience: I thought the shade might be a tad too light for me, but I tried to remind myself that it was intended to double as a highlighter. While the brush-marker hybrid took a bit of getting used to, by day three, my opinion had changed entirely—I liked that it wasn't as messy as some liquid concealers can be.
Would you use again: totally
Rating: 4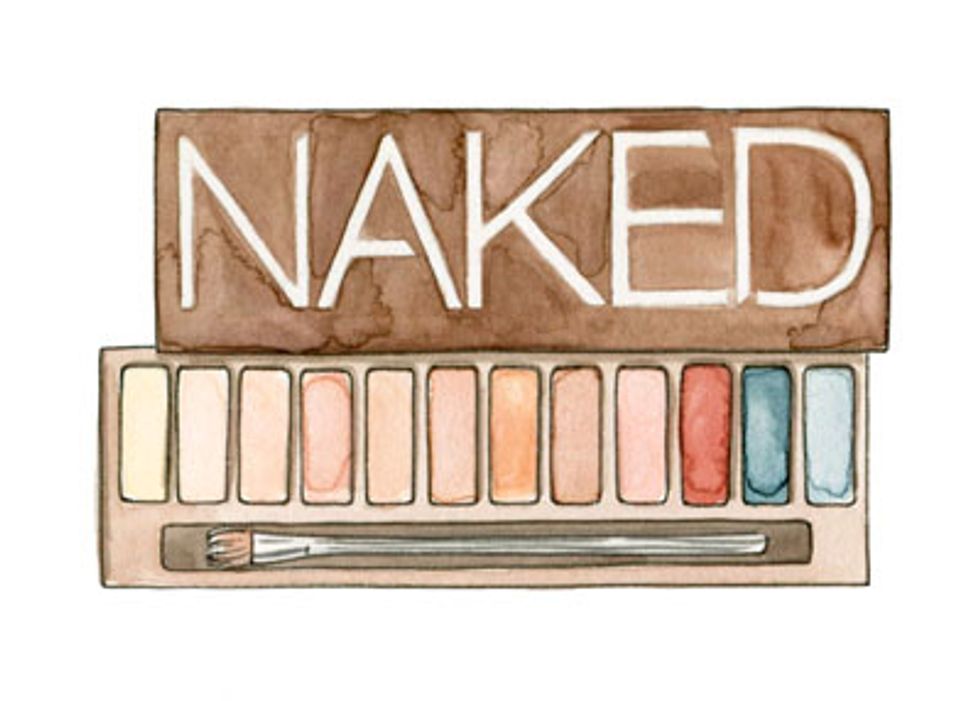 Nikki
Days Tested/Used: One week!
Daily Beauty Regime: My eyeshadow game has been pretty tame ever since several ill-advised attempts at a smoky eye in grade school left me slightly scarred. I'm into mattes and mattes only, especially when they're by Bobbi Brown (she's a goddess, I tell you!). A little highlighter on the tear ducts and brow bones, a medium taupe in the crease, and a dark dark espresso to fill in my brows and we are golden.
Experience: This palette is my new favourite toy. Literally. I was wielding it all around the office creating smoked-out and winged eyes on everyone (willing test subjects or otherwise). Honestly, the quality of the shadows was great, but there were waaaay too many shimmery, metallic colors for me. I did love Virgin, Naked, and Buck, three super-buildable matte taupes. If you're into shimmer, though, this is totally the palette for you, otherwise I might give it a pass.
Rating: 2.5 lipstick emojis
Katie
Days tested/used: 4
Daily Beauty Regime: On a day-to-day basis, there's nothing I love more than a neutral eye. While I've added eyeliner into the mix over the past year or so (it's been a bit of an adjustment, you guys), I keep things pretty pared-down.
Experience: Confession: I may have panicked slightly upon deciding to guinea pig this product. I actually contemplated bringing it back because just the thought of it made me feel uneasy. Apparently I equated twelve shades with intimidating and entirely missed the part (including the, uh, name) where this palette is intended to serve as a library of neutral shades. I started my week-long experimentation by working my way across the palette, beginning on the left-hand side. The first few days, my co-workers were even questioning whether I was, in fact, wearing make-up at all, which I can kind of interpret as a win in my eyes (punny, right?) The colors were slightly shimmery, which is so not my thing, but the variety was nice once I began to build up my confidence and play around with the bolder hues (which, in retrospect, aren't all that bold at all..)
Would you use again: probably
Rating: 3 - only because I'm not so good with change. It's a process, you guys!

Nikki
Days Tested/Used: 1
Daily Beauty Regime: These virgin lashes have never touched an eyelash curler in their lives! I was literally standing in front of the mirror reading instructions like a complete neophyte. Like, what do you mean curl in an upward motion? #confused. Day to day though, I'm all about Benefit's They're Real mascara with a little Stila liquid liner or a NARS pencil when I'm feeling a bit of smudge.
Experience: My teen-magazine-reading-self wanted to like this so, so badly, but I just can't. Despite said magazines claims to the contrary, this did zero for my lashes. I'm starting to think, however, that it might be because I don't need it. I mean, I once had an Eastern European aesthetican tell me my eyebrow hair was curly so maybe my lashes are too?
Rating: 1 lipstick emoji
Meagan
Days tested/used: 6
Daily beauty regime: While I've been experimenting with Maybelline's old-school Great Lash in the pink tube for the past week or so, I'm usually a Diorshow or L'Oreal Voluminous girl, through-and-through. I curl my lashes when I remember or when I go out, but not usually for my day-by-day—but when I do, I totally notice a difference.
Experience: Can I just preface my own review by revealing the complete shock I felt upon learning that a good handful of my co-workers at TC HQ were complete curler novices? Moving on. Once upon a time, while, if memory serves, I was decidedly still in elementary school, I saved up my own pennies and splurged on a Shu curler of my own (#priorities), based on the raves of the magazine beauty editors of my adolescence. While I lost it shortly after purchasing (file under: reasons why you don't let preteens spend $30 on eyelash curlers), I remember being wowed by the definition and curl my otherwise unremarkable lashes took on. While I've since made the switch to miscellaneous drugstore and beauty supply store brands, I have to say that I did notice a slightly stronger, more upright curl with the Shu—and that's more than enough for me to make a concerted effort to not lose it this time around.
Would you use again? Yes
Rating: 4
Emily
Days tested: 5
Beauty regime: Straight up, eyelash curlers scare me. My only experience with them is when a make-up artist has come at me with what looks like a torture device. I've never used one myself and never felt the need.
Experience: Being embarrassingly honest here, when I tried using this for the first time I may have tried to do it backwards. I'm an idiot. Anyway, I tried it both with mascara and without and I didn't really notice a difference in my eyelashes—and I anticipated a dramatic one. Maybe my eyelashes are naturally curly…?
Would you use it again? If I think of it, sure. It's in my beauty cabinet now.
Rating: 2
Katie
Days tested/used: 4
Daily Beauty Regime: I curl my eye lashes everyday. Can this really be any differentt then my Revlon eyelash curler? That said, I've tried other Shu Uemura products and have been nothing but ecstatic with them.
Experience: Random observation time: I immediately noticed that the opening where I'd be placing my lashes in between wasn't nearly as large as my other one. Terrifying or not, my lashes stayed curled the entire day. Shu Uemura's Kool-Aid tastes pretty good.
Would you use again: Yes!
Rating: 5 fluttered eye lashes
Rachel
Days tested/used: Years!
Daily beauty regime: I hardly go a day without wearing mascara, so curling my lashes is a big must for me. I've been using Shu Uemera's eyelash curler for years, as I wasn't blessed with thick, curly lashes—in fact, I was born with the opposite. On top of being quite thin, I swear they actually grow straight down, which easily makes the eyelash curler my desert island beauty essential.
Experience: My personal recipe for perfectly curled lashes goes something like this: I always curl at the very root of my lashes, and hold for 3-5 seconds before applying a coat of mascara. This way, I find that my curl holds for the whole day – and no, I don't ever worry about re-curling or re-applying my mascara. Need I say more?
Would you use again? Yes, I love!
Rating: 5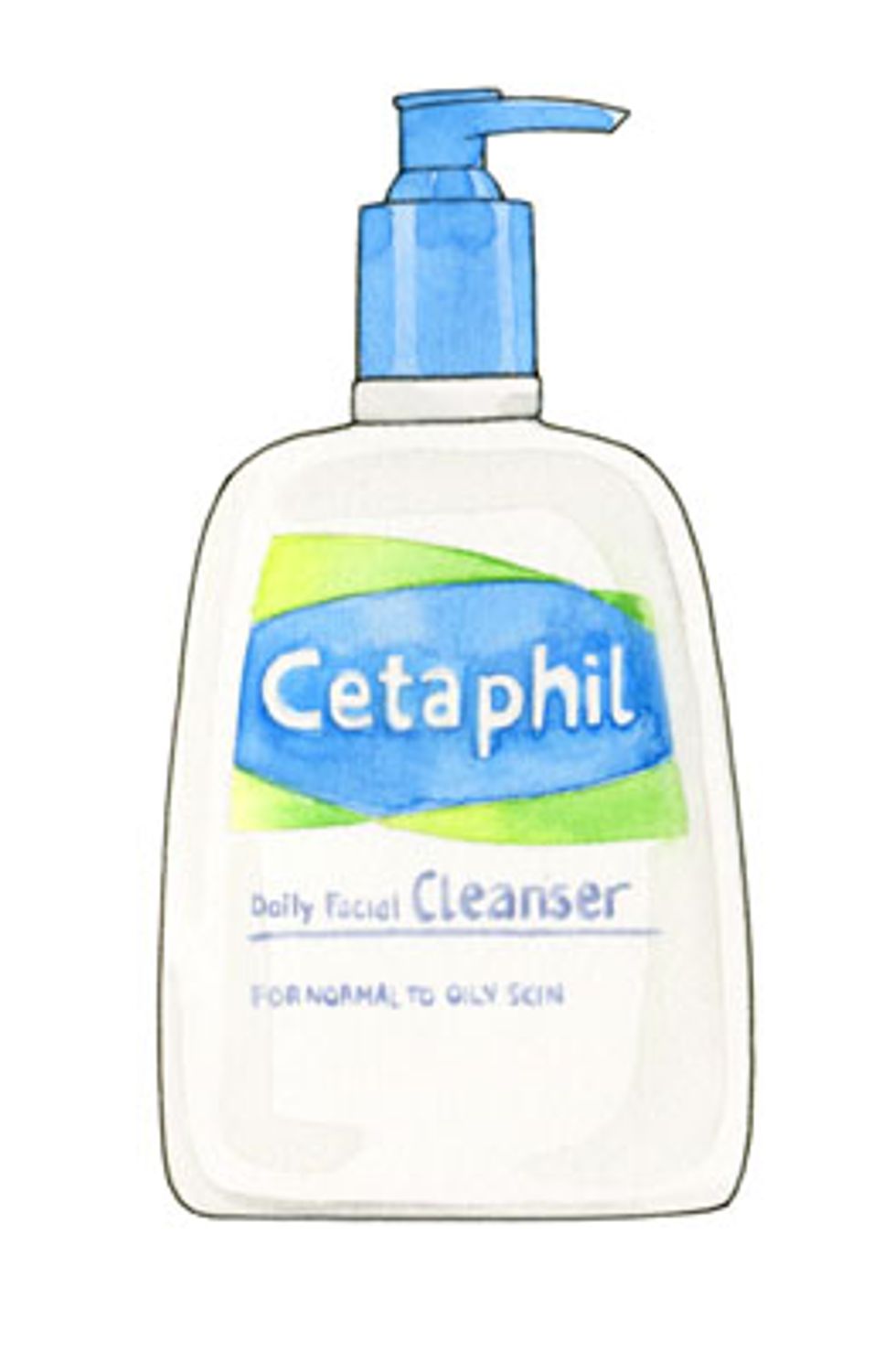 Nikki
Days Tested/Used: Since birth, essentially.
Daily Beauty Regime: I wash my face every morning and night with Cetaphil Oily Skin Cleanser, except after an, ahem, *long night out* in which case I'll smear a makeup wipe all over my face because that's just as good, right? Post-wash, I'll top up with a moisturizer for oily-skin like Cetaphil Daily Facial Moisturizer with SPF 15 or—oh happy day!—a little Clinique.
Experience: My mom (she's a doctor, you guys) swears by this stuff and has basically been slathering it all over me since pre-puberty! She even told me to bring it on a high school camping trip in lieu of soap. Naturally, I can't not like it. It's just pure simple goodness. It smells like nothing, removes make-up, and it walks the fine line of making you feel squeaky-clean but not tight or dry. No part of this is lavish or luxe, but it's 100% what I want every face wash to be.
Rating: 5
Meagan
Days tested/used: Six months
Daily beauty regime: Full disclosure: after going through the proverbial wringer, drugstore cleanser-wise, as a teenager, I was never enamored with Cetaphil the way you might expect, but have changed my tune over the last handful of months. For nighttime make-up removal, I'm near-religious in my devotion to oil cleansers and regularly rotate between my favorites from Shu Umuera and M.A.C. That said, I follow up my little ritual by first rubbing a dime-sized blob of Clean n' Clear or Cetaphil first between my fingers, and then splashing water all over my face with my now-cleansed phalanges—same thing in the A.M. It's the first thing I do before I touch my face, every. single. time., down to a near-compulsion. Please don't tell me I'm alone in this?
Experience: It's been kind of fascinating to see how Cetaphil is pretty much the one product that's united the entire office during our little experiment. Truth be told, I find it hard to see how I ever wasn't on the Cetaphil train—it's mild and inoffensive, the perfect brand of nothingness that you'd want from a face cleanser. It's the equivalent of clean laundry from your parent's house, or borderline-bland comfort food, but for your face. It's an unappetizing analogy, but it's the best I have, okay?
Would you use again? I mean, duh.
Rating: 4
Emily
Days tested/used: A million?
Daily beauty regime: Since I was a pre-teen, I've hated washing my face. I don't know why. Call me lazy. Still hate it, but I do it out of duty and because I don't have the greatest skin.
Experience: I've been using Cetaphil on and off for years. Ever since I read about some model using it (because if it works for her, it'll totally work for me, right?). I love it: it's simple, easy and it actually washes everything off my face.
Would you use it again? Probably for the rest of my life.
Rating: 5