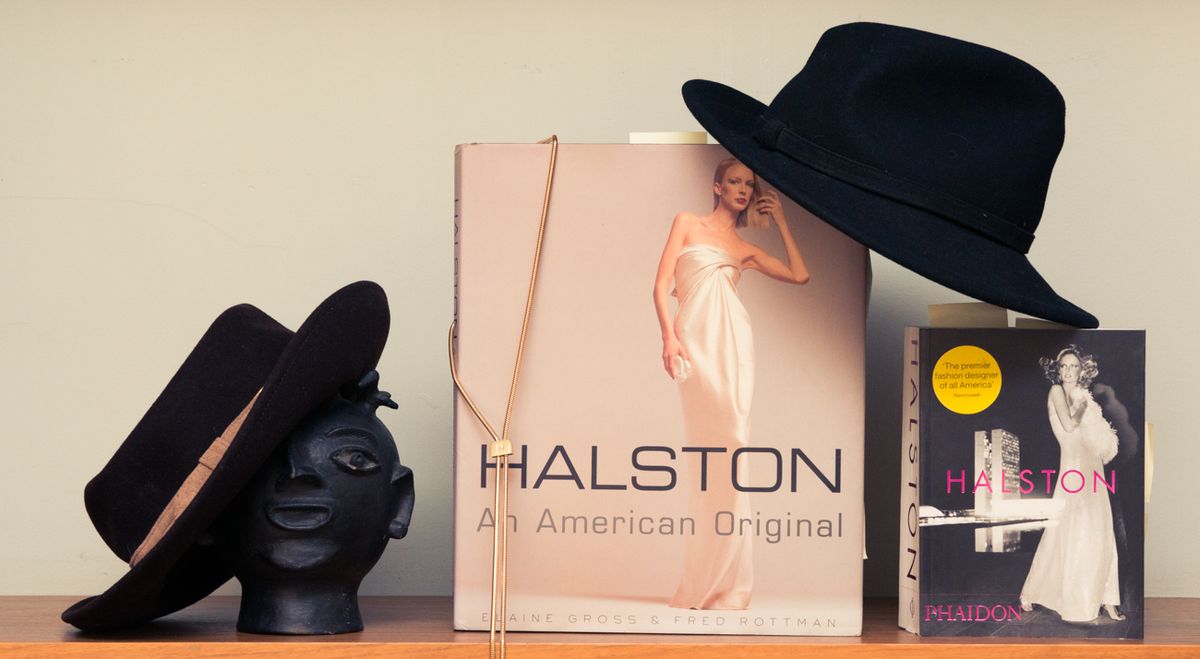 Hats, Original HALSTON hats; Necklace, HALSTON HERITAGE Pre-fall 2014 Collection
Fashion Week
Halston Archives
A peek inside the iconic brand's archives. Los Angeles
Let's set the scene: Studio 54, 1977. You can conjure up your own imagery of all the usual hallmarks of the of a nightclub scene: Diana Ross is booming over the speakers, the likes of Liza Minnelli and Bianca Jagger are in one corner (it was Halston that Jagger was wearing when she rode in on that famed white stallion, you guys), squared away in an intimate banquette. Andy Warhol and Truman Capote are in another. Anyone well-versed enough in Last Days of Disco-esque film scenes knows there's one crucial element missing, though: no '70s disco sequence is quite complete without mention of the collective's strictly Halston ensembles, right?
---

"Halston Heritage today is a focused translation of the brand's heritage—taking inspiration from the glamorous, quintessentially feminine, and refined sensuality of the Halston era. The collection reflects a more dressed up lifestyle for day and evening. It's confident, feminine and sophisticated yet youthful, evoking a unique, effortless elegance."
No one designer quite defines the decade like Roy Halston and his streamlined and sexy, yet fluid and intensely luxe aesthetic. Those silky, artfully tailored jumpsuits? All him. Lush, one-shouldered Grecian-style gowns with fabric that ballooned and pleated in all the right places? Yup, him too. And with the aforementioned legends serving as muses to the designer, let's just say once we set our minds set to it, it was kind of impossible for the brand to keep us from digging way deep through their archives.
As we rifled through the brand's back catalog with visions of Anjelica Huston and Pat Cleveland dancing in our heads, the enormous magnitude of Halston's legacy became crystal clear to us. A dress identical to one Huston was seen sporting in Vogue here, a spangly,
paillette-encrusted shift
custom-tailored to Liza there—the storied house has become a true testament to fashion's power and potential to perfectly capture a moment in time. And through the brand's Halston Heritage revival, everyone with Pinterest boards dedicated to snaps by Ron Galella and Jerry Hall can get their hands on a little piece of design history in the 21st century, too. So, like, don't blame us if we show up to our next Saturday brunch outing in
sky-high platforms
and a
full-length silk jumpsuit
, okay? We're just channeling our inner Bianca.