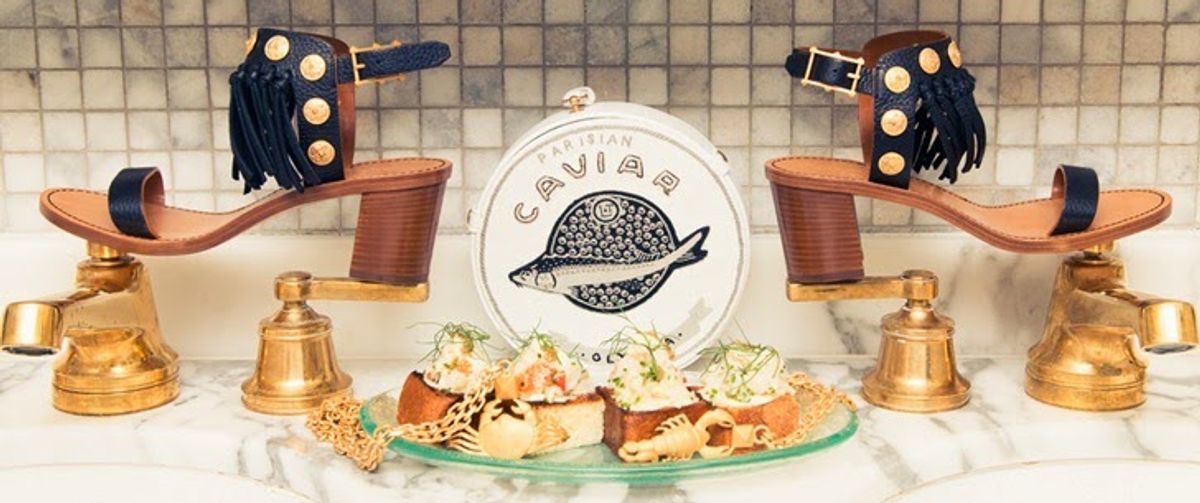 Fashion
We play Eloise and chow down on oysters, cheese plates and French fries with the New Potato girls.
Between getting
elbow-deep in strawberry lemon cake batter at Momofuku Milk Bar
and closet-raiding in
various corners of the globe
, you may have noticed that our lives kind of revolve around three big Fs: fashion, food and flights (after flight after flight). You see, when we're not busy being buried under avalanches of
Manolos and Kirkwoods
(occupational hazard), travel and, well, food seem to be the two alternate cornerstones of our universe. And it's funny how they all have a proclivity for coming together in the strangest of ways. You know, like how when your final connecting
flight home from Paris
has been delayed for the fifth consecutive hour and the airport's Mexican joint is increasingly going from potential health code hazard to the one thing between you and a nervous breakdown? Yeah, that.
---
While we digress, we figured if anyone could feel us on the whole food front, it would be the girls behind
The New Potato
—Laura and Danielle Kosann—which you may know better as the fashion industry's favorite food blog. And so when the girls first approached us to collab, (because, well, it was just right, right?) we thought it was only appropriate that we give a nod to our most faithful standby whilst on the road: room service. And so while crashing at the newly-opened
Viceroy Hotel
, we invited the girls over for some in-room dining—with a side of Olympia Le-Tan and
Pierre Hardy
, because, well, duh.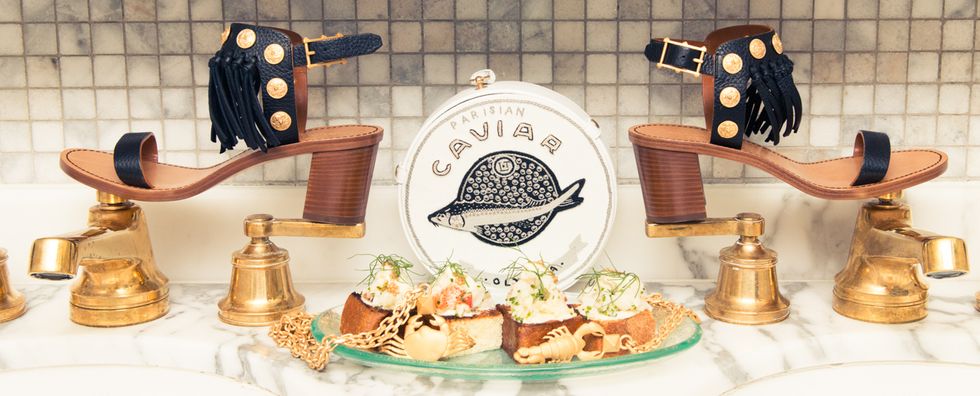 Despite it being well before noon, we were collectively more than happy to dig into platters of oysters, lobster-topped toast, shaved zucchini salad, charcuterie and cheese plates, and copious French fries from the hotel's
Kingside Restaurant
. And since we're not total monsters (right?), we also had a spread of more, ahem, traditional breakfast foods: blueberries, strawberries, bananas, all with a side of bacon, because, well, have we met? Plus plenty of caffeine, bien sûr. While styling around the suite (after all, what goes better with tropical cocktails than ornate Dolce & Gabbana wedges?), we talked all things food, fashion and international travel. We'll add that we had a really tough time leaving those teal Chloé pseudo-normcore neoprene pool slides behind. Oh, and just for the record: we totally did eat that.
How did the New Potato first begin? What would you be doing if it weren't for the website?
Both: "It was an aha moment where the two of us were talking about how there wasn't a voyeuristic destination in food that you could go to and see what Jessica Alba was having for breakfast and at the same time what a designer was cooking up on a weeknight, or where a Brooklyn chef liked to go on Sundays. Somewhere that approached food from a lifestyle standpoint; we always say the world through the lens of food. Something that wasn't so uber-foodie but rather a site that was a conversation over food rather than food itself. Everybody has to eat after all! If not for the website we'd be where we were before: Danielle would still be in art direction and design in fashion and I'd be producing in entertainment. Luckily we're doing something where we can use both skill sets!"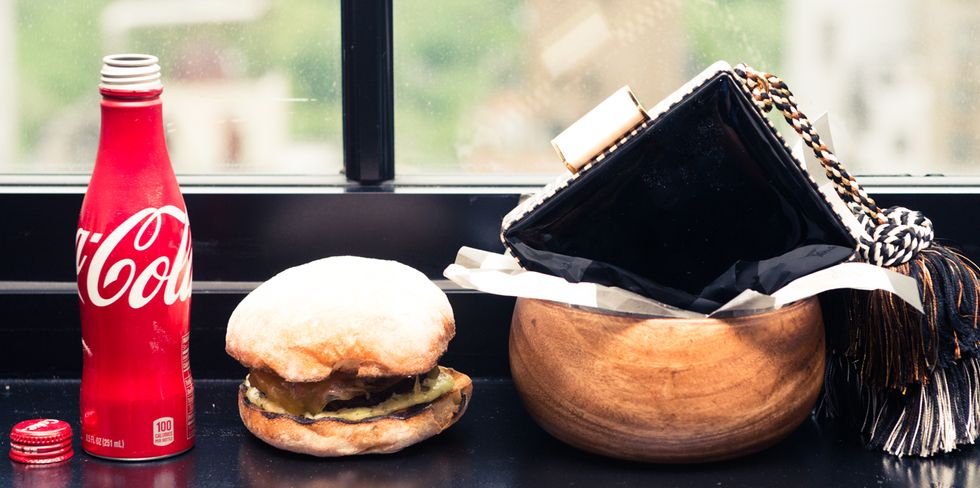 When did you first realize the blog could be successful?
Both: "It was definitely a gradual realization. We got such a huge response to the angle we were taking with tastemakers (exploring the world through the lens of food, and connecting it fashion, design, entertainment, art, culture etc.) that we knew pretty early we were on to something."
What's been your biggest learning experience with the blog so far?
Both: "That when you're redesigning or approaching any sort of big endeavor on your website, it will never be 110% finished. It will be 99% and you'll always feel like there's something you want to perfect and change before it goes live. You'll constantly have a new idea and wake up at 3 A.M. and insist it be added before whatever it is goes live. But at some point you just have to click the publish button."
How would you describe The New Potato in one word?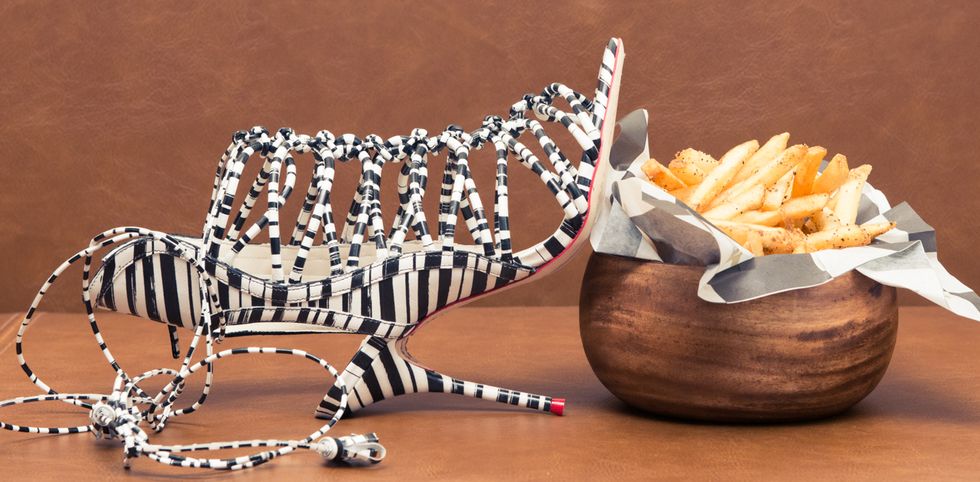 Who's been your favorite interview so far? Which subjects were you the most awe-struck by?
Both: "It's very hard to pick one favorite! We were so awestruck by Martha Stewart that we stood the entire time we interviewed her! She was awesome. We recently interviewed Alexandra Shulman (EIC of British Vogue) which was absolutely amazing. She is so intelligent and down to earth. We really admire her."
In high school, you would have been voted most likely to...
Laura: "Most likely to ask questions in class!"
What are your most frequently-used emojis? What's the last thing you Googled?
Danielle: "I definitely overuse use the fist pump and the wink/kiss. I just moved to Brooklyn from Manhattan, so my most recent google was 'Best Coffee Spots in Brooklyn'."
Laura: "Danielle emojis enough for the both of us."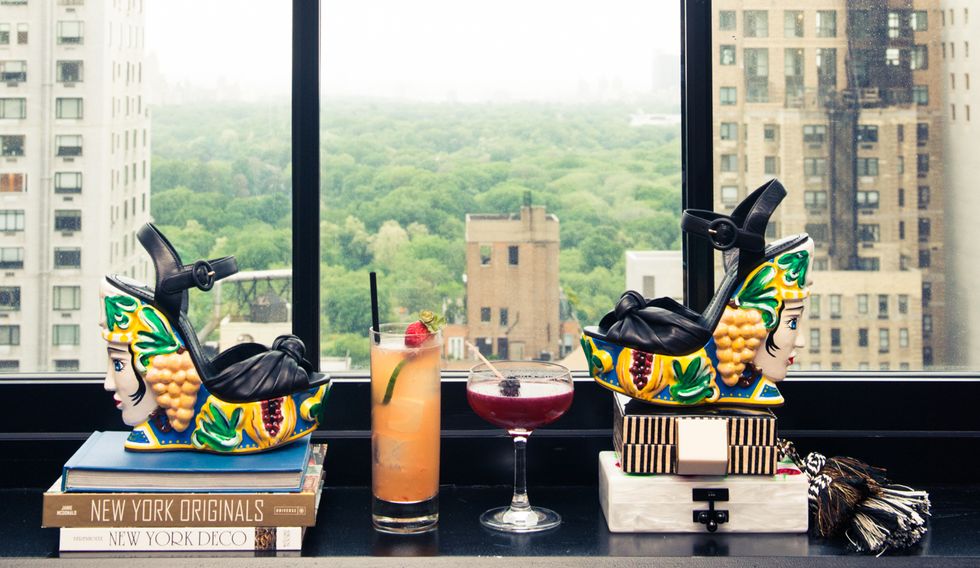 What was your first-ever fashion splurge?
Danielle: "A Marc by Marc Jacobs turquoise mini skirt with heart pockets. I still have it and will never, ever get rid of it."
Laura: "A Marc by Marc Jacobs technicolored patchwork bag. It was a HUGE deal, and it's still somewhere in my parents' house!"
If we looked inside your bags, what would we find?
Danielle: "A mess! Which includes a sketchbook, Caudalie Beauty Elixir, Sugar Lip Treatment, a wallet, cell phone and headphones."
Laura: "iPhone, headphones, a wallet, some sort of lip treatment from C.O. Bigelow and the Yves Saint Laurent luminosity pen."
If you could trade closets with anyone, past or present, who would it be?
Danielle: "Jane Birkin or Emmanuelle Alt."
Laura: "Would love to get a third of Audrey Hepburn, Brigitte Bardot and Giovanna Battaglia's closets all at once."
What's the best advice you've ever received? What's the one piece of advice you'd pass on to aspiring bloggers?
Both: "The best advice we've ever received (from our Mom, constantly) is to 'Just Do It' which is why we took the plunge and started the site. Our advice to other bloggers would be build relationships with all of the amazing people you meet through your site. Don't think about what they can do for you (will they feature you, will they give you product etc), think about what you can learn from them. Building a friendship or strong working relationship will be far more beneficial to you in the long term."