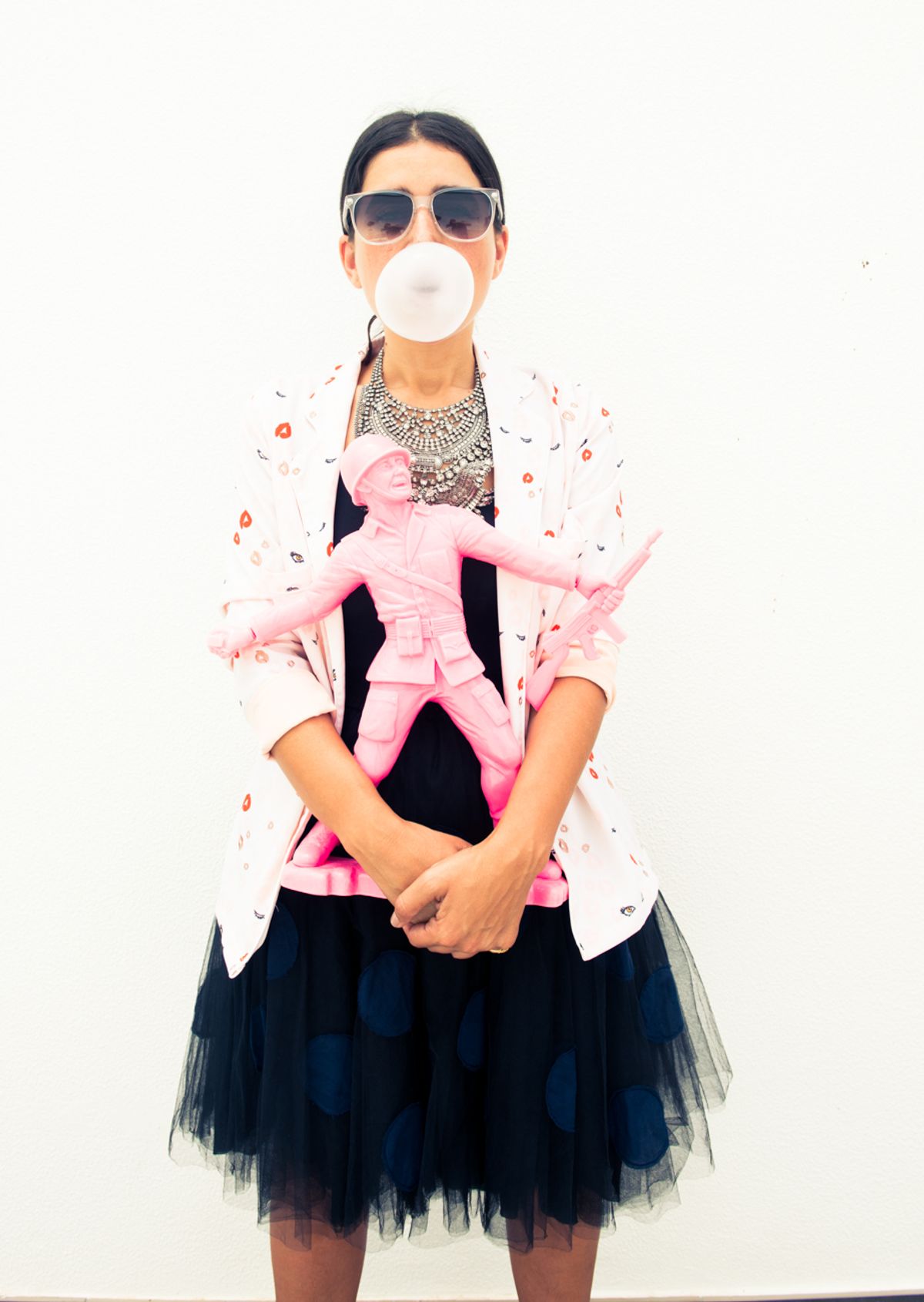 Closet
Co-Founder & Creative Director, S*uce. Dubai
Stephanie Mark
Okay, so you may have noticed that our day jobs come with some perks: exploring the deeper corners of some
truly exceptional closets
, going backstage at a couple
major fashion shows
, hanging out with
one
or
two
Victoria's Secret
supermodels—not to brag or anything. One of our favorites, however, is spontaneously jumping on flights to new cities around the world—perhaps you noticed we were recently in Dubai? (If you've managed to avoid Instagram for the last few weeks, well,
get on it
already.) And while we're definitely a fan of the many, um, public attractions—especially with a runway model in tow (read: the
Aquaadventure water park
with none other than
Soo Joo Park
)—there's something about going inside private homes that really gives you an indication of how the natives live. And lets just say that all that shiny extravagance that Dubai is known for really doesn't let up once you get to the inside. Like, at all. Luckily for us, on our last trip to the capital of everything OTT in the Middle East, our first stop was the home of Zayan Ghandour, designer of her own eponymous label and co-founder and creative director of concept boutique
S*uce
. Let's just say we've never had a local ambassador with quite so much
Sophia Webster
, custom
CHANEL
and contemporary art. It was kind of like stepping into a fantasy world where a Pepto pink toy soldier (it's art, guys!) is your personal mascot and everyone has their own aerie swimming pool sanctuary. Welcome to Dubai! In case we haven't already made it entirely obvious, Ghandour, and by extension, S*uce, is kind of known for her eccentric, totally out there style (we said it already, but if Dubai is OTT, Ghandour is like its model citizen when it comes to what you might call, ahem, "dressing with confidence"). We mean, when she welcomed us into her home decked out in that
Simone Rocha pearl-encrusted dress
(yes, the same one we've been stalking online ever since we saw it walk down the runway last September), we knew we were into the big time, Dubai-style. Munching on a traditional Middle Eastern spread of delicious hummus and pita (trust us when we say that even Whole Foods has nothing on the real thing) and sipping coffee, we got down to the serious business of evaluating Ghandour's closet. And guys, this woman gets the A-grade when it comes to incorporating art into fashion—we mean, she might as well have launched this season's whole wearable art trend thing (and we wouldn't be surprised in the least if she was friendly with Phoebe Philo). Even her
CHANEL
and
Louis Vuitton
bags were graffiti-adorned. Oh, and her shoe game? Next level. We dare you to click through and not want to throw out your entire footwear wardrobe in favor of Ghandour's hot pink, lacy
Marc Jacobs
pumps or spiky
Christian Louboutin
sandals. Then again, we're pretty sure even the most accurate mimicry couldn't get us to her mix mastery level—it's clearly a Dubai thing.