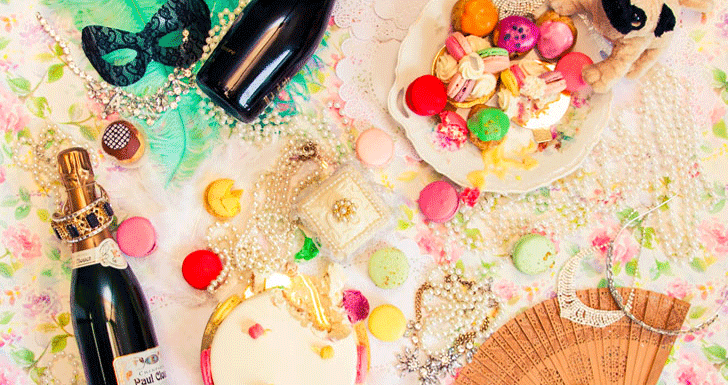 Happy Birthday, Sofia Coppola!
Because nothing inspires us like pink wigs, Kirsten Dunst and other Coppola-created icons (did we mention there are .GIFs?)
It's a rare breed that can predict our future obsessions years in advance. But if anyone can inspire SoulCycle-calibre hunger for something we never even knew we wanted, it's Sofia Coppola (and yes, we may be referring to The Little Mermaid).
Excuse us while we gush. She's the coolest of cool moms. Her films are less works of entertainment than they are works of art. She's the duchess of delicious production design, and somehow manages to seamlessly fuse the over-the-top with the understated. Her cousin is Nicolas Cage (but we'll just forget that little tidbit, won't we).
Oh, and did we mention she also happens to be a fashion bombshell? (Have you seen the Louis Vuitton bag she designed? It's pretty much perfection in leather.)
So even though nothing will ever be better than the real thing, in honor of Coppola's 42nd birthday, we thought we'd pay homage to her films (calling them "movies" just feels disgraceful, doesn't it?) with our own Coppola-Cov mood boards. Caution: eye candy ahead.
—Chelsey Burnside
The Virgin Suicides
With its dreamy original-Instagram-filter palette, deliciously dark plot line and leading quintet of gamine blondes (not to mention teen dreamboat Josh be-still-my-Hartnett), The Virgin Suicides was one of those perfect coming-of-age movies savored under tented bed sheets by Kirsten Dunst-imitating high schoolers (we're as guilty as you). And now that we're Kirsten Dunst-obsessed young (un)professionals, we're still guilty of breaking out our circa-2000 DVDs on the occasional sleepy Sunday and in homage we channeled our inner Lisbon sisters to curate a few pre-innocence-lost bedroom essentials—think scrunchies, doodled-in diaries, all-pastel everything and those infamous Troy-inscribed panties.
Lost in Translation
In essence: love and loneliness in Tokyo. Lost in Translation is a melancholic opposites-attract story set against a backdrop of sushi and hotel rooms and lacklustre karaoke performances. It's like the film equivalent of a white collared shirt and blue jeans—understated brilliance, or, ahem, #normcore. Plus Scarlett's powder-pink bob totally forecasted the pastel hair trend a decade early (that Sofia, though).

TL; DR? Two words: Scarlett Johansson. Two more: Bill Murray.
Marie Antoinette
From the elaborate costumes to the peaches-and-cream palette to the cake table of our juice cleanse-fueled dreams (seriously though, we'd do Homer Simpson-level damage to that thing), Marie Antoinette was a delectable fantasy played out in frames-per-second. That's the genius of a Coppola creation—literally nothing has to happen and we'll still sit there entranced, asking ourselves such existential questions as "I wonder what Kirsten Dunst's blush shade is," and "Does Ladurée deliver?"

Somewhere
There has to be some kind of psychological theory about the strong compulsion we get to stare hypnotically at our TVs every time we see that canary-yellow font. Case in point: Somewhere. Mix the bittersweetness of the father-daughter story with a little Rock Band, a too-perfect underwater tea party and a Technicolor jewel-toned landscape and we're on board (half-finished popcorn in hand). Which brings us to another one of our weaknesses: the enigmas that are the Fanning sisters. (It is humanly impossible to dress that well before you are of legal drinking age. And also, no one's nose is that perfect).
The Bling Ring
Okay, so we can't be the only ones who watched this electric trailer with obscene frequency, bingeing on Nancy Jo Sales articles (and maybe an ep or two of Pretty Wild—don't even pretend you didn't) to bide our time before the actual movie came out, catching ourselves accidentally dropping Alexis Neiers-isms in conversation. Critics gon' critic, but let's be real—there is nothing more intriguing than a sticky-fingered teen burglar ring whose complex MOs can be summed up in the immortal words of Lil Kim: "Ya'll rock Versace and ya'll went out and bought it/I rock Versace and ya'll know I ain't pay for it."*
If there was anything thing better than Emma Watson's spot-on Valley Girl drawl, it was Coppola's capturing of the candy-coated, Adderall-fueled, jet-puffed world The Bling Ring inhabited. In short, it's lip gloss and Louis Vuitton with a pinch of nihilism and a dash of Paris Hilton's in-home strip club. (Go see it.)
*We never said rhyming was her forte.