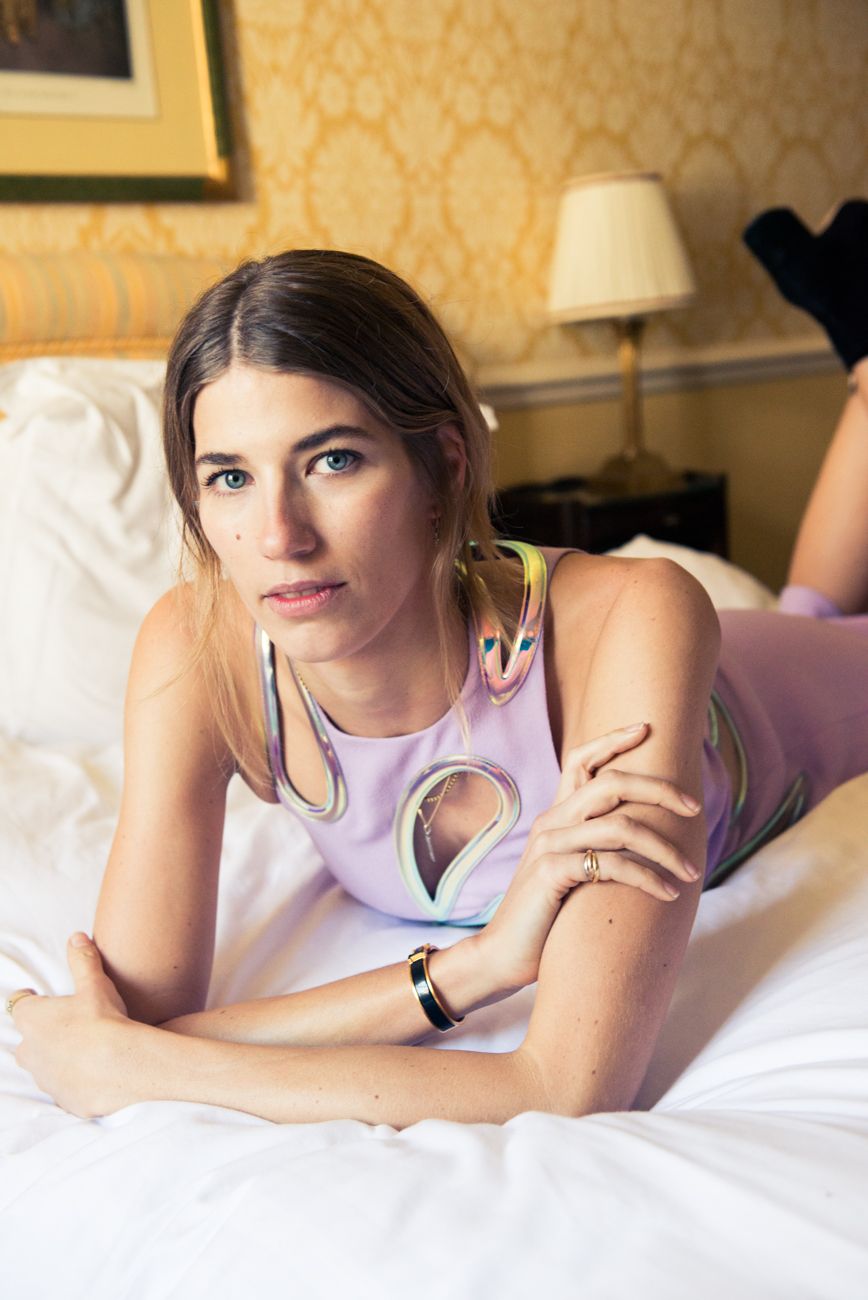 Closet
Style Editor, Harper's BAZAAR Germany. Paris
We've waxed poetic on the matter many a time, but there's really nothing to inspire a "BRB. I need to go home and throw out everything in my closet immediately" moment quite like good ol' digital procrastination. You know, those aimless afternoons where you find your eyes slowly glazing over as you click through street style slideshow after slideshow or endlessly scroll through
Pinterest
and
Tumblr
. With each click (do people really wear
trompe l'oeil pearl chokers
,
sculptural white blouses
,
oversized mom jeans
and
glittery pumps
at 8 A.M.?) you find yourself hoping that some of that unfussy, woke-up-like-this cool radiating through your screen will somehow apparate and find itself on your body. Needless to say, we've been there. And for us, no one quite inspires that sense of sartorial existentialism quite like Veronika Heilbrunner, Style Editor at
Harper's Bazaar
Germany. On top of which, she also just so happens to be one-half of the best-looking (and, duh, dressed) couple in street style, alongside her main squeeze, Justin O'Shea, Buying Director over at
MyTheresa
. The more you know, right? And as for that whole completely insouciant, "this-old-thing?" approach Heilbrunner has to getting dressed? We have a sneaking suspicion that the key here is
sneakers
. After all, whether it's an elegant
white Acne frock
with an
embroidered floral leather jacket
or a
graphic Fendi gown
, she's almost never spotted without a pair of kicks—namely, her blindingly white
Nike high-tops
. Oh, and occasionally, a matching pair of white
Nike
swoosh-adorned ankle socks. When we caught up with Heilbrunner (very) bright and early one morning during
Paris Fashion Week
, despite her daunting and exhausting travel schedule, she couldn't have been in better spirits or more fun to hang with. As we raided her suitcase, we came across everything from a handful of
Christopher Kane
's latest and greatest to those signature white sneakers and a super sumptuous cropped leather jacket with a lush fur lapel from
Acne
. Oh, and a little Spring 2013 throwback in the form of a satin,
cherry red pencil skirt from Prada
. And as we soon learned, Heilbrunner's whole laidback approach to style extends to her keep-calm-and-carry-on mentality during
Fashion Month
, too. "My survival guide is [that] no matter how stressful the days are, if I manage to go for dinner, have a glass or two of champagne (yes!) and eat something really yummy (in stressful times, I do love comfort food!) like lobster macaroni with truffles (to die for), I'm the happiest person." Yeah, let's just say that we can't exactly argue with that philosophy. Oh, and if it wasn't entirely obvious already, we're looking up the flights to Germany for a little Coveteur couples-edition right about now.