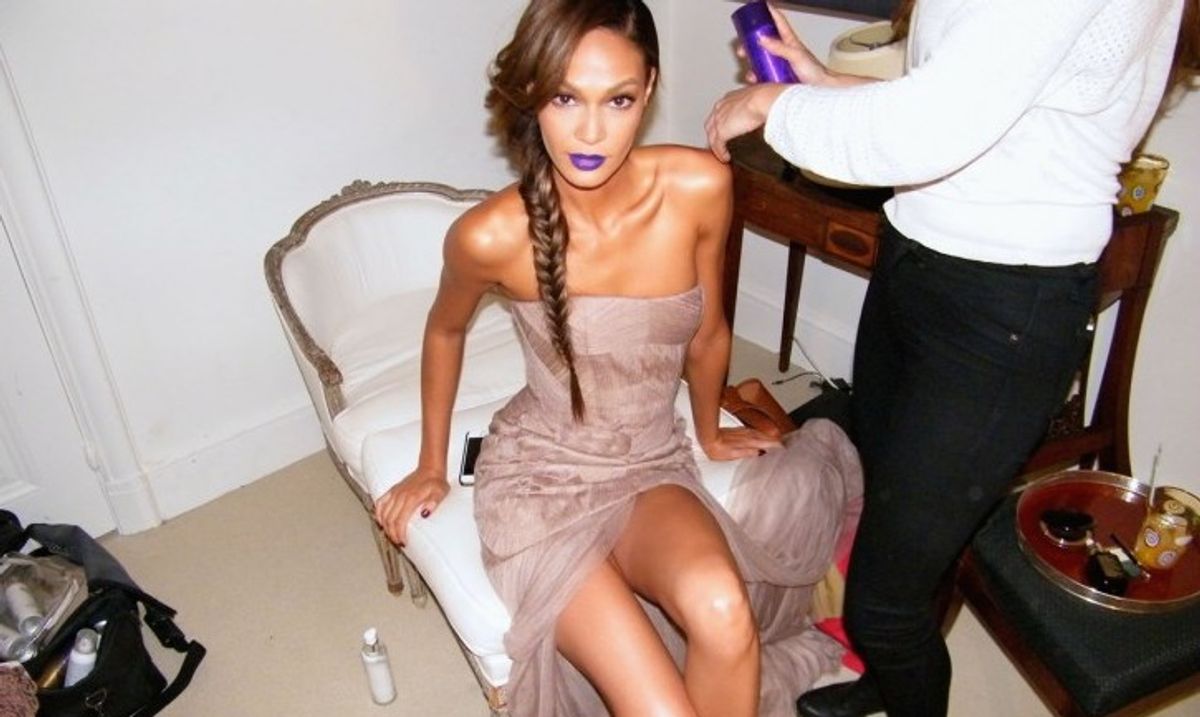 Fashion
Make-up artist Sir John gives us an exclusive peek at the making of Joan's look, purple lip and all!
First of all, can we just say: no one—seriously, guys, no one—walks a red carpet like a supermodel, especially when said supermodel is ranked #1 in the world when it comes to stomping the runway and generally ruling at anything involving looking drop dead gorgeous at all times. So let's be real: Vera Wang knew what she was doing when she asked Joan Smalls to be her date to last night's Met Gala. We mean, while Beyonce and Jay Z were battling out couple of the night against Kimye and the Beckhams, we're just going to get it out of the way: the—ahem—#VeraWangGang won.
---
And while Smalls stunned in her nude gown (we mean, do we even have to say that? It's kind of a given, right?), we went behind the scenes with our mutual friend, makeup artist Sir John—the man responsible for what we're pretty sure will go down in history as the night Joan Smalls made
purple lipstick
a red carpet beauty dare worth trying. 'Cause guys, there's nothing like a no-holds-barred beauty statement to separate the models from the, you know, regular, run-of-the-mill celebrities (insert side eye here).

Cut to Vera Wang's Upper East Side brownstone, where Sir John met up with his old friend Joan to put together what just may have been the most epic beauty look of the entire. damn. night. (Don't worry, we have plenty more coming soon as far as the makeup maestro is concerned—this is not the last you'll see of him around these parts. After all, the man is also behind the visages of both Beyonce and Karlie Kloss—for realsies.) Read on to find out just how Sir John helped Joan dominate at the Met. (Yeah, we went there.) You know the rest: bow down, b*tches!

On who's idea that purple lip was…
"She's a little tanned right now, so we wanted to play up a glowing radiance, post-sun look, but the purple lip was Joan's idea. For me, it was really about finding the texture, because she didn't want anything glossy. We mixed colors together and got really creative. She saw the lip on Instagram. She follows beauty addicts and we compared makeup war stories and found the perfect purple that wasn't too burgundy and wasn't too, you know, cheap-looking."
On sipping Pinot Grigio with Vera Wang and just how he got Joan looking like, well, *that*...
"I used a sheer wash of color for the skin. I really wanted to manipulate her foundation on top of wet skin, so we used moisturizer and while the moisturizer was wet, we brushed a little bit of foundation on. I gave her a smoky eye with a taupe shadow, so it was almost like invisible smoke—you don't really see any color, but it does give that carved out definition. After that we used mascara and individual lashes—she wanted big bright eyes, so we gave her individuals on the top and a couple on the bottom as well. And then tons of mascara. It was more or less all about mascara, bronzer and highlighter. I highlighted the cheekbone and there was a little bit of a brow highlight to give some structure. We used the bronzer at the bottom of her cheeks [to give definition]. And the lips, the lips were purple! It all took us about 45 minutes. We hung out, had some wine with Vera and then got her out the door."
On everyone's purple lip opinions ('cause you know there are going to be a lot of them)…
"Joan was very happy. With the lip, we wanted to touch up all night, but bags are so small these days—she could only fit her phone or her lipstick, so I was like, 'You've got to take your lipstick.' Vera was shocked to see the purple when she walked in the door. I think she kind of wanted it for herself!"
On why he loves working with Queen Joan (we think she deserves the title, okay?)…
"The highlight of the evening for me was shop talk! Joan is like my sister. When we see each other, it's always good to catch up and talk about where we are and our lives and love and stuff like that."