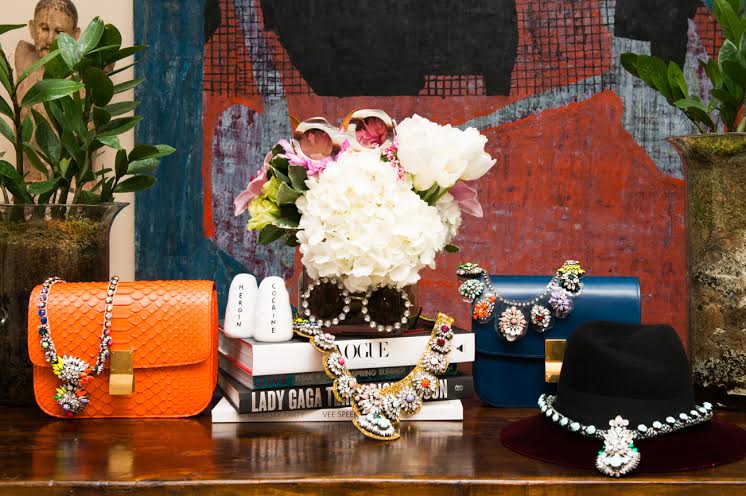 April's Most Coveted
Everything we want right now.
Our bi-morningly process-of-elimination shoe game goes a little something like this: Put on heels. Scramble around house looking for keys. Notice our feet are already transitioning into a stunning crimson shade. Realize that unless today's to-do list is filled with exclusively seated activities, they ain't gonna fly. Turn to the next best thing: The pointed toe flat: all of the elegance, none of the foot paralysis.
This month we loaded up on the shapely shoe in snakeskin textures, Peruvian prints, PVC neons and space-age metallics. The tiny tip lends a don't-mess quality to the most saccharine of patterns—even in Tabitha Simmons' silky seersucker form, there's something ever-so-slightly badass about a sharp shoe.
You know us—give us an animal print with a hint of double-take worthy taboo and we're cramming our closets faster than you can say Comme des F***down. Suffice to say, we're head-over-heels for London-based duo Susanne Ostwald and Ingvar Helgason, who have their tongues firmly planted in their cheeks—if you thought their names were fun, just wait for the designs (credit cards at the ready, you've been warned). Two words: Balloon animals. Disney-esque dogs in a, well, not-so-Disney position. An asymmetrical jacquard skirt peppered with poodles. Monkey motifs, cerulean stripes, fuchsia florals and pigmented patterned silks. Resort-weargasm.
Call it the aesthetic staycation. Self-tan towelettes, a premature mojito on a frost-glazed patio and an outfit that says "I woke up like this...on a beach in Bali". Think palm fronds, parrots, nectarines, hibiscuses—pretty much anything that makes you feel a little less distressed about having used up all of your annual vacation days before May (oops).
Formerly reserved for Floridian snowbirds and "that really hot iron setting", it took awhile before we hopped on the linen train (a lazy dresser's cautionary tale—wrinkles galore). But now that we've given these flaxen fibers a test drive, we'll admit it. We're linen converts. The breezy spring fabric reminiscent of South of France getaways and cocktail-hour boat rides lends an outfit an instant vacation vibe. Our picks? Nautical high-waisted ACNE shorts, cuffed Chloé pants in a muted-Americana palette and wearable art on a D&G skirt canvas, printed with a Valley of Temples sketch. Now just try not to sit down and you're golden.
If there's one thing our elementary school selves had in common with Cher Horowitz, Laguna-era Kristin Cavallari, The Spice Girls and 19th-century royal families, it was a wholehearted appreciation for the choker necklace.
Don't start cringing just yet—spring's choker resurrection definitely doesn't mean the bra-strap neckband is back. This time around, we're trading in our rainbow-plastic, neck-cinching accessories (side note: remember how painful those were? The rash was totally worth it though) for heavy metals—think gold-plated collars, rose-gold cages and full-neck cuffs. #Glam.
—Chelsey Burnside