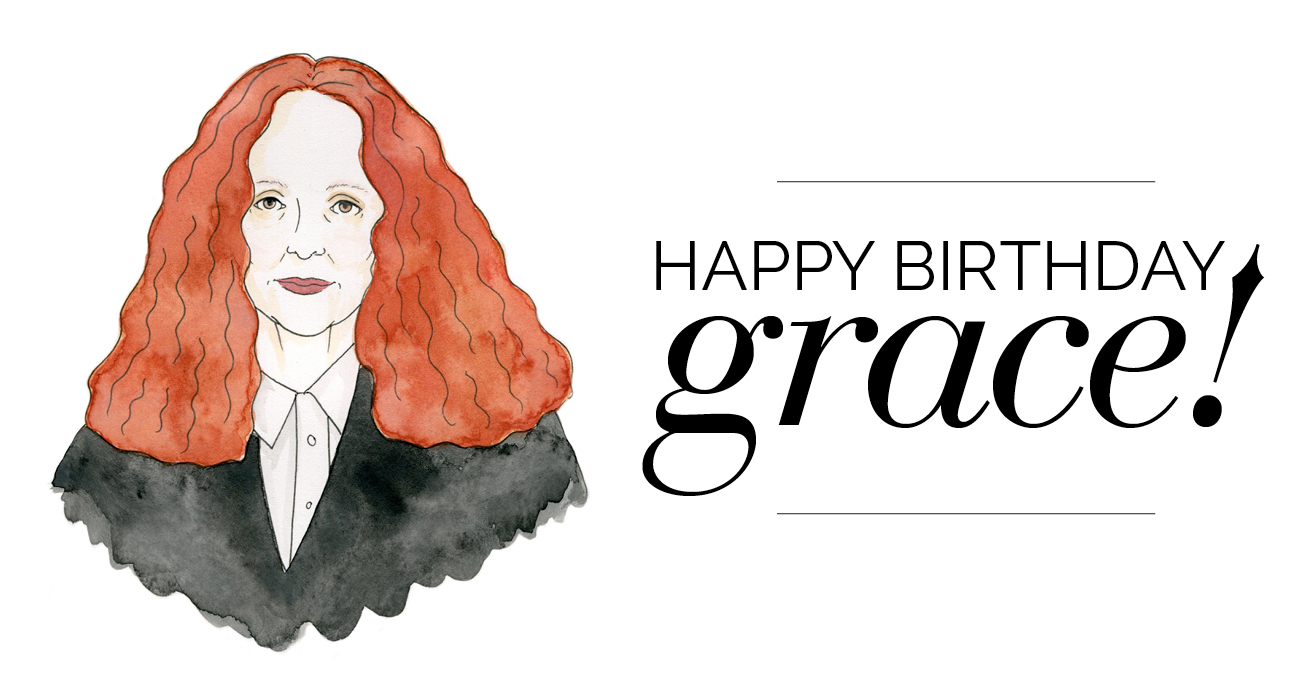 10 Essentials: Grace Coddington
The can't-miss musts of the Vogue standard-bearing stylist. Happy Birthday Grace!
There's a deleted scene from 2012 documentary In Vogue: The Editor's Eye that is two minutes of pure, unadulterated Grace Coddington.
Decked in her signature oxblood lip, triangle of scarlet curls pinned back by a gold barrette, the Vogue creative director is describing Arthur Elgort's photography to a team of cameramen.
She's flipping through his split-second snaps—one of a plaid-clad Linda Evangelista caught in an impromptu high kick, and another of a Stella Tennant mid-swan dive into a pool, fully-clothed in wool tweeds (insert collective PR rep cringe here).
An unsuspecting director asks what happened to the clothes.
We're hoping you get why we're obsessed.
…And people wonder how she became Anna Wintour's right-hand woman. Please.
From the Hermès-orange hardcover spine that brightens up our bookshelf (her memoir Grace, duh), to her fluffy felines Bart and Pumpkin, to the blink-and-you'll-miss-it smirk on her face whenever the paparazzi fawns over Anna, our love for all things Grace knows no bounds. It's not just her dreamy job and creative genius that has us swooning. It's her quiet confidence, humble humor and, well, grace—the way she epitomizes standing out by hanging back.
And excuse us while we wax aesthetic. The Sebastian Trucco Bordeaux lip. The uniform of collared white Prada shirts. This cerulean Celine. The costume jewelry.
So in honor of her upcoming 73rd birthday (she blows out the candles on April 20th), we've compiled an illustrated guide to Grace's 10 essentials—think Prada platforms, Shepherd's pie and everything in between. Anything to further imitate our ultimate fashion world crush.
—Chelsey Burnside
Illustrations by Meghann Stephenson