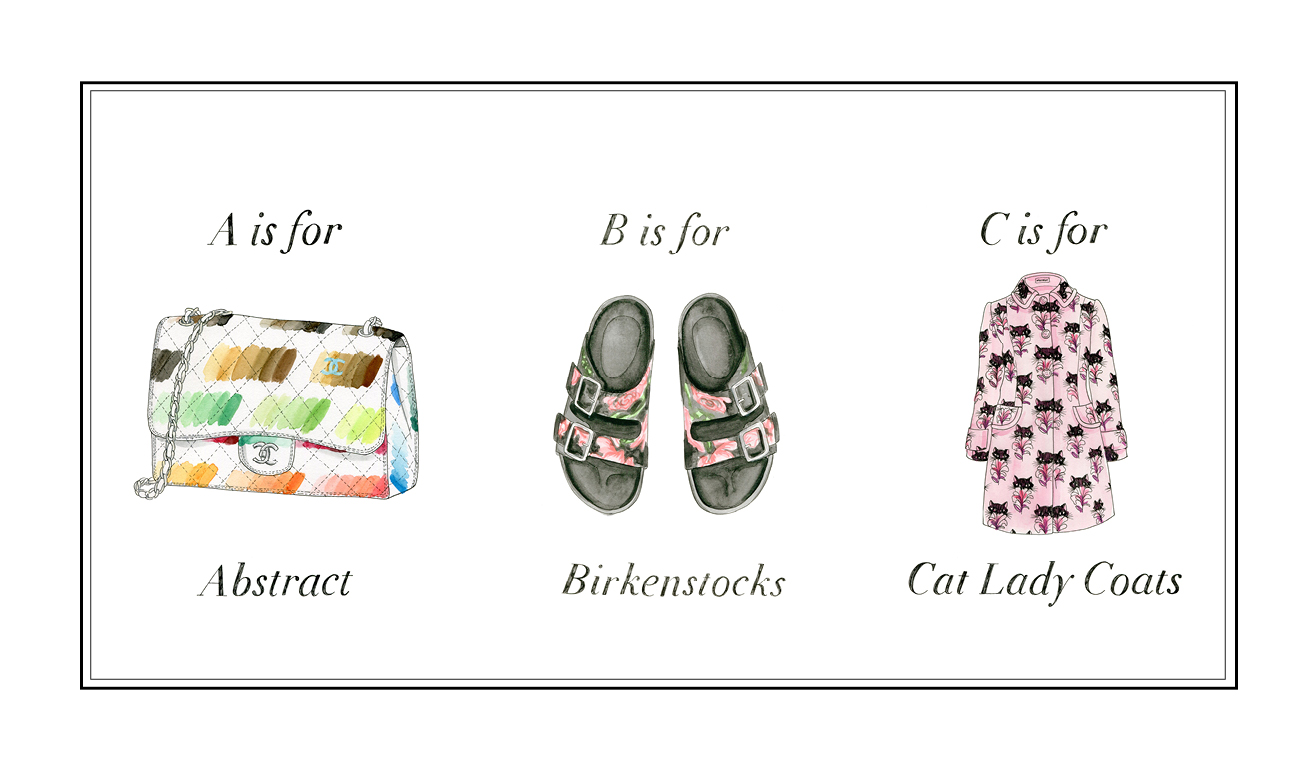 Spring 2014 by the Letters—Part I
Illustrator Meghann Stephenson brings life to Spring 2014's greatest hits.
If you thought polar vortexes, groundhog days and the kind of temperatures that leave your face half-paralyzed and the color of a Louboutin sole were going to stand in our way of definitively announcing the arrival of spring—well, let's just say you've probably never been to Canada in mid-March (23ºF? Patio season, baby!). We're ready to trade in our cocoon coats and salt-entombed boots (RIP) for geometric sunnies and floral Birkenstocks, even if we still have to trudge through thigh-high snowbanks to get them.
After soaking in about as much back-to-back Fashion Week temptation as we could handle without plummeting into a personal recession, we've distilled a best-of list for spring, from A (abstract prints) to Z (zippers)—that's right, we took in more at NYFW than just cinnamon sugar confections from the Rag & Bone doughnut bar. Behold: The illustrated ABC's of spring fashion, by none other than the next-level talented Meghann Stephenson. (Ever wonder how pint-sized divas à la Blue Ivy stay on top of the seasonal trend-watch while still in preschool? Mystery solved—this is probably reminiscent of her coloring book).
Print it out. Hang it in your closet. Consult accordingly. When you're holding up that yellow-fur trimmed, chain-metal embellished cat-lady coat, use it as a handy guide to cross-reference (yes to the feline-friendly, yes to fun fur and yes to embellishments. That's what we call a Coveteur hat trick, ladies and gentlemen.*) At least it will keep us somewhat frostbite-free.
Stay tuned for Part 2, coming soon to a Coveteur near you!
*Please don't actually wear this. Unless it's Miu Miu.
— Chelsey Burnside