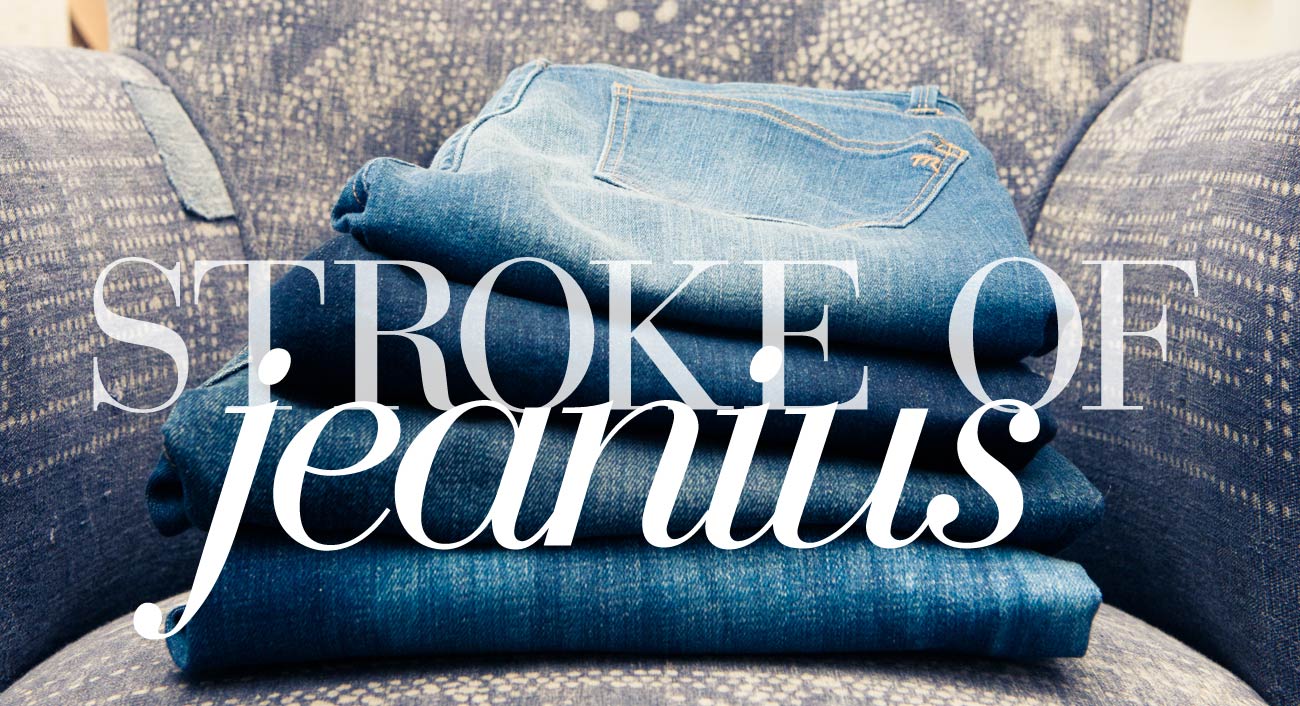 Stroke of Jeanius
Because your ass will thank you. Trust us.
Allow us a moment of sappiness and sentimentality for just a second. Seeing as we're in the business of pure, unadulterated closet voyeurism, we've come to regard the pieces that make up one's wardrobe as a second family of sorts. They're just things, sure, but they're your things, they're the pieces you live your life in, and you make memories around them. The sequin dress you made, ahem, liberal alterations to (read: slashed to show more than a little leg) and subsequently wore to shreds? The schlubby grey sweatshirt you've been working to wear out to a supreme degree of softness? We actually defy you to tell us you're without a single piece in your own closet that holds similar significance.
Which brings us to the matter of all things denim—or more specifically, not the Canadian tuxedo, but jeans. In our circles, there are few things that inspire dread quite like the idea of shopping for them, and so when your one perfect pair fails to fit—or shrinks several sizes as result of a freak dryer accident—it can often feel like there's been a death in the family. Similarly, we can all likely come to the consensus that finding that aforementioned perfect pair is a near-impossible-task, right up there with attempting to replicate that ombre lip or chalkboard paint kitchen wall set-up you found on Pinterest.
Enter Madewell's denim line, which, in their words, does "life-altering things to the rear view", and is indeed a most-accurate description. In need of a more literal translation? They will make your ass look completely fantastic. They also simultaneously have stretch while still managing to never sag or bag out. Need even further proof that our endorsement is, in fact, genuine? They pretty much had our hearts from the moment we learned the team designs from the shoe up—with different lengths and fits tailor made to wear with everything from classic Manolo pumps to chunky Acne ankle booties. There's also over a month's worth of work into each and every pair and only work on around two a day, each embroided with an itty-bitty 'M' on the back pocket.—it's the closest thing to demi-couture denim, if you're able to do away with the Ed Hardy-like visions that phrase likely puts in your head.
Oh, and if you weren't entirely sold just yet? You'll likely love their nod to our home and native land—the brand is also expanding into overalls, jumpsuits, jacket and more, for all of your Canadian tuxedo-outfitting needs.