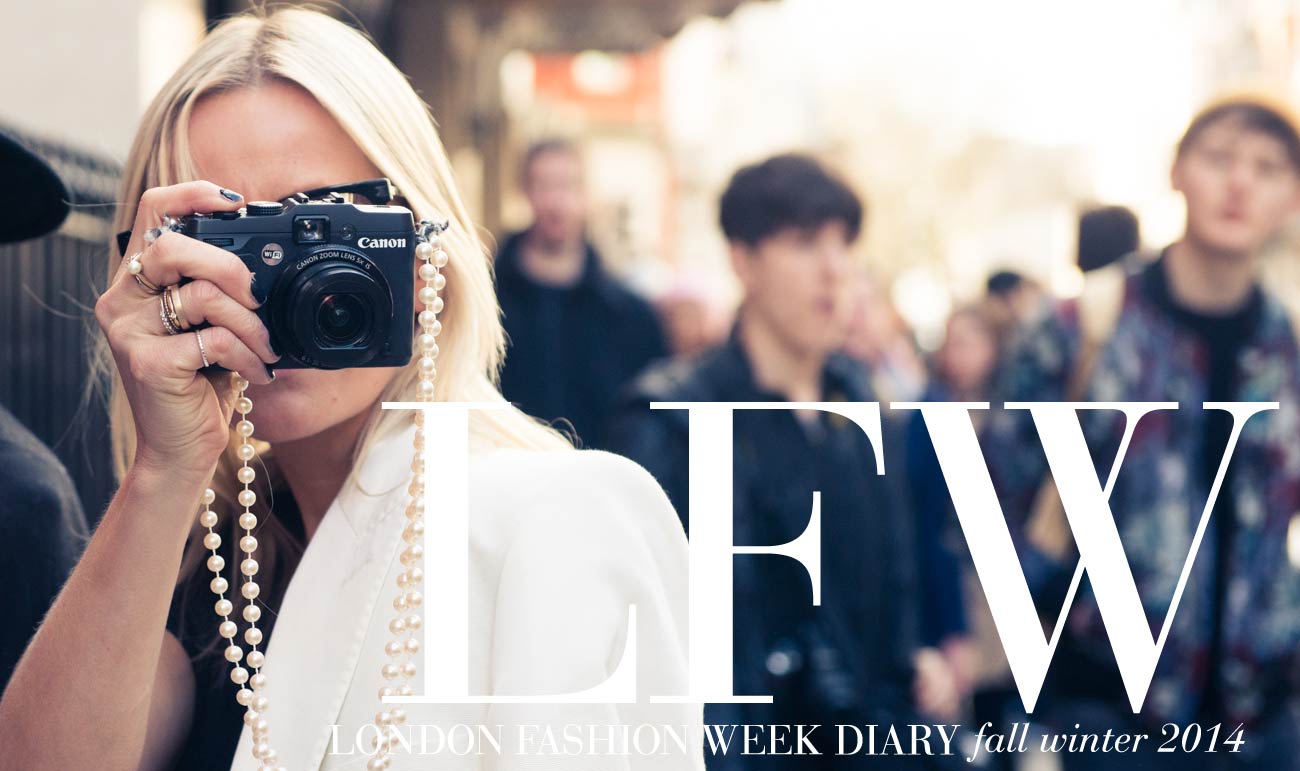 London Fashion Week Diary
London calling: a chronicle of our latest adventures across the pond.
After rushing off our red-eye flight for a day of back-to-back shoots (hint: think high-end jewelry designer Cov-alums, impeccably outfitted street style bait in the form of an ELLE China editor, and, Rosie Huntington-Whiteley round two) we admittedly pretty much passed out and managed to avoid all form of impossibly cool fashion week parties. It's not all swilling champagne and CHANEL parties, okay?!
After spending the next morning romping around with Langley Fox (you guessed it - coming soon to a Coveteur near you), it was off to the Mulberry presentation. There, we briefly caught Cara Delevingne in all of her bountifully-browed glory as she unveiled her namesake bag under the brand. Because the state of her life wasn't quite envy-inspiring enough as is, huh?!
We also made it to Mary Katrantzou, which was remarkably free from all manner of digital prints and kaleidoscopic patterns (don't worry -there was ample embroidery and embellishment to compensate), and Jonathan Saunders, which was chock-full of color-blocked fun fur, gold hardware and geometric (by which we literally mean three-dimensional) separates. Oh, and we managed to fit in a little afternoon downtime at our home-away-from-home for the week (okay... five days), St. Martins Lane Hotel in Covent Garden where we even took an hour for a little tea time. When in London, right?
The next day saw day-long prep for our fête with Brown's (a.k.a. mecca) with the girls behind our favorite grown-up-Spring-Breakers brand, Filles à Papa. After getting all gussied up (in Givenchy, no less) that night, we got down at our favorite shopping spot in London town with the help of a few inflatable flamingos (don't ask). Our final days were all shows, shows, shows but it's not like we were complaining... all jet lag/hangovers aside. We pounded the pavement between shows and caught up with old friends Tommy Ton and Susie Lau before saying "cheerio" and hopping the plane back to our home and native land, Canada. It's been real, LFW!