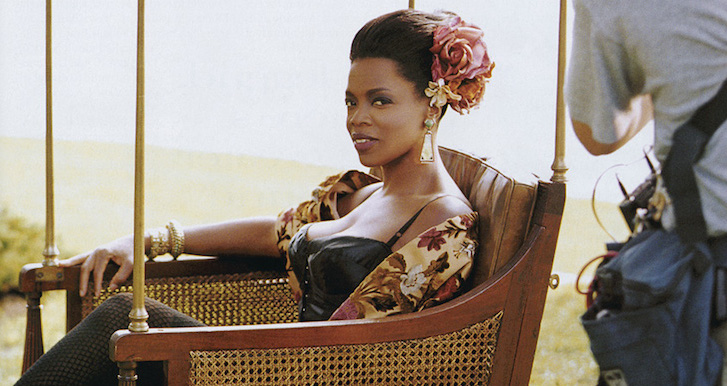 Happy Birthday, Oprah!
60 of the Big O's favorite things—just in time for her 60th birthday.
Remember rushing home at 4P.M. to watch troubled starlets wipe their mascara-tears while Oprah nodded along in solidarity? And then everyone looked under their seats and found keys to their new Pontiac G6's? Those were the days.
After 25 years of couch sessions followed by three years of denial-fueled rerun marathons post-finale, O is turning the big 6-0! We know, we know—for the love of miracle mists and sorcerer's stones, what does her Glam Squad put on that woman's face?! (According to her Kabuki brush-wielding secret weapon, Derrick Rutledge, Oprah's "strong, confident character radiates out naturally; makeup only enhances it." So much for that).
And aside from a particularly spiritual SoulCycle class, O doesn't seem to be celebrating six decades of general OWN-ing (she was Forbes' most powerful celebrity of 2013—a cool $77 million. So, you know, pocket change) with as much island-renting and culty-cruise ships as her former celebrity guests.
So we thought we'd honor her 60th in the most O-worthy way we know—with a list of her 60 Favorite Things (some real and some, well, just for kicks).
- Lindsay Lohan's newfound sobriety
- "Preeminent Mistress of the Universe" (her words, not ours), Beyoncé Knowles
- Dr. Oz
- Then cleaning up good with the help of her trusty Glam Squad.
- Cashmere
- Larger-than-life hair
- Rocking the off-the-shoulder look on the red carpet. Here, here, here and here. Oh, and also here.
- A kitchen stocked with the finest of stainless-steel gadgetry…
- For your personal chef. Duh.
- Southern comfort food (and Art Smith's turkey chili).
- Quality Tequila
- ...with Himalayan sea salt shot glasses
- White truffle cheese....
- And white truffle popcorn
- Frédéric Malle Bigarade Body Lotion
- Volkswagen Beetles
- A cup of Chai Oolong tea in the A.M., with Stedman
- #supersoulSunday
- Inexplicably, Tyler Perry
- Beats by Dre Studio Headphones
- Mophie iPhone Juice Charging Cases
- Like everyone and their mother, the Clarisonic
- Origins A Perfect World White Tea Body Cream
- Ralph Lauren Black Label Cashmere Crewneck
- Spanx
- iPad
- Bobbi Brown Rouge Pot for Lips and Cheeks
- Philosophy's entire Amazing Grace line