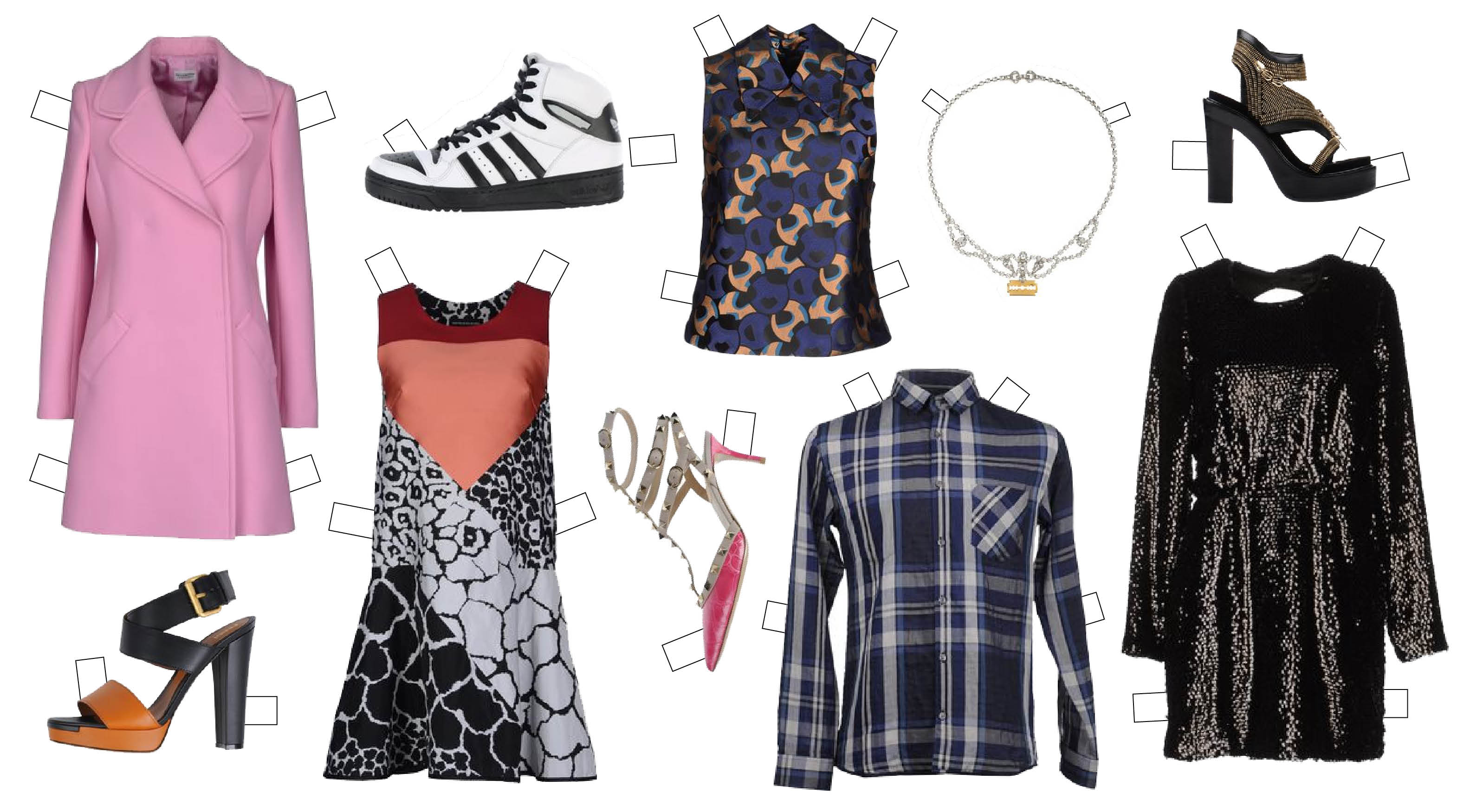 A Very Coveteur Christmas
We made a list & checked it twice. And yes, the nice list gets Balenciaga.
For all of our talk about floral Givenchy Birkenstocks and a jar of La Mer as big as our head, we swear that we wholly recognize that the holiday season is about more than just receiving and that there's nothing quite like actually giving good—nay, great—gifts to imbue genuine feelings of holiday cheer around this time of year. And so to demonstrate that, we've decided to come up with our very own Naughty and Nice list—sorry we're not sorry, Kris Kringle—and go out by gifting a few of our Cov-alums (no, really—we swear we weren't kidding when we said we don't play favorites) a selection of pieces so perfect, we literally hopped up and down pointing at our MacBook screens, "that's the one!" when we spotted them on Yoox.com. No, really. We would be embarrassed were we not so proud of our gift-giving prowess.

First up on the to-gift list? None other than Susie Lau—better known to the blogosphere as Susie Bubble. We just couldn't let a care package to Lau go without a little printed Versace and technicolor Nicholas Kirkwood—because, we mean, if we did, what kind of friends would we be? Add in a little stocking stuffer-appropriate Tom Binns (Internet shopping carts count as stockings now, right?!), Peter Pilotto, and the most New Years ready sequin-print Jeremy Scott mini ever, and we think we have a pretty on-point present—and knowing Lau, she'll likely figure out a way to wear every single piece at the same time.
When someone takes to Craigslist to score Raf Simons you know they don't exactly mess around. To the same extent, it also presents a kind of, "what to give to the man who has everything" scenario—and this is where A$AP Rocky comes in. So what did we decide to (hypothetically-slash-virtually) gift him? Plenty of Alexander Wang basics (because they're total besties, duh), and a healthy helping of Rick Owens and the aforementioned Simons (don't make us sing only to drive home the reference we're attempting to make here). Throw in a pair of black and white Adidas x Jeremy Scott kicks (because again, designer besties) and an, ahem, festively-printed, vaguely Hawaiian button-down that we already know he's had his eye on, and voila—we kind of nailed it, no?
'Tis the season for discovering a totally cute DIY gift on Pinterest and spending a pretty penny on all of the requisite supplies only to collapse on the floor crying after burning yourself with a glue gun, right? While crafting something sparkly and wrapped in twine just isn't quite our strongest suit, it is inarguably that of someone like Cupcakes & Cashmere's Emily Schuman—which is why for our fictional Christmas gift, we turned to the wonders of the world wide web. What can she find under her (likely seven-foot-tall, immaculately decorated) Christmas tree? A sweet, dainty charm necklace from Chloé, printed wrapdresses from Balenciaga and the mother of all wrapdresses herself, Diane von Furstenberg; plus a pair of perfectly pointy, hot pink Valentino Rockstuds because well, what's one more? A python-printed top from Equipment (because we know girl loves a good Equipment blouse), a Stella McCartney blazer (and were Schuman not the second coming of Emily Post, social media edition, we'd secretly hope she'd end up regifting it to us in a fleeting moment of forgetfulness) and a Pepto pink Alberta Ferretti wool coat that was practically made for #OOTDs.
Now, we understand as well as anyone that the entire street style circus is centred around who's wearing the latest (as in, literally walked off of the runway thirty seconds ago) wares—and that's to say nothing of the most expensive. And so for Miroslava Duma, we're suggesting a compilation of pieces from seasons past that are still every bit as relevant today; and actually have the potential to knock Tommy Ton off of his game (just kidding, it's pretty much impossible). That means giving the gift of a wardrobe's worth of kaleidoscope-printed shift dresses by a veritable who's who of London Fashion Week. Peter Pilotto, Mary Katrantzou, Christopher Kane? Yeah, we're looking at you. Throw in magpie-worthy wedges by Givenchy and Miu Miu and a slightly kooky art-gallery-owning-aunt Marni statement necklace in for good measure.
Remember what we were saying about being stumped when it comes to what to gift the person who practically has, well, everything? While there are indubitably worse problems to have, it's one we continually find ourselves running into—namely with the likes of Cov alumni like Rachel Zoe. The fix? A tweed DVF jacket, emerald and gold Marni cuff and perfect Fendi sandals. Oh, and a little vintage CHANEL. Because lets face it—we could all use a little more vintage CHANEL.