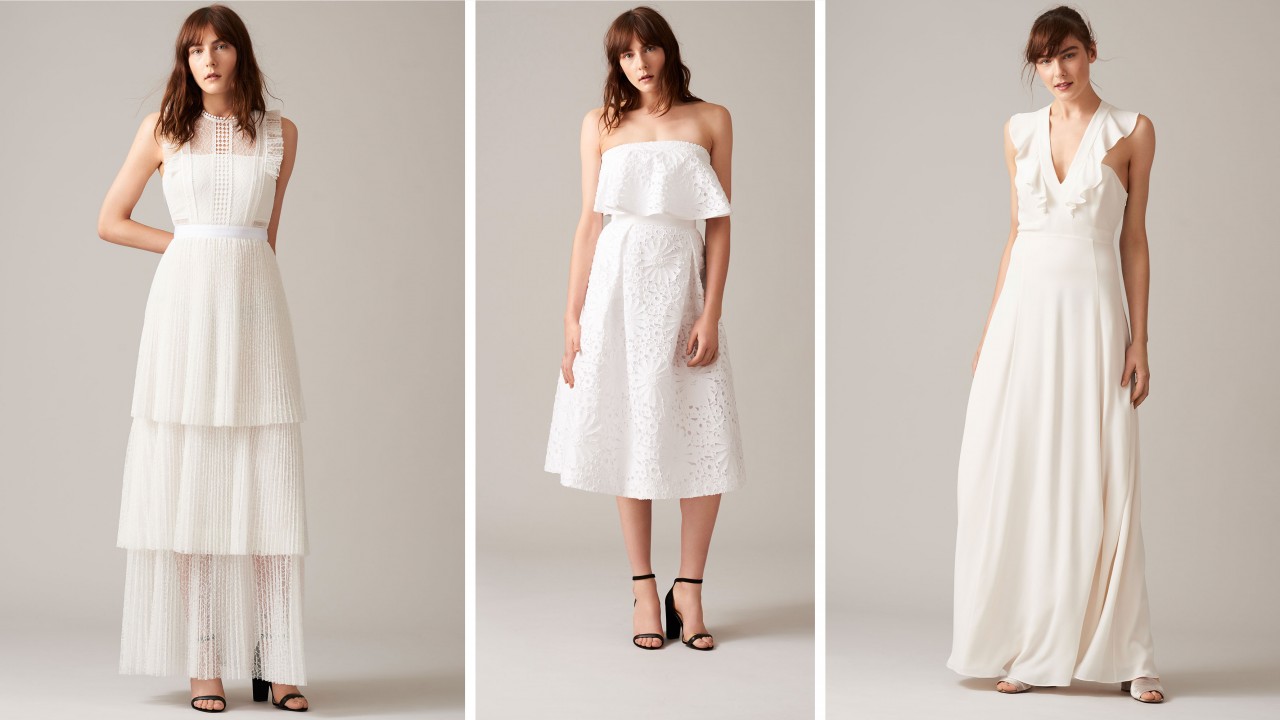 Cult English Brand Whistles is Launching Bridal
Plus five other labels making wedding dresses that won't break the bank.
Whistles, the cult contemporary brand, feels like something of a well-kept English secret—as though it's one of the hidden gems that help make British women that much cooler than those of us on this side of the Atlantic. Okay, so it's not really a secret—it's readily available at Bloomingdale's and on ~the internet~—and, tbh, it's about time we all start incorporating more of it into our wardrobes. Which we were reminded of when our friends in their London office let us know that Whistles is launching bridal come February.
"We've had so much interest from customers on wedding attire that we felt the time was right to launch a contemporary collection of dresses for the modern bride," said creative director Nick Passmore. We definitely get the interest. Especially when the dresses are this pretty and weddings are so darn expensive (we know, tell you something you don't know). Seriously though, there's something to be said for finding the dress and having it cost exponentially less than what you expected to pay (as in, it's not nausea-inducing to pull out your credit card). Passmore knows exactly what we mean: "These are precious dresses, special enough to celebrate the big day, yet won't blow the honeymoon budget."
5 More Affordable(ish) Bridal Labels
Anthropologie's bridal line (there's also lots of stuff for bridesmaids, as well as shoes and accessories) is romantic, pretty, and princess-worthy.
Like everything else Reformation does, their wedding dresses are very cool and very relaxed. Also, very sexy.
This is where to go for a slightly more ~high-fashion~ look that won't put you on welfare. Okay, so it's definitely not cheap, but it's not nearly as astronomical as that Valentino couture number you've been eyeing.
For the bride who won't look at a wedding dress that's not covered in lace and embroidery.
Quite literally, there's something for everyone. Also, bridal lingerie!