Down to Party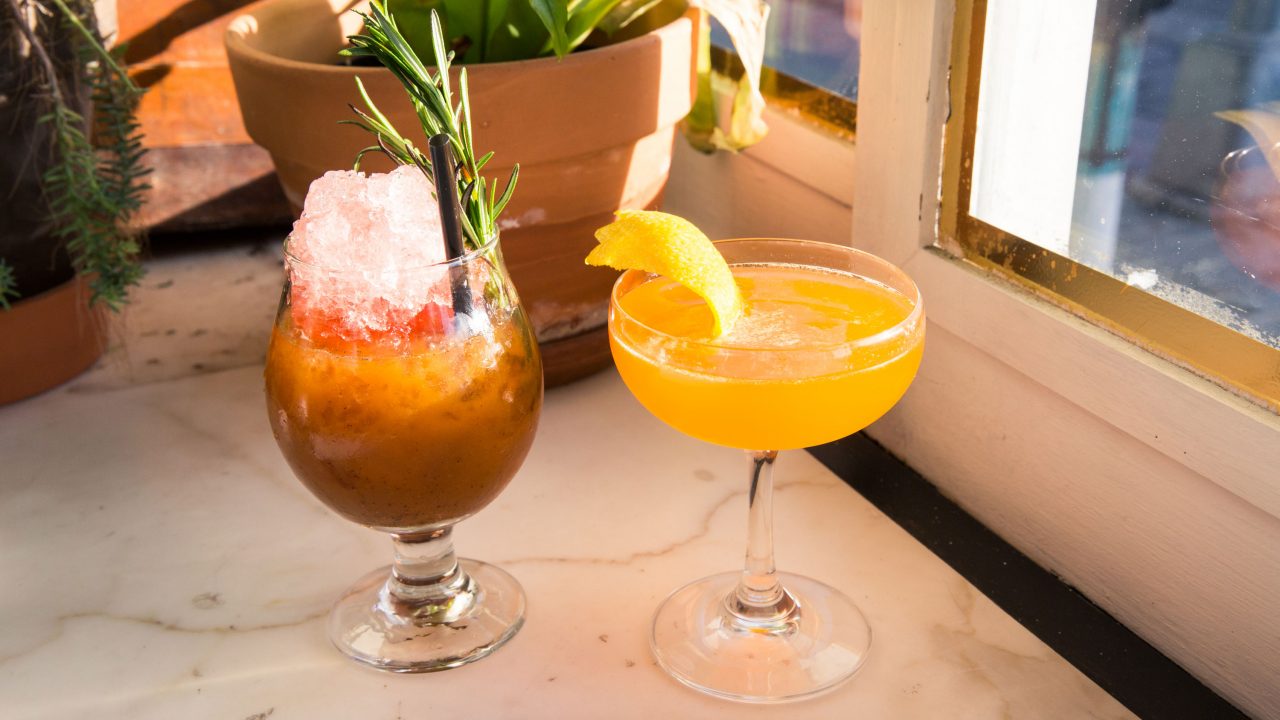 2 Cocktail Recipes to Get You in the Holiday Spirit
It's amazing what a little bit of festively-flavored alcohol can do.
Thanksgiving has passed us by; December is closing in; gift guides are swarming our inboxes (call us hypocrites, but check back for ours tomorrow!). Our holiday dial should officially be on high. If you're like us, though, it's more hovering around medium-low: all the turkey and stuffing (and leftovers) we've consumed over the past week seems to have migrated to our love handles and our election hangovers have officially become apocalyptic. So, what do we propose to get us in the holiday spirit? Why, alcohol, of course!
Kidding. Kind of—at least, we do not condone the consumption of booze for mental health purposes (there are much healthier ways to quell the holiday blues, to be found here). That said, a festive beverage never hurt anyone. And we swear to a Louboutin-gifting Santa, these drinks, dreamed up and made into a reality by Wild Son owner Jason Mendenhall, might as well come with a sprig of mistletoe and a warm holiday hug (there are even some health benefits!). Lacking that *twinkle* your mom is so dying to see upon your arrival home for the holidays? Mix up one of these and embrace it.
Ingredients:
2 oz mango and turmeric shrub
1 oz Cocchi Americano
1 oz Cappelletti
0.5 oz fresh lemon juice
0.5 oz agave nectar
Shake and strain the mixture into a chilled coupe glass.
To make shrub:
This will make 1 quart of shrub, which will last in the refrigerator for a month and has the added benefit of being an anti-inflammatory.
Ingredients:
4 oz turmeric
4 oz mango pulp
8 oz Bragg apple cider vinegar
8 oz simple syrup
8 oz filtered water
*For the health nut that likes to get a buzz on, you can spike the alcohol content in this cocktail by adding London dry gin.
Ingredients:
1 oz homemade spiced pumpkin
0.5 oz Punt e Mes or sweet vermouth
1.5 oz amontillado
Shake the mixture with fresh ice and serve in a bell glass with crushed ice. Garnish with Peychaud's bitters and smoking rosemary.
To make homemade spiced pumpkin:
1 small can pumpkin puree
1 tsp allspice
1 tsp vanilla extract
1 cup quality maple syrup or agave
Blend and store in your refrigerator.