Deskside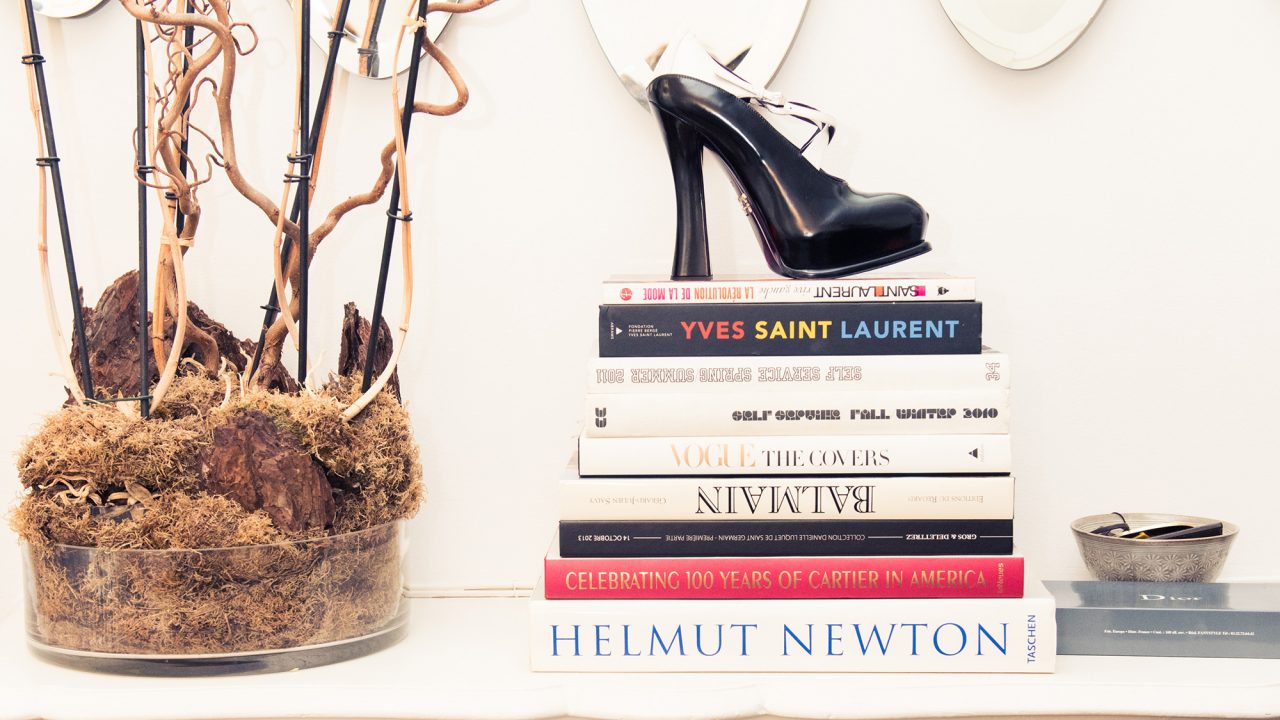 The Ultimate Resource for Parisian Vintage Fashion
All the '70s Saint Laurent you can handle.
Let us take you on a little fantasy trip, if you will. Imagine you're an American fashion editor living and working in Paris. One night, at a dinner party during Fashion Week, you meet your friendship soul mate, who turns out to also be your business soul mate, and the two of you end up turning your passion (designer vintage) into your career (running Resee.com, which stocks the very best of the best).
Well, such is life for the two American ex-pats who now spend their days curating collections of '70s Saint Laurent, '80s Alaïa, and '90s Helmut Lang. Sofia Bernardin and Sabrina Marshall are currently living the dream, as they say—for evidence of this, just take a gander at the current offerings on their site. We lost a solid hour in the most glorious black hole of vintage just preparing to write this piece, to be completely honest. Here they walk us through how they used their passion to inspire a business, how the vintage market is changing, and what exactly it's like to run a company in Paris. Oh, and also, selling vintage from Claudia Schiffer and Diane von Furstenberg. Casual.
How Resee.com came together:
Sophia Bernardin: "One day we were having lunch together—the irony is that we are both big cancelers, so the lunch actually happened [laughs]! We were talking about how there was no place online where you could go and shop vintage—how it was all really dusty or someone's secondhand stuff and there was nothing that was inspirational out there. It all went so fast; we were like, 'Oh! We should do something!' The next time we got together, we did the business plan. Within the week we had the business plan down."
Sabrina Marshall: "We were selling, so we had to manage the stock. We really wanted it to be like a magazine—very current. Taking all these vintage pieces and making them very relevant to today. Everything is styled. Sometimes people come on the site and they don't even understand that it's vintage, because if you take vintage out of its context you just realize these are amazing pieces that shouldn't be lost. They are moments to sell."
How the vintage market is changing:
SB: "Before, people thought items were unattainable to a certain extent—vintage meant a gown that cost you a fortune and deserved to be in a museum. Or it was the complete opposite, like your grandmother's stuff. Resee.com is about the best of past fashion. Whether it be '60s or '70s Saint Laurent, or '80s Alaïa, '90s Helmut Lang. Or even Phoebe Philo's first collection at Céline. It's just great moments in fashion. I think people are looking for individuality, which has been lost a little bit. There is so much more education. [The internet is a] tool. You have so much knowledge out there, and people love learning!
"Thanks in part to social media, you can search a Balenciaga by Nicolas Ghesquière hashtag. And you find great things. You are like, 'Wow! I remember that collection! I'd love to find that piece again.'"
How Resee.com is cutting through the clutter:
SM: "In the magazine sense we wanted to curate [everything out there] and really be specific so people wouldn't feel overwhelmed and say, 'Oh, wait a second. What is going on?" Instead it's about, 'These are the 10 pieces to buy. That's it!'"
SB: "That's where we are in this world. There are so many websites now. You really need to have a point of view and a vision, or else you get lost. Or else you're like a supermarket or like every other site."
Where they find the goods:
SB: "It's mostly all consignment, but we have sellers from all over the world. It started mostly in France, but then we started getting calls from people with collections in America and the UK and Japan—all over. But our business model is really on consignment. At the end of the day, these women are so happy. Even our older sellers who go on the site and see their pieces are like, 'Oh my god! I haven't worn that since the '70s. Look how beautiful it looks. I'm so happy they found a great home!' We get love letters from some sellers who are like, 'I have had this stuff for years and I didn't know what to do with it, so I'm so happy it found a good home and somebody who appreciates it and knows what it is.'"
SM: "Our consignment is great because it allows us to get massive collections—we have the point of view of a buyer. That's a big thing. It's not just little pieces; we love to really tell a story. We had 200 Saint Laurent pieces from one person—really great '70s Saint Laurent pieces."
Resee.com's partnership with the Breast Cancer Research Foundation:
SM: "We're hosting an auction where these incredible women who we really respect have donated personal pieces from their collections. We're auctioning it off this week—just two pieces a day. All the proceeds are going to breast cancer research. It's incredible, the women are people like Cindy Sherman, Diane von Furstenberg, Kylie Minogue, Gabrielle Crespi, Betty Catroux—who is an icon of ours because of Saint Laurent—and Claudia Schiffer—"
SB: "They've all donated to this special cause! They really got into the image of what Resee.com is. They went into their wardrobes and donated a special piece. Diane von Furstenberg donated a vintage wrap dress of hers, and Claudia Schiffer donated an amazing piece that she did a campaign of in the '90s. Grabrielle Crespi gave beautiful '70s handcrafted Yves Saint Laurent. So it's still very relevant to what the DNA of what Resee.com is, which is celebrating the best from the past—and we get to do it for a great cause! In addition to that, throughout the whole month of October, every order on Resee.com goes out with special information on the Breast Cancer Research Foundation and people have the opportunity to donate money to the cause, even if they haven't bought in the auction, even on the regular site."
Running a business in France versus the USA:
SM: "When we launched, being in Paris was great. It's such a creative place. For stock, it's incredible—it allowed us to get amazing vintage pieces. Again, Saint Laurent is a big market for us and the biggest collectors are here, so it was definitely supportive in that aspect of growing the business."
SB: "It's funny because we always talk about that, like, we are two Americans, and we're in France. And a lot of people are like, 'Why are you doing it here?' The taxes, the employment, it's so hard to do business in France. You know, the creativity here is so important, but also there was something about letting us start small. In America, if we launched it would have been with so much investment and this and that. For us, it's about longevity. For a lot of sites, they launch, they make money and then, look! They're gone! Here in France, we are self-funded, to date, which has made us learn so much about our business. This isn't even our background—tech is not our background, neither is logistics. But we've been forced to go in there, and learn to run this business. We've done it successfully for two and a half years. Now we're ready to go to the next level."