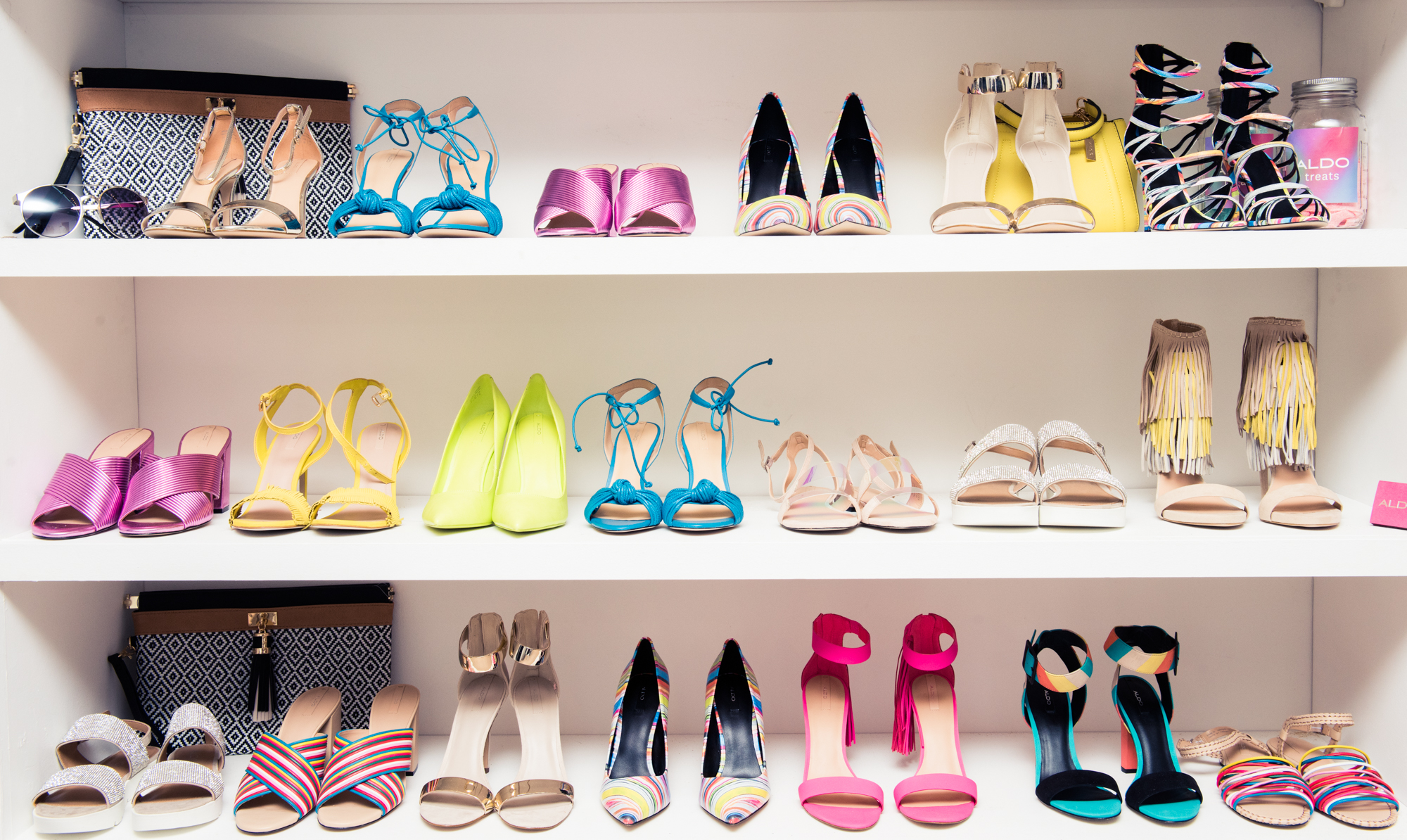 Two Stylists and a DJ Walk Into a Party
On a hot LA night with tons and tons of shoes. In collaboration with Aldo.
A big part of our job description involves going to events—openings, previews, shows—the list goes on and on. And while there are definite perks to that, we'll just say it takes a lot to get us truly worked up about a party. Which is why when ALDO invited us out to Los Angeles to celebrate their newest shoe collection, in a truly colorful and old-school LA way, we got pretty excited. And we weren't disappointed, this was a fashion event unlike the norm. Instead of a stuffy cocktail reception, we arrived to a house party filled with old friends, great cocktails, yummy food, and of course, shelves on shelves of Coveteur-worthy shoes. Plus a very Instagrammable vintage car that we couldn't help but throw the hosts of the evening in—stylists Cher Coulter and Karla Welch, and DJ Nikki Pennie—along with every pair of shoes we could find, and taking it for a spin. It was an iconic evening to say the least. Here, we talk with the hosts about their getting ready process, hero lipstick shades, and their favorite pairs from the collection.
Her getting routine for the party:
"I grew up shopping on the high street, so I love ALDO. I like fast fashion, I like the high street. It was a really great party, I love Karla, I've known her a long time and my friend Nikki DJ'ed. There were a lot of people at the party, which was at this great house. There was a photobooth—I love to take a selfie—and the food was incredible. It was a hot summer night in LA but it was a great time to have a party.
"I did my hair and makeup myself, I don't love a lot of fuss. I like having my makeup done but not my hair. I find it difficult for them to get it right—they end up doing a blowout which I don't love. It was my way of getting ready, which is basically working up to the last minute and then throwing some clothes on. I always do this weird thing where I stress out about what I'm going to wear, so I don't think about it until the last minute. I thought I would wear my leopard dress and I knew what shoes I was going to wear from ALDO, then I panicked, and didn't feel good in that so I put on a black dress right before I jumped in the taxi!"
Her favorite pair from the collection:
"At the party I wore the Joli brown suede block heeled sandals from ALDO. I just like them, they were casual but high and suede as opposed to leather which I think has a bit more going on. Those are my favorite pair from the ALDO collection. I really like them because of the block heel!"
Hero makeup products:
"I always wear a lip, Nars has a lot of colors that I love. At the party I wore Nars Flamenco. My final touch to any look is a red lip because it always makes me feel human again. I love a dangly earring, too. I always have. I've been coveting giant, long, big earrings my whole life so I'm happy they're coming back around again."
The essentials in her bag:
"Tonight I'm carrying my phone, chewing gum, Nars red lipstick, mascara, keys, a credit card, and cash."
Her go-to party look:
"My go-to outfit is this black dress from & Other Stories, another high street shop. It just fits really nice and I've worn it about three times in front of the same people and they always say, 'Oh that's a nice dress!' as if they've never seen me in it. It's good because you can dress it up in different ways."
Hangover cures:
"If it's been a long night I just try and sleep as much as a I can but sometimes that doesn't happen obviously. And then just drink tons of water and get on with it!"
Her getting routine for the party:
"Getting ready is a mad dash. I work and I have a kid and husband, so I have very little time. I try to always think about 'What am I gonna wear, what am I gonna wear, what am I going to wear,' so that I can pre-visualize it. If I pre-think about it, it's easier.
"The party was great—it was a really nice, house party, which was a bit different from your typical fashion event, plus the cocktails were great. I'm really good friends with Cher Coulter and Nikki Pennie so it was fun to see them and hang out. I love a non-stuffy gathering of peers, it was great! To get ready, I literally ran out the door. It was pretty fast. My wonderful friend, Melanie, did my makeup—which was a treat."
Hero makeup products:
"I always wear Nars Heatwave. If I have nothing but my skin and that lipstick, I'd be happy, which is usually the case. And that's the color I wore at the party as well. For haircare I use Davines the Love cream and a little bit of their oil. I'm a very wash and wear minimalist."
The essentials in her bag:
"In my bag I carry cash, a credit card, lipstick, and my phone."
Her favorite pair from the collection:
"I love the Lucelle flats I was wearing at the party. I'm super into flats. I love them with a dress, with jeans—everything. Sometimes I'll do a little, low heel, but I really think this ALDO pair is just so comfortable. At the party I was on my feet all night dancing and it was super easy and very chic.
"If I'm going to wear the heels, I commit to it. But, I don't think they're comfortable. I love ALDO because they're actually comfortable. Any time any of my clients wear them, they're always like, 'Wow, these are so comfortable!' I won't ever wear a heel that I can't manage."
Her go-to party look:
"I always love to wear a dress because I'm super dressed down during the day. It it usually has a casual feel because I wear a lot of flats. I also like a high waisted pant with a tiny shirt tucked in and a blazer. For summer, I've been throwing on a vintage Céline kimono.
"Shoes are equally as important to me, but I think of it as the whole package. I don't really ever think, 'Oh, I really want to wear those shoes tonight.' Because I'm surrounded with clothes all the time, I'm just into a paired down uniform. I don't overthink it, I'm very confident in how I look, however I look. I don't put as much thought into it as some people might think. A lot of stylists, editors, makeup artists, they're not the ones wearing the makeup and clothes, we are a very parred down group."
Her hangover cure:
"Coffee is my go-to. If I know that I have a big day after a night out and I just really want to be comfortable, I'll wear Céline pants with a vintage sneaker or a little slip on. On the inside, I feel like I'm wearing sweats, but on the outside, I look put together. A little bit of a sporty look will get me through a hangover."
Her getting routine for the party:
"Before I left, I was listening to tunes while my glam team—Jeremiah Samuel and Amy Strozzi made me look "booth ready." My favorite part of the night was doing the shoot with Cher and Karla before the party, I adore them both, so that was fun! I loved that it was a house party, it felt very LA, very chill and a cool crowd...with fun music...what more could you want?!"
Hero makeup products:
"I'm a Dior Beauty Ambassador so my beauty regime has become incredibly important. I can't live without the Diorshow Mascara and the Lash Maximizer, Rouge 999 lipstick is my favorite, you can't go wrong with a chic red lip! Also I love the Miss Dior Absolutely Blooming perfume (it's always in my laptop bag with my headphones)."
The essentials in her bag:
"I learned to always take a more comfortable pair of shoes with me, especially if it's a long gig! I will do my photos and begin my gig in the shoes that look the best with the outfit, then change them out."
Her favorite pair from the collection:
"The Cardross gold shoes I wore to DJ the party are my favorite from the ALDO collection, they were beyond comfortable—which is a huge factor when I am working. The last thing I need is to be in uncomfortable heels! I have worn them a couple of times since then...they go with everything!"
Her go-to party look:
"If I'm off duty then my go-to outfit is usually pretty laid back. Most of the time involves jeans or something more casual which I'll dress up with a fun pair of shoes, bag and jewelry. I love accessories and like to be playful with them. I've always been a shoe girl a la Carrie!"