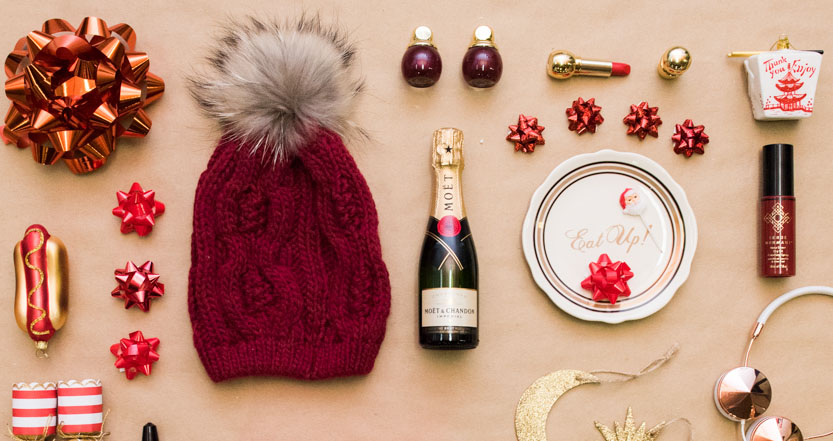 Everything You Need to Make It At Home for the Holidays
Everything that will get us through all the family time. And carolling. In collaboration with Echo.
Have you booked your ticket home yet? Or told your mom what day you're training it to the suburbs? Ours has been calling us steadily the past few weeks in an attempt to nail down some solid dates. Don't get us wrong, we love going home for the holidays—there's nothing like a full fridge and A Christmas Story on TV to keep us from spending money and drinking too much (our IRL life). But there are also some ways to soothe the soul when it comes to excessive questioning on the state of your employment by one aunt or another ("You do what on the Internet?!") and maintain the cozy, warm feeling that being home for all those festivities should cause. Herein, our personal must-haves that we'll be packing or planning for when it comes time to fulfill that December 23rd promise to your mom.

Oh, and BTW: in case this wasn't incentive enough, your cozy winter purchase officially comes with bragging rights. For every cold weather item purchased from Echo, they'll donate one to a young woman aging out of foster care. It's the opposite of being a Grinch, basically.
Emily Ramshaw
Senior Editor
1. The Story of a New Name: It's the second of four of Elena Ferrante's Neopolitan novels and I am thoroughly engrossed. Crossing my fingers the whole series gets me through to New Year's Day.
2. Echo beanie: This is my "Home for the Holidays Double Duty Hat." Warm enough for when my dad forces me to shovel the driveway with him as an excuse for father-daughter bonding time; attractive enough to wear on the day after Christmas to cover my three-day-past-shampoo-date roots.
3. White Christmas: Here's a wildly cheesy moment of truth: I watch this movie every single Christmas. I heart Bing Crosby and I have no apologies.
4. Echo silk scarf: This is the kind of piece that will dress up even my most worn-in cashmere sweater—something my mom will surely appreciate when she asks me to "dress for dinner."
5. Byredo candle: All that's necessary to create my own little oasis in my childhood bedroom—like when the Mariah Christmas CD on repeat gets to be too much.
Meagan Wilson
Senior Editor & Social Media Manager
1. Pocket: By now we can all agree that this time of year oscillates wildly between waking up in last night's make-up and waking up on my couch with Netflix politely-albeit-passive-aggressively wondering I would like to continue watching. Balance! For the latter, there's Pocket: literally my dream app, which allows you to save articles online rather than have somewhere north of 20 tabs open. Nothing's more satisfying than checking them off your list AND being that super annoying person who sends brainy articles to all of your friends.
2. Echo Leather Gloves: Because pulling on a pair can make even sweatpants and a hole-y band tee from school feel fancy.
3. Tony Moly Red Wine Sheet Mask: To match my chill out beverage of choice.
4. Jessica Jones on Netflix: hear me out. I dislike all and any superhero shit, like, immensely. The culture surrounding it, the actual contents, all of it. But Jessica Jones feels a whole lot more like watching a psychological thriller with some vaguely fantastical elements that you're willing to briefly suspend your disbelief for (because they make the story that much better). Plus, as you've likely read, the way the show deals with PTSD and survivor's guilt is actually nuanced and thoughtful. Overall, pretty damn addictive.
5. Echo Hat: Because your mom and general extended relatives probably love it when you're in a hat. Just me?
Noah Lehava
Senior Editor
1. Echo Scarf: This scarf is chic AF... IMO. And the fact that it keeps me warm as I call my mom and tell her I'm on my way home for the holidays (and if she could please, please, please pick me up from the train station) makes it my winter essential.
2. Origins Charcoal Mask Pods: There's something about being at home that's extra relaxing (maybe it's that everyone being out of the city means no FOMO; maybe it's the fact that I don't have to scramble to make dinner). Either way, I always feel like I have new found time to actually do a bit of DIY beauty treatments and these little pods of charcoal clay are about the easiest things to throw in my weekend bag. 
3. Echo Racoon Fur Pom Pom: I love me a good pom pom, especially when one sits atop a chunky knit hat—it makes any staticy-hat-head totally worth it.
4. D.S. & Durga Candle: Okay, so this is a bit reversed. One of my favorite things to do when I go home is sit in front of the fire place with a cup of tea—in my mind, there is nothing more cozy. So to bring a little piece of home to my fireplace-less apartment, I'll be lighting this perfectly smoky candle.
5. White Chocolate and Dulce de Leche Ice Cream: Part of my holiday is going to be spent with my family in Buenos Aires where I plan to eat an ice cream a day (#goals). My flavor of choice? Always half white chocolate, half dulce de leche.
1. Echo Yak Gloves: If you're from a super cold climate I'm sure you can relate... you know when your gloves don't match up with the sleeve of your coat? Thus resulting in a freezing patch of wrist skin? Yeah, totally preventable with these ladylike gloves that go all the way up to the elbow.
2. Elf: I'm all about holiday traditions (not matter how cheesy) but if I'm being totally honest, I didn't really grown up in a family that's into them. Sooo I try and politely force them on my loved ones every damn year. Making cookies while watching Christmas movies is a personal favorite and one I'm really pushing for—as in I've already sent out Google reminders (yes, I'm that person). Bonus points for showing up ready to bake in the ugliest of Christmas sweaters.
3. REN Glycol Lactic Radiance Renewal Mask: No matter how much I plan in advance or do all my shopping online to avoid over-crowded malls, I still get worn down by the stress that accompanies this time of year, which doesn't exactly make for great skin. And while being home is relaxing, there are times when I have to hideout in my childhood bedroom with a complexion brightening mask doing it's thing, catching up on all the magazines I haven't had time to read.
4. Alison Lou Earrings: These gold studs pretty much sum up my feelings about my never-ending to-do list and impending warm weather vacation plans.
5. Echo Yak Hat: Not to harp on the whole winter thing, but having tons of options in the hat, glove and scarf department totally makes getting geared up for the arctic walk to work a bit more bearable. As of late I've been buying sets in the same color scheme, which makes me feel real put together.... saying this aloud makes me realize I may or may not be turning into my mother.