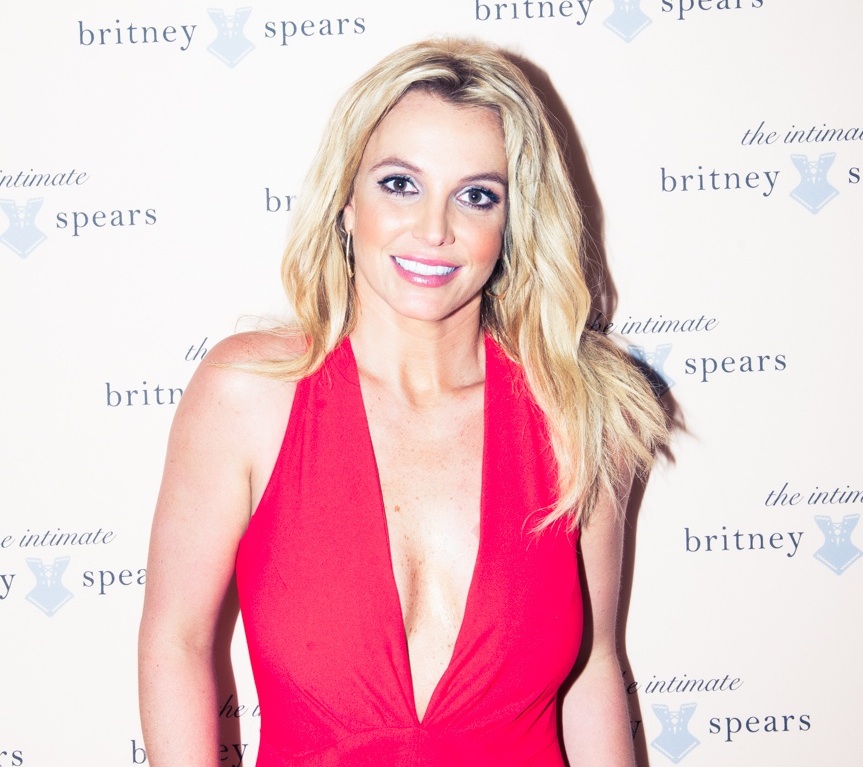 Britney Spears
Getting intimate with the world's biggest pop star (yes, really).
Let's just set the scene for a second… In an elegant, domed hall of the New York Public Library, decked in floor-to-ceiling white curtains and plush white carpet, we sit anxiously awaiting the one and only Britney Spears. You know, queen of pop, icon of our girlhoods, Hit Us Baby (because we must be dreaming) One More Time Britney Spears? You may have heard of her.
The occasion was the launch of "The Intimate Britney Spears," her new line of sleepwear and lingerie "inspired by the romance and elegance of a time gone by," per the official press materials. Minutes earlier, after a voiceover explaining how the line evoked "the art of being a woman and remembering the feelings of a girl," a rapt audience watched fourteen models stroll through a faux-boudoir constructed on an elevated stage. The presentation was a whirlwind of silk and satin and soft pink lace, as the models showed off a series of delicate lingerie sets and nightgowns with floral-inspired names like ambrosia and amaryllis—yeah, we don't really know what that means either. Spears herself gave a blink-and-you'll miss it appearance to thank the audience and receive applause, before ducking quickly behind the curtain.
But there's nothing like a private audience with Spears, and, as the rest of the crowd filed out, we were ushered back for our one-on-one with the pop star-cum-underwear designer herself. Needless to say, we were excited. While it has been years since BritBrit was a chart-topper, there's something surreal, particularly for '90s kids like ourselves, about actually meeting Britney Spears in the flesh. There's few other celebrities (Backstreet Boys, natch) who could leave us feeling so starstruck. But meeting Spears—inspiration for our middle-school lip syncs and resident poster-girl of our preteen bedrooms—felt different: somehow monumental, like we were paying homage to our teenage selves.
Endearingly, it turned out that Britney was just as nervous for the interview as we were. Arguably the most famous pop star in the world, she greeted us with a timid handshake, speaking in soft tones as she fielded questions about the new line. After describing her own intimates of choice (from a boutique called Pink Lace, full of "very soft, feminine things"), we asked everything from what inspired her turn as a lingerie designer to her intimates of choice (we had to!). It turns out that a lingerie line is something she's wanted to do for about a decade now. Bet you didn't see that one coming, right?
As everyone who has ever attempted a Spears-through-the-years group Halloween costume can attest, she's has had a style evolution unlike anyone else, from the sexy-schoolgirl of "…Baby One More Time" to the futuristic pleather of "oops!…I did it again" to the Canadian-tuxedo of the 2001 VMAS (to which Katy Perry gave a spot-on tribute at this year's ceremony). And for someone who has been photographed in her underwear on the cover of Rolling Stone five (!) times, at least to our count, it's pretty clear that—present jitters aside—Spears finds something empowering about stripping down and bearing it all. We mean, we think we can count more iconic clothes-less Britney moments than the alternative (she's kind of the originator of the whole pantless pop star thing, after all). She gave a nervous grin. "I think it's good for women to express themselves that way." Never change, Brit.
—Anna Silman
On her new lingerie line, The Intimate Britney Spears…
"I've been wanting to do this for about 10 years now. It's just been something on my mind that I've wanted to do for a really long time. I just love the colors and how muted they are and how feminine. That's the kind of thing that I'm into right now: flowy, soft, feminine, sensual things—even in my wardrobe. So, it's just nice to have my own line. It's something I'm really proud of.
On her changing style…
"I think, when you're in your thirties those are your best years; it's when you come into your own and you kind of have to know yourself. I'm thirty-three years old, so I think its just a really good representation of how I feel about myself and where I'm at in my life—kind of empowering. I'm trying to empower and inspire other girls as well."
On her go-to lingerie source…
"I go to this place called Pink Lace and it's lots of very soft, feminine things."
On the empowering nature of going nude…
"I feel like showing your body, like when I'm walking around naked in my house, it's a spiritual experience. I feel like I'm letting go of everything. I think clothes are really, kind of good for you to wear, but it's also a liberating experience for women to go skinny-dipping or get in the Jacuzzi naked. I think it's good for women to express themselves that way."
On the good and the bad of fame…
"I feel like it's a roller coaster. The entertainment industry is one of those things where it's either really great or really bad. It's a hurricane of hurdles in this business, but there's never a dull moment and it's exciting, so it keeps things interesting."