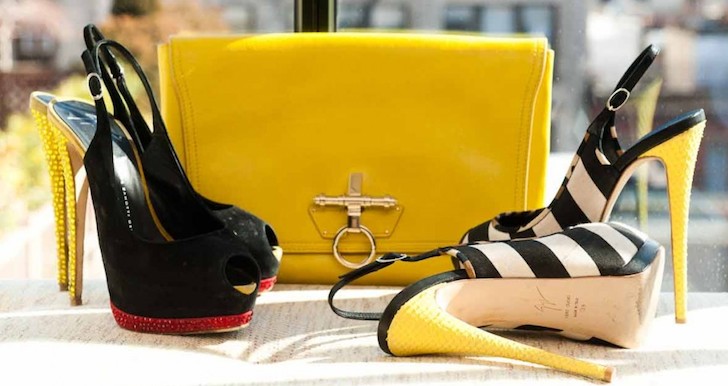 January's Most Coveted
The best of what we want now.
We know, we know. If you hear us jabber on about exactly halfway through January about resolutions, or chant exclamations of 'new year, new you' one more time...
We've already confronted the matter of weaning resolve when it comes to resolutions; but we figured that when it came to rounding up everything we want the most this month, we may as well compile a list that addresses all (well, some) of our resolutions in one shot. You ready for this?
First up, addressing our ambition to tighten our pursestrings (do Céline Trio zips count as pursestrings?) is Bumble and bumble's new Prêt-à-Powder. Aside from having a thrillingly pun-ny name, this powder soaks up oil and grease and adds volume—ideal for two days after a pricey first-date blow-out. Plus, the powder formula ensures that you leave home without those telltale ashy dry shampoo crop circles. Just shake out and tousle.
In a nod to our endeavor to become more organized and increase a general sense of we-totally-have-our-sh*t-together-ness: embroidered day of the week underwear—nay, knickers—from Stella McCartney. We mean, sure, when laundry day comes and goes, we may find ourselves bringing out our Mondays on Thursday, but it's certainly a start.
We're also attempting to expand our efforts to read more—starting with Assouline's new autobiography of Giancarlo Giammetti, a.k.a. Valentino's right-hand man. And failing that? Well, there are a ton of pictures... (just kidding, kids. Read more! But actually.)
And while we may be aspiring to put our wallets on a diet of sorts, we're simultaneously aiming to make more informed, generally wiser purchases; bringing us to the subject of investments, or more specifically, investment dressing, and our need for these lace Monique Lhullier pumps and this Erdem statement necklace. That said, we also want to continue to take risks and go outside of our comfort zone—you know, for, uh, personal growth and stuff. And we're starting with a pair of Prabal Gurung x Linda Farrow sunglasses, or perhaps those emerald-green-and-gold Marni sandals?
Lastly, we want to proverbially reach for the stars when it comes to our goals, for which we figure this silver leather jacket from Acne (that reminds us only slightly of astronomical pursuits) is sure to inspire. Oh! And be a better friend, which is where this Delfina Delettrez bracelet comes in—because it's kind of like a friendship bracelet, except you can keep it for yourself and we won't tell a single soul.