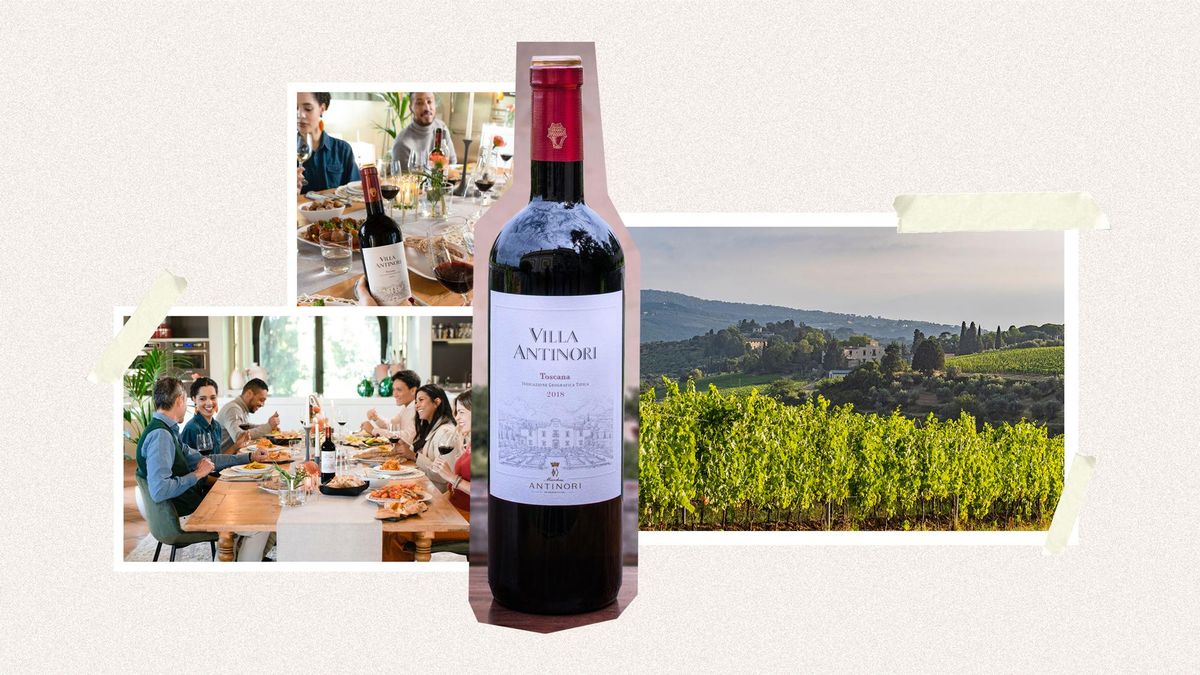 Living
A Tuscan Wine for Every Occasion
Graphic:
Ashley Combs
Tuscany is well-known for its rolling hills and rugged mountain sides that tower over quaint medieval villages and attract thousands of tourists each year. There you'll find Florence, which is the cradle of the Renaissance and a city with the highest concentration of works of art in the world—it's even home to Michelangelo's David statue. Dotted along this postcard perfect terrain in central Italy are prized vineyards that produce some of the world's best wines: elegant, fine, and full-bodied reds that top menus at Michelin starred restaurants and have likely found their way to your glass at a restaurant—paired with a juicy ribeye steak. Even if you aren't picky about what bottle you're sipping or just leave it up to a sommelier, you've likely heard the term Tuscan wine. Think Chianti Classico, Montalcino, and Montepulciano—with the coveted Sangiovese grape as the foundation of each blend.
Discover the Taste of Tuscany in a Bottle
While many Tuscan varietals are already known and appreciated around the world, the real heart of any wine shines through when it's connected to the land where it's cultivated. For the Antinori family, that connection to Tuscan soil has been deeply embedded in their winemaking ethos for 26 generations, with a dedication to being vineyard owners above all. From the harvest grape to the bottle design, there is a commitment to what the family calls "a quest for excellence," and an approach to wine production that is constantly evolving with the times to meet wine drinkers' needs around the world. As part of this, there are no compromises on themes such as "terroir" identity, wine personality, and respect for the land.
In 1928, Niccolò Antinori ventured to improve the quality of Tuscan wines, and through that process, was inspired to celebrate both his family name and their historic Villa on the bottle's design. That symbol of home as the center of tradition and identity became central to Villa Antinori wines, which can be found around the world in royal courts, restaurants, hotels and beyond.
So which bottles from this iconic brand should you give a try for your next dinner party or "thank God that Zoom is over" celebration? Read on and start your invite list.
How to Pair Your Tuscan Red
For red wine lovers, the Villa Antinori Rosso (SRP $20) blends the best Sangiovese grapes with Cabernet Sauvignon, Merlot, and Syrah to produce a bouquet of red fruit aromas and spices with soft, velvety tannins for a long finish. The juicy plum and blackberry flavors of this Rosso pair well with grilled meats like beef and pork, a pasta dish with (or without) ragu, and even a roasted chicken with rosemary.
How to Pair Your Tuscan White
For white wine lovers, the Villa Antinori Bianco (SRP $14) ripe fruit and citrus notes pair perfectly with dishes like a crudite of vegetables, light cheeses and salads, seafoods like crab cakes. The blend of Trebbiano, Malvasia, Pinot Bianco, Pinot Grigio, and Riesling grapes make this crisp white wine refreshing and complex enough to drink even beyond the dog days of summer.
Both bottles are at incredible price points for such high-quality Tuscan wines, and the 100 percent estate grown grapes are sourced from the over 4,000 acres of Antinori's family's best vineyards in Tuscany. Today Marchese Piero Antinori is the Honorary President of the company and works alongside his three daughters Albiera, Allegra and Alessia, making the brand truly a family affair. At their Antinori nel Chianti Classico winery in Bargino near Florence, visitors can get a first-hand glimpse into the enchanting architecture and hospitality with wine from a family committed to its production for over 600 years. Sipping a super Tuscan, under a Tuscan sun...kind of has a nice ring to it, right?