Career
The Parisian shoe designer behind Hermès and his namesake line has a refreshingly irreverent view of the fashion industry.
Stephanie Mark
Only
Pierre Hardy
could accidentally fall into shoe design and get his first real gig at Dior in the
'
80s when "it was the biggest name in fashion," meanwhile holding on to his teaching job at a fashion school. Hardy only gave up the teaching job six years ago—despite the fact that he's been designing his own label since 1999 and has been in charge of shoes and jewelry at Hermès for more than 15 years—as we learned when we chatted up the designer at his showroom and studio. According to him, it meant that it was never really about the money, a pretty rare position to be in, and a perspective that has led him to creating Fashion Week collections that are more about sharing his conceptual ideas than selling shoes. In turn, that same point of view is probably what's led us to covet his label (and Hermès'), and it's distinct intellectual aesthetic more than most. Here, the irreverent designer on how he stumbled into shoe design and then jewelry design, why Hermès is the purest brand in the industry, and why disillusion caused him to launch his own label.
---
His circuitous route to becoming a full-time designer:
"It has been very organic. The one thing I've always loved since I was a kid was drawing—day and night, on the holidays and during school time. It was the only thing I wanted to do. It happened that it became shoes because I was studying fine art and I met a friend who was into fashion—they asked me to do some illustration for them and illustrations for a fashion magazine. Someone in fashion told me,
'
Ah! Apparently you love to draw, maybe you could draw a collection.
'
I thought, 'Why not?!' At that time I didn't know what that was exactly. It was just for fun and expressing myself. They asked me for a shoe collection. If someone had asked me to draw clothes, I would be doing clothes today. There wasn't a strategy or a career. I had a lot of passion, but distance, too. First of all, I had another job. I was teacher. I wasn't desperate to earn money. It was just for fun.
"
"I stopped teaching [six] years ago. I was teaching at a fashion school, one of the best in Paris. I didn
'
t really teach fashion, more creative methodology. My students used to come from many different fields like architecture, advertising, illustration, fashion, textile, whatever. The purpose was to make them work together and to make them really creative people.
"The first shoe I designed was a pair for my collection. The first collection was a turning point for me. It
'
s the moment when you use your own voice. You say,
'
Okay, I'm not talking for someone else.' That makes a big difference."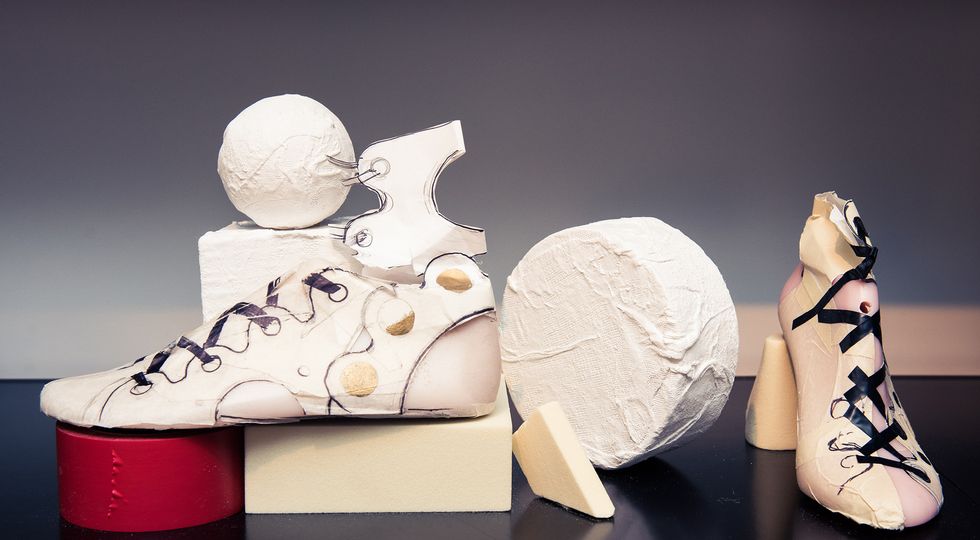 Collaborating with major fashion houses is an art:

"My first real collaboration was at Dior. Once again I went in like a child [laughs]. This was in '87. [Dior] was the biggest name in fashion, but it was still handcrafted. I was doing the boutique collection, the ready-to-wear collection, the couture collection, and the license collection. That's when I learned how not to separate, but articulate the different levels within a collection and treat it as an image. With a brand as famous as Dior with its heritage and DNA, I had to analyze it and transform it into something modern.

"Hermès was very different because Hermès is not totally a fashion brand. It is more about quality and depth and your knowledge of what a beautiful product is. Now everybody is trying to do this, but the first house to treat the fashion product this way—not the image, not the communication, not the people, but really the product—[was Hermès]. The collection, at the beginning, was nothing. There was no real shoe collection. I improved myself a lot because I really had to build it, collection after collection, to make people understand that it was a shoe collection; that was not totally linked with the ready-to-wear, but things you could buy separately. It is very interesting still because it's growing and progressing."


How he wound up taking on jewelry at Hermès as well:
"The president, Jean-Louis Dumas, asked me,
'
Would you, by the way, be interested in doing jewelry?
'
I said, 'Not specifically, actually, to tell you the truth!' I had never thought about it! He said, 'Well, you should try it.' So I said, 'Okay!' And then it was done. That was fifteen years ago."
Why he launched his own label:
"Disillusion [
laughs
]. At one point, you believe that you know all the things… Like, 'I'm a big guy, I'm going to do it by myself.' Wroooongg [
laughs
]! It is much more complicated when you are by yourself—it's easy to do a collection for someone else. Especially for Hermès because they give you freedom and support. But then you have to build a little car by yourself and drive it. There's no protection, there's no screen. There is no team and no name to protect you. You have to do everything. I discovered, step-by-step, that it would be okay. I [want my own line because] I noticed when I was drawing and designing there were some ideas that I couldn't explore and express for other brands. I said, 'Okay, let's build a space to make this happen.' That's what I did!"
On the subject of his definitive aesthetic:

"You can't explain why you prefer red and not blue, or why you like darkness. I try to express what I like season after season in different ways. I think and I hope that there is an identity that you can recognize. I must say that when I look back at the first collection, there is a center—there is a sun and there are some planets around it. Every collection is a planet, building a world, a dream world because it is a fantasy of your own. That's what I am trying to do."

How he's dealing with the speed of the fashion cycle:

"Everyone knows the rhythm of fashion is absurd. It doesn't correspond to any reality! Not the reality of creation, the manufacturer, the distributor, the customer—and not the reality of the press! Everyone is misfit! I don't make a main collection. It's now too late for the customer because they see it now and in six months they don't care—and they may want something different in between. Now I'm presenting only creative experimental collections, where I go push the aesthetic. Then we do two full collections for resort [and pre-fall]."

His not-so-average day:

"First, it is never the same. [The only thing that is the same] is that I wake up quite early at seven and go to the gym! Then I arrive at the office. I go to Hermès if there is a collection meeting or a prototype check. Basically my time is shared between here and Hermès, but more here."