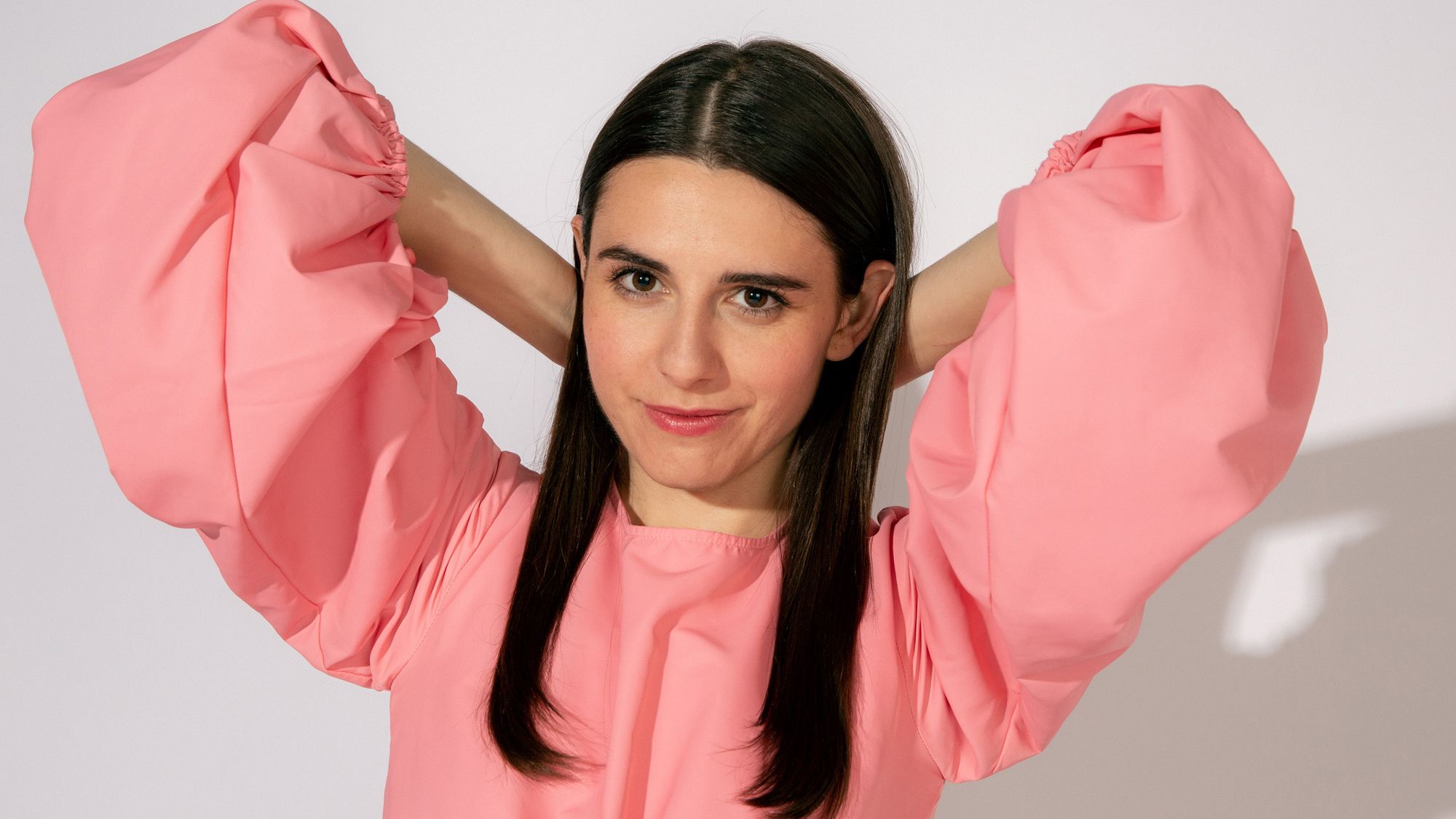 Celebrity
The Imposters and Charlie Says actress knows how to nab a role and a rabid following.
Alec Kugler
Marianne Rendón's career is just beginning. But already, like a seasoned pro, she's managed to figure out how to scour through the noise of scripts and land roles in films and movies that have true entertainment value. After a few smaller parts—like when she played Patti Smith in Mapplethorpe—Rendón got her first major gig as Jules Langmore in Imposters, an addictive dark comedy about a female con artist, which continues to hold a top spot on Netflix's trending series. (Read: binge-worthy.) So would it surprise you that Rendón's next acting credit is in Charlie Says, the send-a-shiver-down-your-spine recount of how three women came to be (and remained) under the spell of Charles Manson? No, because she knows a good thing when she sees it.

And in case you needed another example of Rendón's innate ability for navigating this thing called celebrity, throughout our entire shoot—and when it finally came time to sit down and chat about what it was like playing her idol, Patti Smith, the influence of music in her life, and her recent projects—it all felt so natural and easy. Just how it should be!


---
Do you remember when you started acting?

"I started at a very young age as a musician. I was a classically trained pianist. I wanted to be a concert pianist, but I couldn't memorize music, and I hated the competitive classical musician world, so I learned very quickly that it wasn't for me. My parents were very much into musical theater. My dad did the sound for Broadway [shows], and my mom was a singer, so I was always singing a lot of musical theater. I went to this camp, and my mom encouraged me to audition for a play. I ended up getting this huge musical that had like, 13 solo songs, and I was way in over my head. I lost my voice for the performance! [Laughs] It was truly one of the most embarrassing moments of my life. They had some opera singer come onstage and sing the songs while I pantomimed. So that was my first big appearance onstage."

Did you have any odd jobs after graduating from Juilliard?

"Yeah! I would work every summer as an industrial indoor painter [laughs]. When I shake people's hands, they say, 'Oh my god, you have such a strong handshake!' and I realize it comes from that, because it's such a male-dominated field that I had to establish myself from the get-go. It was a pretty toxic environment."


Imposters is such a Netflix success; did you expect that?

"It's really interesting with this new resurgence of [the show on] Netflix, because it had a great response when it was on Bravo, but now so many more eyes are on it and people can watch it all in one weekend sometimes. I find it is such a binge-able show. It's written that way—written to hook you. The episodes are short and fun, and the fact that it's on a streaming service and you can watch it all in one go is essentially what it was made for. I'm just really enjoying more people getting to see it."

I want to talk about another movie you did, Mapplethorpe. You're a Patti Smith superfan, so what was it like playing her?

"Stan! I don't recommend playing your hero, because it's such an excruciating challenge, especially if they're not working with you on it every day. If you talk to anyone important in my life and ask them who I've been most influenced by, it's Patti Smith. I remember when I was 16 [years old], I was in my friend's apartment and I put on Horses for the first time. I heard the intro, and I heard how the song built, and my body immediately started spinning and dancing.

"When I was in grad school, it was really important for me to remember what my instincts were as an artist. When you're in training, you're getting pushed in all of these directions that aren't what you do naturally. It helps you grow as an actor because you're pushed out of your comfort zone, but it can be destabilizing because you don't know who you are anymore. For me, Patti's writing (I was reading her books) [brought me back]. I would just watch her YouTube interviews from the '70s, '80s, and '90s, and I watched Dream of Life. Strangely, over five years, I was feeling all things Patti and trying to find where the hero of Patti Smith existed in me to keep me going through this very rigorous training period. I had the opportunity to audition for it, and then I met with the director and got it. It all happened so quickly, and it just felt surreal. It just felt like I had manifested it."


Has music always been an essential part of your life?

"I play guitar, and I've written some music. Music always felt like it was something that was just mine. I'm not trying to enter an industry of music. It feels like it's a very important artistic balance. Entering into this very public view within the acting industry, it keeps me in tune with myself."

What fascinated you about your character in Charlie Says?

"I thought [Charlie Says] was a great perspective on that incredibly important moment in history. And when I read the script, I was really drawn to Susan's silences. I was interested as an actor to explore those silences. And she's also very different from the other women in that she had a lot of experience in the world as an individual before she had even met Charlie; she was an exotic dancer for Anton LaVey, who was the head of Satanists in Haight-Ashbury. So she had already served some time for petty theft—she's a troubled person. She was by no means innocent, because she had a lot of rage and she came from a pretty broken household. So I was curious to explore that darkness."

How was the preparation process?

"It was great because I had the most time to prep before a project, so I read her memoir, Child of Satan, Child of God, and that was so important to get her voice. She speaks very openly about both events and her regrets and so much of her childhood. She had such a deep need to be loved and to repair this huge wound of this broken family. So I really got to hear firsthand and recognize so much of her humanity."


Were there any scenes that you found really challenging to play out?
"The fight scene. Well, it's not really a fight scene; more like a Manson-beat-the-shit-out-of-Susan. It's just so upsetting to watch that kind of abuse on screen."
How did you shake it off at the end of the day?
"I think there's an element of the characters' thoughts that stay with you the whole time [through filming], and we're really exhausted after a project is over. I was really happy to be in L.A. because I was around a lot of my friends. And honestly, working with Hannah Murray and Sosie Bacon; we were really close, and we had each other to goof around with between takes. The energy of the set was so warm and playful that it really balanced everything out."
On your days off, what do you like to do?
"I love to cook, I love going to farmers' markets. I so admire farmers' work and my friends that are organic farmers and spending time in nature. And I love Canada. I like doing things that are community-based, because the acting industry is very isolating to other people. I like to play music, I like to go to the dog park. I'm trying to find some kind of meditation process or practice; it's hard to have the discipline, but I'm in search of that right now."
Want more stories like this?
For Actress Melissa Barrera, First Came Telenovelas, Then Came Vida
Westworld's Angela Sarafyan's First Acting Gig? A Céline Dion Music Video
On the Brink of Her First Major Role, Sydney Sweeney Has Hollywood Hooked