Is It Time to Consider Bleaching Your Eyebrows?
Two bushy-browed gals discuss and try out the controversial trend.
Beauty
I would be lying if I said I don't make semi-permanent, impulsive beauty decisions just to feel something. I've chopped my bangs with kitchen scissors, gone platinum blonde on a whim, done everything there is to be done with eyelashes—I'm surprised I survived the mid-quarantine, TikTok-fueled shaved head phenomenon unscathed. So when I began seeing bleached eyebrows everywhere—on Bella Hadid on the runway, on Julia Fox in paparazzi shots, on Mia Goth in the A24 horror sensation, X, and on my biggest style inspiration: the intimidatingly hot girls at my favorite neighborhood vintage stores—I knew it was just a matter of time.
What attracts me to bleached brows is the same somewhat unsettling, otherworldly quality that makes the Tabi boot so appealing. They are subversive (though slightly less so now that they are ubiquitous on Instagram) in two ways: First, in their rebellion against the brow trends that have dominated in recent memory. Whether fluffy, ombré, or spiked, full eyebrows have ruled supreme, providing a strong, defined frame for the face. And second, while I'm sure they exist out there somewhere, I have never met a cis straight man who feels more positively than indifferent to bleached eyebrows. We've been shouting this about beauty choices for a while, but this trend is simply not about appealing to them.
I received the final push I needed to make the plunge from an Instagram poll and hit the beauty supply store. There are two approaches to these types of beauty decisions: thoughtfully and with the appropriate tools and products, and recklessly, armed with a TikTok tutorial and a prayer. Coveteur's beauty fellow Sumiko Wilson also had the brow bleaching bug, and she went the responsible route by ordering a kit and following instructions. To take her prep to the next level, she also tapped brow guru and Brow Code founder Melanie Marris for tips. While she took a more studied approach, I surrendered myself to the DIY spirit and convinced myself I could always dye them back. Here, we share our experiences and impressions of the summer's most controversial beauty trend.
Photo: Sumiko Wilson
I've had thick brows for as long as I can remember. In fact, though I took three years to actually sprout hair on my head, my brows have been delightfully bushy since infancy.
This isn't something that I've ever been interested in changing. I figure that because I have a spacious forehead (or what Tyra Banks would refer to as a five-head) I think that keeping them as thick and prominent as possible helps to fill the ample space. And though I've dyed my hair before, I've always played it safe in the color department. I've done auburn, sandy brown, and now dye it jet black every couple of months. Needless to say, dying my brows was never something that I've given much thought to. On top of making my forehead look even bigger, I didn't think I was edgy enough to actually pull it off. But a barrage of bleached brow selfies on Instagram nudged me to consider it. I got the final push when I saw a Starbucks barista with bleached brows so stunning I got tongue-tied while ordering my cold brew.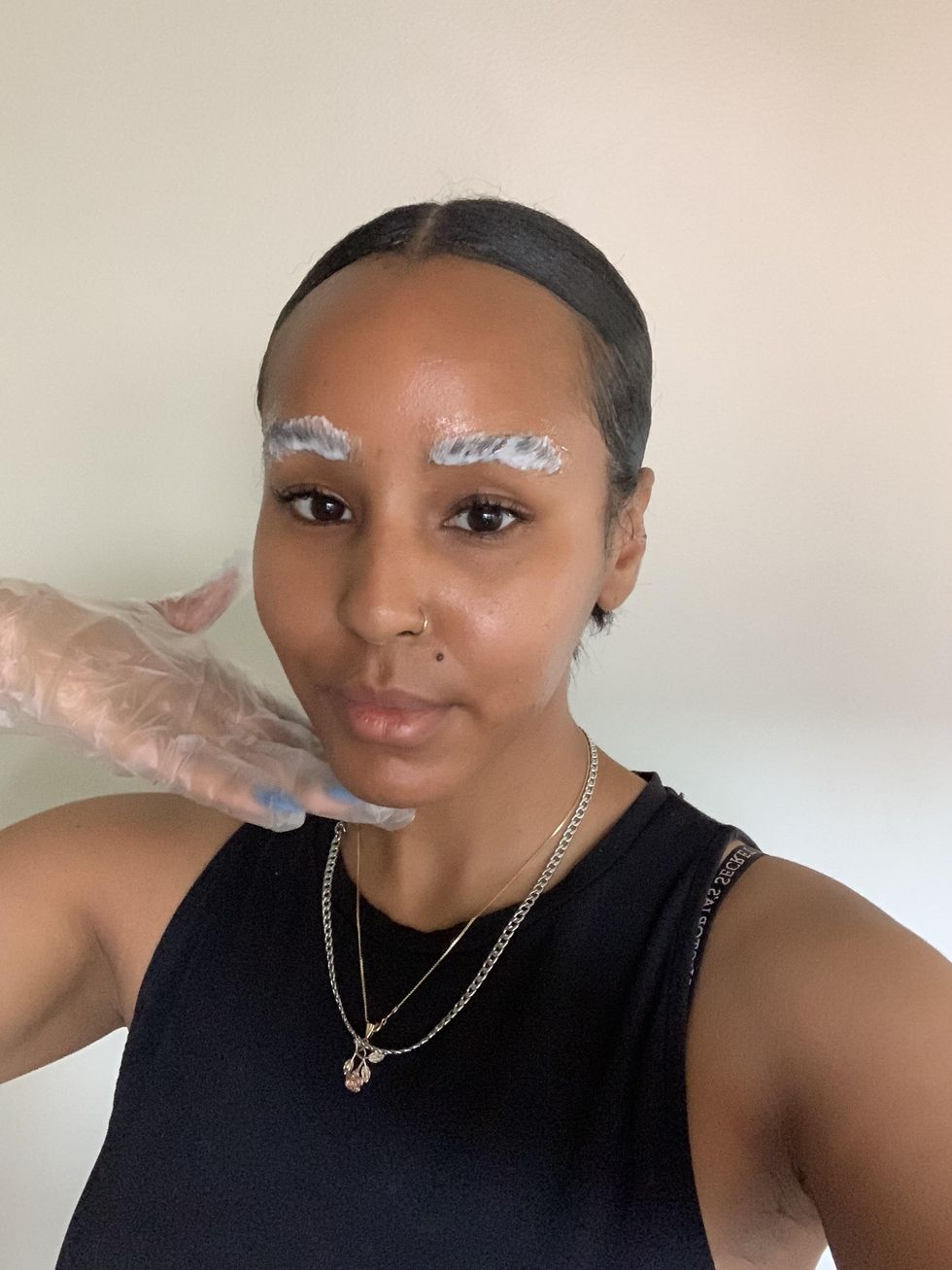 Photo: Sumiko Wilson
​Because of my hesitations, I wanted to make sure I kept my margin of error very low. So I opted for the most user-friendly bleaching system I could find: Arctic Fox's Bleach, Please Complete Hair Lightening Kit. The kit makes bleaching as easy as humanly possible: just mix the cream bleach and the 35-volume developer into a paste. Marris warned me to steer clear of strong peroxides. "The biggest mistake I have seen so far on Tiktok is people bleaching out their brow with 9 percent peroxide—this is a major no-no," she wrote in an email. "A gentler 3 percent peroxide is all that is ever used on a brow to either tint, lighten or bleach the brow hair." Before I applied the bleach, I used a Q-tip to dab Vaseline around the perimeter of my brows to protect my skin, which can sometimes be reactive. Per Marris, I was extra careful to avoid any product touching my forehead. "Keep the bleach paste to the brow area only," she warned me, "be really precise with your application to avoid any product above or below the brow hair."
Next, I mixed two parts developer with one part bleach and used the brush that comes with the kit to give it a smooth consistency. Once all of the lumps were out of the mixture I used a spooly to brush it onto my brows, making sure the hairs were thoroughly coated in bleach from root to tip. Then I cranked up the volume on a positive affirmation playlist on Spotify and tried to manifest an outcome where I didn't look like The Master from Buffy the Vampire Slayer. I set a timer for ten minutes but around seven minutes, it started to feel tingly, so I wiped it off with a wet hand towel.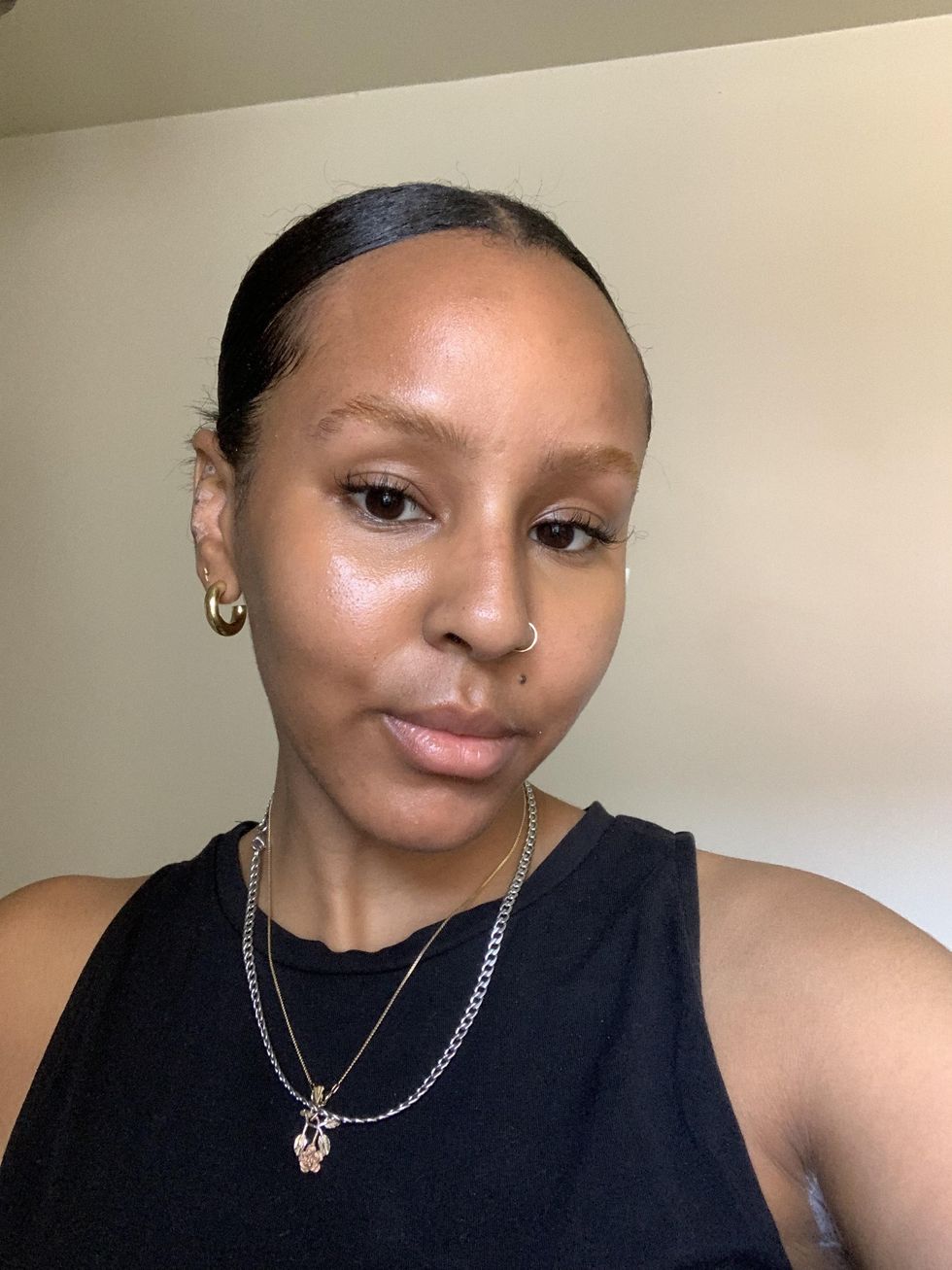 I feel edgy. I feel effervescent. I feel like Bella Hadid and I would really vibe. The finish initially looked orange and orangutan-esque but I happened to have a bottle of L'Oreal Color Radiance Purple Shampoo in my bathroom, so I quickly worked some through my brows and was pleasantly surprised with the results. It's less severe than I expected it to be—it didn't render my eyebrows completely invisible—but it's a new look that I'm excited to experiment with. Should I shave them off next? Should I feel bleach my hair? Should I get a brow piercing? The gears are turning!
Photo: Maraya Fisher
I have dark brown hair that I bleach to high heaven roughly once a month, so I was aiming to get my eyebrows to match. After watching a few TikTok tutorials, I walked to my local beauty supply store and picked up 20-volume developer, L'oreal Quick Blue Powder Bleach, and some spoolies. I slathered the area around my eyebrow in Cerave Healing Ointment, which I typically use to slug, and mixed equal parts powder bleach and developer in a small plastic tub. I should say here that I am not a licensed aesthetician and there are obvious enormous risks with handling bleach so close to your eyes—a fact that didn't really hit me until I was applying the mixture to the second brow. From that point, it was pure adrenaline. I don't know if you've seen the 2018 documentary Free Solo, but Alex Honnold could never.
Photo: Maraya Fisher
After 10 minutes of bleach and reckoning with my life choices, I wiped off about half of the product from one of my brows. They were extremely light, but a little orange where my eyebrow is thickest so I applied a little more to those areas and then wiped it all off after another few minutes. My biggest takeaway from the process is that it takes less time than you think it will.​
Photo: Maraya Fisher
After wiping off the bleach and then cleansing and moisturizing, I still had a little redness but I am pleasantly surprised by the results! The change invites a new era of eye makeup exploration and it will be a fun look for fashion week.