Fitting In: The Challenges with Gender Expression in the Fashion Industry
With the demand for gender-fluid fashion on the rise, can the industry overcome its inability to size up and ditch unisex gimmicks?
Future of Fashion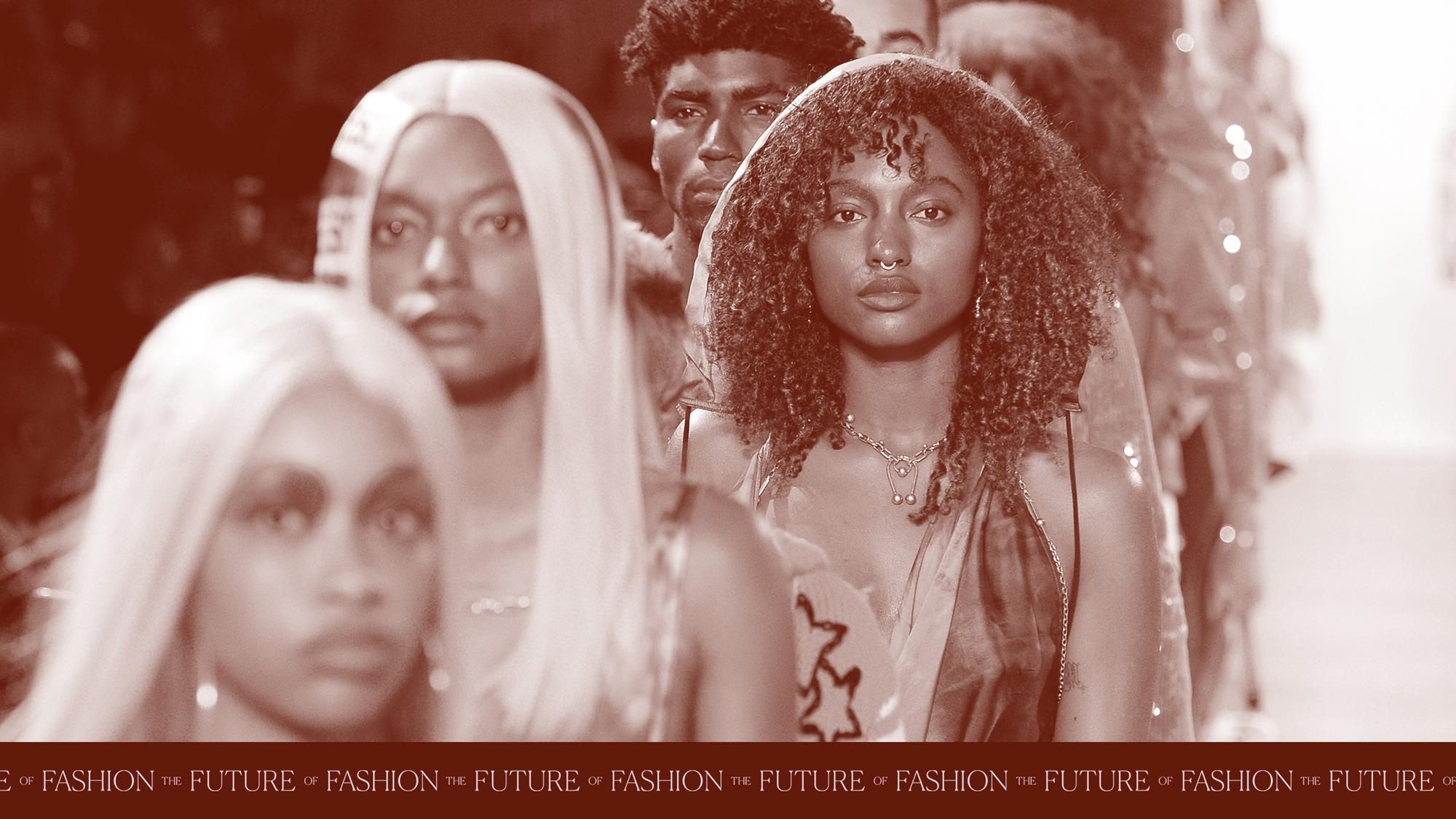 Graphics:
Ashley Combs
For years I was on the hunt for the perfect trousers. The wide-leg, high-waisted kind that hugs your midriff and lifts your butt. The kind that guides your curves, making you feel secure and sexy. At my most slender in early 2020, I discovered a pair of high-waisted, button-up pants that fit the bill. A sample from a New York–based designer's womenswear collection, they were on my mind for the better half of six months; to finally slip into them felt like a revelation. Nine months into quarantine, they no longer fit. As my waistline grew, my ability to sartorially access parts of my personality shrunk. The body-contouring trousers and delicate blouses I once relied on to tap into my inherent femininity left me feeling uncomfortable and fidgety. As a gay, cisgender man who was relegated to boxy men's clothes for much of my life, I've always been enamored by womenswear for its grand statements, hidden details, and flattering proportions. Although I've reclaimed autonomy over how I dress, sizing continues to dictate a great deal of what I can and cannot participate in.
For millions of people, myself included, gender expression is much like nail paint or hair color. What suits me one moment might not suit me the next. Building a wardrobe that reflects that range of expression is stabilizing and emotionally fulfilling. According to New York–based marketing agency Wunderman Thompson, 56 percent of U.S. Gen Z-ers know someone who uses gender-neutral pronouns, while over 50 percent of Gen Z customers shop across gender lines. With nearly 1.2 million nonbinary LGBTQ+ adults in the U.S. alone, demand for gender-fluid fashion is growing. Assigning an aesthetic, size range, or design principle to such a nebulous concept can be tricky. As a result, the industry response has largely been rooted in bland unisex garments like hoodies, sweatpants, and t-shirts that obscure the body and erase the polarity of feminine and masculine.
Unfortunately, this approach fails those it's meant to serve. Trans, gender-non-conforming, and queer shoppers thinking beyond binary systems are looking for more than oversized t-shirts and shapeless tracksuits with a "genderless" label. In truth, gender non-conforming fashion has no look. It's meant to be a buffet of options that allows individuals to reach beyond pre-set gender roles and dress authentically, no matter their shape or size. Without an assiduous approach to design, a focus on community, and true representation, efforts to de-gender clothes are bound to fall flat.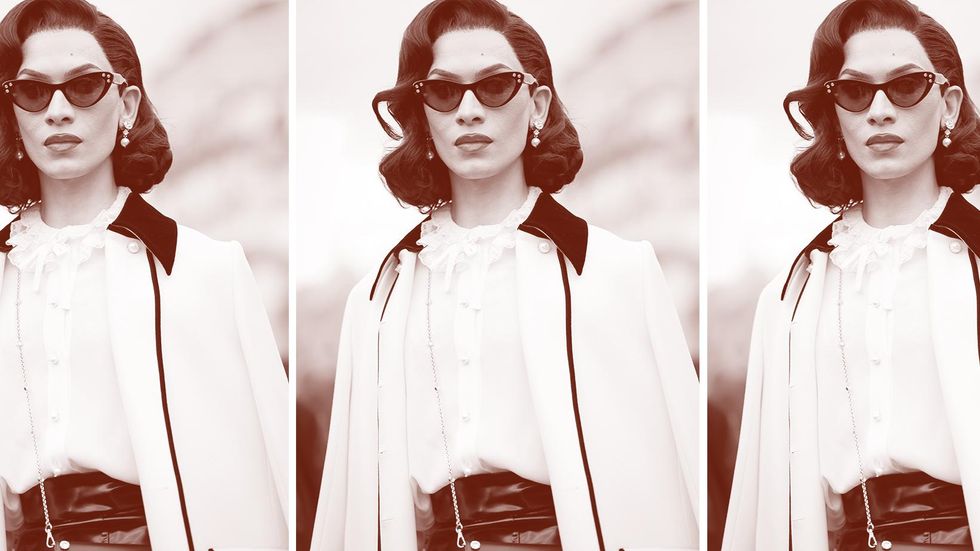 In recent years, starting small, staying focused, and cultivating community has been the key to success for brands serving queer, trans, and gender non-conforming clientele.
At present, the fashion system is deeply invested in the gender binary. Femme fashion is available in a limited size range, fitted for narrow hips and shoulders, and designed features like darts suited for curves. Although traditionally masculine clothes present more opportunity for customization, they leave those with a smaller build drowning in fabric, obfuscating their bodies. In a small design studio in Manhattan's Chinatown, master pattern maker Ryuhei Oomaru has cracked the code on democratizing fit without sacrificing style.
Founder of Oomaru Seisakusho 2 (an industry-facing design studio) and designer of his own label Overcoat, Oomaru's work is fueled by the desire to create ready-to-wear that feels custom made. "A coat or a jacket is comfortable when it sits properly on the shoulders," the Tokyo native explains. "This led me to develop an unconventional pattern with an adjustable shoulder construction." After endless fittings, he landed on a dolman sleeve with a large tuck at the center back that expands and contracts based on the width and slope of the wearer's shoulder. Similarly, strategic pleats, tucks, and a little extra fabric allow his raglan and set-in sleeves to adapt to both a broad build and a petite frame. "For our trousers, we play with the positioning of the seams and darts," Oomaru says. "Our wide-leg trouser has no side seams and only an inseam, creating a clean, straight silhouette [that's flattering on various body types]." Oomaru's discoveries are the result of painstaking design development, a process that many brands are unwilling to take on for its steep financial and time costs. But when it comes to perfecting design, discerning simplicity works just as well as Oomaru's fastidious approach.
In recent years, starting small, staying focused, and cultivating community has been the key to success for brands serving queer, trans, and gender non-conforming clientele. Case in point—Syro, the size-inclusive femme footwear label founded by Henry Bae and Shaobo Han. The Brooklyn-based line offers a considered range of heels up to a U.S. men's size 14. Informed by the designers' distinct aesthetic, it's also influenced by feedback from their audience both online and off. (This writer cornered the duo in a karaoke bar at a mutual friend's birthday party to beg for more colors of a streamlined, pointed-toe boot in the collection.) With a similar, focused approach, Kinglsey Gbadegesin founded his namesake label K.nglsey with a pared-back series of tank tops that balance sensuality, strength, and polish. Rooted in QTPOC communities and nightlife, the Versace, Celine, and Loewe alum's collection is an exercise in perfecting a single category before expanding.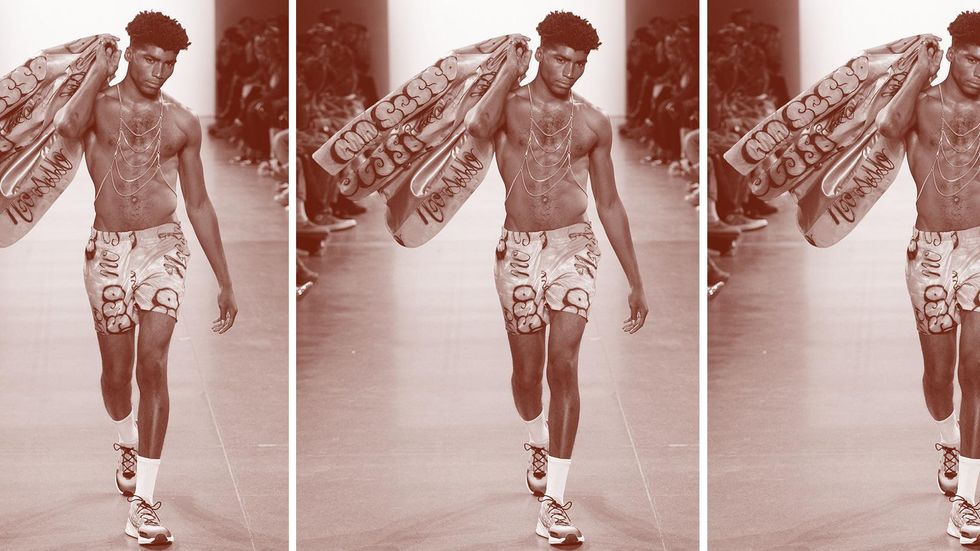 No Sesso Spring 2020
Whether you're looking for high-femme trousers and heels or the perfect suit, fashion should help you connect with a truer self, no matter your physicality.
While brands from the luxury level down push gimmicky unisex product, labels like Syro and K.nglsey buck the mold with identity and community as their impetus. They champion confidence and a playful approach to gender in a way that prominent brands fail to achieve. It's about harnessing creative authenticity rooted in experience as seen at No Sesso, the L.A.-based label led by Pierre Davis and Autumn Randolph.
Centered between the twin poles of conceptual design and community, No Sesso began as an outlet for Davis to create fantastical fashion narratives in art galleries. Since 2015, the label has challenged fashion norms by creating clothes that work for a range of bodies—arguably the ultimate fantasy in an industry organized by men's and women's departments. "You don't necessarily have to remove to include," Randolph explains, countering the perspective of oversimplifying clothes for the sake of democratizing fit. "You can size up patterns, add corseting, stretch, or a drawstring. We also love making custom things for people." Thanks to pioneering labels like No Sesso, there are more gender-fluid options on the market than ever before. Issues on the retail level, however, persist. "Retailers need to teach their teams how to respect trans and gender non-conforming shoppers when in retail spaces," Davis says. Ultimately, what good is variety if seeking it out becomes an unsafe experience?
While the larger fashion industry is still evolving away from gender norms and towards size accessibility, the trailblazers from No Sesso to Syro have made it clear that de-gendering fashion isn't about colorless, shapeless design that rejects femininity or masculinity. It's about allowing more people to participate in the gradient scale of gender expression. It's an action, not an aesthetic. Whether you're looking for high-femme trousers and heels or the perfect suit, fashion should help you connect with a truer self, no matter your physicality. Though the hunt may still be complex for those who don't fit industry standards, one thing is true: "Truly fashionable people wear what they want and don't expect anyone to appease them," Randolph asserts. "The evolution is there! It's within."
Photos: Getty