TikTok's Favorite Bridal Stylist Shares Her Tips for Finding the Dress
The first step is to just breathe.
Weddings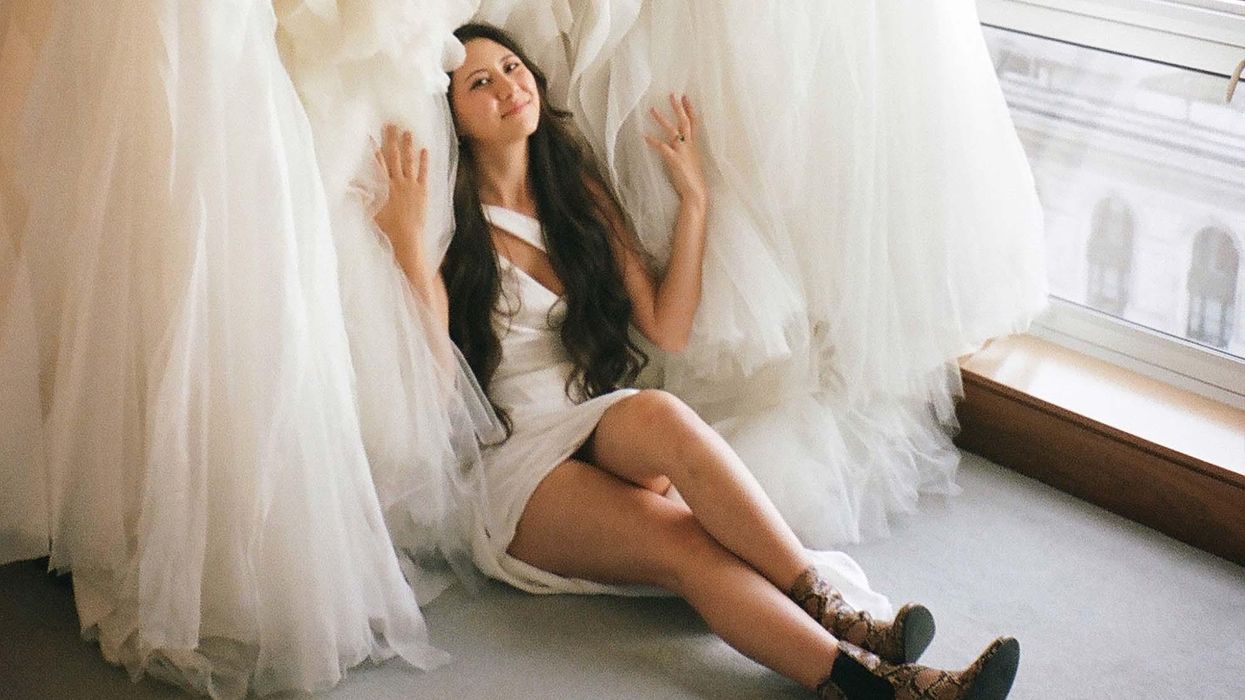 Photo: Courtesy of @ktheartless
Kennedy Bingham made her first viral TikTok because she was bored at her job. She was working at a bridal boutique during the mid-pandemic slump, with not much to do but send and receive shipments, so she made a video trying on various alternative wedding dresses. By the time she left for the day, the TikTok had over 300,000 likes. Since then, she has continued to produce some of TikTok's best bridal content under the moniker @gowneyedgirl, amassing almost 1 million followers, all while maintaining a thriving stylist career focusing on unconventional brides. To her, the identity of "bride" is expansive and distinct from the concept of a stereotypical wedding. Anyone can be a bride, and they don't have to have a three-tiered cake or walk down an aisle to qualify.
Bingham knew bridal styling was her calling after her first client. Towards the end of an appointment, after the bride had bought the dress, she told Bingham that working with her was the most comfortable and empowered she had felt during her entire wedding-planning process. "It felt like, oh, what I'm supposed to do," Bingham commented. Indeed, interviewing her, it's obvious why brides would be at ease in her hands—she has cool-big-sister energy: warm, laidback, but confident and reassuring. Here, Bingham shares a bit of her expertise, describing how she makes brides feel comfortable in their own skin as well as some excellent ceremony-day tips.
You focus on 'non-traditional' wedding attire. What does that mean to you?
"I'm of the mentality that weddings and bridal are two different things. My husband and I eloped in Vegas. We've never been wedding people. The idea of having this giant wedding sounded so anxiety-inducing. So when I think about nontraditional bridal, it's really just removing every tradition you've ever thought of when it comes to who is a bride and what it means to be a bride. We do commitment ceremonies, I work with a lot of trans brides, lesbian brides, a lot of brides who are men who just want a really cool outfit."
What is a good mindset when beginning your bridal look search?
"I would say don't count anything out before you've tried it. People will come in, and they'll be like, 'Oh I can't wear that dress because of my shape.' Or, 'I can't wear this dress because I'm too short,' or 'I'm too tall.' And I always say, just try it. You never know because it's not like regular clothing. We don't have the eye in the same way, to look at a wedding dress and know whether it's going to look good. Just allow yourself to be drawn to things. Let yourself really have the freedom to like or dislike dresses and just go from there. Don't start taking away options before you've even really given them a chance."
Conversely, what do you recommend for brides who are experiencing decision paralysis?
"Really think about why you're having decision paralysis. Is it because you're letting yourself get swayed by bridesmaids? Is it because you know there's something else that you really want? And also, I like to tell my brides that it's just another day. It's just another dress. There's no wrong decision because what makes the dress special is not the dress, it's the fact that you're wearing it on your wedding day. You could wear a paper bag, and it would be the one."
Photo: Courtesy of @gdshoots
Can you walk me through your typical process with a bride?
"It's always different, but there are definitely patterns. A lot of brides will come in, and they'll buy the first dress they put on. I've worked brides who have needed to try on 50 dresses. I've worked with brides who literally never found a dress; they just got fed up and picked one off of a rack. There's really no average number. But the way I personally work with brides, it usually takes us about maybe two months for them to really commit to something.
"I always ask people, what kind of airport bride are you? Are you the type of bride where you go to the airport like six hours before your flight or are you someone who is getting there when your flight is boarding? That's probably going to tell you more about how long it's going to take than anything I could tell you."
How do you make people feel comfortable in their own skin as they are trying out looks?
"The first thing is to only bring people who are going to make you feel really good. Don't worry about offending anyone. If you think your mom is not going to help the situation, leave her at home. Just don't tell her you're going shopping. I've worked with so many brides who come shopping, and they're like, 'I'm bringing my mom in next week. I don't want her to know I was here, but we're only going to try on ones that I like.' I will lie to a mom every single day if that's what makes the bride comfortable.
"Something else you can just do is blame the dress. Everything is the dress's fault. I do this when I'm just trying on clothing. If I put on a dress and it doesn't look good, it's not my fault. It's never my body's fault. My body is not made for dresses, dresses should be made for my body. I've felt that's helpful to a lot of brides.
"Then, finally, music is the most helpful thing. I could not be trying on clothing comfortably if Ed Sheeran was playing in the background. So I usually ask my brides about what music makes them feel calm or happy and pumped, and we'll switch it to that. I want the whole process to feel like I'm your friend who works in fashion, I brought dresses to your house, and I'm like, why don't we do a try-on?"
Do you have any favorite bridal trends?
"I love a really unflattering dress. Like a dress where the shoulders are too big, it's empire-waisted, it's big and poofy. I love a bride who is like, I don't want to look good, I want to look interesting. That's my favorite kind of bride. Because I feel like there's a lot of pressure for you to look the best you've ever looked on your wedding day. To look snatched and to look super Saran-wrapped in. Which is fine if that's what you want to do. I'm from L.A., I get it. But I love anything really fun that makes your grandma go, 'What is that?'"
Do you have recommendations for things the bridesmaids should have in their kit day-of in case any wardrobe issues arise?
"Yeah, safety pins are always a good one. If you're wearing a long-sleeved dress and you're overly sweating, just stick a pad in your dress [under the armpit], and it will soak all that up. If you are a drinker, I would say have a little hotel-sized shot in your bag, and let the bride shoot it before she goes out to calm the nerves a bit. And just drink water. I feel like so many brides forget to drink water day-of."
Are there any other tips you want to share?
"Have your bridesmaids practice bustling your dress. You just don't want to spend an hour between the ceremony and your reception trying to figure out how to bustle the dang thing. Have your seamstress send you a video of how to bustle it, and let your bridesmaids practice it once. And then just breathe. I feel like some brides stop breathing when they get proposed to, and they don't start breathing again until after they're married. Take a breath and relax. It'll be okay."