This Instagram-Favorite Jewelry Brand Equates Fashion and Fantasy
Founder Isabella Lalonde's personal style is a lesson in character development.
Fashion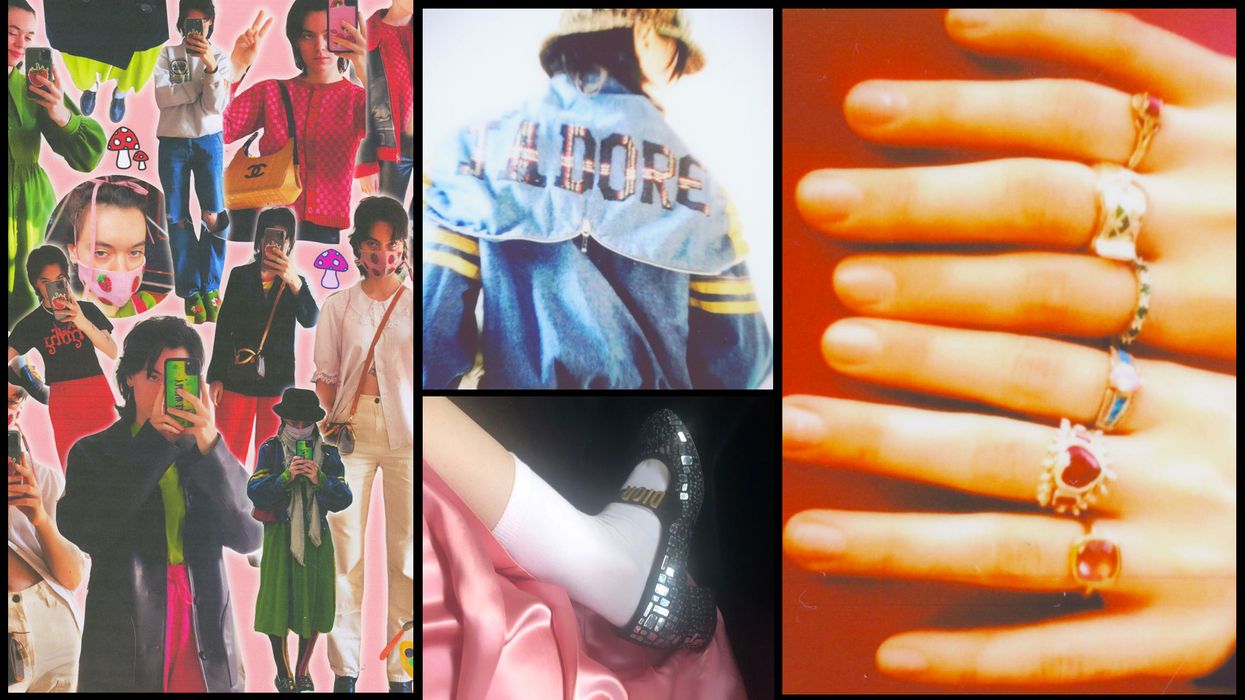 Welcome to our How to Shop Like series, where we spotlight personalities within the fashion industry and take a deeper look at their personal relationships with fashion and how they shop—think all the best insider tips and tricks. This week we're chatting with the founder of Beepy Bella, Isabella Lalonde.
There are two major camps in fashion: those who view it as function, and those who view it as fantasy. Isabella Lalonde fits into the latter category. Though she was born in New York City, Lalonde grew up in Lausanne, Switzerland. "I moved across different countries several times when growing up, and as a response to that, I cultivated my inner fantasy world," she explains. That fantasy world is evident in her jewelry line, 
Beepy Bella
, which she launched after studying at both Parsons and Central Saint Martins.
There, you'll find designs that intertwine a childlike innocence with historical references in a nontraditional manner. Lalonde's personal style mimics this same depiction. The twenty-four-year-old is unafraid to don all sorts of colors, patterns, and styles all combined in a slightly eccentric yet incredibly intriguing fashion. "Each piece I have tells its own completely unique story," explains Lalonde. "I feel most comfortable and confident in what I'm wearing when it means something to me, even if I clash." So naturally, we couldn't wait to pick apart the young artist's brain to discuss not only her personal style, but her covetable shopping habits.
---
Shop Isabella's Current Picks:
Beepy Bella
YanYan
Erika Maish
Commission
When did you first fall in love with fashion?

"I fell in love with fashion while rummaging through my mother's closet. When she would go out to do her errands, I would quickly run to her closet and play dress-up. I had a lot of fun creating characters with her clothes and uncovering different treasures in a glorious scavenger-hunt-like manner. I always felt that fashion was a silent but powerful form of storytelling."

Why did you decide to launch your own line?

"I always knew I wanted to work for myself and be my own boss. Starting my own line felt like the natural next step for me, as an artist, to achieve that goal. I fell into design while studying 'experimental jewelry' at Central Saint-Martins. After creating my first collection, which was strictly sculptural, I quickly realized the potential market for the type of jewelry I wanted to make. I really wanted to see a change in the jewelry that was out there, so I thought, who better to make that change than myself?"

What does personal style mean to you, and how would you describe your own?

"The way I dress feels like writing in a diary or creating a poem. My process of orchestrating an outfit is deeply cathartic. Styling myself is comparable to solving a puzzle. I know an outfit is complete when I have 'unlocked' a part of myself that I was searching for. It's tied to my art practice. I would say my style is eclectic and intentional. Each piece I have tells its own completely unique story. I feel most comfortable and confident in what I'm wearing when it means something to me, even if I clash."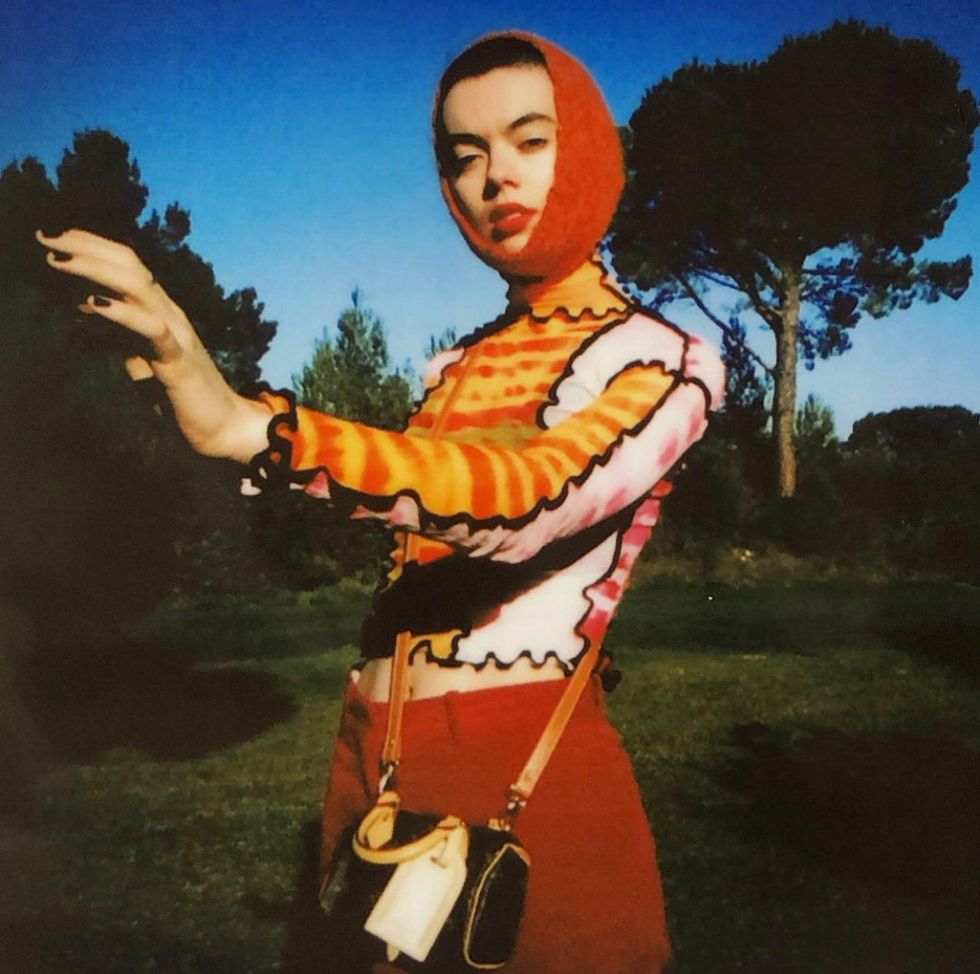 Photo: Courtesy of Beepy Bella
Do you have a uniform?

"I have a different uniform for every mindset and/or occasion. I love dresses with playful collars, sweater vests, and oversize men's blazers. Day to day, my uniform is usually platform boots and baggy trousers—I look for functionality and a bit of enchantment."

Favorite thing to splurge on?

"Honestly, I love to splurge on my groceries. Since my diet is strictly vegan, I love checking out the new products that are emerging nowadays. I've been vegan (on and off) since the start of high school, when it wasn't cool, and there is a lot more demand for creative and innovative products today. It's so interesting to see how the market for vegan replacements have evolved over the years. I'm obsessed with nutritional yeast."

Favorite purchase of all time?

"My tattoos! They are a part of my storytelling, which ties into my outfits. What I love about my tattoos is that they are permanent. As a Gemini, I am the type of person who loves flamboyant change and experimentation in my style, but my tattoos always stay consistent and remind me of different times in my life. They ground me, which adds a unique element to my style that wouldn't be there otherwise."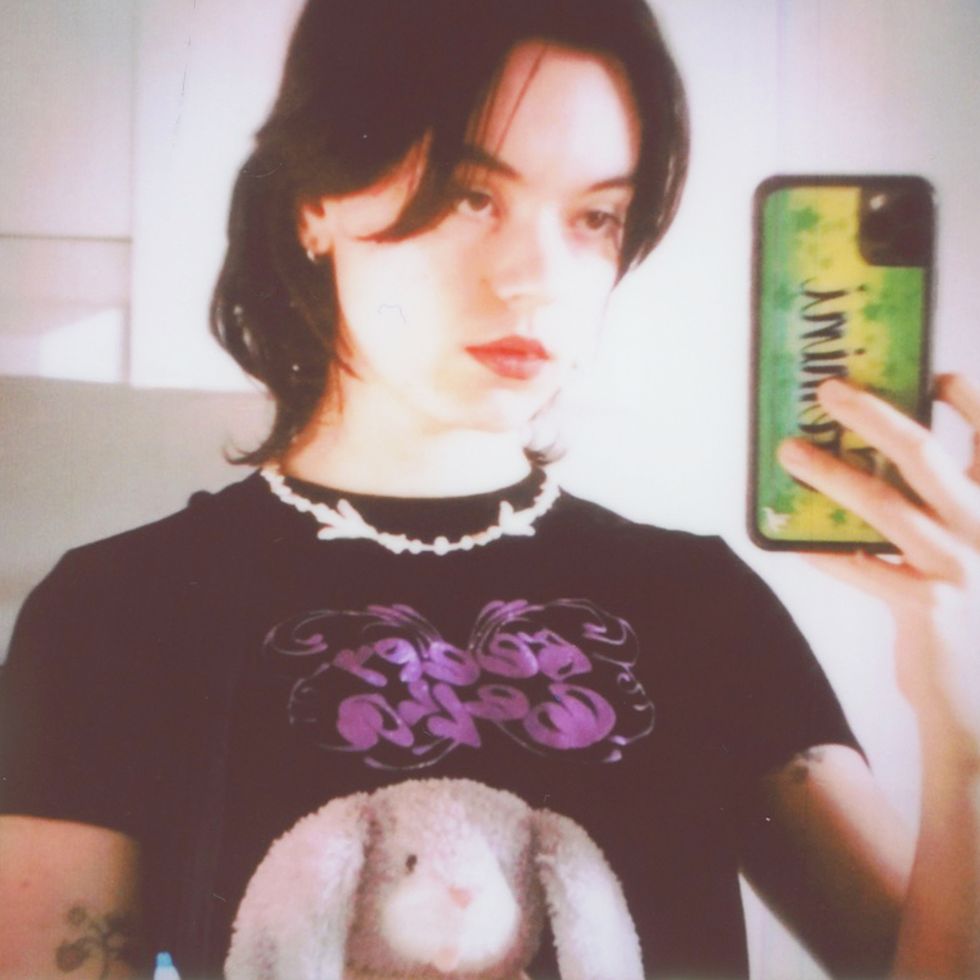 Photo: Courtesy of Beepy Bella
Where do you look for inspiration for your collections? Is your answer the same in terms of your own style?

"For inspiration, I look to movies like Fantastic Planet and The Dark Crystal, books like the Codex Seranphinius and vintage illustrated geology guides, anything Studio Ghibli. Nature, sounds, textures, tastes.

"I'm a huge daydreamer, so when I get inspired, it affects everything from my personal style to my jewelry collections. My jewelry pieces will start to embody the character or world I'm inspired by or looking to portray. I tend to hold on to these ideas of mystical fantasy and utopias. They bleed into all the creative outlets in my life. I often wind up dressing like the characters who live in the surrealist universes that I admire."

What has designing taught you about fashion?

"Designing has taught me how to take something 'ugly' or 'not cool' and transform it into something desirable. It's creatively challenging, and because of that, I am able to grow. The majority of fashion seems to be focused on replicating what's current or what celebs are starting to wear, but I feel like it's more important to think about the art in the process of designing, rather than trying to be the next big thing. Designing, in a way, has taught me to ignore fashion, constantly challenge expectations, and stay true to myself."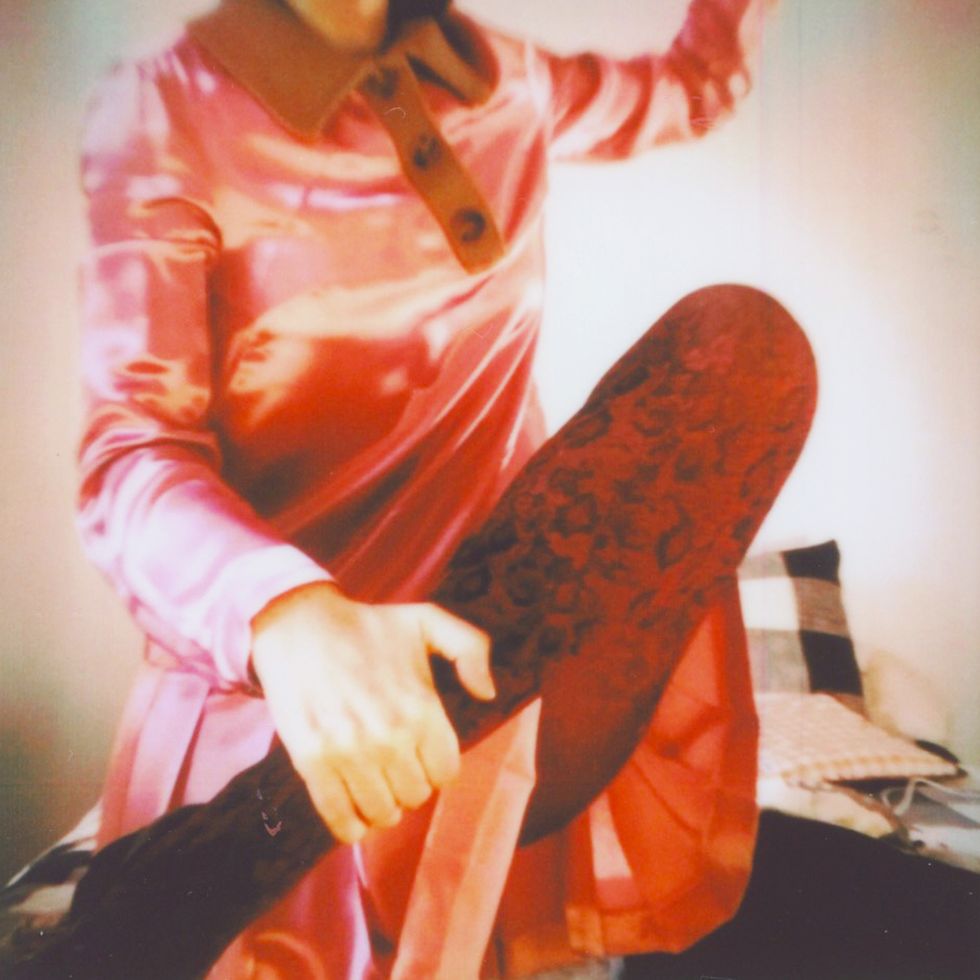 Photo: Courtesy of Beepy Bella
Which stores do you frequent?
"Personally, I don't like to shop IRL because I find it overwhelming. Before the pandemic, I frequented Beacon's Closet in NYC. However, it's much easier for me to make shopping decisions online. I love seeing what's on
The RealReal
and
SSENSE
every once in a while. Instagram also has a great crop of emerging brands and vintage boutiques."
What will you be wearing lots of this winter?
"Honestly, sweatpants and chunky knits."
Vintage or new?
"The majority of my closet is vintage, although I'm a sucker for a good seasonal sale."
Your go-to accessories?
"Accessories help bring funky textures and new silhouettes to my outfits, so I try to pair them in a way that often contradicts my clothing in order to keep it ambiguous and enhance the look. I never like to be too much of this or that. I love clashing fabrics and patterns. My go-tos include a vintage Louis Vuitton silk scarf, vintage beige CHANEL bag,
Beepy Bella Lunar Moth Ring
, and a fuzzy hat which has the cutest bear ears on top of it."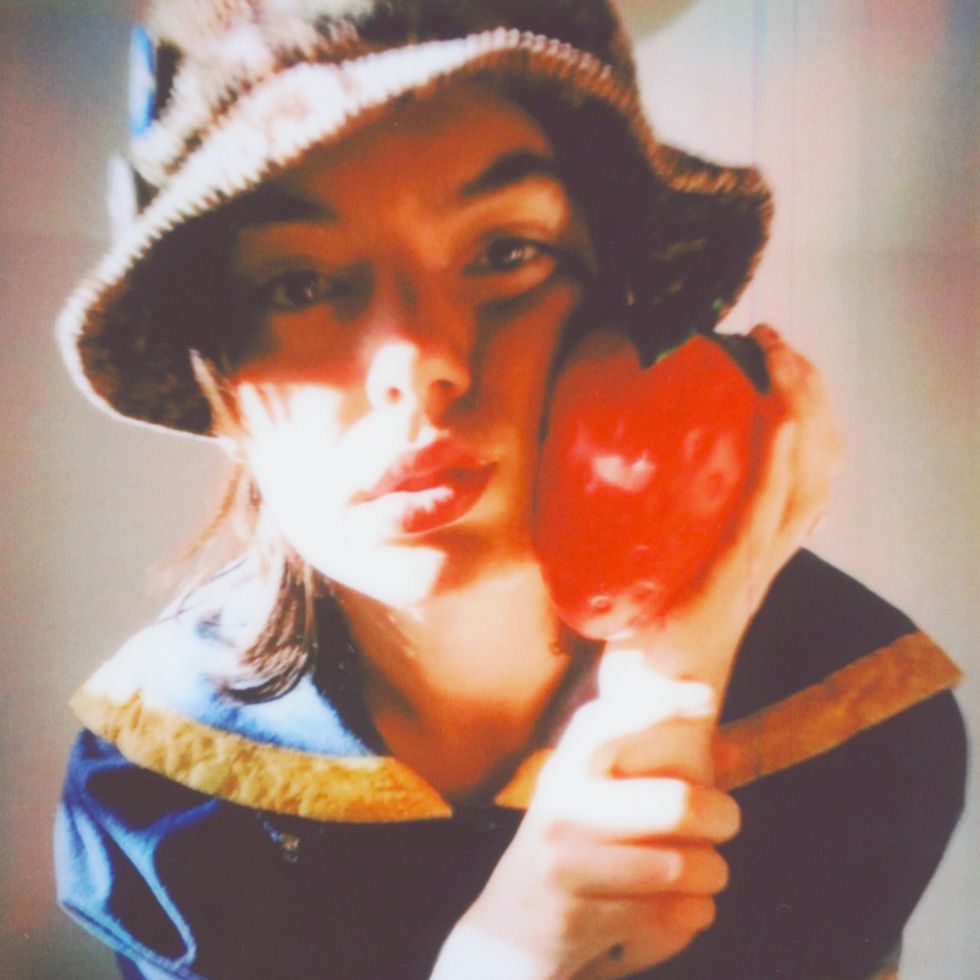 Photo: Courtesy of Beepy Bella
Fashion has the power to…(fill in the blank):
"Communicate who you are without using words."
What does your current WFH wardrobe look like?
"The slippers I wear are felted wool with embroidered butterflies on them, and I usually pair them with hot pink
Noah sweatpants
and an
Online Ceramics
hoodie. I like to be comfortable and not think about what I wear when I'm working from home on my brand."
Who are your favorite small fashion brands of the moment?
"There are so many! I love
Puppets & Puppets
,
Phlemuns
,
Di Petsa
,
A.Avaati
,
Karla Laidlaw
,
Praying
, and
Imago-A
."
What are the top five most-worn items in your wardrobe?
"A vintage floral vest I bought for two dollars that looks like it was cut from a really colorful carpet, a gorgeous white vintage cotton blouse with a giant lace collar sewn into it, my
Eckhaus Latta
wide-leg tie-dye jeans, my
Beepy Bella Triple Strand necklace
, and mary-janes (I have many variations of these)."
If you could live in one era simply for the fashion, which would it be?
"Whatever era
Dracula
takes place in—dramatic and moody."
Photos: Courtesy of Beepy BellaWant more stories like this?
Designer Sade Mims Is Blurring the Lines Between Fashion and Art
This Insane Jewelry Collection Will Leave You Breathless
Shop Chic Jewelry Gifts at Every Price Point