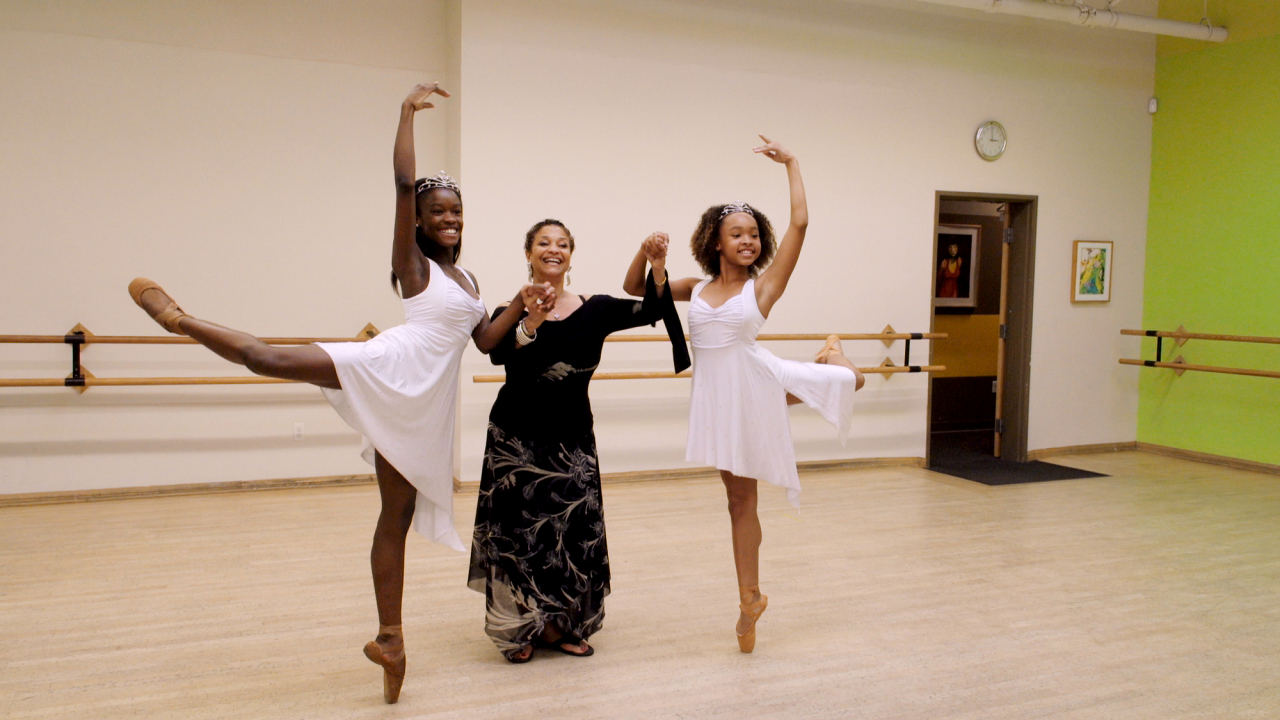 Why I Dance Dream of Debbie Allen
The icon chatted with Coveteur about her career, the cultural relevance of Grey's Anatomy, and her hopes for the future of the Debbie Allen Dance Academy.
Growing up as a dancer, I've always thought of the dance world as having four wonders: Katherine Dunham, Alvin Ailey, Josephine Baker, and Debbie Allen. Throughout my 24 (nearly 25 in a few weeks) years of living, I can confidently say that my mother has always made sure I was up to snuff on the legend that was Debbie Allen. As a choreographer, actress, director, producer, and Emmy award-winning phenomenon, Allen has been making more than an impact to match her legacy on the world of arts, television, and film that contribute to Black culture far beyond the 1980s. And as a die-hard fan of A Different World, honorary member of Grey Sloan Memorial Hospital, and Black girl dancer, interviewing Debbie Allen was an honor and privilege.
On a Wednesday afternoon, I joined the conference line to await the voice of Ms. Allen herself. "Hi, D'Shonda!" she said, filled with joy at nearly 9:00 AM in the morning. I had no idea thereafter that every word with the Fame actress and principal choreographer would be one for the books filled with wisdom and experience curated from her 40 years as a Black woman in Hollywood, a mother, sister, friend, and cultural icon.
As a woman with the world of performing arts at her fingertips, I absolutely had to ask her about how her mental health was being managed during the pandemic. She burst into laughter—not in a condescending "why would you ask me that" type of tone, but laughing at the current state of the world and having to work around it. "I'm sorry, I had to laugh. I don't have the luxury of doing anything else other than being mentally healthy. I don't have the luxury to go off the rails, so I don't even know what that means," she shared.
You would think that even during the pandemic, the legendary Allen would be able to take some time off to practice stillness. I guess when you've been working since 1970, the green light may be all you're accustomed to seeing, even when the world is on pause. Amidst the crazy election cycle finally winding down and the pandemic coming into a second wave, the Dancing in the Wings author let out a sigh before telling me about the relationship between her creativity and COVID-19.
Allen revealed that she had shut down the Debbie Allen Dance Academy on the same day that the set of Grey's Anatomy shut down, but that didn't mean that the show was over. "Everybody was in the office; we sent out letters, but I said we're not gonna stop," she told Coveteur. While everyone was confused at first, Allen proposed virtual classes that would be announced on her Instagram account and immediately resume the following Wednesday. When she was challenged with the five Ws and how she would get it done, she responded, "I don't know, but we're doing it." And so she did.
Her first classes amassed over 35,000 virtual attendees worldwide with the assistance of managing producer Major King and development manager Haley Fonfa to figure out the technological aspect. "Before we knew it, we were a Zoom studio and we didn't even know what that meant," she admitted. Over the course of the summer, she's had over 250 students in her summer intensive program from all over the world including Brazil, Germany, and Australia.
Growing up, Allen was born in segregated Houston and was the third child to an orthodontist and a Pulitzer Prize-nominated poet, artist, and scholar, but she knew that her dreams were far bigger than Texas alone. Though the opportunities were slim pickings, her mother, Vivian Allen, recognized the raw talents of Debbie and her sister, now Tony Award–winning actress Phylicia Rashad, and made the executive decision to relocate the family to Mexico to further pour into Debbie's dance passions.
"At four years old, I knew it then," the Howard University graduate shared about when her passion for dance first started. "I was running around my grandmother's living room and dancing to the radio. When we got a television, I would watch the musical films all Saturday morning, and I saw myself at four years old knowing that's what I wanted to do." And she knew she was destined for greatness from that point on. Allen was accepted into the Houston Ballet Foundation at 13 years old after having been rejected for six years, but the drive and tenacity required from her for the four years to follow would mold her into the dancer, choreographer, and cultural icon we know her as today.
After graduating from one of the top HBCUs in the country with a degree in theater, Allen went on to pursue a career on Broadway and landed roles as Anita in the 1980s' West Side Story and Sweet Charity. To this day, we must recognize that without the great Debbie Allen, we would not have Fame—the original and rebooted versions—A Different World, or the esteemed Debbie Allen Dance Academy. However, we would be remiss if we didn't pay homage to the five-time NAACP Image Award recipient's achievements as a director, producer, and actress on ABC's groundbreaking hit medical drama series Grey's Anatomy.
"I've been really busy, and certainly, putting Grey's Anatomy back on its feet is a feat in itself," the Catherine Avery actress said. "The meetings, the hours of Zoom—oh my god. Hours and hours and hours, days and months of the protocols [on] how do we do it and be safe. We're in a war right now with this COVID, and it took a lot, but finally we figured it out and we're doing it. We're lucky that we've been able to move forward and now we're on our ninth week of shooting," she said before she interrupted and corrected herself.
"No, actually, it's been more than that. We started shooting September 8th, and it's now November, so we've been doing it for two months and some change," Debbie said. My inner Grey's Anatomy fan was geeked out to steer the conversation in the direction of this iconic show and her role in it as an actress and behind-the-scenes director.
Though most of us may think of Allen's connection to Grey's as Catherine Avery, what most may not know is that Shonda Rhimes hired Allen to serve as an executive producer and director in the twelfth season. This role was by far one of Allen's most culturally shifting duties to date, including the responsibility of curating a coalition of directors every year, to which she solemnly swore to put women in the director's seat for at least half the episodes per season. In an effort to make women, both transgender and cisgender, seen in the entertainment industry, Allen has even given the chair to costar Ellen Pompeo, who plays Meredith Grey.
Grey's Anatomy is not only recognized for being the longest-running prime-time medical drama in the country, but their cultural impact beyond television and film has touched women, minorities, LGBTQ+ people, and allies across the world. Thankfully, Allen has been able to be part of this family since 2011.
"We are one of the most culturally relevant aspects of the American culture as we present ourselves to the world, and it's very important that we tell our stories from our point of view that could only come from that," Allen said proudly about Grey's position in entertainment telling the stories of Black America and the more recent pandemic outbreak. She continued to stress the importance of collaboration within entertainment for the betterment of the non-monolithic Black narrative by using the late Chadwick Boseman–starring film as a prime example. "Black Panther happened and it is a phenomenon, and Ryan Coogler directed it, who did Fruitvale Station. [We see] all of those young, beautiful people who are in that movie, and it was a production that came out of Disney. That is many different voices coming together that gave this one voice resonance that touched the entire world and touched the planet."
Allen recognizes the "growth, evolution, and change" within the nature of the universe and encourages us to "all be thankful for" it as we witness the cultural growth off and on screen. When it came to the Hot Chocolate Nutcracker, Allen knew that she was taking something so traditional and conventional and transforming it into a phenomenon all her own that would give hope and representation for future generations. "The kids have a sense of seeing themselves—that's everything. I can remember when I was a little kid, the only Black person on TV I'd see was Leslie Uggams when I was a little bitty girl on something called Sing Along with Mitch. There was Diahann Carroll's Julia. We didn't see ourselves in those lead positions. We might be a maid or a chauffeur, but we weren't the lead."
Fast-forward to 2020, Debbie Allen is the leading lady in her own Netflix documentary film, Dance Dreams: Hot Chocolate Nutcracker. Allen confessed that she founded the Debbie Allen Dance Academy in honor of her daughter Vivian Nixon. "She needed somewhere else to go, and all these kids needed somewhere else to go where they could put their feet on the ground and have their cultural identity at the same time," she said. The film highlighting Debbie Allen's iconic career, the reinvention and reimagination of Tchiacovksy's original 1982 two-act ballet performance, and the inspirational students and instructors from DADA was executive-produced by a familiar face in the industry—the one and only Shonda Rhimes. "This was totally Shonda Rhimes' idea to put this on Netflix," she laughed as she passed off the credit to her Grey's Anatomy family member.
"She took it and shaped it into what it is now. She masterminded it becoming what it is," Allen praised Rhimes. "Oliver Bokelberg shot it, Shonda took it to Netflix and reshaped it so it's now something that's going to be in 180 different languages. The world will see these beautiful kids doing what they do best—just learning, being disciplined, and onstage performing—and what that means to them. That's everything, and I think it's inspirational. Did you find it inspirational when you watched it?" she prompted me.
This interview had now become a full-blown conversation with Debbie Allen as I ensured her that my unique experience as a Black girl dancer from Brooklyn was paralleled to hers and the students who shared intimate interviews in Netflix's Dance Dreams. "There you go, you understand it. You'll be able to write about it better than anything I could say," the icon said to me after I told her about the cultural messaging and unique position of herself and the Debbie Allen Dance Academy as an inspiration to myself and other young dancers of color around the world. Pinch me.
Before we parted ways, I asked her about her hopes for Hot Chocolate Nutcracker and the legacy she hopes it will leave for future generations. "We're still in the making, so I can't think about leaving anything right now. I'm thinking about building. We're in the middle of a capital campaign. We're gonna raise seven million dollars to finish this building, and it is for these children. This is a cultural center. It's gonna be called the Shonda Rhimes Performing Arts Center that houses the Debbie Allen Dance Academy and Debbie Allen Middle School. I'm starting a school in the fall. I'm in the building stages, so I'm moving," she exclusively revealed about her forthcoming plans to pour into the younger generation with education, love, and empowerment. Allen ended our conversation with humility, grace, and a reminder that even at the age of 70 years old, she is only scratching the surface.
"I am not thinking about legacy. I'm too much in the building of going up right now. When you start talking about legacy, you're looking back like you've done it. I'm just not there yet."
Photos: Courtesy of Netflix © 2020
Want more stories like this?
What Happens When You Take Away a Ballerina's Stage?
A No-Nonsense Conversation Between Bree Runway and Rico Nasty
Meet the Celebrity-Endorsed Online Art Gallery Providing Luxury Investments for All