A day in the life. In collaboration with Select.
By:

Gina Marinelli

Photos:

Courtesy of Marta Freedman

Graphics:

Rachel Pickus
Marta Freedman understands the value of having a routine. "Rituals are so important!" says the creative director, whose work straddles a number of brands including cannabis publication Nice Paper and the recently launched skin-care brand Dieux (aka the reusable eye masks that have become somewhat Instagram famous). "At Dieux, we say 'rituals, not miracles,'" shares the L.A.-based creative, suggesting that the statement is more than a product slogan, but indicative of her own way of life. For Freedman, routine means finding a balance: Any given day she can be found hustling to create and maintain partnerships for her brands and consulting on influencer marketing, finding inspiration through collaborating with work friends in the industry, infusing playfulness in her projects, and yes, taking edibles like Select's Nano Gummies. They are a new kind of gummy, one that usually just takes 15 minutes to take effect and allows for a sense of calm while also keeping motivation and productivity flowing.
For a closer look at how Freedman organizes her time, she's walking us through a day in her demanding schedule—from a morning coffee-and-edible combination to an unplugged evening of reflection and gratitude. Read on for more.
Morning
Wake Up: Coffee and Select; Morning Walk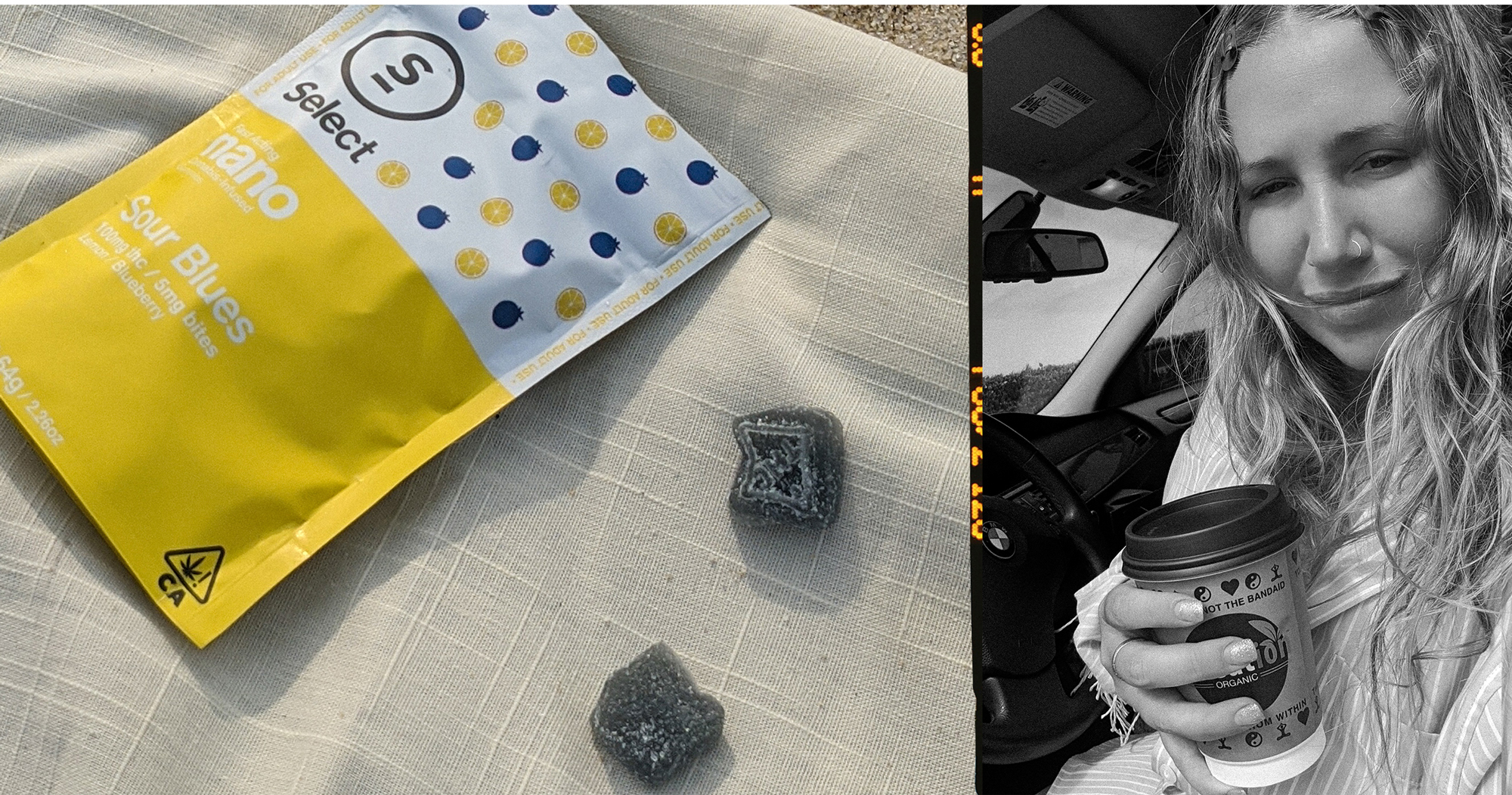 How do you typically like to start your day? Are there any hard-and-fast rules or rituals to follow?
"I really, really wish I could stick to any good habit I set for myself, but rules are really hard for me to follow. In L.A. (and in these 'times'), I generally do whatever feels good. I like to get outside as soon as I can, whether that means a morning walk or having an edible or coffee on the balcony.
"Coffee and weed together feels like some kind of secret to life. I truly feel like I've unlocked a power level. It's an enhanced pick-me-up—I feel motivated and more creative. I love how the Select Nano gummy is measured so I can gauge exactly how I'll feel with one edible and a double shot of espresso."
What's your typical morning walk consist of?
"I love walking to Kreation every day, getting a smoothie or maca coffee, and then walking for about an hour. I take the same route through Beverly Hills every day, and I never get tired of it—I walk up Beverly Boulevard and zigzag through Rodeo and Canon. Once in a while, I'll take it to Santa Monica and Doheny and walk to West Hollywood. I love walking by stores before they open. Sometimes music, sometimes not. Sometimes I take morning calls while walking. I like calling friends while walking, too."
Afternoon
Creative Sessions (making mood boards, brainstorming for clients); Eating Strawberries in the Park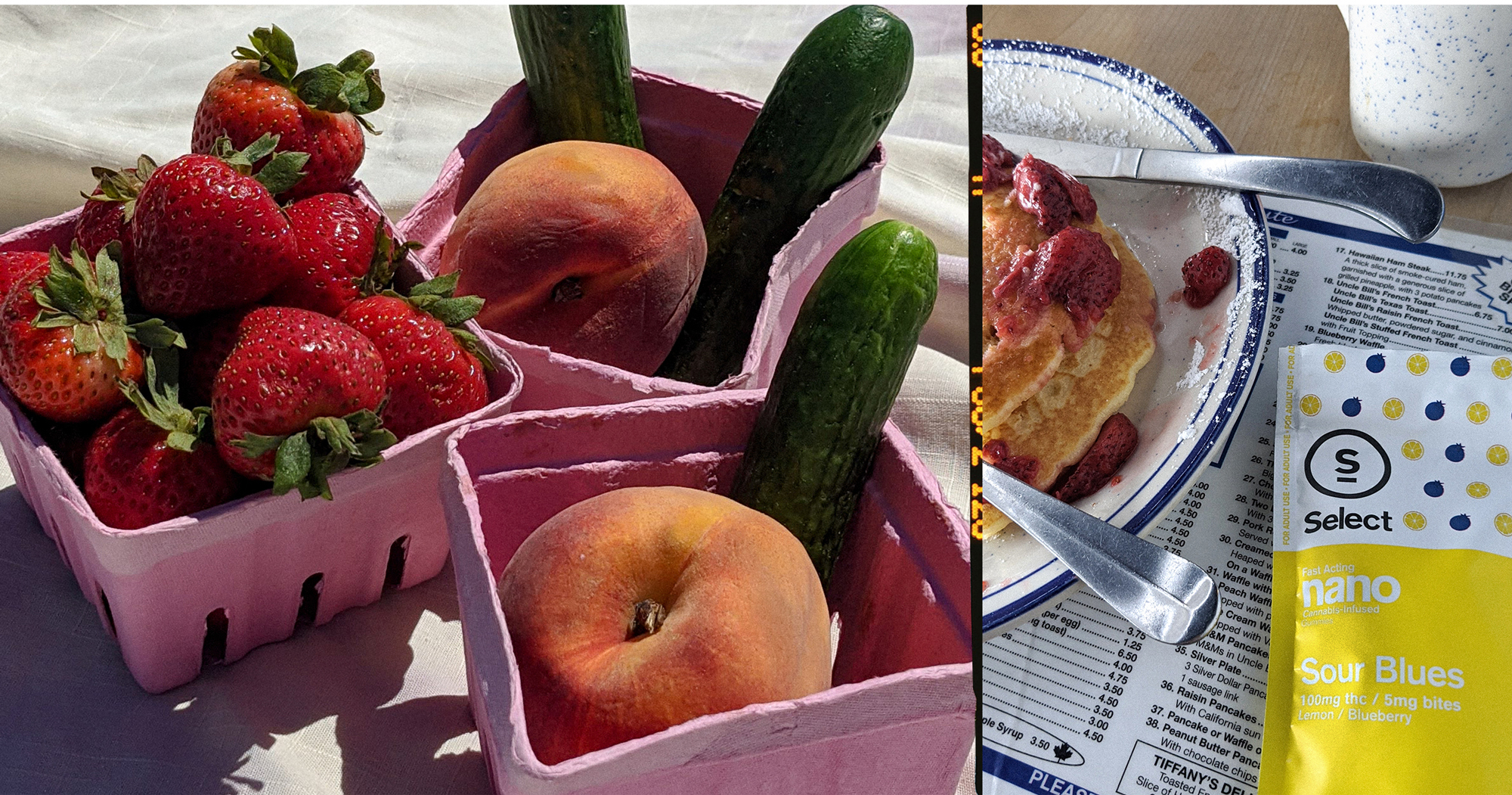 You wear a lot of hats in your career, especially in your work with Nice Paper and now Dieux. What are your main responsibilities?
"I'm the creative director for both. I don't really like titles, though. The things I do are mostly creative and people-oriented. Charlotte [Palermino, my co-founder at Dieux] says something like 'director of energy' and that feels more 'me.' I'm responsible for things like managing our relationships, dreaming up partnerships, making sure the aesthetic vibe feels consistent across all the things we do. I also consult for brands on influencer marketing."
Tell us about your creative process. What do you do when faced with a rut?
"To be honest, we have less structured creative sessions pretty often. I feel like we are always bouncing ideas off of each other. We are really lucky and I am especially grateful that we get to work with so many of our friends on different parts of Dieux. Nice Paper was the same! Super collaborative.
"As for ruts, I'm a Gemini, but my moon is in Virgo. I can be so hard on myself! The output isn't the same when you are doing creative work, so I really love using cannabis to soften that mood, to let it just flow and take the pressure off. Taking a Select Nano gummy is the perfect remedy!"
How do you prioritize breaks throughout the day so that you can keep your creativity flowing?
"Creative burnout is real, work burnout is real, people burnout is real. I often experience all three at once, especially with how much business bleeds into my personal life. This year more than ever, like all of us, I really have just been trying to keep my head right. I do what feels good. If I need a nap or a walk or a strawberry, I do it. My grandmother always says 'If one hour of the day can't be for you, then what's the point?'"
Evening
Bigg Chill Froyo Nightcap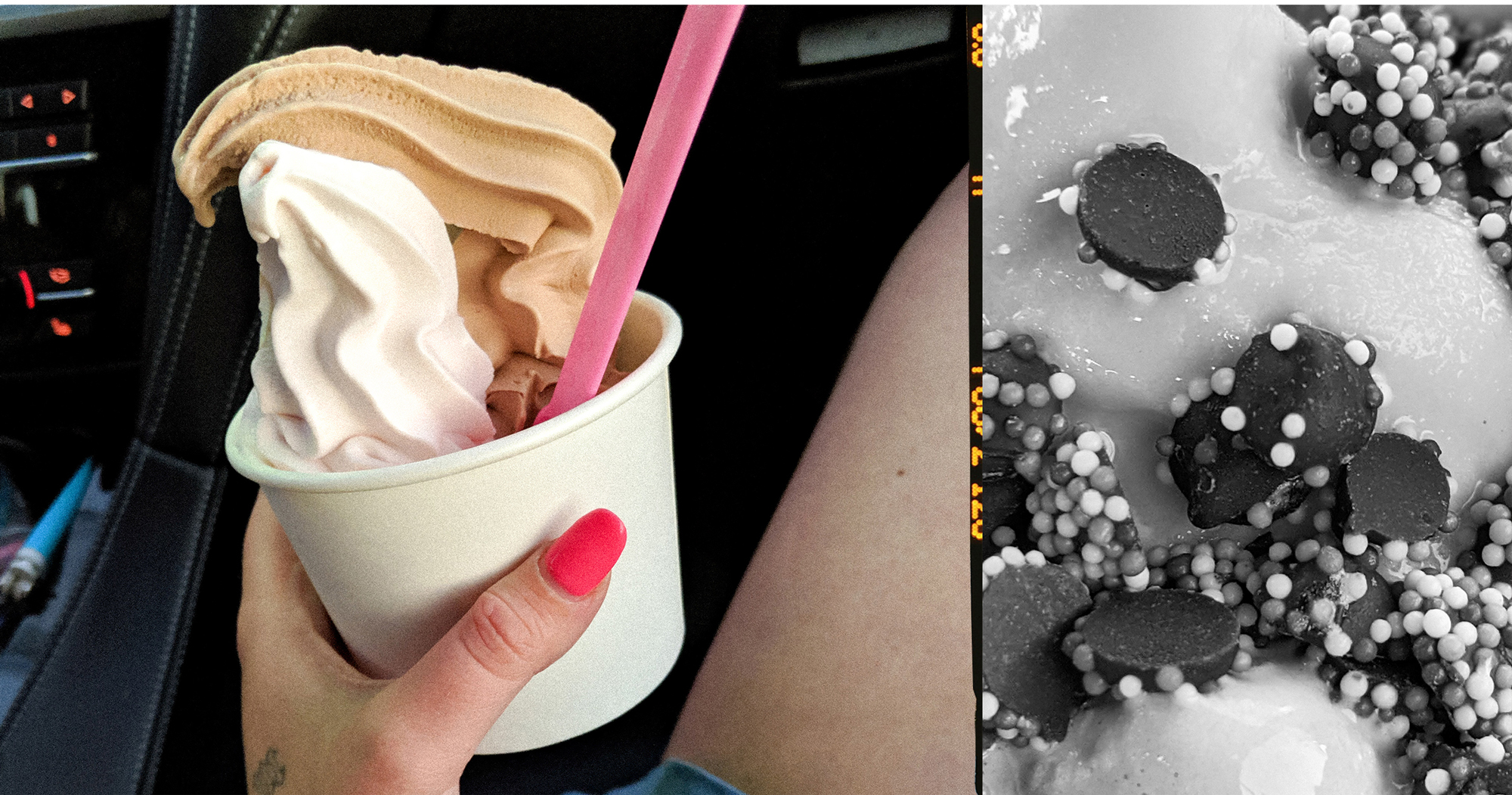 It's the end of the day. What are some practices you swear by to wind down?
"I have a gratitude practice I try to do as often in a day as I can. I don't know where I got it, I think I adapted it from my friend Emmie when she moved to L.A. a few years ago, mixed with the Marie Kondo thing of thanking everything before parting with it. Practicing gratitude constantly has changed my life and my perspective fully. Next up, I am working on being present! That's a hard one. But to sit in your bed, phone out of sight, thinking about how lucky you are to be here in that moment. I want to bottle that feeling."
What's the most inspiring thing about working in the cannabis space right now?
"I think cannabis still has a really long way to go in terms of equity and accessibility, but it has been nice to see more brands stepping up to do the right thing. At the end of the day, cannabis is such a gift from the world, and with Nice Paper especially, it has felt really good to be a resource of education and work with brands like Select who share our values."
For use only by adults 21 years of age and older. CDPH-10001355
Massachussett: Please Consume Responsibly. There may be health risks associated with consumption of this product. For use only by adults 21 years of age or older. Keep out of the reach of children. This product has not been analyzed or approved by the Food and Drug Administration (FDA). There is limited information on the side effects of using this product, and there may be associated health risks. Marijuana use during pregnancy and breast-feeding may pose potential harms. It is against the law to drive or operate machinery when under the influence of this product. KEEP THIS PRODUCT AWAY FROM CHILDREN. There may be health risks associated with consumption of this product. Marijuana can impair concentration, coordination, and judgment. The impairment effects of Edible Marijuana Products may be delayed by two hours or more. In case of accidental ingestion, contact poison control hotline 1-800-222- 1222 or 9-1-1. This product may be illegal outside of MA.
Want more stories like this?
How This Multi-Hyphenate Entrepreneur Recharges at the End of Each Day
Sunny Hostin on Pioneering Her Own Career and the Complex Issue of Identity
Hitmaker Murda Beatz on Finding His Style Through Song