Deskside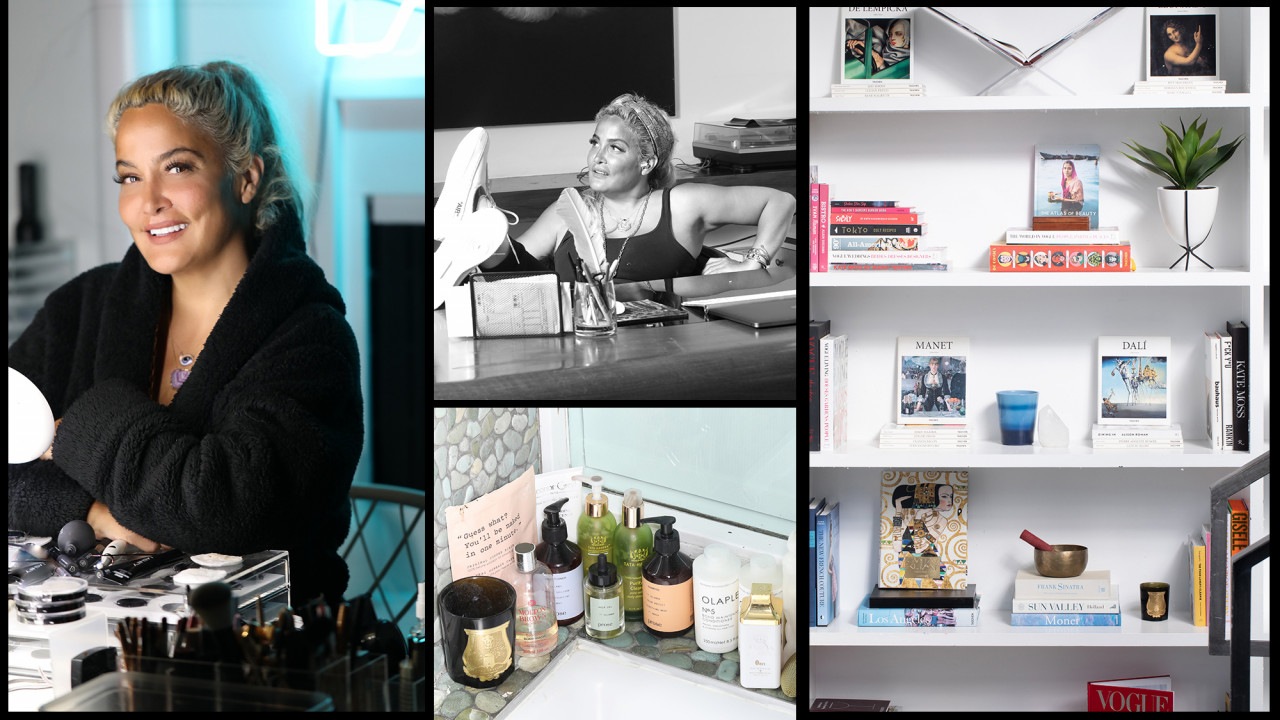 Working from Home with Lashify Founder Sahara Lotti
Meet the "Lash Queen." In collaboration with Lashify.
It's not every day that you find a beauty product that actually does what it claims to do, much less changes your whole face. But when Lashify founder and CEO Sahara Lotti set out to create a lash extension kit that people can apply and maintain at home, she achieved just that.
Her award-winning lashes come in every length, color, and shape, from delicate and natural-looking (like your eyelashes, but better) to dramatic and long as hell—and you can do it all from the comfort of your own home. Once upon a time, this was just a nice perk, but in the past few months, DIY-ing it has become a necessity.
At first, when Lashify hit the market, Lotti tells us that many thought it sounded too good to be true. So she rolled up her sleeves and convinced the world otherwise—by going on social media and using her patented Underlash™ technology to apply her Gossamer® lashes and show how easy and fast it was to do.
Fast-forward to today, and Lotti has created a successful lash kingdom with herself at the helm, continuing to be the face—or, should we say, the eyelashes—of the brand. We chatted with her about her social media strategy, the other strong women founders who inspire her, and why people call Lashify a "cult."
How did you get the idea for Lashify?
"I needed it. I was obsessed with lash extensions, and it took so much time to drive to Koreatown to get my lashes done, so I said, 'I need to figure out how to do this myself.'
"So I was looking for this system, and I was convinced it had to be out there already, with this lash and a wand. It literally did not exist, so I created it!"
You were the trailblazer for this amazing beauty invention—you were the first to discover how to facilitate professional, salon-quality lash extensions that people can do at home. What does it feel like to have enabled so many people to do this from the comfort of their own homes?
"It's what keeps me going. There's so much BS in running a start-up—it gives you a lot of reasons just to cash out—but the customers and amazing clients drive me to do better and better and better every day."
People call Lashify a "cult." Why do you think that is?
"I think it's because the product itself is so innovative. It's not that often in the beauty world that you use a product and it totally changes your face in two seconds. Everything is sort of a mild improvement, unless you cover your whole face with makeup.
"The excitement that you just did this yourself creates such an addictive feeling. I'm very interactive with my clients, and I feel really connected to them—I show them who I am, and we become really involved together. I guess it seems cult-like because the people who aren't a part of it don't understand the obsession. If it's a cult, it's an awesome cult."
What are your favorite eye creams or eye oils? Is there anything you've found that goes particularly well with your lashes?
"You know, I use anything—meaning, there's nothing I avoid using. The beauty of Lashify is that you can use your favorite eye cream. You don't have to keep the lashes on for 10 days. Now, if you're asking what brands I actually use, Emma Hardie makes a great eye cream."
You're not just the founder and CEO of Lashify—you're also a screenwriter, inventor, intuitive strategist, and DJ. How do you find the time to do it all?
"Well, it's all sort of the same thing. Being a founder and innovator, you're finding and innovating. When you're screenwriting, it's the music that's inspiring the writing, which inspires the creation—basically, I trust my intuition on how to do business, so it's all sort of connected."
You have more than 70 patents and 50 trademarks worldwide. What is it about your DIY lash-extension system that is completely unique and special?
"Lashify is the first lash system ever that allows you to create lash extension looks in minutes. Extensions are really addictive so for many people that's life changing. Prior to creating Lashify, we had two options: strip lashes and lash extensions. Applying your own extensions wasn't a real option, not to mention dangerous. I thought 'I need to figure out a way to remove the technician and the skill from the process.'
"I had to invent all these components. It wasn't just one component—it was numerous components. From the tools, lashes, bond—we are one of the only lash companies who tests all of their products (which is crazy, since you put it on your eyelashes, but it is very unregulated). We have the Fuse Control Wand, which actually fuses or secures the lashes into place for numerous days. Some of our clients get up to 10 days wear—it is pretty amazing. We also have the Gossamer lashes, which can mimic the most natural lash. They are weightless and you can choose your length, width, color, really customize it depending on your mood, desired look and eye shape.
"You have to be prepared to protect your innovations and property you worked so hard to make and create. Otherwise, your business will get swooped right from under you—this is so common in the beauty world and no one realizes it's happening. I view myself as an inventor, so I definitely geek out over IP and believe it's one of the most important things I did when building the brand."
Your customers affectionately call themselves Lashifiends, and you're their Lash Queen. Even before quarantine times, you've been known for hosting Instagram and Facebook Lives to interact with your customers. Why has this personal interaction always been so important to you?
"It keeps me connected. I built the brand while doing Instagram Lives and couldn't help but share what was going on at the time. I think keeping it real has helped build our community and make it so strong.
"When we first soft launched I was doing Lives with demos on how to apply the lashes all the time. To be honest, I had no choice, it's the thing that got people to take a chance on this brand new company. I would go on randomly, without worrying about looking perfect—I'd answer questions and shoot the sh*t. Next thing I knew I recognized usernames. Eventually, the community grew and grew. I think because I'm always straightforward and honest with our followers, it has built up a trust that is vital. I involve them in new product launches and ask them what they want to see or use, instead of telling them. They are involved in and inspire so many product developments and tweaks.
"Nowadays, you will catch me on a Live with music playing in the background (music is such a huge part of my daily life), my fur beasts could be barking, and I may have an occasional beverage while we are on. It is fun, like we are hanging out and getting ready for a night in (now it's all about a night in!) or simply WFH in our robes!"
Who are other strong women founders and entrepreneurs who inspire you?
"Anyone who has overcome adversity in the world, and risen to the top—and is using that power to help others who do not have a voice and make a change."
What's the first thing you do when you wake up?
"I give my dogs Bob and Mack a kiss, and I check my emails."
Where do you want to see Lashify in five years?
"On everyone."