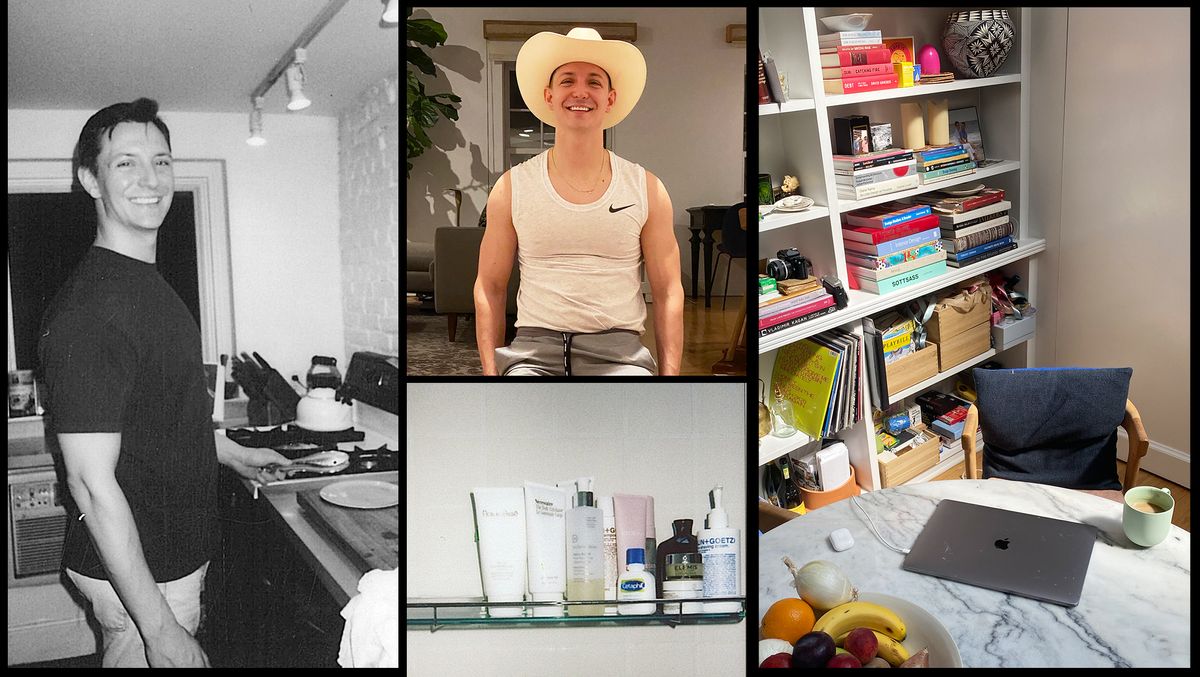 Series
Working from Home with School House Founder Christopher Skinner
The founder and creative director talks career paths and the future of the beauty industry. In collaboration with School House.
Graphics
Rachel Pickus
As many adjust to working from home—Team Coveteur included—tips on how to stay focused and motivated are more welcome than ever (as are snack and music recommendations). Each week we're checking in with friends to see how they approach working from home. Today, we're chatting with the founder and creative director of School House, Christopher Skinner.
Everyone knows that beauty products aren't judged solely by their innate charms. The medium a product comes in—not just the jar or tube or bottle, but also the way it's presented to the world, in general—matters. And perhaps no one knows that better than
Christopher Skinner
, founder and creative director of
School House
, an independent agency specializing in strategy, creative, and environments for the world's most in-demand beauty brands.
Skinner hasn't always been in the beauty game—he started out in the theater. After many years of traveling the world for companies, including Space NK and Fresh, he launched
School House
five years ago, melding his eye for art and architecture with his keen sense of the theatrical. We spoke with the beauty-world expert about his career path, the ways he sees the beauty industry morphing and transforming, his favorite artists, and his greatest indulgence.
School House specializes in many areas, but perhaps the most important project they're taking on right now is their new 1,000 Hours Pledge, a program that will donate $150,000 of the company's design hours to independent, Black-owned beauty businesses.
Is founding a beauty creative agency what you've always wanted to do? How has your career progressed over the years?
Christopher Skinner:
"From a very young age, I was involved in theater—acting, singing, dancing, production design—and in high school, I attended DeKalb School of the Arts with the likes of Donald Glover and Saidah Nairobi, in Atlanta, Georgia.
"Out of high school, I took a few years to pursue a theater profession, woke up one day, and decided that I wanted to study interior architecture, due to my love of production design. I was accepted to be a part of the first class of Savannah College of Art and Design's Atlanta campus, during which I was rehearsing and performing in the evenings and selling back scratchers at Restoration Hardware in my spare time.
"RH eventually let me go (they actually stopped answering my calls, so I might still work there) so I applied as an overnight stock assistant at Sephora North Point Mall in North Georgia—and it was there that I became obsessed with beauty. It was the first time I had found an industry with the same passion and dedication—even at a grassroots level—as theater.
"I ended up finishing at SCAD, staying with Sephora for five years, and moving to New York City to study at the Atlantic Acting Company. I joined the now-closed Sephora at 76th Street and Broadway, overseeing events and visual merchandising (where I once got to sell Bernadette Peters an eyeliner), and slowly began a path of melding all of my passions into a career.
"Twelve years ago, I decided I didn't have what it took to pursue a professional life in theater and that I would continue towards a fused path of beauty, design, and storytelling. From that decision onward, I joined Space NK Apothecary during their initial US launch. I then joined Fresh, overseeing global store experience and design, where I split my life between New York and China—and five years ago this month, I started School House, a beauty think tank and creative agency. Select clients include Dr. Dennis Gross Skincare, La Mer, Joanna Czech, Elemis, Tata Harper, Pat McGrath Labs, and Perfect Diary.
"The lesson in all of this is to follow your gut, do what makes you happy, take risks, and remember: To climb the ladder of life and career, you must let go of the last rung to reach the next." 
---
How have you seen the beauty industry change, and where do you see it growing going forward?
CS:
"The year 2005 was a perfect time for me to enter beauty. I have been able to experience the tremendous dynamic shifts shaping our industry—the shift from product-driven branding to persona-driven branding, brand-led innovation to consumer-led innovation, retailer-driven demand to brand-driven demand, physical retail to digital retail, high-touch engagement to content-driven engagement, and so many more. The amount of positive dynamic shifts in our world, and industry, in the past fifteen years, is extraordinary, and the momentum isn't stopping now.
"Just as we've seen communities, and surprisingly different industries and voices come together during today's world dynamic. I see and hope that beauty can occasionally set aside its ruthless nature to unify and find allies amongst its "competitors" in the name of bettering the consumer mindset and experience."
How is School House reacting to the current climate, and what are you doing to be an ally of the Black Lives Matter movement? 
"School House is announcing a 1,000 Hours Pledge, a program where we'll be donating $150,000 of design hours across our capabilities to independent, Black-owned beauty businesses. In addition, School House staff have been given a $250 beauty stipend (on top of an existing $1,000 Beauty annual allowance) to be spent at Black-owned beauty businesses.
"Some of our team's purchases include include Klur's Gentle Matter, Freedom Apothecary's Bara Balm, Everly Organics' Calm CBD Oil, Liha's Self Care and Sleep Aid Set, and Coloured Raine's Queen of Hearts Palette."
What is your idea of perfect luxury when it comes to beauty branding?
CS:
"Standing behind community and well-being, being a driver for resilience, and creating things with real purpose and meaning."
What is your perspective on the elements of great retail design?
CS:
"I approach retail design as I would production design—it's a visual medium, so show it, don't say it. In our lives, we turn to performances to take us out of our own thoughts and surroundings, so use physical space to do the same for your brand. Use design to capture the mood of the brand, but don't rely on design and mood alone. Bring in experience—real experience, not just an iPad—to create connection and keep your focus narrowed. It's easier for audiences and consumers to follow and connect to a storyline with a simple message at its heart."
Beauty retail is changing, at least for right now. Digital was already important, but now it's literally everything. How are you pivoting?
CS:
"We are bringing our prowess for branding and environmental storytelling into our digital work to create digital destinations that provide more than product facts and figures. Think virtual events, virtual gaming, and virtual communal destinations."
Your packaging design is just so satisfying to unbox. Can you talk about how you meld function and design?
CS:
"The packaging itself is a sensory experience, just as much as the product it's housing. We start with form and finish—how it tells a piece of the brand's story and how it impacts the consumer's visual perception of the brand and the product.
"Then, through visual studies and varying rounds of three-dimensional models, we back our way into its function—how it holds a product, the feel in hand, the usability, and the visual merchandising capability online and in-store."
Pop-ups were the name of the game in 2019. What's the name of the game right now?
CS:
"Health and justice over the economy is a battle cry that has permeated throughout our streets and politics, and I believe it will have a lasting effect on the consumer mindset. From this, we've seen that consumers are longing and demanding brand communication around the handling of the health, well-being, and diversity of their team and community."
Are there any particular projects or products you're most proud of creating?
CS:
"I am proud of the long-term relationships that we've built over the past five years. Carrie and Dennis Gross gave School House its first big break in 2015 when they asked us to collaborate with them and their team in the redefining and revisualizing of their brand.
"L'Occitane Group gave us our second big break when they awarded us the opportunity to reinvent the retail experience and design for their brand in their New York flagship (and then two more, plus sister brands MyGlamm and Elemis). The Estée Lauder Companies gave us our third big break with Clinique and later MAC, La Mer, GlamGlow, Aveda, and Estée Lauder.
"I'm proud of the work we've done with each of these brands, but it's not what School House does that defines us—it's how we do it and why. These relationships are proof of that."
School House takes cues from not just the world of beauty, but also the worlds of art and architecture. What are your favorite works of art? Your favorite artists?
CS:
"I love the magic that Es Devlin brings to brand and theatrical storytelling. I am drawn to the familiar forms reinvented by Anish Kapoor's sculptural installations. I am intrigued by Philip Glass' ability to take my mind somewhere else. I am excited by the explosive energy Jerome Robbins brought to dance (Google Glass Pieces to see Glass and Robbins unite). I am continually moved by Viola Davis' commitment to her craft, even if it means getting vulnerable. And I am always struck by Grant Achatz's use of culinary arts to create surprise, intrigue, and conversation. To me, these artists are reminders that it's not about the pressure of new ideas and new discoveries, but the modern interpretations of existing ones."
You collaborate with some of the most amazing beauty brands in the world. What are your beauty obsessions right now? What are you reaching for daily?
CS:
"Daily obsessions include
Natura Bisse AHA Cleansing Gel
(great light exfoliation every morning to reveal fresh skin, but use sunscreen),
Oribe Signature Shampoo
,
Briogeo's Micro Exfoliating Shampoo
, 
Vintner's Daughter Active Botanical Serum
, and
Fresh's Crème Ancienne Soft Cream
and
Sugar Lip Balm
(OG, not tinted).
"New obsessions include
CHANEL Le Lifting Collection
,
Joanna Czech Facial Massager
, and
R.Swiader Mott NYC Incense Candle
.
"Cult obsessions include
Dr. Dennis Gross' Alpha Beta Peels
(packaging by School House) and
Clark's Botanicals Smoothing Marine Cream
(seriously, if you use it the night before a big event—er, big Zoom call—you'll look amazing the next morning)."
What is your greatest indulgence?
CS:
"Traveling the world, learning new things, and laughing out loud, all while working from home, in bed, on TikTok."
Natura Bisse
Oribe
Vintner's Daughter
Fresh
Fresh
CHANEL
Joanna Czech
R.Swiader
Dr. Dennis Gross
Clark's Botanicals