WWWRN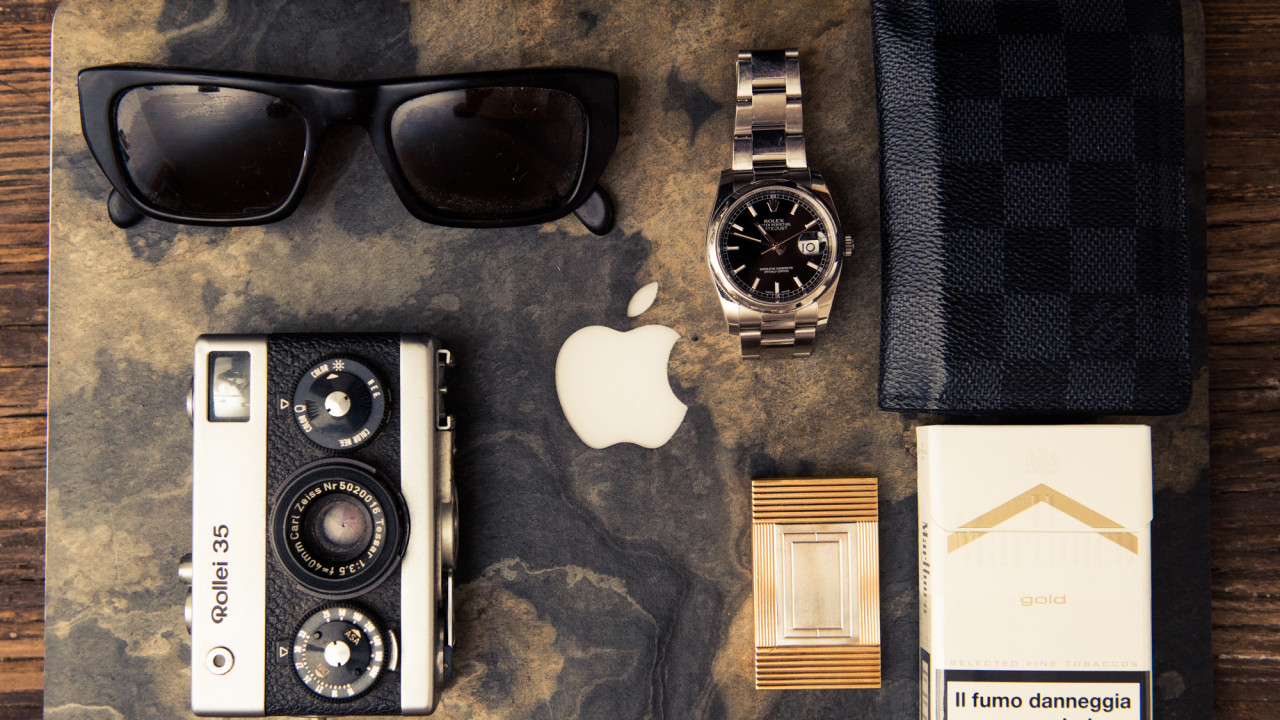 The 18 Things Coveteur Staffers Are Buying for Father's Day
Not a single tie on the list.
Now more than ever, connecting with loved ones feels needed. The last few months have been a period of so much uncertainty, and being unable to travel and spend time with family has made it even harder. So, with Father's Day rapidly approaching (June 21st, in case you forgot!), it's time to show the men in your life some extra love. Regardless of whether you're able to spend the actual day together, there are countless thoughtful ways to show your appreciation. It's also an important time to shop with intent, and with gifts that have some direct charitable component or by shopping with companies that give back, you can support a cause that you both stand behind.
Ahead, shop 18 Father's Day gift ideas for the beloved men in your life.
---
Jessica Teves
Head of Content
1. Santos de Cartier Sunglasses: My husband has been asking for a new pair of sunglasses for months, and these contemporary aviators are absolutely perfect—now let's just hope our three-year-old doesn't get his hands on them!
2. NAACP Legal Defense Fund: In lieu of giving my 77-year-old father something to house on a shelf somewhere, I'm uniting with him in donating to the Legal Defense Fund to help ensure economic justice for all. Nothing—and I mean nothing—brings me greater joy than knowing this Father's Day my dad and I stand together in the fight against racial injustice.
3. Real Dope Coffee: We're a family of coffee drinkers, and while we have a few tried-and-true brands we turn to over and over again for our daily morning brew, we've always loved exploring new roasts and blends. I recently came across Real Dope Coffee, a black-owned coffee brand out of Atlanta, and loved their mission and thoughtfulness. I'm going to order my husband several bags of their Organic Guatemalan Ground Coffee, a full-bodied blend with hints of chocolate and apricots. Sounds delicious, right?!
---
Leya Kaufman
Head of Sales
1. Acqua di Gio Profondo Eau de Parfum: My dad and I both love everything about Italy—the wine, pizza, music, and classics. So I bought him an Armani sports watch for Father's Day with my first real paycheck almost 10 years ago. And this year, I'll surprise him with the newest Acqua di Gio Profondo fragrance.
2. Outdoor Voices CloudKnit Hoodie: I love watching my husband evolve into the world's cuddliest dad, but I also love stealing his comfiest clothes. So this Father's Day, I'm restocking his loungewear.
3. Les 4 Mondes Collectors Cards: Another "wild card" gift that I've been thinking about for all dads that prefer activities and games to Netflix. I love this spin on a classic deck of cards that might even lead to a family game night.
---
Halle Lagatta
Associate Creative Producer
1. Le Creuset Cast Iron Skillet: My dad passed down his grandmother's cast-iron skillet, and I cherish it so! He learned how to cook his famous meatballs from her, and I know he'll appreciate adding this beautiful skillet to his Le Creuset collection.
2. Orange Glou Wine Club Subscription: For all the wine nerds in your life, nothing beats this beautifully curated biodynamic orange wine club, created by the sommelier of one of my favorite spots, Sel Rrose.
3. Larq Self-Cleaning Water Bottle: My dad is super competitive, athletic, and very into all of the sports-oriented tech gadgets out there. However, his water bottle is one he's had since the '90s—I think he's ready for an upgrade. This high-tech device is self-cleaning and purifies up to 99.99% of bio-contaminants in the water and bottle.
---
Abby Miller
Head of Production
1. Mistobox Coffee Subscription: This one is a no-brainer if your father is a coffee addict like mine. Mistobox is the best coffee subscription service out there—they have a selection of over 605 blends, so even the most expert coffee connoisseurs are bound to discover something new! Each shipment is customized based on your preferences, and you can set up a Brew Queue (like a Netflix list) to choose your own coffees.
2. Wild One Starter Kit: My dad is completely devoted to his dogs, so pampering the pups is usually an easy way to make him happy (they're man's best friend, after all). Wild One is a great place to start because they have really modern and stylish accessories for pets, so you can upgrade that old leash and dog bed that have been at the house since the '90s.
3. Yeti Hard Cooler: Nothing says cool dad like a Yeti cooler. This is a great splurge item for dads who deserve something fancy, but wont splurge on themselves. These coolers have developed a cult following for being able to keep things (like a nice beer perhaps?) cold for hours and even days on end.
---
Hannah Baxter
Senior Beauty Editor
1. Baxter of California SPF 15 Oil Free Moisturizer: I'm all about giving the men in my life a few much-needed beauty products, and since my dad is retired and living his best life in Florida, some sunscreen seems like a fitting addition to his routine. I also don't know what his current moisturizing regimen is, so it's probably wise to mash them together into one easy step.
2. A Time for Mercy by John Grisham: I've seen more than one photo of my dad lounging on a pool float reading a book (again, papa Baxter is living), so I think the latest from one of his favorite authors is in order.
3. Diptyque Eau de Minthe Shower Foam: While I'm a fan of my dad's retirement beard, some of my clearest memories growing up are of watching him shave before work. This new Diptyque shave and shower foam (formulated with their award-winning Eau de Minthe) captures that classic scent but elevates it in a way I know he'll appreciate. I may have gotten my love for the finer things in life from him, too…
---
Camille Freestone
Writer
Part of the series:
WWWRN