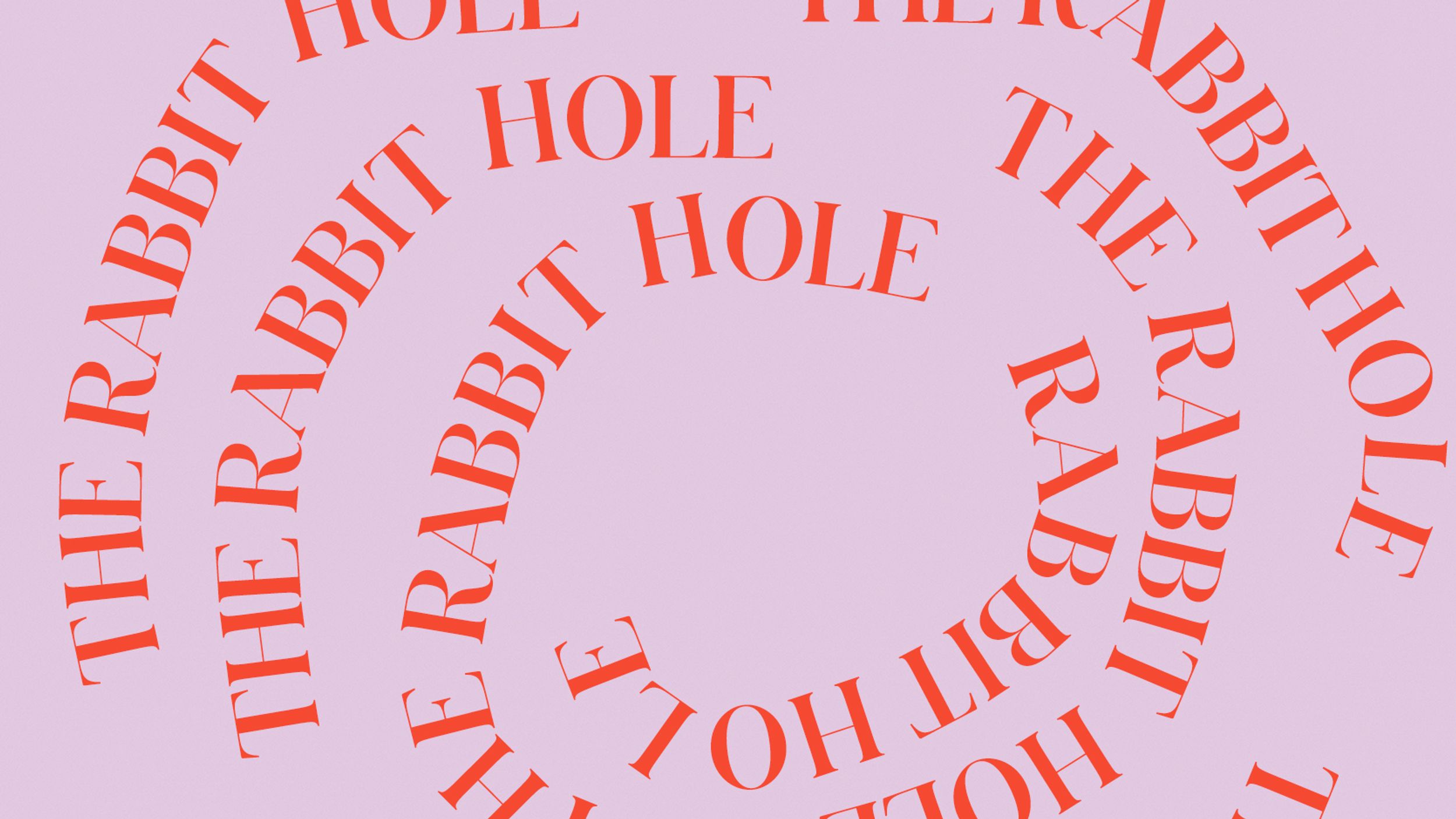 Culture
Let the time suck begin.
Graphics
Ashley Combs
Welcome to The Rabbit Hole, a place where Coveteur staffers share the entertainment and activities that are sending each and every one of us into a tailspin (in a good way, obviously). From Pinterest boards full of home inspo to Rollerblading videos to bingeing Ozark to tie-dye kits to cooking shows (nothing is off-limits!), this is what's captivating our attention—and keeping us entertained—at home. Prepare to spiral.


---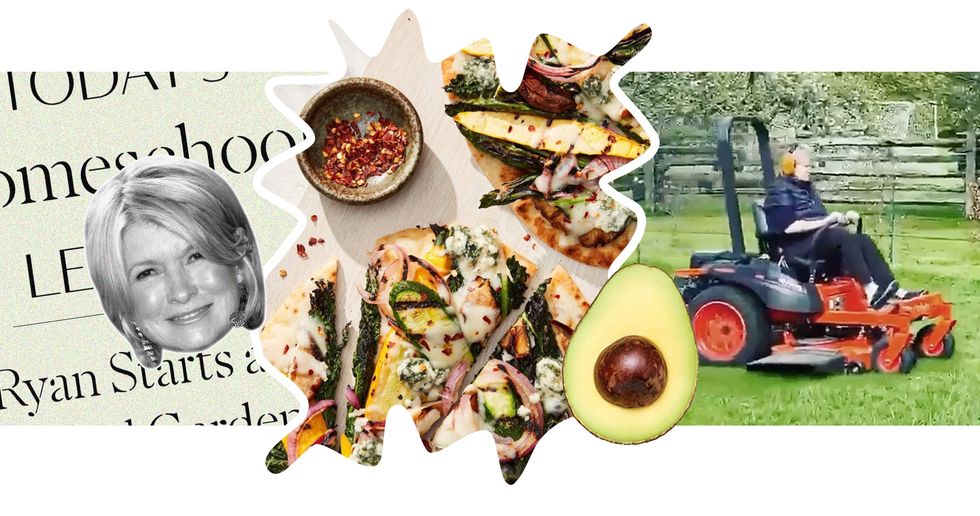 Jess Teves, Head of Content
I really,
really
enjoy food—like, go to bed thinking about breakfast, wake up thinking about dinner, and in between, I watch cooking videos so I can dream about food a little more. Honestly, what's better than watching Ina Garten prepare a sheet pan of roasted butternut squash with flaked Maldon sea salt and a hefty drizzle of olive oil? Not much. And while I'll rarely pass on a traditional cooking show on the Food Network, my latest obsession is truly the OG: Ms. Martha Stewart has been whipping up some fancy feasts for her "staff" on IG, and it's nothing short of spectacular. What's more,
her feed
is clearly not polished by a professional or social media editor—it seems it's Stewart herself posting, so it's her rhetoric and viewpoint, even if it is riddled in typos and incomplete sentences (but that's what makes it fun!). Also, in between cooking and schooling me on how to build a proper copper pan collection, she's mowing the lawn, putting down pavers, taking care of her boxwoods, making cocktails (lotsss of them!), and, oh yeah, giving us a glimpse inside her Westport, CT, compound. It's all-around wonderful, and I am here for it.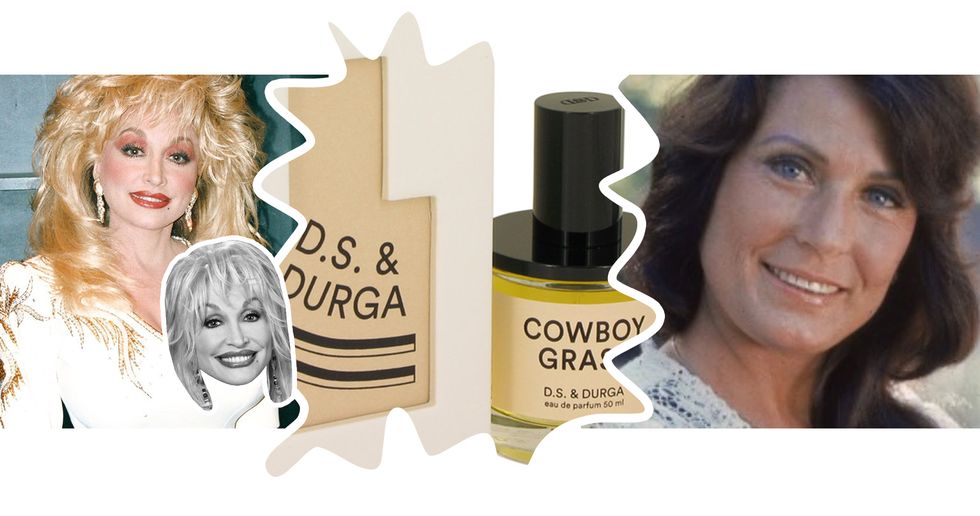 Halle Lagatta, Associate Creative Producer

I miss dousing myself with Cowboy Grass—my favorite scent by D.S. & Durga. However, with nowhere to go and no one to see, I've decided to save my nearly empty bottle for a time when people are able to come within smelling distance of me. Until then, I'll be listening to their Cowboy Grass playlist on Spotify, belting along with Dolly Parton and Loretta Lynn to boot.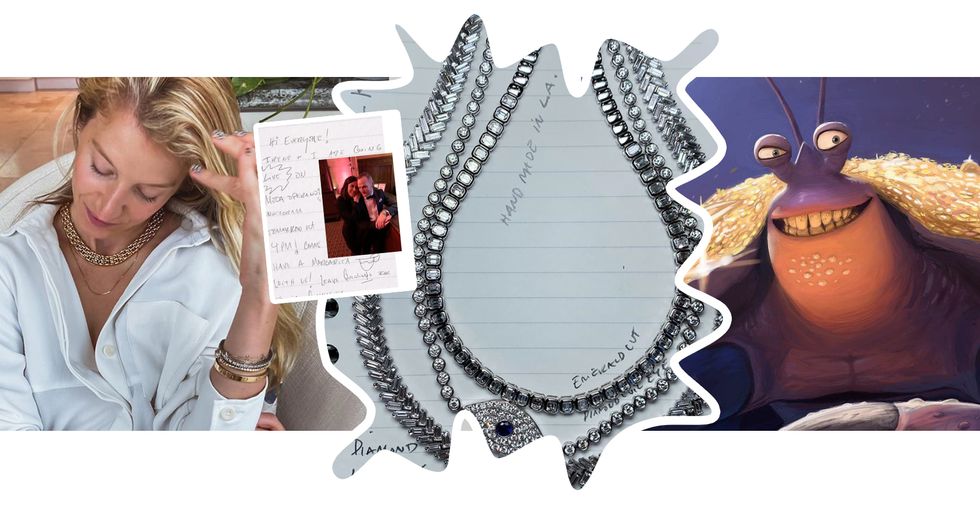 Leya Kaufman, Head of Sales
You know that song "Shiny" from the new Disney classic
Moana
? About the gold-and-diamond-encrusted crab at the bottom of the ocean? Well, it might as well be the soundtrack to my life. I'm jewelry obsessed. I find joy in
all
of the shiny, dainty, clunky, chunky, gold, silver, platinum, diamond, crystal, fine, and costume jewels. So it's only fitting that I'm playing dress-up at home and discovering all the shiniest eye candy on the internet right now.
While I might be shopping for vintage-inspired classics that pair well with sweats, I'm also spending an inordinate amount of time diving into the virtual escape of
Will's Notebook
. Will Kahn, Moda Operandi's jewelry director, shares his one-of-a-kind intel on jewelry and watches through this visual inspiration board. And I can't get enough!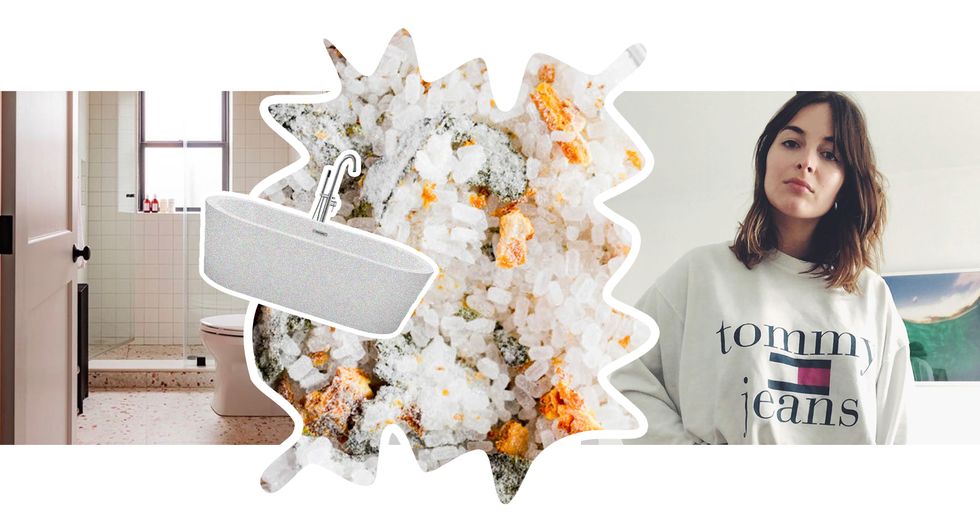 Abby Miller, Head of Production

I'm sort of embarrassed to admit this, but I have fallen into the deepest of deep rabbit holes making DIY bath salts. I feel like everyone needs a good quarantine arts-and-crafts project, and bath salts has become mine. I ordered every type of salt known to mankind and mix them with concoctions of all my favorite essential oils. My kitchen table looks like a mad-scientist laboratory, and I even ordered beakers and pipettes (truly, when was the last time you even thought about pipettes? eighth grade chemistry?). It's incredibly dorky, but incredibly soothing and satisfying. And so far the results have been incredible! I'm taking baths daily now, with my DIY salts soaking me to a blissful quarantine lull.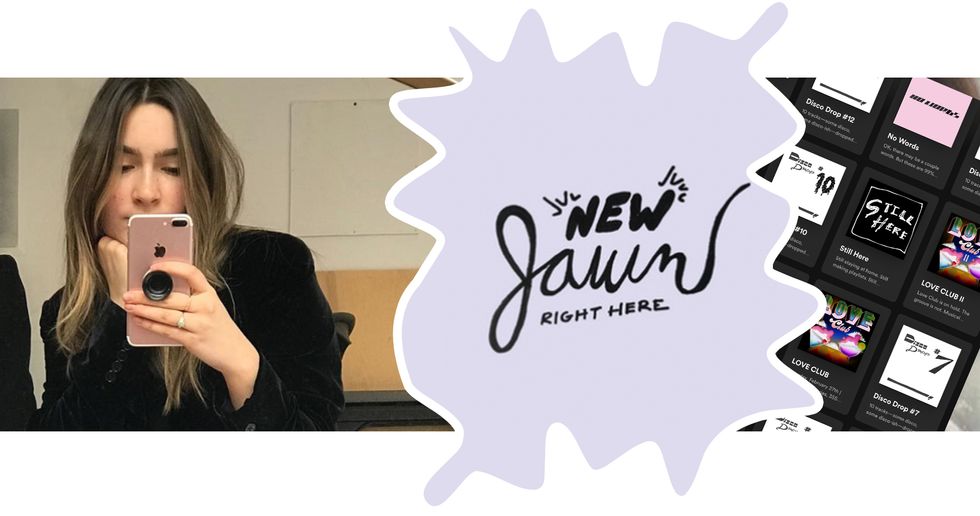 Rachel Pickus, Creative Associate
Music is super important to my workflow. Like, I'm pretty sure I'm 99.99 percent more productive when I have a good playlist going. Which is why I've routinely turned to
Alex Delany
, drinks editor at
Bon Appétit
magazine, for some WFH-friendly tunes. His Spotify is stacked with a multitude of playlists that set the tone for a solid work sesh. From vibe-y summer songs to instrumental ballads, Delany has a mix for anyone and everyone. So sit back, grab that second (or in my case, fourth) cup of coffee, and press play. You'll soon be asking yourself, "How is it 5:00 PM already?"
Hannah Baxter, Senior Beauty Editor
The pace of my day, even while working from home, is pretty hectic, and I'm as guilty as the next person of mindlessly opening my phone to look at some form of social media. However, instead of endlessly scrolling, lately I've used my breaks to tune into
Yuki Kawae's IG profile
and watch him create sand designs with nothing more than a rake and the occasional stone. It's like a massage for your brain—slow, soothing, artful, hypnotic. Completing even one video helps you feel more zen. Do yourself (and your anxiety levels) a favor, and start following him right now.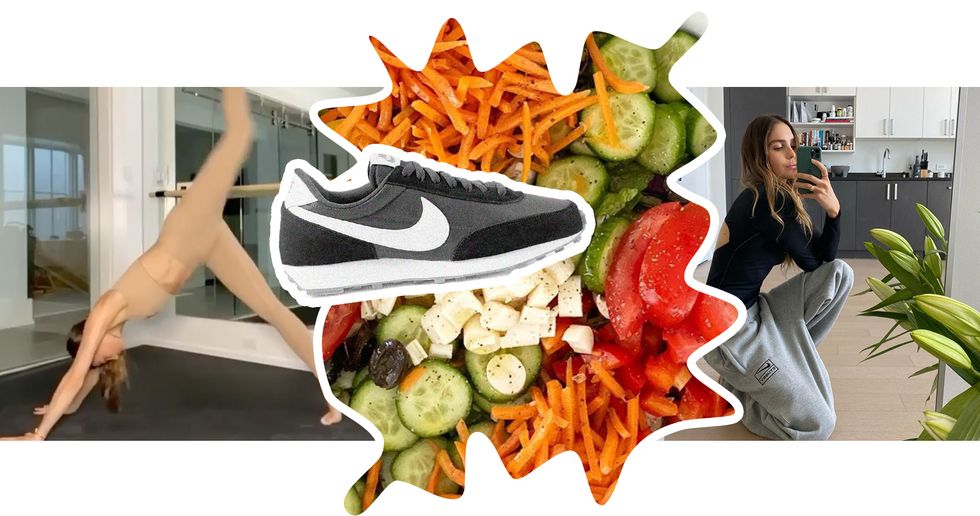 Alex Bair, Senior Sales & Brand Partnerships Manager
Growing up as an athlete in both high school and college, working out has always been a natural part of my daily routine. Pre-quarantine, I threw myself into every exercise class under the sun. Cycling, barre, Pilates, HIIT, dance, you name it, I was there. I thought being kicked from my normal regimen, not being able to attend regular classes and see my favorite, bad-ass instructors (shout out:
Christina P
, MISS YOU), would drive me crazy. To my surprise, it actually has forced me to be more mindful with my workouts and has made me think more about what I'm putting my body through. My continued obsession with
Melissa Wood Health
remains—I view this more as my commitment to "daily movement" to help start my day out on a positive, meditative note. And I can't even explain how much I love
Kirsty Godso
and her Nike Training Club workouts. Her signature "hot sauce burpees" kick ass (literally) and leave you drenched on the floor *crying* (but also so filled with happiness because of the work you just put in). I highly recommend following her. Her style is pretty dope, too.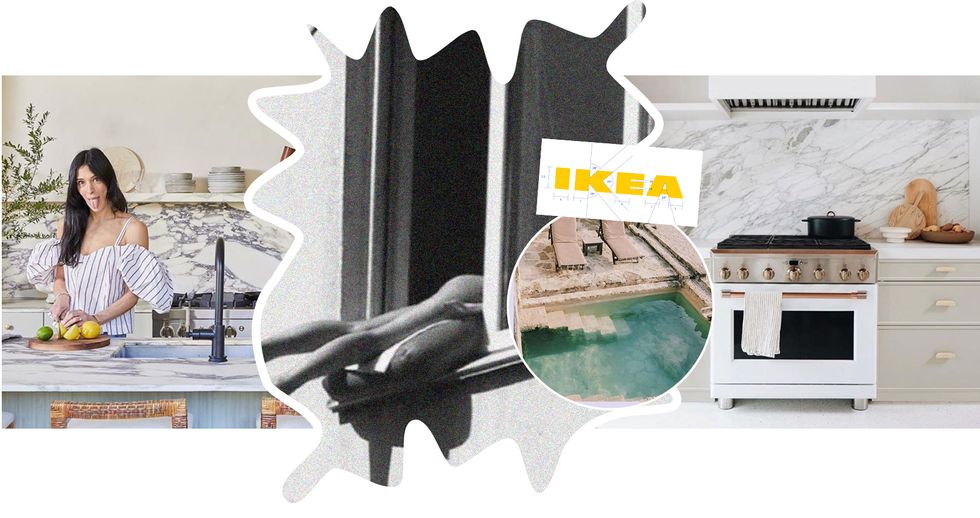 Ashley Combs, Design Director
All of this time inside has left me craving outdoor space. There's no better place than Instagram to find inspiring interior (and exterior) design, and accounts like
@somewhereiwouldliketolive
keep me daydreaming. Since Brooklyn has little outdoor space to offer beyond a nice fire escape for most people, I find myself planning little updates to my apartment instead. Do you know about the genius company 
Semihandmade
? The ultimate hack—they offer beautiful cabinet fronts that fit on IKEA frames to give furniture and storage a custom-designed look. They create special collections with brilliant designers like
Sarah Sherman Samuel
, who's recent gut renovation of her Michigan home is worth a
peek
. Sarah recently talked all things design on IGTV with
Athena Calderone
, whose designs I also can't get enough of. And so, the rabbit hole continues…
Want more stories like this?
Your Culinary Passport: The Shows, Movies, and Books about Cooking We're Into Right Now
The Best Shows, Movies, and Books to Check Out This Week
Everything We Want to Watch and Read Right Now