Fashion Week
Staying true to trusted combinations from sex and sensibility to eccentricity and craft, Italian designers used their strong suits to form fresh narratives for a new decade.
While notions of opulence dominated the
New York
and
London
collections, Milan was all about building on strengths. Turning to tried-and-true pragmatism, subtle sensuality, and the eccentric flare that's served as the city's creative fuel since the mid-aughts, Italian designers put their faith in the familiar without taking the easy way out.
As opposed to banking solely on menswear-inspired shapes to harness sartorial power, the likes of Silvia Venturini Fendi and Miuccia Prada embraced the historical codes of femininity through nipped waists, considered volume, and figure-defining silhouettes fortified by sharp cuts. Elsewhere, gender polarity was bridged by dignified minimalism that reads both timeless and timely—Lucy and Luke Meier's graceful synthesis of streamlined shapes, intricate techniques, and texture at Jil Sander come to mind. Concurrently, the embellished, everyday luxury seen at No. 21, Tods, and Ports 1961 remixed, relaxed, and reinvigorated traditional bourgeois dressing. Meanwhile, Milan's signature quirkiness reemerged through a magpie approach to materials and fantastical narratives including Francesco Risso's DIY take on
Alice in Wonderland
, Alessandro Michele's ritualistic spin on the fashion system at Gucci, and Richard Quinn's sinister recounting of the Space Age for Moncler Genius.
Whether they touted precise practicality or idiosyncratic twists, Milan's standout shows fused unwavering confidence with childlike wonder in its myriad expressions, from tangible baby-doll dresses to overarching themes of exploration and innocent simplicity. It's the basis of Milan's optimism, and unquestionably the winning formula that made its collections so compelling.
---
---
The Trends We Spotted
---
Ranging from Marni's chaotic collages of upcycled factory scraps to Versace's methodically arranged leather and denim panels, patchwork ensembles appeared in an array of forms throughout the week.


Flurries of longline fringe brought a surge of dynamism to classic shapes. Fashioned out of buoyant knits at Bottega Veneta, sleek leather at Prada, and braided silk at Jil Sander, the choppy accent was recast in a leading role this season.


Punctuated with subtle details like delicate ruching and effortless asymmetrical accents, designers used leather midi dresses—in hues from Ferragamo's glossy pewter to Agnona's rich eggplant—to highlight the body's contours.


At Max Mara, Fendi, and Marco de Vincenzo, the traditional collared shirt lost its opacity. Cut from sheer yet structured chiffon and organza, these translucent iterations of the menswear staple are made for playful styling moments.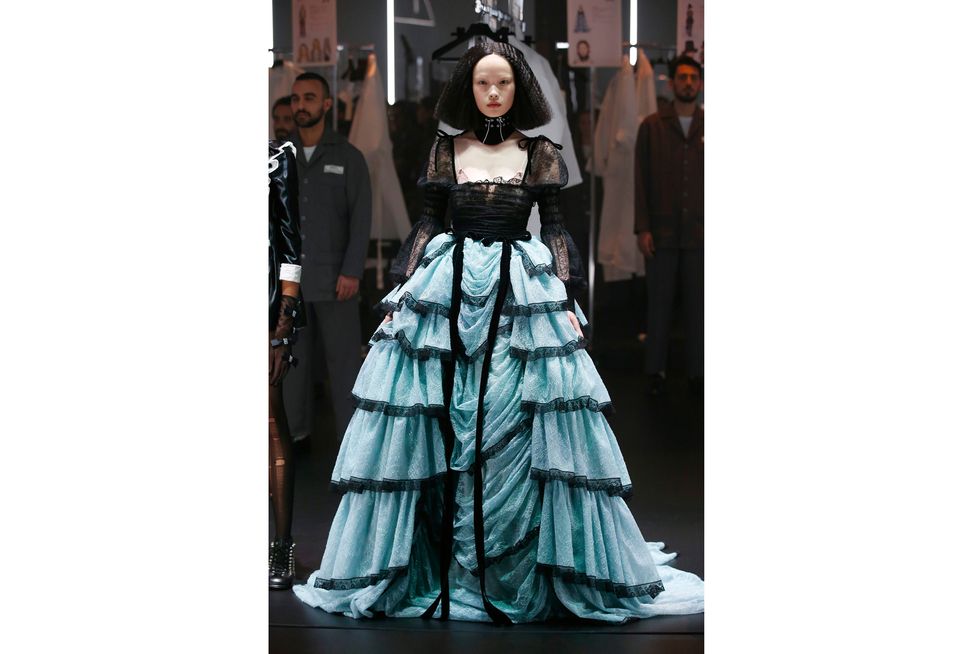 Photo: Getty
Known for putting on epic, Metro Goldwyn Mayer
–
esque productions for Gucci, Alessandro Michele flipped the conventional fashion show on its head. Opting for an inverted layout, the designer brought the backstage to the front of house, allowing guests to see models, hairstylists, and makeup artists amid their preparations. During the show, the cast was dressed by the house's atelier staff on a rotating, glass-walled stage, exposing the hidden aspects of a runway show. Once the troupe of sixty descended from the carousel for a final walk, Gucci's creative team stepped forward for a bow alongside Michele. Despite its demystifying effect, the show's irreverent yet ritualistic undertones made for unforgettable fashion magic.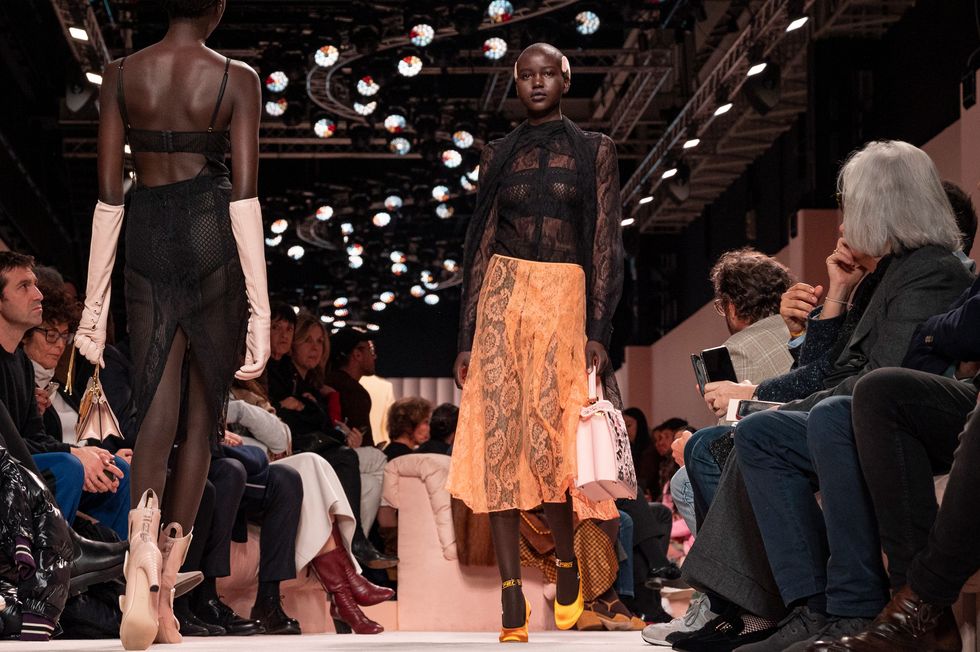 Photo: Getty
Reconciling sensual power with c-suite style, Silvia Venturini Fendi's decisive design gestures—from body-mapping with lingerie imprints on knits and cashmere coats to underwear-as-outerwear cocktail looks and bold strokes of volume concentrated in sleeves and skirts—packed quite the a punch. Stronger for the lineup of powerhouse models (including Liya Kebede, Karen Elson, Paloma Elsser, and Jill Kortleve), the collection made a case for finding freedom in femininity.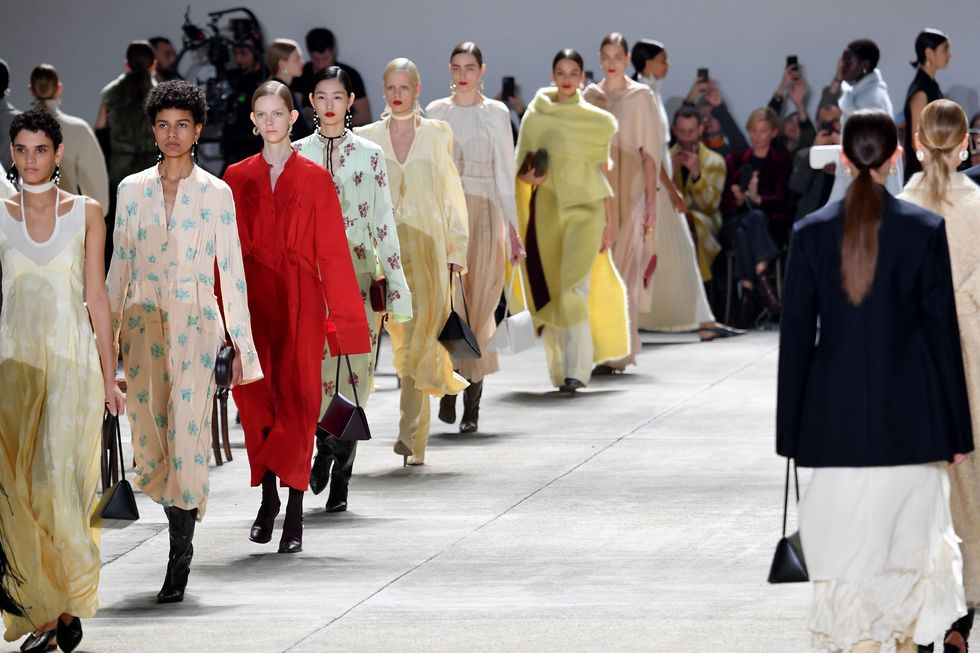 Photo: Getty
Jil Sander's Lucie and Luke Meier aspire to purity. The husband-wife duo's plush chenille knits, braided silk fringe, and precise pleats require the sort of time and attention that a die-hard minimalist might eschew. Wrought with a meditative repetition that results in a crisp uniformity on the Meiers' ultramodern shapes, these complex techniques are soft-spoken yet striking.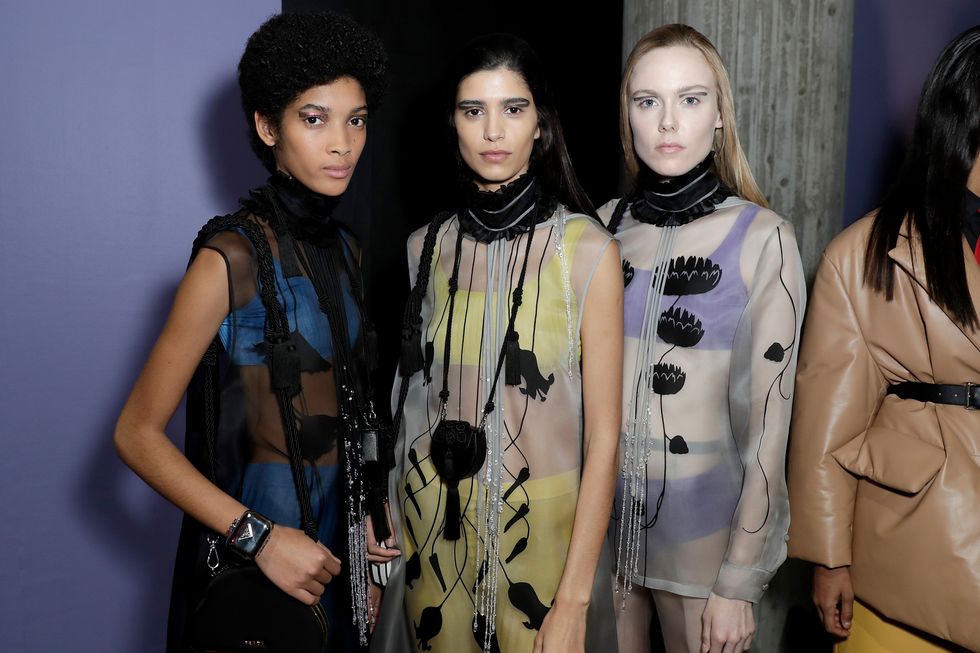 Photo: Getty
This season, Miuccia Prada reiterates one of the central tenets of her oeuvre: Femininity and strength are not mutually exclusive. The designer's stunning sixty-look collection reappropriates conventional tropes of feminine style including flowy fringe, jet beading, cinched waists, sheer layers, and artful florals, portraying them as dominant themes. The range of sensible silhouettes is animated by sprightly colors including azure, poppy red, lilac, and canary yellow. Leave it to Prada to make everyday glamour feel anything but indulgent.


---
Location
---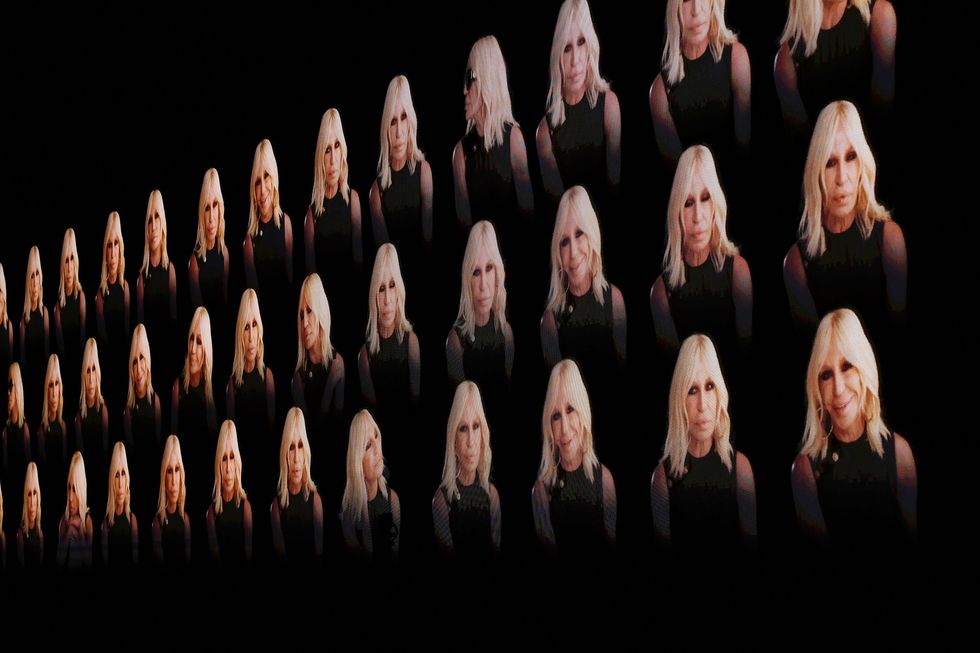 Versace
Photo: Getty
A crucial part of creating the memorable spectacles that show goers have come to expect, high-impact sets make for ample social media fodder. From the large LED screens that mimicked trippy funhouse mirrors at Versace to the lilac-carpeted runway at Boss that circled around a 22-piece orchestra directed by Henri Scars Struck, playing with scale was a go-to technique.
At Gucci, Alessandro Michele's towering, glass-enclosed carousel both revealed the unseen elements of a fashion show while elevating the process on a moodily lit pedestal. Miuccia Prada took the opposite approach, enlisting architect Rem Koolhaas to create a surrealist, sunken piazza—covered in sinuous op-art lines and anchored by a bright red statue of the titan Atlas—beneath mezzanine seating inside the Fondazione Prada. The otherworldly spirit of Koolhaas's symmetrical courtyard carried forward the following day at Marni, where New York
–
based set designer Stefan Beckman sheathed a cocoon-like space with swaths of undyed calico cotton and lined it with squat cushioned seats. (On Instagram, BOF's Tim Blanks comically remarked that it was "not pretty" seeing guests arise from the sunken mattresses.)
Undoubtedly the crown jewel of Milan's dazzling venues, Moncler Genius's multimedia event housed in a cavernous industrial space on Viale Molise showcased twelve designer collaborations. Complete with a fog-engulfed Rick Owens tour bus, wall-scaling models wearing Moncler Grenoble, and a futuristic, pod-like runway created specifically for Richard Quinn's collection, the fete was a music festival—much like Glastonbury according to Jonathan Anderson—for the fashion set.
---
Talk of the Town
---
While celebrations abounded with Walter Chiapponi's debut at Tod's, the tenth anniversary of Alessandro Dell'Acqua's label No. 21, and Emilio Pucci's first collaboration with 2019 ANDAM Grand Prize
–
winning designer Christelle Kocher, two unexpected moments dominated conversations at MFW. While Miuccia Prada disclosed her plans for the future, naming Raf Simons co-creative director of Prada (and disclosing that their first joint collection will show this coming September), Giorgio Armani grappled with pressing issues of now. Amid growing concerns over the spread of coronavirus in Lombardy, the designer held his show without an audience and streamed it online in a first for the house's 45-year history.
Photos: Getty
Want more stories like this?
The Wildest Hair and Makeup Looks from Milan Fashion Week
Everything We Did, Saw, and Loved at New York Fashion Week
Everything You Need to Know About London Fashion Week