10 Coveteur Staffers on How They're Approaching 2020
Bring on the new year.
Living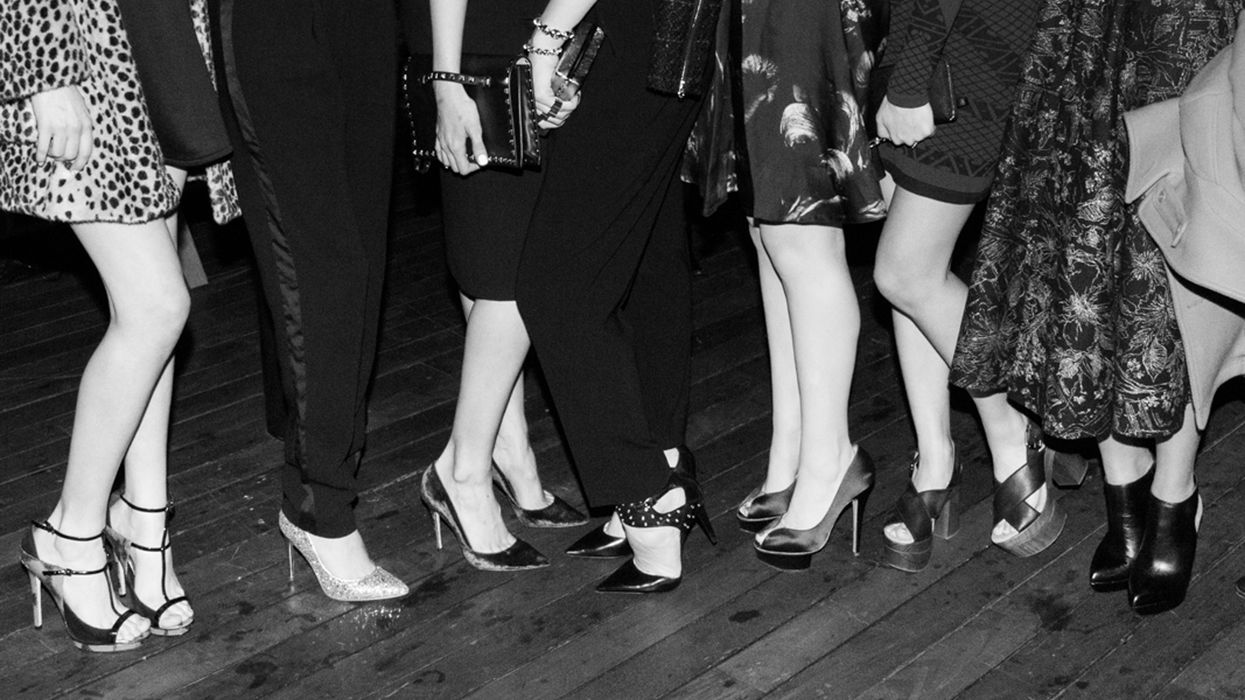 New year…new you? Well, not necessarily. At the top of each year, we're asked by those around us what our resolutions are. But who ever said we had to make any? For 2020 we're making it known that you can approach the new year however you damn well please. Make a resolution if you want, or if you choose to take the year as it comes, more power to you! At Coveteur HQ, some of us are setting small, attainable goals we want to meet throughout the year, some are going the traditional resolution route, and others are going rogue, embracing life as it comes with no specific plan. Ahead, how 10 of our staffers are approaching 2020.

 
---
---
Jodi Taylor
Editor
If I'm being completely honest, I haven't had much of a chance to think about 2020 (anyone else's year fly by at lightning speed?). That being said, something I
'
ve been thinking about a lot lately is how much more confident I became this year, both mentally and physically. This year was the year I went to the gym the least, and I'm not the slightest bit ashamed about it. In fact, I plan to carry that energy with me all the way through 2020 (along with the large amounts of pasta I've been eating). I'm also going to remain crazy about my skin care—the older I get, the more obsessed I become with masks, serums, and sunscreen, and I am not mad about it. Overall though, my main focus is going to be positivity, happiness, and self-love and care. Because honestly, if I'm not showing up for and taking care of myself, how can I do that for my loved ones?
---
Leya Kaufman
Head of Sales

I'm a working mom who operates best at warp speed. But in 2020 I am really hoping to slow down and be present. Sometimes I find myself moving so quickly that I don't take the time to recognize all that I am thankful for—my family, friends, health, fitness, career, and smaller day-to-day accomplishments. Even worse, due to the nature of our industry, I find myself overly digitally connected to everyone that I look up to (or compare myself to), and I often recognize my shortcomings more than my successes. In 2020 I'm going to limit my screen time after work and take more time every day to be present, grateful, and proud of where I am in this decade. And in this moment.


---
Hannah Baxter
Senior Beauty Editor

While I'd love to say I have a whole outline of how I'd like 2020 to pan out for myself, I've been trying to focus less on grand plans and instead set tangible, realistic goals. There's a certain beauty in letting the future unfold without trying to control every little detail—much less stressful. But in terms of resolutions, my sister and I are dead set on taking French lessons together (we both love visiting Paris), and I'm determined to start practicing piano again. The more things I can do outside of work that also don't involve a screen in some way, the more fulfilled I'll feel, and the more I'll appreciate the time I have to myself. Life is only getting busier now that I'm in my 30s, so there's absolutely no reason for me to not achieve the skills I've always wished to have by now. So who knows? Maybe next December you'll spot me in a dark little piano bar in the Marais, living my best life.


---
Halle Lagatta
Production Coordinator

To be frank, 2019 kicked my ass. This year I was truly forced to come face-to-face with myself—all of my flaws, fears, insecurities, and regrets. I found myself in what felt like a bottomless pit of darkness, but in that cold, cold place, I saw the light. I saw that I am capable of anything, really, and that the only person stopping me is, well, me.

On the new moon in Scorpio, I planted my seeds of intention. I want to be healthy, happy, and hopeful. I want to continue to be creative and see my ideas come to life, utilizing new friendships made in 2019. I want to be loved and give love because I know in my heart I have a lot to spare. I want to show myself more love because she deserves it! 2019 was tough, but I'm tougher. I can't wait to see these seeds sprout in 2020.


---
Gabby Sgherri
Editorial Intern

I'm not big on new year's resolutions; in fact, I kind of dislike them. Simply because if there's something I want to change in my life, I want to start ASAP, not in the new year (what can I say, I'm impatient). But I'll admit the beginning of a new year does make me a bit nostalgic, so it's a good time to reflect and regroup. If I had to sum up 2019 in one word, it would be: stress. (Sarah Tonin? Never heard of her.) And that's not the energy I want going into 2020. Something I've learned over the years is that the most important relationship is the one I have with myself, and when life gets busy, it's easy to let that get neglected. In 2020 I want to make myself a priority again. This includes going to therapy regularly (no shame, everyone could use a therapist), working out, making 80 percent of my meals at home (I swear 2019 was the year of takeout), and scheduling alone time. Making those small adjustments will contribute to a happier and healthier me, which is always the goal.


---
Taylor Ford
Head of Social

Though my title contradicts the sentiment, my goal for 2020 personally, and hopefully for everyone, is to spend more time offline and connecting IRL, to filter out what doesn't make us happy (and hopefully this year's election will help filter that out as well), to replace mindless scrolling with creative passions and having fun! *champagne emoji*


---
Annie O'Conor
Audience & Development Manager

January 1st feels like every other day, the same feeling my birthday evokes. Although I know it is a mark of time passed, no radical changes happen in mere hours. I'm very habitual to begin with, but a new year does ignite ideas of what I want to accomplish and things I'd like to improve on. No dramatic haircuts or fad diets kick off for me come the new year, but rather intentions and manifestations. I like to map out what values I'll strive to act upon moving forward in my life as the year turns over. In 2020 I'm focused and determined to work on self-acceptance and self-compassion. If I can treat others with kindness, why not treat myself that way too? On an unrelated related note… I'm also trying to buy less clothing this year. Yes, this may be the antithesis of treating myself, but like I said, no radical changes over here!


---
Jacquelyn Greenfield
Editorial Production Fellow

I'm quite excited for 2020. This year was amazing for me; I reached new milestones and accomplished the goals I set for myself, while starting a journey on finding out who I really am and who I want to become. Although I accomplished what I wanted to, I felt like I was checking off boxes on a to-do list of my life. I still have a set amount of goals I plan to reach next year, but I plan to enjoy the ride this time as I get there, and continue to get acquainted with myself more. Also, I'll be turning 23 in 2020, so Jordan Year, here we come!


---
Ashley Combs
Design Director
I've never been one to set resolutions, but I do find myself feeling emotional every time I watch the world collectively count down to a new year, a fresh start, a clean slate. By nature I'm a giver, sometimes to a fault, and as a mom of a toddler, I've pushed that part of myself to the limit. Too many days in 2019 I woke up and went to sleep feeling burned out and creatively drained. This year I'd like to say "no" more–to leave room in our overly packed schedule (I know you know) to drop by a friend
'
s house for an impromptu glass of wine or sign up for a last-minute hot yoga class. Or, if I'm being honest, sit on the couch by myself and catch up on
The Real Housewives
... because we all need to turn our brains off sometimes.
---
Ariane Martins
Experiential & Brand Partnerships Manager
In 2019 I kept an open heart, made new friends in every corner, strengthened existing connections, and stayed flexible through big changes. There were days and weeks that I really battled with my mind, but overall I got to know myself on another level. In 2020 I want to think less and do more. I consider myself in touch with my cosmic self (I'm rolling my eyes too), and this year I want to connect even more with the earth and my physical self through movement like yoga and dance—and to not worry about how I
'
ll look doing it.
In general, I want to get back to my roots. I'm planning to go back to Brazil (where I was born and my entire family still lives) for the first time in almost five years. I also want to resurrect old interests and talents of mine like drawing, painting, and...drumroll...acting! Yup, I plan to take acting classes in 2020. Now it's on record. I know things won't magically change come January, but the metaphorical clean slate is a nice incentive to initiate better habits. I recently heard this beautiful mantra that I will take into this new year: "I am worthy, rising, and whole, even while piecing together my puzzle."
Want more stories like this?
Resolution: Be a Better Friend
Help! I'm an Adult and Need New Friends
How to Keep Your Hair Hydrated This Winter