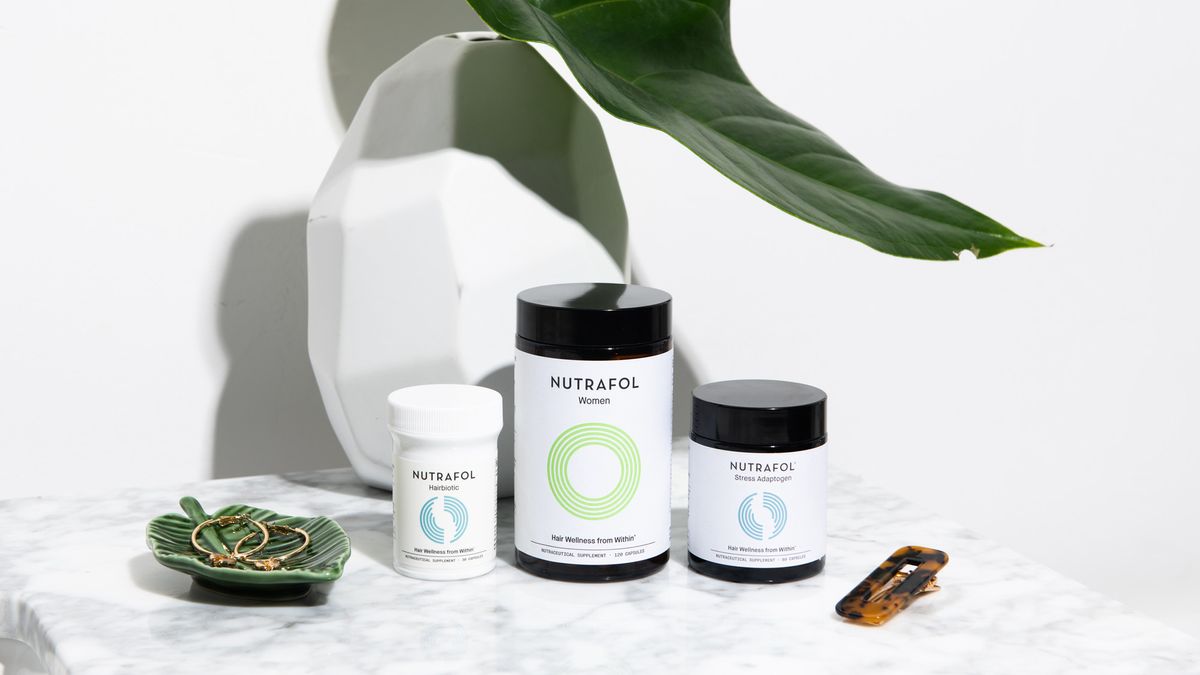 Hair
We Tried the Hair Growth Supplement You're Seeing Everywhere
Princess hair dreams, becoming a reality. In collaboration with Nutrafol.
Lustrous, thick princess hair—as far as our beauty bucket list goes, that's consistently right at the top. While we've experimented with cool-girl shags and polished bobs, there's something about a lusciously thick head of curls that gets us every time.
Now, of course, if only it were that easy to actually *grow* said princess mane. Most of our attempts to grow out our hair end in split ends and frustration. We'd pretty much accepted that our hair length was our hair length, and that was it.
And then a whole slew of hair growth supplements hit the scene. While we've made our way through our fair share of ingestibles with limited results, we were still intrigued when
Nutrafol
first came on the scene. And after hearing amazing things anecdotally from friends who'd tried and loved it, we knew it was time we got back on the wagon to see for ourselves. Even better is the fact that the two staffers we enlisted to try it out are brides-to-be getting serious about their
pre-nuptial beauty routines
. Below, their experiences.
---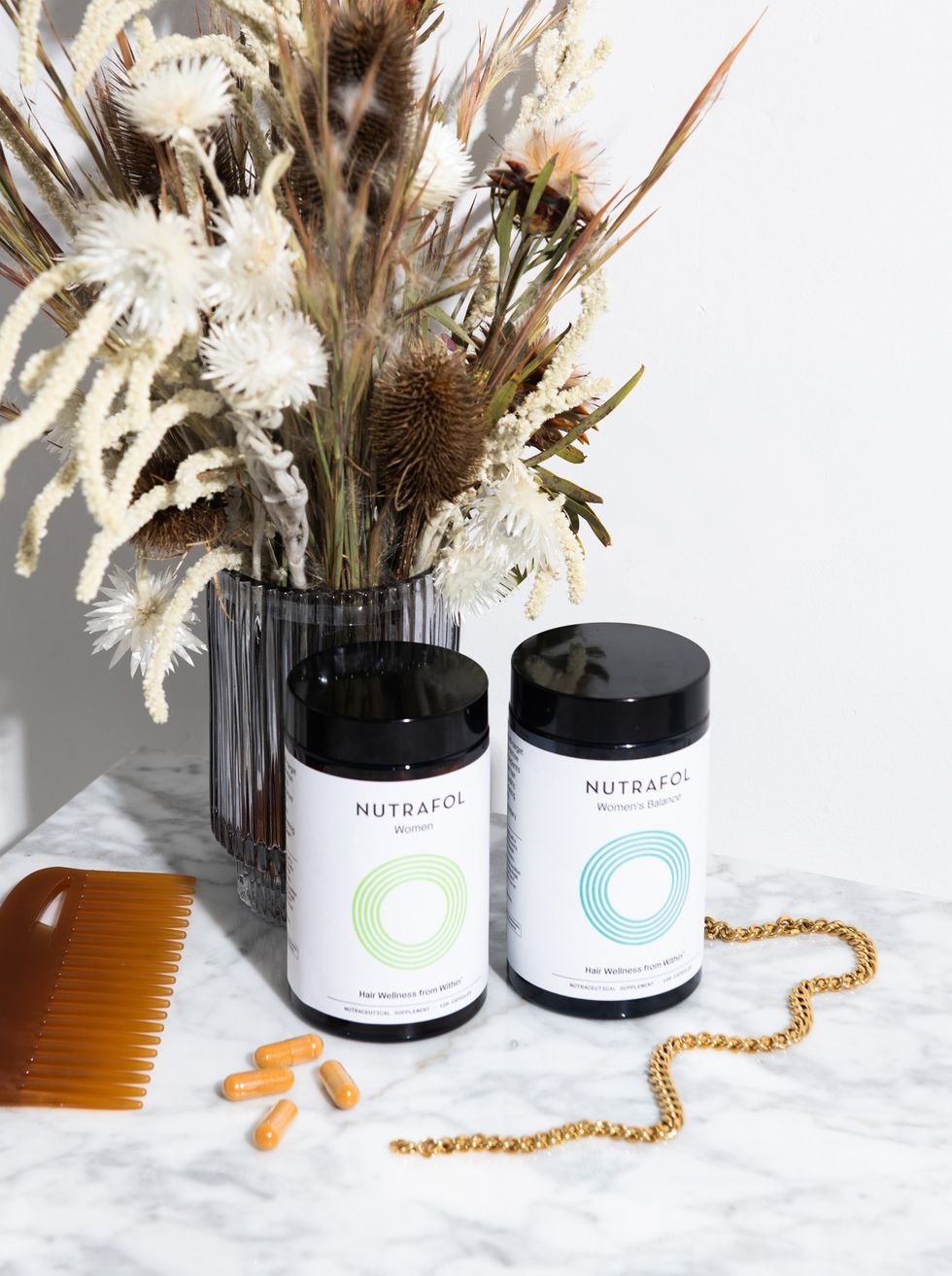 Stephanie Mark
Co-Founder & EIC
"For the past few years, I've been very into keeping my hair on the shorter side—shoulder length MAX—but leading up to my wedding, I had a change of heart. I had a vision of wearing a really long, thick ponytail for my rehearsal dinner, and putting my hair up for the ceremony—two styles that required some length. While I stayed away from cutting my hair and tried not to dye it to keep it healthy, my friend Kimmy turned me onto
Nutrafol
after I kept commenting on how jealous I was of her long hair.
"I started taking the supplement about six weeks before the big day. Off the bat, I loved that it was natural, since I was growing very aware of what I put into my body. I also incorporated it into my already established vitamin/supplement regimen, so it fit easily into my day and I never forgot to take it. After a couple of weeks, I definitely noticed my hair felt better in the shower, and I was starting to see some real growth. By the time I had been taking the supplement for one month, I was thrilled at how my hair had finally passed my shoulders (my goal) and gave me a lot to work with on my actual wedding day.
"Fast-forward, and I now
love
my long hair. Not only do I love the length, but I also see a really big difference in my overall hair health. Since I started my regimen without taking the quiz, I am excited that I am now properly 'diagnosed' and that I can enhance my entire Nutrafol regimen."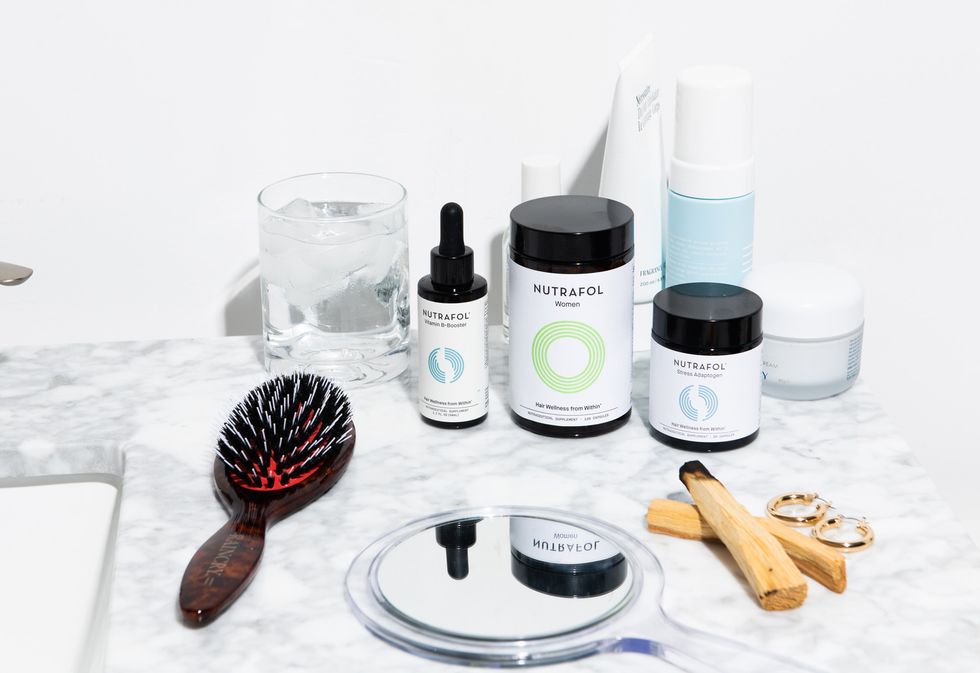 Kelsey Grad
Marketing Manager
"As a self-proclaimed supplement connoisseur, I am always game to try something new, especially when it boasts science-backed results. I seek out supplements that deliver and have ingredients I recognize. I steer clear of chemicals I have never heard of, as I am cautious when it comes to what I put into and on my body.
"With my wedding a few months away, I decided to give Nutrafol a try! Longer, healthier hair sounds good to me. Plus, I love that Nutrafol delivers results from the inside out, with proven ingredients for gut health as a major bonus. I took
Nutrafol's online quiz
, answered a few questions that ranged from lifestyle to hair type, and I was quickly recommended the
Women product
.
"Since I already have an existing supplement routine, I had to incorporate my new supplement into my set regimen. After some trial and error, I found that my body responds best to the supplements when taken with a full meal, so I began taking the pills daily with lunch.
"Fast-forward six weeks, and I love the way my hair looks and feels since taking Nutrafol. As someone with highlighted blond hair, I feel as though I am taking steps to offset the damage that comes with color-treating it every few months. My hair is breaking less at the ends and is less dry overall. As I prep for my wedding, I am excited to maintain my newly healthy, shiny hair. Plus, I love that I am putting safe ingredients in my body without added sugars or dyes.
"With the wedding day fast approaching, I am glad I have found a hair supplement that meets my healthy standards and fits into my lifestyle; not to mention it's a huge plus to not worry about having healthy locks for my big day."