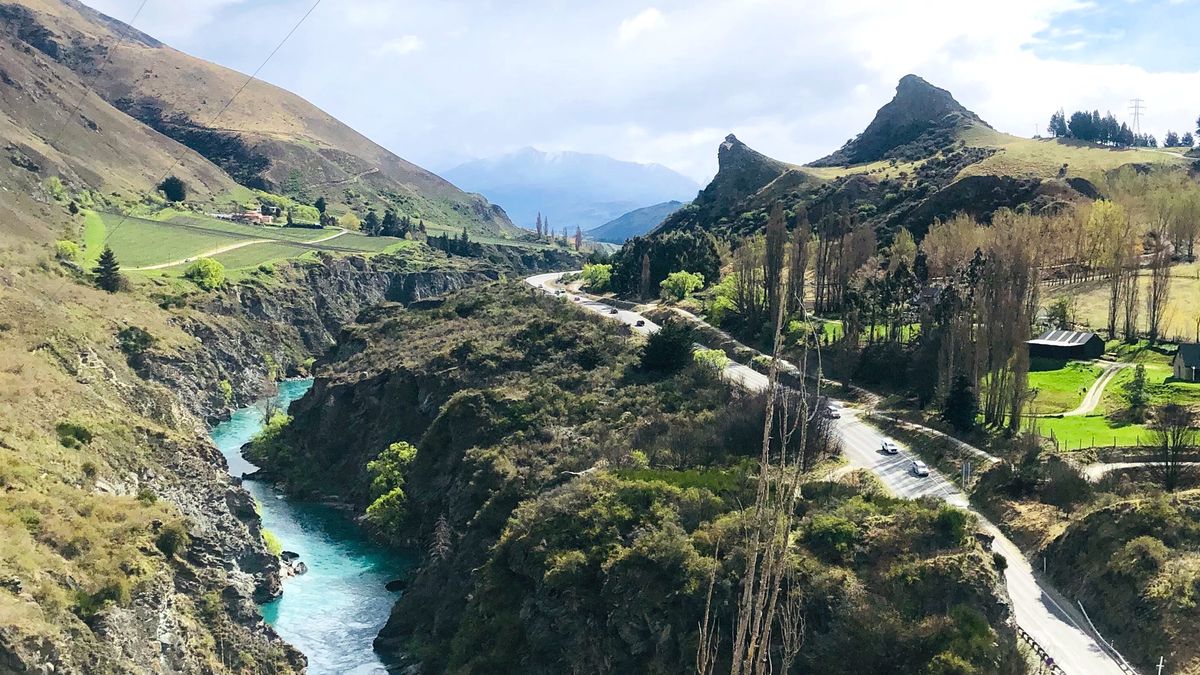 Travel
The designer's tips for capturing the most idyllic views, heli rides, and, of course, the food and wine.
By:

Karen Walker

Photos:

Courtesy of Karen Walker
When I speak to people who've not been to
New Zealand
, they usually say something like "I'd love to go, I hear Queenstown's amazing!" And they're right. There's something about this place, held tight in the embrace of mountains, that gives it a cocooned and almost hidden feel that makes it so deserving of its reputation as the jewel in
New Zealand
's already impressive crown.
As is usually the case, the bit people talk about is just the tip of the iceberg. The Queenstown–Lakes District has Queenstown, yes, but so much more. I've visited the region dozens of times, and I'm still enchanted on every visit. There's so much to love—the landscape, which is breathtaking at every turn; the air, which is thin and clear and alpine; the sense of escape and adventure that's intrinsic to it, and that's not even starting on the wine and food. Here are just a few of my top tips for your next visit to the Queenstown–Lakes region.
---
THE LANDSCAPE
It's impossible to take a bad photo here—Mother Nature's done it all for you. If you're flying in, the approach is stunning. You definitely want a window seat for this one, as you get almost unnervingly up close and personal with the Remarkables mountain range that the airport nestles against. From that moment on, everywhere you look has astonishing mountain ranges, pristine glacial lakes, or crystal clear rivers, often set against the bluest sky you've ever seen. So keep your eyes open, enjoy the changing light on the mountains and lakes, and breathe!
THE ADVENTURE
We've all seen the images of people jumping off the bungee bridge in Queenstown, and it's certainly famous for that, but that sense of adventure people are looking for when they pay good money to plummet 43 m (140 feet) off a perfectly sound bridge towards a particularly rocky and fast-moving, though picturesque, river can be found in many other less counterintuitive ways.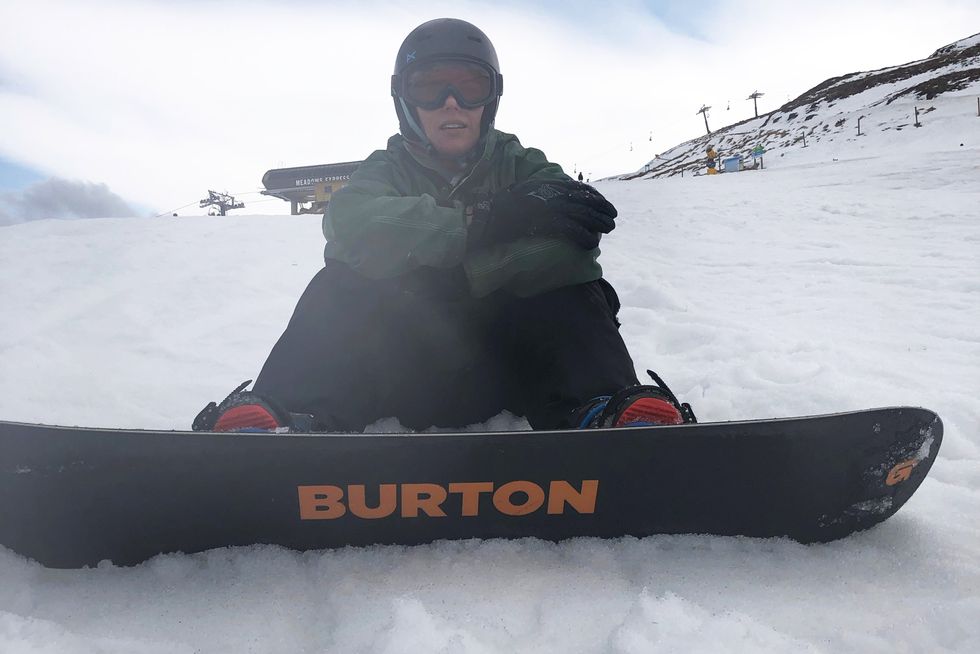 My absolute favorite thing to get that rush is to have a day or two of snowboarding. There are plenty of fields in the region, but the one that will always feel like home to me is Coronet Peak. The views are so astonishing that I can't complete a single run without stopping, sitting, gazing, and taking yet another photo of the always stunning Wakatipu Basin.
Heli Ride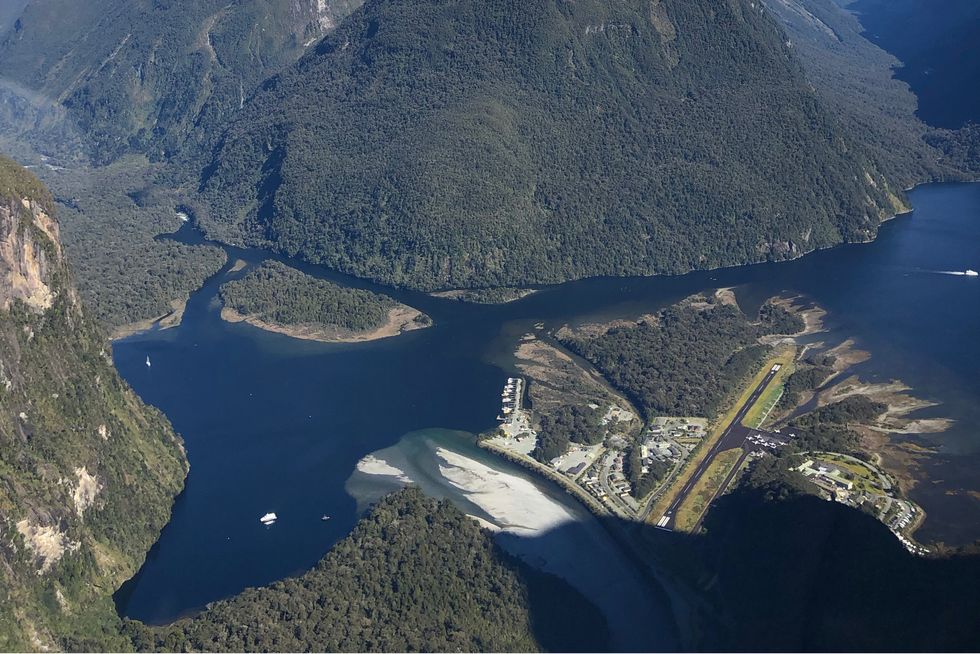 Nothing says adventure quite like a chopper trip, and the best one I know of is Queenstown to Milford Sound with Over The Top—The Helicopter Company. Milford Sound is one of the many awe-inspiring glacial fjords that call Fiordland National Park on New Zealand's West Coast home. Because of the Southern Alps that divide the two, the drive's almost five hours, but the flight's only around 20 minutes and something one never forgets. Once there, the boat trip around Milford Sound is one of those breathtaking experiences that really puts you in your place, giving you a sense of insignificance in time and place. If you're really lucky and the weather comes to the party, it's the landing on one of the region's glaciers on the way home that really brings tears to the eyes. Literally. I blubbed like a baby for most of the time we were atop the pristine, snowy plateau covered in virgin snow with perfect blue sky and the mountains all around. It may have been the fact we were at 2,000 m (6,500 feet) above sea level, but it was mostly due to the sheer beauty and scale. A once-in-a-lifetime experience I still can't quite take in.
Jet Boat
It should be a legal requirement for any visitor coming to the region to do a jet boat trip. They are so much fun and a great thing to do as soon as you arrive to blow the cobwebs away. There are many to do, and I do love them all for their different settings, but there's something about the Shotover Jet, with its mix of astonishing landscape and downright terrifying high-speed manoeuvres, that makes this the must-do trip for me.
Bike
The Queenstown–Lakes District is perfect for those who like to get out on the bike. There are plenty of leisurely and drop-dead gorgeous bike trails to be had around Queenstown and Wānaka, especially with stunning mountain, lake, and river scenery. There's also the Central Otago Rail Trail, which can be done in anything from one to four days. I did the one-day portion on my recent trip as a test run, and can't wait to come back to do the whole thing.
THE MUST-DO TOURIST SPOTS
The TSS Earnslaw's been pottering back and forth across Lake Wakatipu since 1912 and is one of very few coal-fired steamships still in operation. Seeing it from the shore adds so much to the picturesque lake scene, but being on board is even better. It's especially fascinating to walk through the engine room and see the coal furnaces and pumps hard at work. The Earnslaw's route is Queenstown to Walter Peak Station a short way up Lake Wakatipu. Walter Peak's a great place to get a view of the rest of the lake by foot or, in our case, by horse.
This area's got sensational driving, and my favorite routes are Queenstown to Glenorchy for the best lake views of your life, Queenstown to the charming town of Clyde for astonishing river scenery, and Queenstown to Wānaka for the best mountain views. Each drive's only about an hour, and the best thing is coming back again and having it all over.
STAY
There are no shortages of great lodges, hotels, and houses in this part of the country, and when I'm traveling with my family and with loads of snowboarding gear, I do prefer a house to a hotel. There's a lot to be said for the space, kitchen, sofa, and laundry that a house can give you. In Queenstown, I always work with Touch of Spice to find just the right property, and they've never put me wrong. On this trip, we had a lovely lakeside home, Hyde Loft, right in town, followed by the astonishing Bob's Cove, a lakefront home of vast proportions and perfect design. Both great in every way. In Wānaka, I always go to Release Wānaka, who have anything you could wish for. On this trip, we stayed in a fabulous lakeside home, Aurum Villa, that was perfect for lake and mountain gazing.
EAT AND DRINK
Of course, in one of New Zealand's finest wine regions known for its pinot noir, there's no shortage of vineyards and plenty of ways to see them. I always think it's fun to do a day of wine tasting and best to have a driver on hand for that. We go with Black ZQN, as they really know their stuff and certainly take care of you. My favorite vineyards in the Queenstown region would have to be Amisfield, Wet Jacket, Chard Farm, and Kinross, and also Rippon in Wānaka, but there are so many and they're all excellent, so it's very hard to go wrong. They all ship, too, so no problem getting your selections home.
There are plenty of great places to eat, but my current favorites in Wānaka are Kika for astonishingly good dinner and Florence's Foodstore and Café or Big Fig for great lunches. The Cardrona Hotel is an iconic spot halfway between Wānaka and Queenstown for a bit of history and a really great coffee by the gorgeous fire. In Arrowtown, just outside of Queenstown, have brunch at The Chop Shop or, if you're there in the evening, drinks at Blue Door Bar followed by dinner at Aosta. In Queenstown itself, the must-visits are Eichardt's at any time of day for cosy, cocooned fire- and lake-side luxury, The Sherwood for excellent, modern, and often homegrown food. Patagonia Chocolates is great at any time of day—obviously. Other great Queenstown spots include Blue Kanu, White and Wong, Kappa, and Ivy & Lola's.
For something really, truly special, get Fabien Simon from My Private Chef over to wherever you're staying to cook a meal for you in your own kitchen. A spectacular way to finish a trip or celebrate a special occasion.
SHOPPING
When I'm in the area, I don't tend to hit the shops, but I do love Bound Books & Records in Queenstown and can easily kill half an hour there. Angel Divine in Queenstown and 47 Frocks in Wānaka are both excellent if you're after a few new pieces for the wardrobe. The Gold Shop in Arrowtown is, like the name suggests, a gold shop and speaks back to Arrowtown's early days as a gold prospecting town; it's home to the largest collection of locally found natural gold nugget specimens. It's a must-visit. Just a few steps away is The Remarkable Sweet Shop, which is a must for those who love good-quality fudges of any type. I never go past the salted caramel and the triple chocolate.
TIME TO VISIT