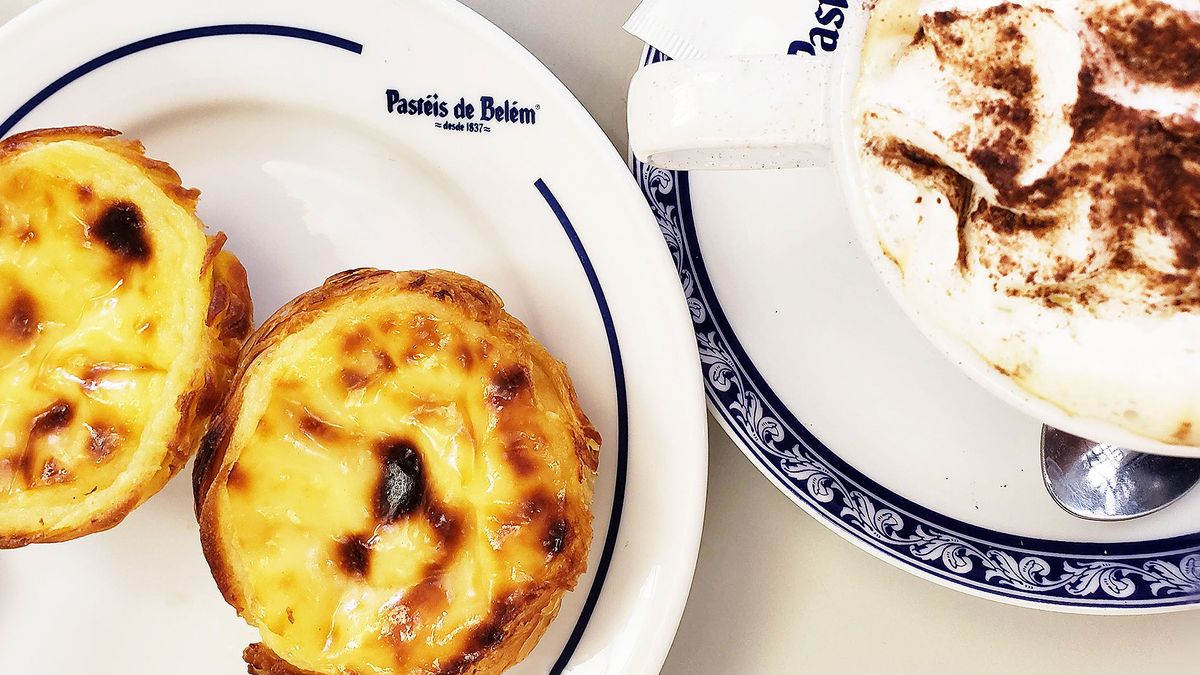 Food
News you can use.
Noah Lehava
On my finest journalistic endeavor to date, I assigned myself the hard-hitting task of scouring
Lisbon
for the flakiest, creamiest, and just-perfectly-sweet
pastel de nata
—or, as us non-Portuguese speaking novices say, the Portuguese egg tart. I ventured up 80-degree cobblestone roads in flimsy 
minimalist sandals
, took a 15-minute Uber, and sat for an hour with a friend and a coffee under the Iberian Peninsula sun with nary a deadline looming. It was grueling work.
Nawt!
Below, I rank the tarts of the city's best pastry shops.
---
Rua de Belém nº 84 a 92
1300–085 Lisboa
Everyone. I repeat, every. one. will tell you to venture outside the city center of Lisbon to Belém, the birthplace of the egg tart. As the story goes, the blue-door pastry shop, Pastéis de Belém, was given the secret recipe from the monastery, Mosteiro dos Jerónimos, next door, back in 1837. Nowadays, locals will groan and call it a tourist trap—but there's a reason its line wraps around the block: It's good. Here's my first tip—or at least it was my experience on the day I went there—go between sittings to avoid the hour-long wait. 2:00 PM was our sweet spot (no pun intended) for dine-in, and we only waited 10 minutes before we were seated. There are over 400 seats hidden in three large dining rooms behind the front counter. The vibe is a little cafeteria, not so much quaint pastry shop, but the service is efficient.
But let me get to the good stuff: the tart. The filo pastry was light and crunchy and had a hint of sweetness that balanced the cream inside. The filling was surprisingly not as sweet as I expected. It seemed as though most of the sweetness came from the pastry. It was delicious, but missing a little something. Still, I walked out with a sleeve of six for the ride home.
Rating: 7/10
Manteigaria
Rua do Loreto 2
1200-108 Lisboa
When I walked into my hotel, the Almalusa in Chiado, with my Pastéis de Belém bag (it's like toting a bright orange Hermés paper bag, everyone will notice), the concierge stopped me to gush over Manteigaria up the street. It's where the locals go, she told me. Tucked just outside Lisbon's shopping hub, what can only be described as a pastel de nata bar, Manteigaria, is the perfect option if you're looking to avoid lines. Order an espresso and a tart, and pull up a chair at the counter to watch hundreds of fluffy, creamy tarts being made.
Let me tell you, my first bite into this sweet, creamy tart was life-changing. I'm still dreaming about it three weeks later. The custard filling was
just
sweet enough that you could likely down four in a sitting, and the pastry was so buttery and flaky, you'd lick the crumbs off the plate. This was my favorite spot, bar none.
Rating: 10/10
Praça da Figueira 18 B
Rossio, Lisboa
This place has pure history. You'll feel it in the ornate, gold-trimmed curved walls and mirrored ceilings. You'll taste it, too. Six generations in, Confeitaria Nacional has been whipping up the city's most delicious confections since 1829 and are the official suppliers of the Royal House. So, yeah, they're probably good enough for you, too. While the other pastries housed behind the pastry shop's glass shouldn't be missed—and are made for your Instagram feed—we're here to talk tarts. And they are good. The custard filling is slightly sweeter and more dense than its aforementioned counterparts. But the balance with the texture of the shell is where the magic truly happens. I dare you to eat just one.
Rating: 9/10
Want more stories like this?
The Best Places to Instagram Lisbon
Tel Aviv: The Next Big Destination for the Fashion Set
5 Reasons Why Southern Portugal Should Be Your Next Trip