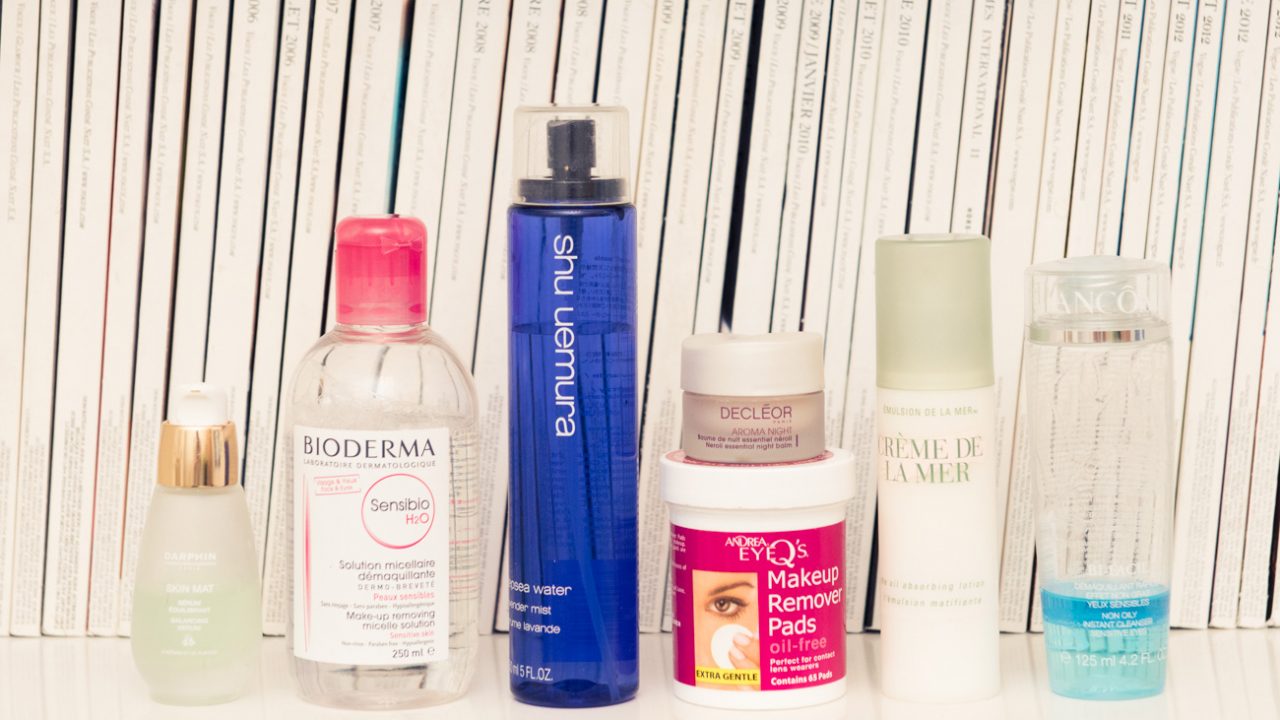 Your Halloween Skin-Care Recovery Guide
Because costume makeup is not pore friendly.
While we preach good skincare habits like they're commandments—wash your face every night, moisturize, use SPF religiously—we'll also be the first to admit that we're human and have slip-ups now and then. Like once every six months (ish…) when we go to sleep with our eyeliner on or forget to reapply sunscreen. Halloween night, however, is no time to be lazy, no matter how many Jack-O-Lantern cocktails you had or how exhausted that sugar crash is making you feel, the primary reason being that your costume likely involves a bit of makeup and leaving that stuff on your face for longer than the length of a party is a recipe for disaster. Your go-to evening regimen of cleanser and lotion just isn't going to cut it, especially if you've globbed on children's face paint from CVS (which, let's be real, you probably have). We turned to the pros and asked them how exactly we can late-night cleanse ourselves of our costumes and tend to any mishaps left behind.
Step 1: Prep
"To start, make sure your face is properly hydrated and moisturized before you apply any face paint or makeup. This minimizes any drying out and cracking of makeup throughout the night. It will also help to ensure that after the deep cleansing at the end of your night, your skin won't be left feeling stripped or extra dry." —Sajel Shah, FOREO
"When applying makeup, be sure to use clean brushes, especially if you are borrowing from someone else or if a friend is helping you create your Halloween look. Be careful around the eyes, as the pigments in costume makeup can be irritating, especially if you've never used that formula before." —Elena Arboleda, Head Aesthetician, Mario Badescu Skin Care
Step 2: Makeup Removal
"Most makeup is oil-based, and since oil dissolves oil, use a makeup remover oil like Mario Badescu Carnation Eye Makeup Remover Oil, or an oil-based cold cream like Mario Badescu Cucumber Makeup Remover Cream. Apply enough remover to cover the skin (be careful not to over-apply to the eye area so that oil doesn't seep into the eyes) and let it sit for a minute. This gives the remover some time to make contact with the makeup and get to work breaking it down. Next, take a large cotton pad or clean face cloth, saturated with warm water, and gently wipe over the face in outward sweeping motions. Be careful not to be too rough with your skin. No pulling or tugging. If any makeup remains, repeat." —EA
Step 3: Cleanse
"One of the most important steps is cleansing—to remove layers of costume makeup, use a gentle cleanser to emulsify and the t-sonic pulsations from a FOREO Luna Mini 2 to drive out impurities—dirt, oil, and makeup residue—from your skin so they're not left to clog your pores later. Start by cleansing your chin, and move along your jaw to your ear using upward strokes, then continue to cleanse the whole cheek. Repeat on the opposite side. Then, start from the center of your forehead, moving the cleanser with outward strokes. To cleanse the nose, glide up and down one side, and switch to the other side." —SS
Step 4: Tone & Moisturize
"Run a toner over the skin after cleansing. Rose water acts as a natural astringent and it can help minimize pores and reduce the chance of a breakout. Always apply a light moisturizer after washing off heavy makeup, and never forget an eye cream. Christine Valmy Valessence is a go-to for eyes." —Tess Adams, Esthetician and Owner, Take Care Spa
Step 5: Mask
"After you remove your Halloween makeup, your skin will deserve a little extra attention. If you tend to be on the dry side, a soothing and hydrating facial oil like Mario Badescu Rose Hips Nourishing Oil will do wonders to help restore balance. For those who are combo or oily, a gentle clay-based mask like Mario Badescu Flower and Tonic Mask will help purify and lift impurities from pores." —EA