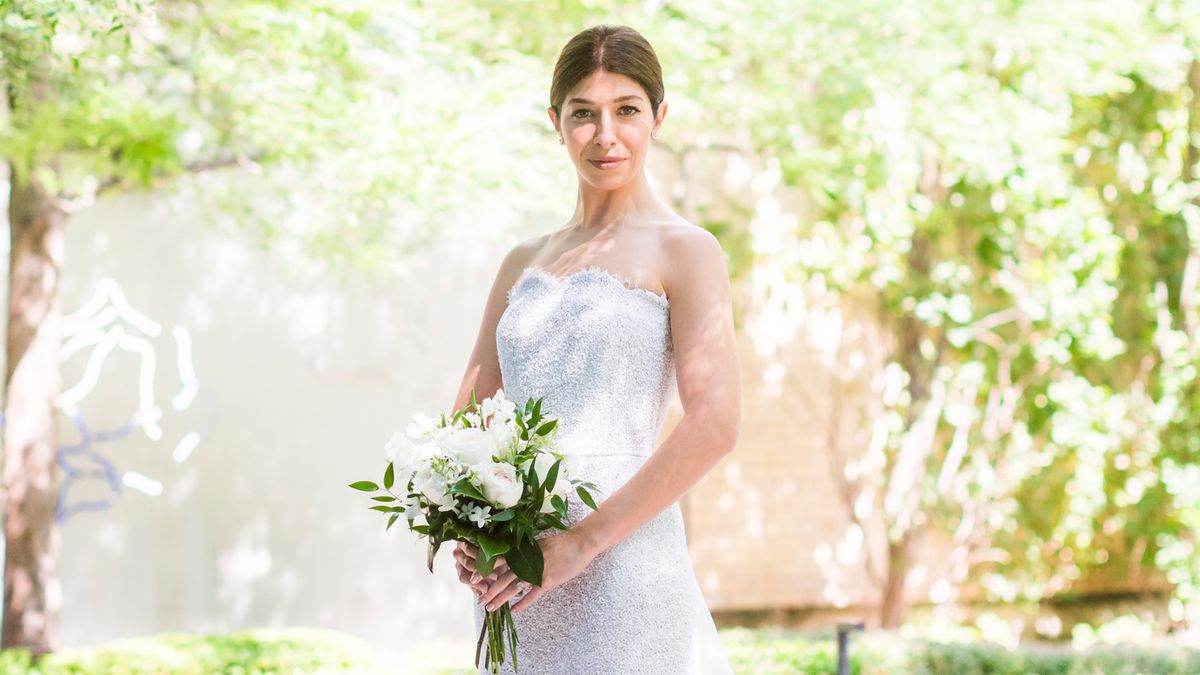 Skin
My Custom Pre-wedding Beauty Regimen
Lasers, botox, fillers, and more.
While planning my wedding, I considered myself to be pretty low-maintenance in terms of orchestrating the big day. I gave my opinion on things, but was of the general mind-set that the wedding planners we hired knew best and would execute the most amazing day possible.

There were also areas of wedding planning where I was...overzealous. Beauty being one of them. In order to set up the perfect pre-wedding beauty regimen, I went to my friend and the person basically in charge of my face, Lauren Abramowitz, at her practice, Park Avenue Skin Solutions. After talking with Lauren, we established what my goals for the wedding day were—super-clean and clear skin, more definition in my jaw and cheeks, and a perkier behind! We then mapped out a four-month plan of how to get me there before I walked down the aisle.

Ahead, Abramowitz breaks down my treatments and offers tips for brides-to-be.

Botox: "Using my signature micro-droplet technique, we 'micro-dosed' Botox on Stephanie's forehead and eye area to slightly elevate the brows and create facial symmetry. We also used Botox on [her] underarms for hyperhidrosis (excessive sweating). Botox cannot be reversed, but its effects will wear off with time (typically 3–4 months, but [it] varies from person to person)."

Filler: "After a full consult and in-depth discussions, we agreed that the two areas of Stephanie's face lacking volume and projection were her chin and cheeks. We added mid-face volume to create a more well-defined cheekbone. This resulted in a 'lift' in her mid-face, which also softened her naos-labial folds. We added Juvederm Voluma to her chin to support her naturally full lips and create a more streamlined jawline. Hyaluronic acid dermal fillers are a great option for adding volume, hydration, or for lift and hold. All of these products can be dissolved, which is a great insurance plan for patients skeptical about the outcome with dermal filler."

Blue light: "LED therapy using blue light is a great option to treat acne-prone skin. The wavelength of this specific light destroys the bacteria that causes acne. We used this as a preventive treatment to ensure that she didn't break out on her wedding day."

Lumecca: "The Lumecca is a high peaked powerIPL (Intense Pulsed Light) treatment. It reduces pigmentation and scarring, decreases pore size, and evens out skin tone. We typically recommend three treatments over a three-month period to start. Stephanie has great skin, so we only did a few of these treatments to give her complexion a boost before the wedding."

EmSculpt: "Stephanie did a series of four Emsculpt treatments on her gluteus to give her tush some lift, definition, and perkiness. She was the perfect candidate for this device, as she eats healthy and works out three to five days a week. Emsculpt works by using high-intensity focused electromagnetic energy to induce supramaximal contractions for the glutes and the abdomen, thereby building muscle and burning fat."
 

Abramowitz's Tips
Cost:
 "I customize a treatment plan for each patient based on their wants and needs. Some want to work on body contouring, while others prefer to focus on the face. We offer a wide range of non-invasive procedures at all different price points. If you are on a tight budget and looking for a beautiful glow, invest in LED treatments, light
chemical peels
, and a medical-grade topical."
What's new and next:
 "Requests range from underarm Botox to inhibit overactive sweat glands, to fat-dissolving injections called Kybella to spot-reduce small, stubborn areas of fat near the bra line and underarm region. The newest trend I
'
ve seen is a strong desire for symmetrical facial features. Known as full-face globalization, the results are such that at any angle, the face is appealing. This includes small injections with dermal fillers and neurotoxins in specific areas of the face to create full face harmony. (Think chin, lips, cheeks,
jawline
, nose). Typically, we start the journey three to six months prior to the big day."
Don'ts before the big day:
 "Don't get Botox or dermal filler one week before your wedding. I like to test-run these procedures several months prior so we know at what stage you like the way you look best. Most of my patients (as well as myself) favor Botox six to eight weeks after it
'
s injected. We then reverse-engineer six to eight weeks pre-wedding. My filler injections require time and patience. It typically takes several office visits over several months to achieve full face goals.
"Don't get laser or light treatments the week before your wedding. Although there are some light treatments that are safe to do closer to the big day, I prefer to have my brides ready to go one month beforehand. Anything at anytime can happen, so we always take a conservative approach to laser treatments.
"Don't start a medical-grade skin-care regimen one week before your wedding. (I also recommend being on a medical-grade skin-care routine whether you are getting married or not!)
"Don't jump around to different practitioners. Do choose a specialist who has your best interest at heart and aligns with your aesthetics.
"Do not go discount! Cheap Botox is never good, and good Botox is never cheap. Same with filler." 
Want more stories like this?
Bridal Beauty Treatments You Should Try Before the Wedding
Shop the Most Glamorous Hair Accessories for Your Wedding Day
Makeup Artist Kelly J. Bartlett on the Biggest Trends in Bridal Makeup