Skin
We put Georgia Louise's newest skin-care tool to the test.
Ever since Cate Blanchett uttered the words "penis facial" to the press, beauty devotees have been nonstop buzzing about Georgia Louise's EGF treatment. But even if you're lucky enough to live within driving distance of her Upper East Side atelier, getting an appointment can still take
months
, and as we all know, sometimes you need a glow-up ASAP. Thankfully, that's now possible, courtesy of the celebrity facialist's newest product: the
Hollywood EGF Micro-Needle Therapy System
(MTS).
The kit includes a handheld tool that provides a micro-needling treatment as well as ion infusion to target fine lines, enlarged pores, dullness, and uneven skin tone. When we met to preview the device, Louise explained that rather than using the roller tool that we often see for micro-needling outside of a dermatologist's or aesthetician's office, she created one-time-use, BPA-free plastic micro-needles that, because of the surrounding shield, make it safer and easier to use, especially since there's no risk of puncturing too deep into the skin. The 20 needles will stay well within the recommended .25 mm guidelines for micro-needling. The added use of galvanic currents during the at-home treatment also ensures your products are thoroughly absorbed, thereby maximizing their effectiveness.
And because the facialist wanted to guarantee that you really are getting that signature Georgia Louise treatment, the kit also contains her ionized Hollywood EGF Serum, which you apply before using the micro-needling tool. It's a blend of five polypeptides to help brighten your complexion, as well as hydrating hyaluronic acid, copper, and green tea to soothe. If you experience any redness from the micro-needling treatment, the serum works simultaneously with the device to ensure your skin is glowing post-treatment, all with minimal downtime.
---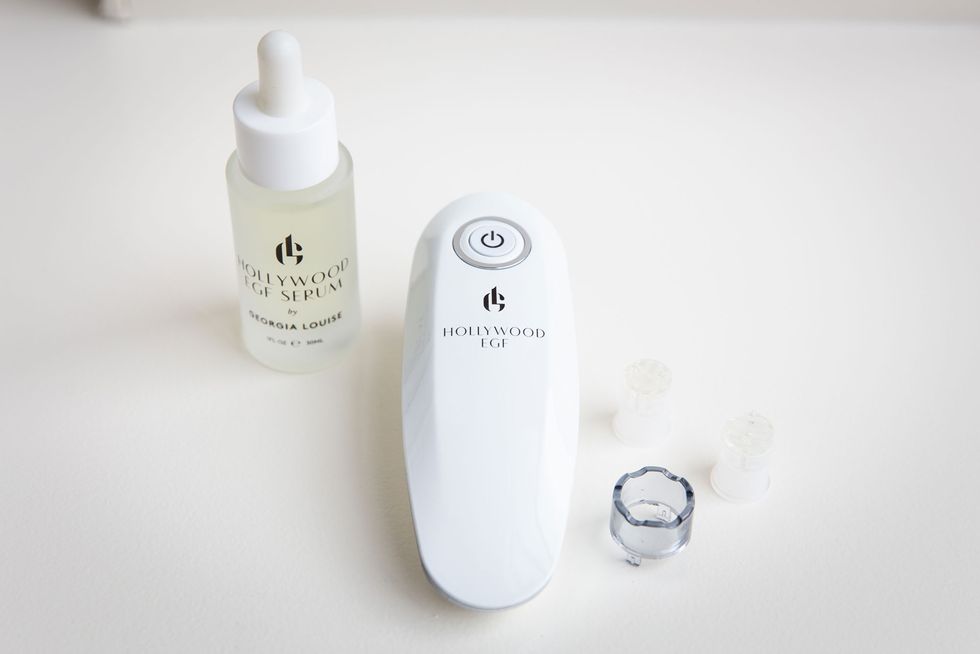 This editor hasn't always been a fan of micro-needling treatments, as it still makes me slightly twitchy to willingly inflict dozens of tiny punctures upon my skin. But as a fan of both of Louise's
two previous
skin-care launches
, I knew I was in safe hands to use this on myself. She recommended a once-a-week treatment ("EGF on a Wednesday!" she cried as I exited the preview), so I have been dutifully powering up my tool for the past two weeks.
Compared to other micro-needling devices I've tried, this feels much more controlled, especially since I don't have to worry about maneuvering a roller around my face with the exact same pressure throughout. It's like a soft scratch—not unpleasant, but it's definitely not a facial massage. Even on my most sensitive skin, though, like my neck, it never left red marks or any irritation other than a faint flush that faded within ten minutes. In the short amount of time I've used the tool and the serum, I've been surprised at how soft and even-toned my complexion has looked and felt, especially as I battle hyperpigmentation from a recent bout of hormonal acne. I predict that with a few more sessions, the
dark spots will fade
and my complexion will be 100 percent ready to face the impending winter chill (even if spiritually I'm still in summer mode).
The Georgia Louise Hollywood EGF Micro-Needle Therapy System (MTS) is available today, 10/24, on
NeimanMarcus.com
, select Neiman Marcus stores nationwide, and
GeorgiaLouise.com
, and retails for $395. Additional micro-needling heads (each kit comes with four) are available to purchase, as well.
Want more stories like this?
This Futuristic Beauty Device Gave Me Glowing Skin in 20 Minutes
An Expert Guide to Treating Every Type of Acne Scar
The Best Pre-Wedding Facials for Glowing Skin